Fellow Scholars and Scribes! I bid you welcome to the first annual SCRIBE SPOTLIGHT! 🙌 crowd is still going wild 😮 waaaaaaa 🙌
At the end of each year, we will take a couple of weeks (maybe more actually 😅) to highlight our most diligent and talented authors. 😱
Our primary metric for choosing is the amount of SCRIBE you've generated.
Of course, there are other factors at play: your activity in the community, the number of writings you have posted, as well as your overall conduct with other members.
All quotes in this showcase are from the spotlighted creator's works.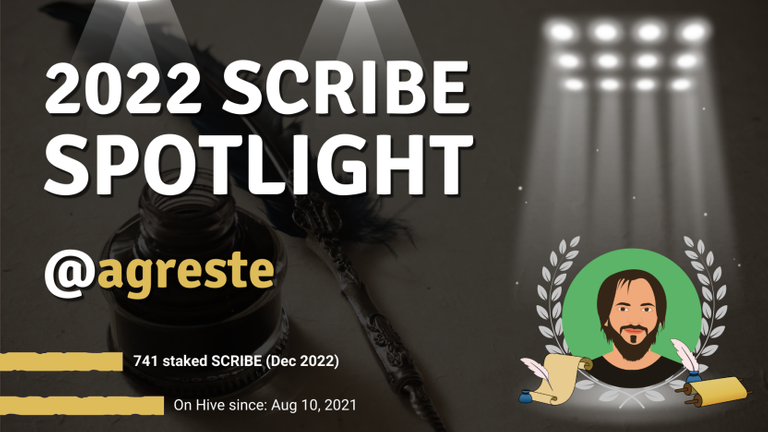 Next up is the poet - who's also a writer but doesn't know it. (he probably does but that's not catchy 😁) Out amazingly talented Spanish author... 🥁🥁🥁
👏 agreste 👏
@agreste has been around the community since its inception. 💪 One of the staple members that you are bound to have seen if you check our community regularly. 😌
He's primarily a Spanish author but decides to bless us with his works using Deepl. And while the nuances of his writing might get lost to non-Spanish speakers, his deeper meanings and thematic work is unmistakably well executed. 😎

@agreste writes A LOT. 🙂 Here's 'As soon as' - a massive post-apocalyptic poem split into eleven parts.
CLICK HERE TO READ AGRESTE'S AS SOON AS
Will we sit by the pond again?
we had been asked then,
the rain was pouring down
and the horses formed stone circles among the pastures,
tomorrow we will decorate our masks with wild tabaquillos,
we thought,
and what was behind the bark of the chañares,
what we glimpsed, so cynical were we:
the ground leaf litter,
the lips reddened from kissing worms,
the cut husks,
and nothing behind,
just another stupid sunset,
But wait! How you foolish mortals forget that I also mentioned our boy is a writer! He honored us with a Scholar and Scribe exclusive serialization - this one in prose:
THE SOLITAIRES
When one of the options is to do nothing it is impossible to be undecided for long, since, not deciding and deciding to do nothing, in practice, are one and the same thing. Perhaps for that reason, I felt an immense relief when I heard Livia's whispered voice, candlestick in hand, asking me what I was doing at that time of night walking through the corridors. I answered her, my voice still trembling with fear, that I had great urgency to speak with Hortensio, that it was a matter of the utmost importance for the future of the kingdom. Then Livia asked me if I could not wait until dawn, since that night the beings in the castle had grown stingers and were stinging each other, which was very dangerous. I told her no, I couldn't wait. Livia nodded several times, thoughtfully, and told me she was going to accompany me. She motioned for me to wait there, went into her room and came out a few seconds later with the candlestick in one hand and the pot of ice water in the other. She asked me to carry the pot. That way, she told me, it would be harder for the stinging beings to harm us.
A sample from agreste's novelette.

@agreste's bread and butter is his poetry. He uses unconventional styles and always tries to bring some fresh and new to his writing. 🤗 Experimenting with different verse and word structures. His main thematic throughline is life: with all these beauties and tragedies.
His last poem- circles exemplifies that well.. 😁
I tried to remember
the word
that brought us here,
I felt my wounds,
I saw the branches break,
I ran my fingers
through the blood,
each word
is a path,
I shouted
Our master of poetry is also very supportive of his fellow members. Being one of the earliest Scribe holders, he is an example of how one should use the tokenomics while being an awesome pillar of the community.
Hat's off sir! 😌
Let's congratulate @agreste on a successful year! And here's to many more to come! 🍻

Other Scribe Spotlights
About the Scholar and Scribe Community
Scholar and Scribe is a creative writing community founded in the forges of Hive's passionate Pizza Guild. It sets itself apart from some of the other writing groups on Hive with its unique dual-token system.
Thank you for reading this Scribe Spotlight!
The Scholar and Scribe banner icons were designed by trashyomen.