Fellow Scholars and Scribes! I bid you welcome to the first annual SCRIBE SPOTLIGHT! 🙌 a friendly brawl ensues 🙌
At the end of each year, we will take a couple of weeks (maybe more actually 😅) to highlight our most diligent and talented authors. 😱
Our primary metric for choosing is the amount of SCRIBE you've generated.
Of course, there are other factors at play: your activity in the community, the number of writings you have posted, as well as your overall conduct with other members.
All quotes in this showcase are from the spotlighted creator's works.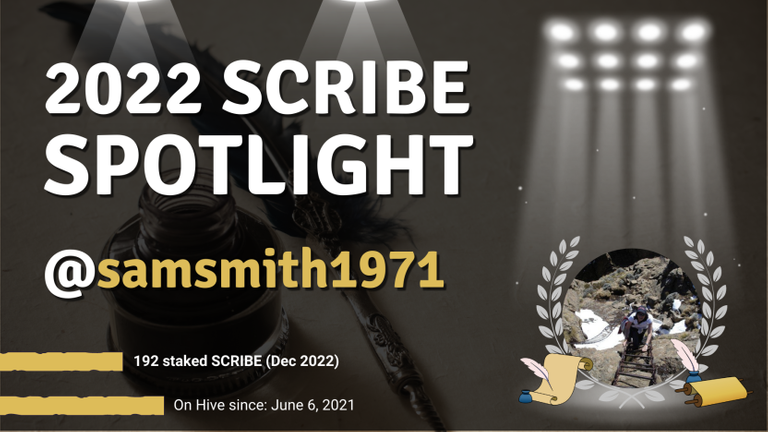 In this corner, hailing from a land far from here - yet keenly felt. She is the designated contest queen (sorry Lily), and a mighty Scribe to match. My fellow Scholars, I bring you you... 🥁🥁🥁
👏 samsmith1971 👏
This spotlight might have come as a surprise to some of you (not sure why it was pretty obvious honestly, jeez) but @samsmith1971 most certainly deserves it . 😌
While yes, most of her Scribe earned has been from the best written and formatted contest post (sorry Lily), her pen is still deadly. 😱
And being an amazing ambassador is nothing to scoff at. The dreemers have been a contributed sizably to the growth of this community, and it would be amis of us not to acknowledge that. 😇 Thank you all, deeply. ❤️
And most importantly thank you to your leader @samsmith1971 (sorry Lily). 🍻

Sam wields her quill with a deft hand. Her knowledge of pace, sentence and paragraph structure, along with a well thought out approach, can only be honed through years of experience. I honestly wished she posted more of her fiction since her works are always a treat to read. 😊
In all respects, Maxine and I were divergent personalities. She preferred the masculine contraction of her full name. She was bold, aggressive, and domineering. Our strengths shone in different hemispheres - I was the creative one, into Arts and the Humanities, and she was the intellectual, a Maths and Physics fiend... although I preferred to imagine her as calculating and manipulative.
As such, @samsmith1971 has embodied what it means to be both a thoughtful and approachable Scholar and a dedicated Scribe. Take notes people of power (I am not naming names, ofc ourse). 😈

That last excerpt was from the short story The illusion of self. As is this one:
As I lay there, my thoughts turned existential. Max and I were both distinct persona existing disparately within the contours of my mind. I was only aware of her emergence as she took over... then it was all a blur... a blackout...I gleaned everything I knew from those moments of transition as I grappled for dominance on the virtual wrestling mats of my mind. It was a fight that had been ongoing since I was twelve.
Another well made piece is the three-parter The Water Guardian something I personally wish she did more of (shorter serialized fiction I mean).
He reached for the manual, a thick leather dossier that lay pristine on the small table beneath the largest of the trees, and ran his fingers gently over its spine, the pages between its covers seemingly untouched, a testament perhaps to how well-oiled the machinery was and how smoothly things actually did run. Next to the manual was a large red button and a sign that simply read: Use Only In Case of Emergency.
And for me, the fact she isn't Scribing as much as I would like - her Sholaring and being an awesome ambassador more than makes up for it. 👏

I'm not actually sorry Lily...
Other Scribe Spotlights
About the Scholar and Scribe Community
Scholar and Scribe is a creative writing community founded in the forges of Hive's passionate Pizza Guild. It sets itself apart from some of the other writing groups on Hive with its unique dual-token system.
Thank you for reading this Scribe Spotlight!
The Scholar and Scribe banner icons were designed by trashyomen.