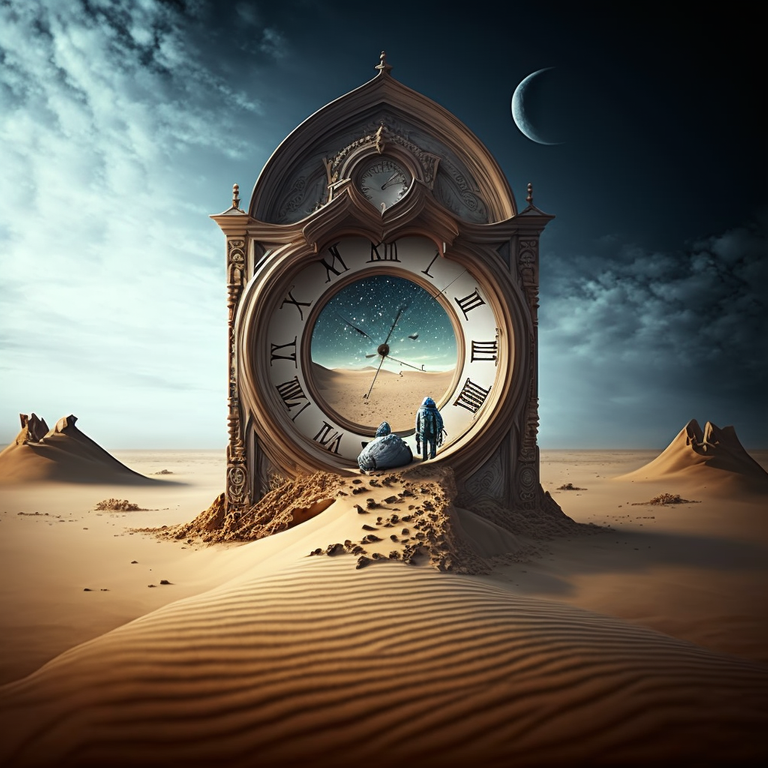 And now for the Season 1 Finale of dreem-wotw. Prizes have been boosted - who will accept the writing challenge?
Dreem Word of the Week
(dreem-wotw)
You can find out about the history of wotw and it's transition from pob-wotw to dreem-wotw here
The word for this round is...
So far this season we have had 5 different word prompts viz.
sanctuary, time, distant, blank, and illusion.
As is tradition with previous iterations of wotw, the season finale is always a bit of a stretch challenge. So this is something that will continue under the Dreemport umbrella. 🤗😜
For the season finale, each writer may choose any 3 of the 5 prompts used so far this season, and combine them either to write a short story fiction or a creative non-fictive post.
As the above article link says... creative non-fiction is...
true stories, well told ...The goal is to communicate a bit of the real world—a personal experience, a scientific discovery, a history, a place, a person—in a way that will sing on the page, inform and change readers, and make an impact... You can't make this stuff up!
If you choose fiction... it is by definition not true. If you choose creative non-fiction, then by definition it has to be true.
If you are familiar with mariannewest's weekend triple prompt challenges then this may be just up your street as it is very similar! If not, dive in and have fun anyway.
The basic premise for the dreem-wotw finale is this...
Write the intro to your story/post featuring one of the five word prompts, the middle featuring a second, and the ending featuring a 3rd... but you cannot just mention the word in passing, it must be integral to the development of your storyline/post.
We are not looking for people to write a story or an essay about three different concepts where they have not been brought together in a cohesive manner, so the post must feel like one post and not disjointed. All three words have to feature... ie: they have to be key things that stand out in the post.
The BIG smallprint :
For the season finale, if a post does not comply with the above requirement, then it will not be considered for any of the official final dreem-wotw placings, regardless of whether or not it makes it to the top 5 in Dreemport... If necessary, the grading team will look further down the Dreemport listings to fill the official prize-winning places 😉
... Up for the challenge?
I hope that you will feel challenged and inspired to write for the finale.
Which words will you choose to use to craft your response?
We invite you to share your perspective with us...

---
---
So, what do you need to know about the finale to enter?
---
---
1 ) What form should my entry take?
You may respond to the dreem-wotw finale through any of the following original and creative pathways: short story fiction or creative non-fiction. You may include original artwork in your submission as part of your interpretation of the prompt but the focus for grading submissions will be on the written content.

2 ) Where and when must I post?
Contestants will be allowed to enter dreem-wotw posts created on any platform and within any community - as this promotes greater inclusivity and engagement opportunities.
BUT... they will be required to share the URL for their dreem-wotw entry in Dreemport on the specific contest submission day set aside by Dreemport for dreem-wotw, in order to be considered for any of the dreem-wotw placings and prizes, as the Dreemport phase of grading is an important first step in the process, to shortlist the entries.
Note: You may publish your entry on your home blogging platform whenever you choose, however, it is suggested that you publish on the same day that entries are required to be shared in Dreemport, if you wish to align voting windows on your blogging platform with the timeframes over which Dreemport curators will be viewing your post and dreem-wotw grading teem will be grading (and potentially upvoting).
All entries will be screened by Dreemport screeners for plagiarism, and copyright infringement (all images must be credited back to the original photographers, and URL links to those images on royalty-free sites MUST be provided).
In addition, if any entry is found to be a re-spin of another writer's earlier entry to the contest, such that it appears that the second article clearly relied on and drew too much inspiration from the first, then the second entry will be disqualified, much in the same way that plagiarism disqualifies an entry.
This month the Dreemport submission date is:
Tuesday 20th December
between 4 am UTC and 23h59 UTC
Please note...this is not simply the deadline date...
IT IS THE ONLY DATE AND TIMEFRAME WITHIN WHICH SUBMISSIONS WILL BE ACCEPTED FOR THE S1 FINALE IN DREEMPORT.
The curation/submission cycle starts and ends at these times so there is unfortunately little room for flexibility. All valid submissions to Dreemport will be reviewed and ranked by public curators the following day.
If you want to have your voice heard in this respect, simply log on the next day and curate and rank the 5 random contest posts assigned to you.

3 ) The Grading Phase
At the end of the 24-hour cycle, Dreemport will provide an official top 5 reader's favourites. We will also be able to access the top 5 Dreemport staff entries in the background and will run two contest pools to keep staff and public entries separate 😊
Members of the grading team are able to write to the prompt but, like staff, their posts will be excluded from Dreemport official rankings, and additionally, they will not be eligible for prizes.
The top 5's will then be graded by the dreem-wotw team using a NEW Merit grading system which now incorporates some aspects of the ORIGINAL Merit Grading Model developed by @scholaris and others added by @juliamulcahy.
The top 3 graded posts in both contest pools will become the official winning entries in dreem-wotw.
How to use Dreemport
If you have not used Dreemport before, you will need to register on
dreemport.com
, which is a quick and easy process, and the following two articles give a clear idea of the benefits and ease of use of the platform.
How do I use Dreemport? - it's easy!
Building a better name with Dreemport
... or you can dive right in with these videos by @dreemsteem ... whichever medium you prefer...
If anyone has any difficulty registering and trying out the platform, please tag me or @wrestlingdesires here on this post and we will help you to get this little piece of admin out of the way as painlessly as possible 😊

4 ) Engagement metrics
In order to promote healthy community engagement, one of the merit grading criteria is engagement. In order to earn any engagement points it is necessary to do public curation of the contest posts in Dreemport as part of your random 5 allocation, the day following contest submissions to Dreemport. You will earn 1 point for doing the curation and another 1-3 points based on the quality of your engagement in those 5 posts.
Note: doing public curation of the contest posts and engaging meaningfully during that curation, often makes a difference in the final positions of the contest ;-)

Which tag should I use?
The new tags to be used for the contest will be dreem-wotw or dwotw as the contest will be hosted by Dreemport, and the primary token associated with the contest going forward will be the dreem token. By using the tag, it will enable others to find your dreem-wotw entries more easily going forward.
Don't forget you can use the #scholarandscribe tag on your posts to earn scholar and scribe tokens too.

Two contests in one!!!
1 ) Participation prizes:
There will be a random draw for all valid entrants. The first public and staff entries drawn using random.org will each receive 100 Ecency points... 🙂
2 ) dreem-wotw final graded placings:
***This month we are thankful to the following sponsors: @dreemsteem and @dreemport for Dreem tokens
@melinda010100 and @ecency for Ecency point sponsorship
@dibblers.dabs and The Scholar and Scribe creative writing community for Scholar and Scribe tokens.
@amberkashif for ecency point sponsorship of 4th and 5th place in both public and staff categories of the contest.
@penderis for boosting the finale prize pool with Hive.

Scholar and Scribe Sponsorship
If your entry is short story fiction, feel free to post it in the Scholar and Scribe community. All entries (no matter where you post them) can use the #scholarandscribe tag if you wish—this will help you earn both SCHOLAR and SCRIBE tokens.
Learn more about S&S here and consider joining the community if you haven't already.

Public contest pool
1st - 500 Dreem Tokens, 5 Hive, 250 Ecency points, 50 POB, 50 Scholar, 2 Scribe
2nd - 225 Dreem tokens, 3 Hive, 150 Ecency points, 50 POB, 50 Scholar
3rd - 100 Dreem Tokens, 2 Hive, 100 Ecency points, 50 POB, 50 Scholar
4th - 150 Ecency points
5th - 150 Ecency points
Staff:
1st - 250 Dreem tokens, 5 Hive, 150 Ecency points, 50 POB, 50 Scholar, 2 Scribe
2nd - 125 Dreem tokens, 3 Hive, 100 Ecency points, 50 POB, 50 Scholar
3rd - 50 Dreem tokens, 2 Hive, 50 Ecency points, 50 POB, 50 Scholar
4th - 150 Ecency points
5th - 150 Ecency points
If anyone would like to provide additional sponsorship for the contest, please feel free to contact me in discord.

Grading teem:
There are 8 members on the dreem-wotw grading teem. These roles are currently voluntary, although adhoc disbursements may be made if funds allow. The current grading teem consists of:
@alekst7 @wrestlingdesires @iskafan @juliamulcahy @itsostylish @palomap3 @cescajove @samsmith1971
If anyone else is interested in becoming part of the grading team, they can drop me a message in discord at: SA_Sam1971#1299 to be considered, as future needs arise.

All efforts to promote dreem-wotw are much appreciated.
Why not bring a friend or two along for the ride this month? Tag them and invite them to take part 😉 Reblogging is not required but is appreciated to help us to extend the reach of the contest. It helps to bring in new contestants and to keep things fresh for all of us, and new writers give us an opportunity to learn more from each other and lend each other more support.
The following people expressed an interest in taking part in dreem-wotw (and I added a few who I thought may be interested too):
@abdul-qudus @acgalarza @adoore-eu @ahmadmanga @alekst7 @amberkashif @anonymous02 @aroojkhalid @atyourservice @ayesha-malik @balikis95 @bananzell @beeber @belleflower @blackdaisyft @bluefinstudios @bobthebuilder2 @b0s @buezor @cescajove @chincoculbert @cool08 @coquicoin @corporateay @creatr @daje10 @dansabest9 @darthsauron @deeanndmathews @deraaa @dibblers.dabs @diebitch @d-pend @dreemsteem @dwixer @edystringz @erh.germany @esther-emmanuel @flamistan @fragozar01 @freedomprepper @funshee @george-dee @giftedwriter @grindan @grocko @hannes-stoffel @harryjoe5432 @hollowins @hopestylist @idksamad78699 @idlemind @ifarmgirl @ijohnsen @intishar @iskawrites @itsostylish @iwannabeme @jane1289 @jaxsonmurph @jfuji @joseph23 @juliamulcahy @kamarah @kei2 @kemmyb @kenechukwu97 @khaleesii @ksam @leeart @lightpen @litguru @lordtimoty @marbrym @maryjacy @mcyusuf @memeisfun @merit.ahama @mineopoly @mmykel @morenow @mrenglish @mypathtofire @nevies @ngwinndave @nickydee @nkemakonam89 @nonsowrites @oceanbee @officialrosh1 @olawalium @olujay @palomap3 @penderis @pinkchic @princessbusayo @queenstarr @raj808 @repayme4568 @restcity @riverflows @sam9999 @shadowspub @simgirl @snook @stevehodl @stevemuis @strangegravy @stuartcturnbull @sunbeam3 @taimen @talon12 @tengolotodo @teknon @treasuree @unklebonehead @vikbuddy @wongi @wrestlingdesires @whywhy @zyzymena
All new entrants each month will be added to the list.
Please let me know if you would prefer not to be tagged and you will be removed from the list, and if you are reading this and would like to be tagged going forward, please comment below and I will add you💗.

---
Cover image created using Midjourney:
Infinity divider created using Canva Pro library.
Dreemport banner used with permission of @dreemsteem and @dreemport and designed by @jimramones
Scholar and Scribe Banner used with permission of @dibblers.dabs and @jfuji
Ecency floral logo designed by thekittygirl. No credit required.
Writer 'nd a Half banner created by @penderis and used with permission, simply because it brings me joy.