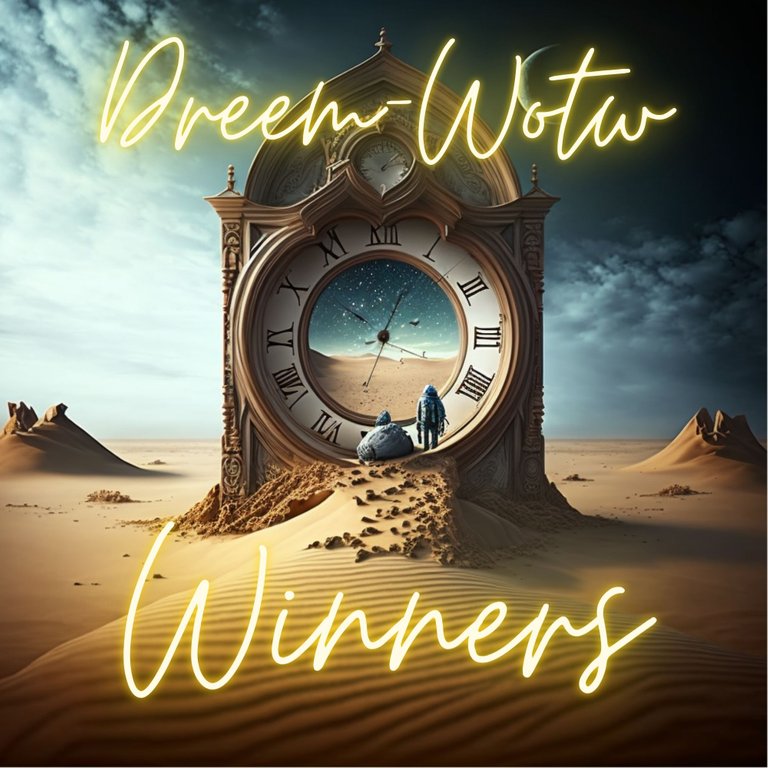 The Season 1 *Finale* of dreem-wotw has finally been graded. Apologies for the delay, everyone, but the festive season compounded with a lengthy stay in bed due to the flu, left me little choice. But... here we are now 😂💗
Thank you to everyone who took part.
We ended up with 21 entries being written for the contest and 20 submitted to Dreemport.
Note to writers - please don't forget to submit your post to Dreemport on the contest submission date. If it's not in Dreemport, it can't be counted.
There were some fantastic responses to the triple prompt challenge and overall a good effort was made by those who took part! Some pieces were rather thought-provoking, whilst others were light-hearted and humorous. Whatever your choice of response, we enjoyed reading them all 🙌💗
We welcome all forms of responses to the prompt and invite you all to take part again next month... and if you missed Season 1, be sure to join us for the start of Season 2 - January submission date still to be confirmed - contest post will be out mid-January!
If any of the old wotw gang have the time and space to drop by, we would love to see you give the next round a whirl.
Entries for the Season 1 finale were curated by public curators in Dreemport (which includes anyone who chose to log in to Dreemport the following day and do a random curation of 5 posts). These public curation results then provided the dreem-wotw grading teem with a shortlist of the public's favourite entries for the contest, and these were eligible to be graded for official dreem-wotw rankings.

The grading team of 8 graders consists of:
@samsmith1971 @alekst7 @wrestlingdesires @juliamulcahy @iskafan @itsostylish @palomap3 @cescajove
This month the grading was performed by @cescajove @palomap3 and @samsmith1971 ).

Prizes kindly and generously sponsored as follows:
1250 Dreem tokens sponsored by @dreemsteem
800 Ecency points sponsored by @melinda010100 and @ecency
300 Scholar and 4 Scribe tokens sponsored by Scholar and Scribe Community and @dibblers.dabs
600 Ecency points sponsored by @amberkashif (for 4th and 5th place in both Contest Pools)
20 Hive boost sponsored by @penderis
POB tokens, additional Ecency points, and any other prizes are funded by the rewards generated from the contest posts.
If anyone else would like to provide further sponsorship for the contest, please do contact me.
The dreem-wotw contest encourages the use of the Ecency front end which enables you to earn Ecency points for publishing and engaging whilst using Ecency.
If you are writing short story fiction or poetry, we encourage you to post your piece in the Scholar and Scribe community, which is a wonderful community for creative writing. Please also use the #scholarandscribe tag to ensure that you qualify for curation in the community. Any other types of written content being entered for dreem-wotw may also use the #scholarandscribe tag but should not post directly to the community as they really are all about fiction and poetry. Non-fiction pieces and discursive essays should be posted in appropriate communities.

Congratulations to all the winners!!!
The final placements with their winning posts were as follows:

Dreem-WOTW winners (Public)
1st @grindan with The Illusion that became known as Reality
(500 Dreem Tokens, 5 Hive, 250 Ecency points, 50 Scholar, 2 Scribe, 50 POB)
2nd @kei2 with Keya
(225 Dreem tokens, 3 Hive, 150 Ecency points, 50 Scholar, 50 POB)
3rd @ahmadmanga with Home Alone and a Burglar won't come
(100 Dreem Tokens, 2 Hive, 100 Ecency points, 50 Scholar, 50 POB)
4th and 5th place go to hopestylist and geelocks who each receive 150 Ecency points kindly sponsored by amberkashif.

Dreem-WOTW - winners (staff)
1st @amberkashif with
The Award Winner
(250 Dreem tokens, 5 Hive, 150 Ecency points, 50 Scholar, 2 Scribe, 50 POB)
2nd @bluefinstudios with This Blank Time in Life is all an Illusion
(125 Dreem tokens, 3 Hive, 100 Ecency points, 50 Scholar, 50 POB)
3rd @abdul-qudus with The Interview
(50 Dreem tokens, 2 hive, 50 Ecency points, 50 Scholar, 50 POB)
Below is the consolidated grading form. It can be used to see where scores might be improved in future rounds.


In addition to the main contest prizes, there was also a random drawing from amongst all participants in the contest, for 2 x 100 Ecency points, one for public and one for staff.
And the winners of the 100 Ecency points are:
@dwixer and @amberkashif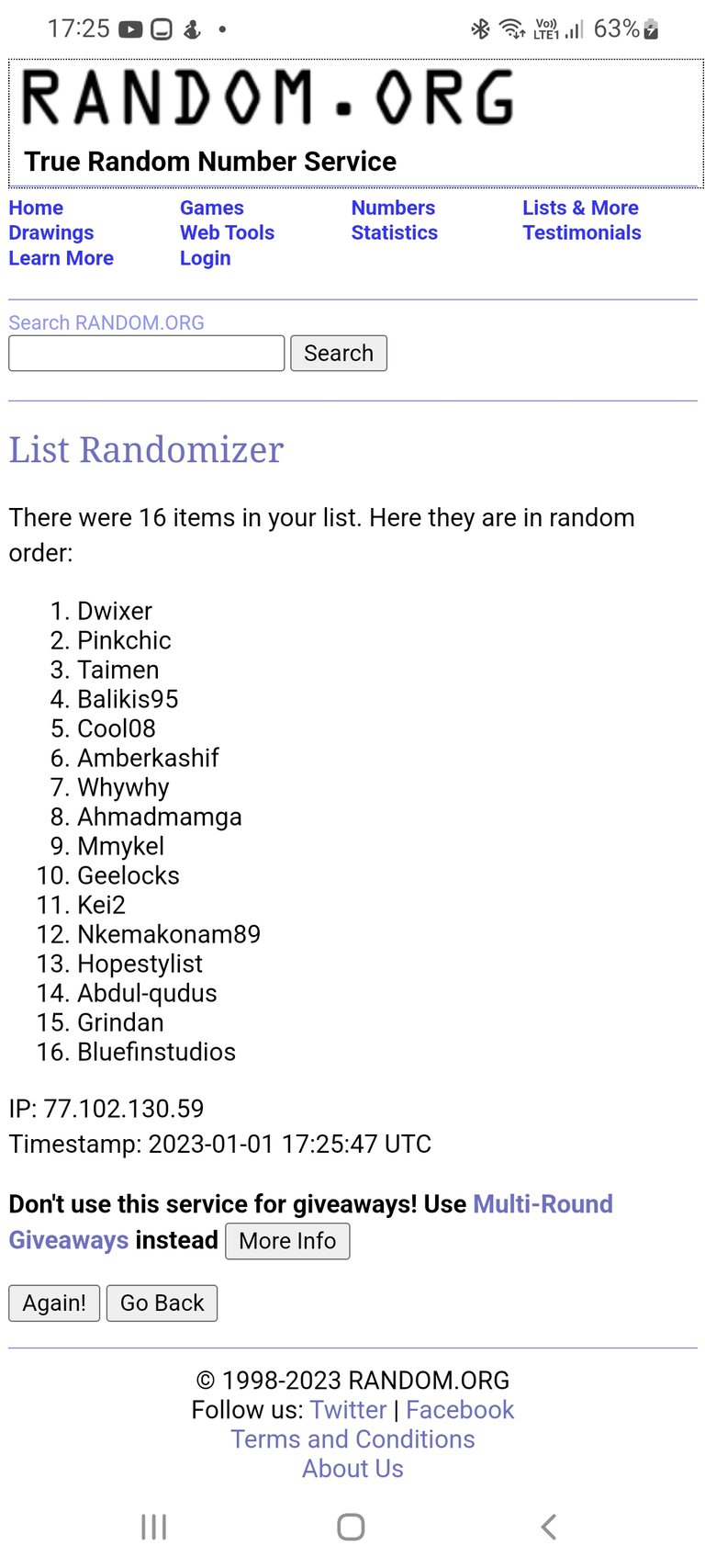 All prizes will be transferred this evening 🤗
The contest post for S2 R1 will be out middle of January with the new word prompt(s) and full details on how to enter, giving you just over a week to write your entry post, with the next Dreemport submission date to be confirmed.
If anyone would like to provide additional sponsorship for the contest, please feel free to contact me in discord.

If anyone else is interested in becoming part of the grading team, they can drop me a message in discord at: SA_Sam1971#1299 to be considered, as future needs arise.

The following people expressed an interest in taking part in dreem-wotw (and I added a few who I thought may be interested too):
@abdul-qudus @acgalarza @adoore-eu @ahmadmanga @alekst7 @amberkashif @anonymous02 @aroojkhalid @atyourservice @ayesha-malik @balikis95 @bananzell @beeber @belleflower @blackdaisyft @bluefinstudios @bobthebuilder2 @b0s @buezor @cescajove @chincoculbert @cool08 @coquicoin @corporateay @creatr @daje10 @dansabest9 @darthsauron @deeanndmathews @deraaa @dibblers.dabs @diebitch @d-pend @dreemsteem @dwixer @edystringz @erh.germany @esther-emmanuel @flamistan @fragozar01 @freedomprepper @funshee @george-dee @giftedwriter @grindan @grocko @hannes-stoffel @harryjoe5432 @hollowins @hopestylist @idksamad78699 @idlemind @ifarmgirl @ijohnsen @intishar @iskawrites @itsostylish @iwannabeme @jane1289 @jaxsonmurph @jfuji @joseph23 @juliamulcahy @kamarah @kei2 @kemmyb @kenechukwu97 @khaleesii @ksam @leeart @lightpen @litguru @lordtimoty @marbrym @maryjacy @mcyusuf @memeisfun @merit.ahama @mineopoly @mmykel @morenow @mrenglish @mypathtofire @nevies @ngwinndave @nickydee @nkemakonam89 @nonsowrites @oceanbee @officialrosh1 @olawalium @olujay @palomap3 @penderis @pinkchic @princessbusayo @queenstarr @raj808 @repayme4568 @restcity @riverflows @sam9999 @shadowspub @simgirl @snook @stevehodl @stevemuis @strangegravy @stuartcturnbull @sunbeam3 @taimen @talon12 @tengolotodo @teknon @treasuree @unklebonehead @vikbuddy @wongi @wrestlingdesires @whywhy @zyzymena
All new entrants each month will be added to the list.
Please let me know if you would prefer not to be tagged and you will be removed from the list, and if you are reading this and would like to be tagged going forward, please comment below and I will add you💗.

---
Cover image created using word prompt descriptions in Midjourney:
Infinity divider created using Canva Pro library.
Dreemport banner used with permission of @dreemsteem and @dreemport and designed by @jimramones
Scholar and Scribe Banner used with permission of @dibblers.dabs and @jfuji
Ecency floral logo designed by thekittygirl. No credit required.
Writer 'nd a Half banner created by @penderis and used with permission, simply because it brings me joy.