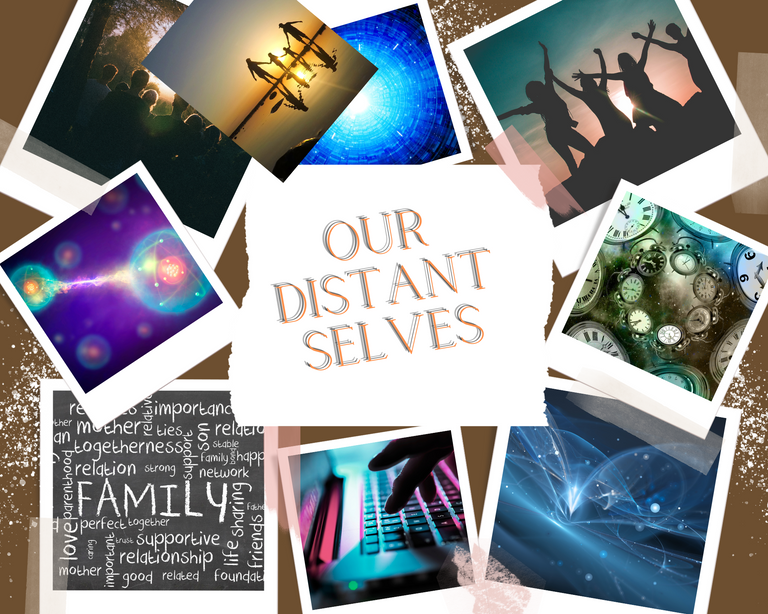 "Are you sure it's ready, Mr. Zeppe? I do wish you would test it on a volunteer first," said a young woman. Her white lab coat was a stark contrast to her dark, somewhat sad eyes.
"Lydia, I'm confident that it will work. Regardless, it isn't dangerous," replied a middle aged man. The confidence he exuded would have been contagious, in most situations.
"But Mr. Zeppe, you of all people know it just isn't done this way," protested Lydia.
"Perhaps it hasn't been in the past. But I am a jealous man, especially when it comes to my Quantum REM Transfer Unit.
"A hundred years from now, history books will tell the story of the first trip into the consciousness of ourselves in another time and place. I won't allow the hero of my story to be some random John or Jane Doe," explained the charismatic scientist.
"I understand that. But you are the creator, and you will always be the first name associated with the QRTU. You don't have to be the first one to use it as well," argued Lydia.
"I don't have to... But I very much want to," he replied, his eyes shining with excitement.
"Yes, Sir," she replied, defeated.
"As strongly as you fought me on this point, I'd almost think you had someone in mind for the job... Was that it?" Mr. Zeppe asked thoughtfully
"Yes, but not for the reasons that you think. I don't care about the fame, I just wanted to go back to my childhood. Even if it's only into a dream, and for a short time," she replied sadly.
"I see... Lydia, you have been of immense help. Despite never earning your PhD, you are brilliant, self taught, and curious. Not to mention a quick learner. Without you, I would still be working on this project for another decade, at least. You will be the second one to use it," he said kindly.
She pushed a lock of sleek black hair behind her ear and smiled. "Thank you, I'm honored," she replied sincerely.
"The honor is mine. It's not every day that a man finds the perfect person with whom to share a dream," he said, making them both smile with his play on words.
"Are you ready?" Lydia asked, nearly as excited as the man who was getting ready to make history in the next few minutes.
He stepped into the cylindrical glass enclosure, and settled into a plush recliner. Unable to stop smiling, the scientist briefly wondered if he would be able to fall asleep, even with the help of the QRTU.
"Everything is working as expected, Mr. Zeppe," she said, as she adjusted several controls.
"Good, good. One small nap for man. One dream come true for mankind," he replied, already beginning to yawn as the invisible particles whizzed around, bouncing in a seemingly random way.
"Help! Mom? Dad? Where are you? Are you going to get sick like aunt Carrie, and leave me?" Mr Zeppe cried, as he felt around in the inky blackness.
Then he stopped.
"I remember this nightmare. I had it almost every week when aunt Carrie was dying of Huntington's disease. I'd give anything if I could actually wake up, and let people in this time know how to cure her. If only Professor Sangerr's big breakthrough hadn't been ten years too late," he mourned.
"What's this? I can feel my blanket. I'm laying down," he thought curiously. Stretching slowly, he carefully opened his eyes, and gasped.
"This is impossible," whispered the scientist, as he looked at his thirteen year old hands. The soft glow of his alarm clock / radio combination clearly illuminated the familiar outlines of the objects in his room.
"I have to get up, now. This could be my chance to change everything, and save aunt Carrie," he thought.
In a flash he was on his feet, and booting the computer. Quickly opening his email, he composed perhaps one of the strangest messages to ever travel across the Internet.
"Greetings Professor Sangerr:
You have yet to meet me, but I have news of a breakthrough in the treatment of Huntington's disease. Enclosed as a PDF is the basic information. Also included is the name and address of an individual which I request that you include in your initial trials."
Almost immediately after he hit send, he heard a soft tapping on his bedroom door.
"Danny? Did you have the nightmare again?"
"Mom? Is that you?" he asked, and the door slowly opened.
"Want to talk about it?" she asked, in a soft voice.
"Uh... Not really, I feel a lot better now. But I have a name and number I need you to write down. It's for a college professor, at MIT. He's studying Huntington's disease, and I really think he can help aunt Carrie," replied Danny.
"I'm willing to try anything at this point," sighed Mom, as she grabbed a pen and paper from her son's desk.
"Thanks, don't forget to call him first thing - and remind him to check his email too," suggested Danny.
"That's a strange request... But if it helps you to sleep better I will," she promised, as she kissed his cheek, and left the room.
Once the door clicked shut, he double checked that the email had gone through, then shut down the computer, turned off the light, and climbed in bed.
It was just in time, too. A sudden wave of sleepiness washed over Danny Zeppe, and seconds later he was yawning in the plush recliner.
"Did it work, Sir?" Lydia asked excitedly, once the machine had completely powered down.
"I think it worked beyond our wildest dreams, so to speak," he replied, grinning from ear to ear.
"In what way?" she asked, puzzled.
"Let me check something," he replied, pulling out a smartphone, and checking the pictures.
In the latest batch was one of him, his parents, and his sister. They were standing next to a tall man with sandy hair, wearing a tuxedo and a huge smile. Holding his hand,was aunt Carrie. In a wedding gown!
---
---
Cover image made in Canva using their gallery