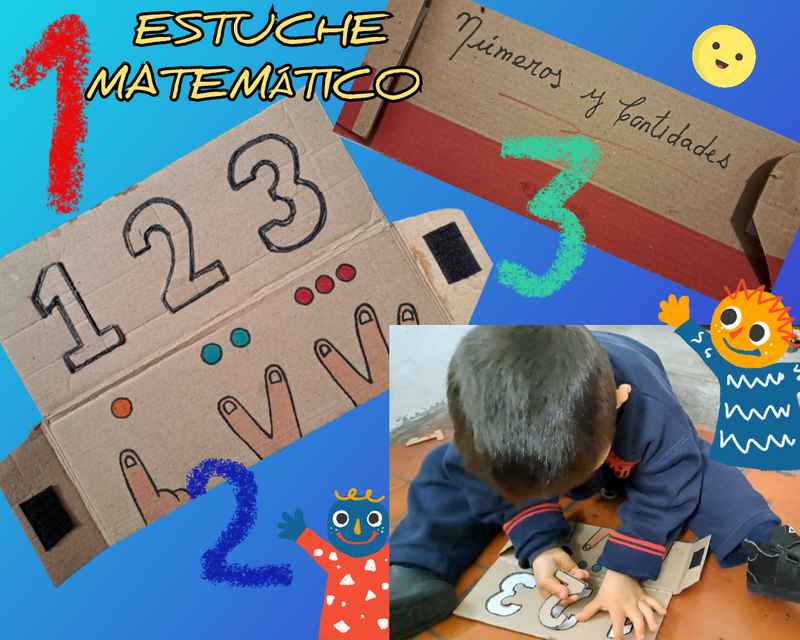 Friends interested in setting up motivating activities that develop knowledge, greetings @amandaj. Today I share with you, after a long time absent from this community for work reasons, another educational experience that allowed Juan to assimilate a mathematical concept. Juan had a hard time processing the information; therefore, I decided to create an interesting strategy to learn the numbers 1, 2 and 3 and at the same time teach the graphic representation in quantities. The strategy has the purpose that the child responds to the formative demands of an inclusive education; a system that helps to intellectually operate the learning opportunities, through my professional practice, with the assistance of integrative strategies, those that are mediators to filter indispensable ideas for the age. Introducing
the Mathematical kit in honor of the International Day of Persons with Disabilities.
Amigos interesados en configurar actividades motivadoras que desarrollen conocimientos, les saluda @amandaj. Hoy les comparto, después de un largo tiempo ausente por esta comunidad por razones de trabajo, otra experiencia educativa que permitió en el niño Juan, asimilar un concepto matemático. Juan se le dificultaba procesar la información; por tanto, decidí crear una estrategia interesante para aprender los números 1, 2 y 3 y al mismo tiempo enseñar la representación gráfica en cantidades. La estrategia tiene el propósito que el niño responda a las exigencias formativas de una educación inclusiva; un sistema que ayuda a operar intelectualmente las oportunidades de aprendizaje, a través de mi ejercicio profesional, con la asistencia de estrategias integradoras, aquellas que son mediadoras para filtrar ideas indispensables para la edad. Les presento El Estuche Matemático en honor al Día Internacional de Personas con Discapacidad.
---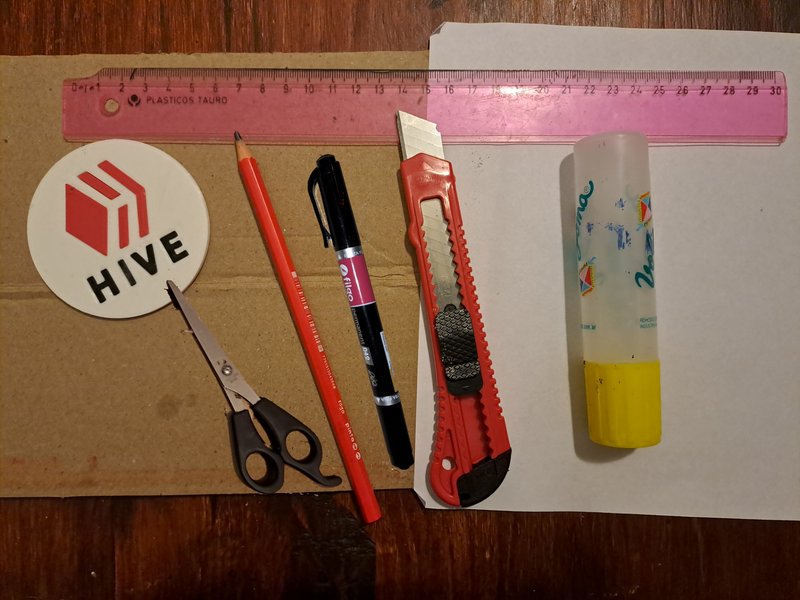 The strategy is simple and I built it under the vision of a child who likes to assemble and disassemble to learn. I also used a material that he likes because of the sound that the magic zipper makes when it comes off. The interaction with the material is interesting because of the fun steps to make the knowledge his own. The Mathematical Case has an opening system that protects the material and is easy to carry.
La estrategia es sencilla y la construí bajo la visión de un niño que le gusta armar y desarmar para aprender. También usé un material que le gusta por el sonido que realiza el cierre mágico al despegarse. La interacción con el material es interesante por los divertidos pasos para hacer propio el saber. El Estuche Matemático cuenta con un sistema para abrir, esto protege el material, además es fácil de llevar.
| 🇺🇸ENGLISH🇺🇸 | 🇪🇸 ESPAÑOL 🇪🇸 |
| --- | --- |
| Materials for the elaboration: | Materiales para la elaboración |
| Cardboard | Cartón |
| White sheet or cardboard | Hoja o cartulina blanca |
| Adhesive tape | Cinta adhesiva |
| Glue | Pega |
| Marker pens | Marcadores |
| Coloring pencils | Colores |
| Cutter | Cutter |
| Scissors | Tijera |
| Magic clasp | Cierre mágico |
---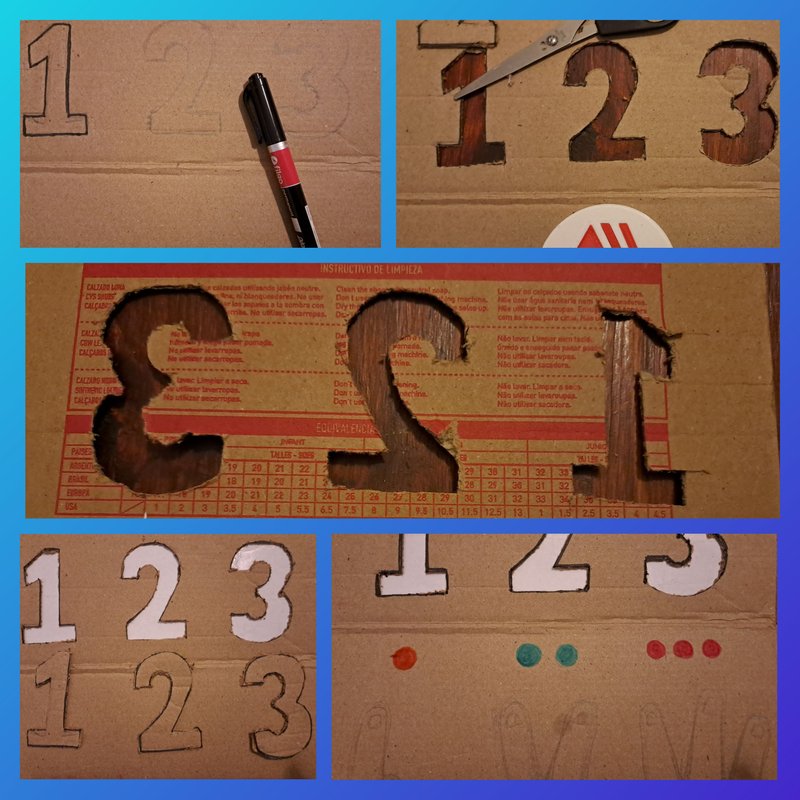 Construction
Cut a cardboard (recycled material) in a rectangular shape to be folded as if it were a book, measuring 20 cm high, 24 cm wide at the top and 32 cm wide at the bottom. Fold in half and the rectangle fold in half and the 32 cm rectangle, fold the ends of 4 cm, they will be the sides to close the mathematical case. Then draw or with a mold make the numbers on the rectangle measuring 24 cm, it will be the upper part of the total rectangle. Then cut out the silhouette of the numbers with a cutter and keep the shape to play with (jigsaw puzzle). Glue on the back of the rectangle of the number spaces, a rectangular white sheet laminated with adhesive tape or contact paper. Then cut a cardboard with the same size of the rectangle of the upper cardboard to cover the white sheet. Underneath the numbers make the representation with dots and draw fingers that illustrate the quantity for the child to place the fingers. Finally, fold the cardboard like a book and the leftover pieces of cardboard on the sides of the lower part glue part of the magic zipper and on the upper back part glue the rest of the magic zipper to close the case.
Construcción
Picar un cartón (material reciclaje) en forma rectangular para plegar como si fuera un libro; de alto mide 20 cm y de ancho superior 24 cm e inferior 32 cm. Doblar por la mitad y el rectángulo
de 32 cm, doblar las puntas de 4 cm, serán los lados para cerrar el Estuche matemático. Luego dibujar o con un molde realizar los números en el rectángulo que mide 24 cm, será la parte superior del rectángulo total. Después recortar la silueta de los números con cutter y conservar la forma para jugar (rompecabezas). Pegar en la parte trasera del rectángulo de los espacios de los números, una hoja blanca rectangular plastificada con cinta adhesivo o papel contact. Luego cortar un cartón con la misma medida del rectángulo del cartón superior para tapar la hoja blanca. Debajo de los números hacer la representación con puntos y dibujar dedos que ilustren la cantidad para que el niño coloque los dedos. Por último, doblar el cartón como un libro y los pedazos de cartón sobrantes de los lados de la parte inferior pegar parte del cierre mágico y en la parte del dorso superior el resto del cierre mágico para cerrar el estuche.
---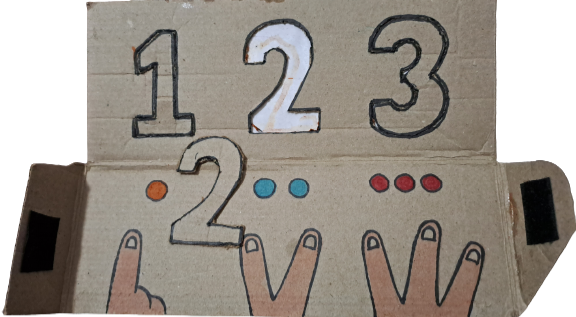 The Mathematical kit strategy has different activities. Recognize numbers, fit the parts together, go over the silhouettes in the blank space of each number to practice tracing the numbers with a marker and erase to practice, since the page was protected with adhesive tape and it is a visual-motor exercise. The notion of quantity is another content, drawing images and the representation of fingers as a model. The strategy of the mathematical case is adapted to needs, whoever wishes to adapt to incorporate other numbers or new knowledge, is free to do so. Through this resource, Juan has acquired and put into practice numbers in recognition and counting. Before consolidating this numerical notion, we previously practiced numbers in other spaces and large images. The family enjoys at home with the mathematical kit.
La estrategia El Estuche Matemático posee diferentes actividades. Reconocer números, encajar las partes, repasar en el espacio en blanco de cada número las siluetas para practicar el trazo de los números con un marcador y borrar para practicar, ya que la página se protegió con cinta adhesiva y es un ejercicio visomotor. La noción de cantidad es otro contenido, dibujar imágenes y la representación de los dedos como modelo. La estrategia del Estuche matemático se adapta a necesidades, quien desee adecuar para incorporar otros números o un nuevo saber, es libre de hacerlo. Estuche matemático es práctico para llevar y el propósito que sirva de andamiaje para construir un conocimiento. Por medio de este recurso, Juan ha adquirido y puesto en práctica los números en reconocimiento y conteo. Antes de consolidar esta noción numérica, previo practicamos los números en otros espacios e imágenes grandes. La familia regierza en el hogar con el Estuche matemático.
Un comentario equivale un acto de reconocimiento
Imágenes creadas con la aplicación GridArt. Fotos tomadas con mi móvil Samsung Galaxy A33. Gif creado con la aplicación Creador y Editor de Gif.


Soy miembro de @motherhood

Diseño realizado en Canva
@AntonietaGonzl7
Twitter

Las publicaciones elaboradas en mi blog son realizadas desde mi móvil Samsung Galaxy A33