Hello my friends from Hive and Homeedders, I am happy to greet you and share creative content on this day. Based on an activity assigned at school, such as "making the sabanero burrito" to present my little girl, from home I applied as a strategy in which both of my daughters learned from this and for this reason I invite you to continue reading and visualizing how I did it.
Hola mis amigos de Hive y Homeedders me da gusto saludarles y compartir contenido creativo en este día. En base a una actividad asignada en la escuela, como por ejemplo "la elaboración del burrito sabanero" a presentar mi pequeña, desde casa apliqué como estrategia en que ambas de mis hijas aprendieran de esto y por ello te invito a seguir leyendo y visualizando cómo lo hice.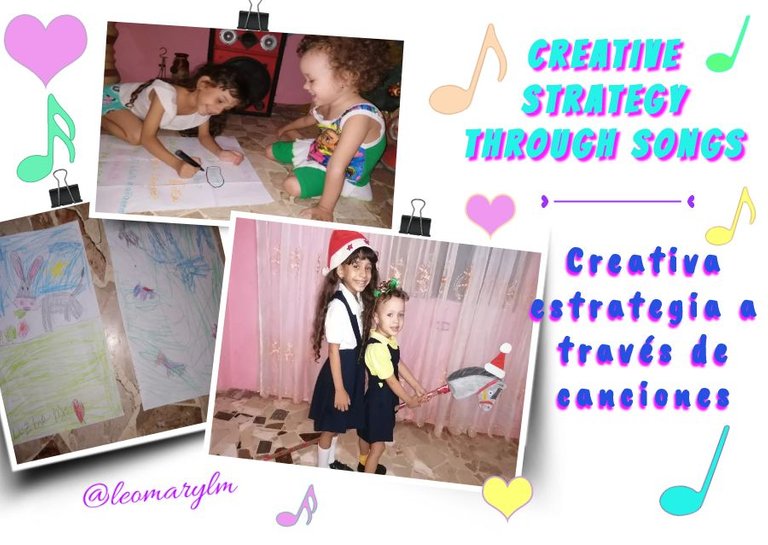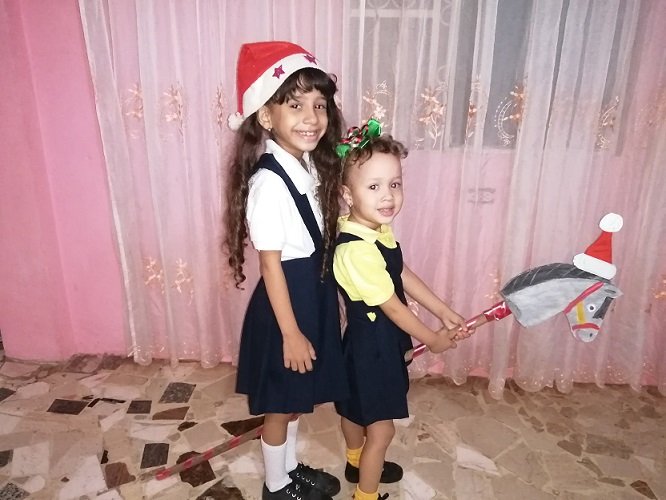 One means by which children learn quickly is through songs, "from music"; Therefore, my suggestion as a mother, teacher, social communicator, evangelism and theater leader for young people, is to be careful what enters our children's ears. Not every song has lyrics that build your life, nor nourish your vocabulary. We are in a time where the music industry has opened its doors to the recordings, promotions and sales of musical themes that incite sex, relationships and disordered passions, to vanity, to obtain everything easily, to denigrate women turning them into a mere and simple sexual object, as well as to include vulgar and obscene language. They, as an industry, want to obtain more and more money in their bank accounts and offer a product or artist that can alter the behavior of our children, leading the child or young person to imitate them, to rebellion, to confuse their minds, behaviors and/or behavior and stop counting... For this reason I tell you ¡PARENTS ALERT! ¡FAMILY, ALERT!
Un medio por el cual los niños/a aprenden rápido es a través de las canciones, "de la música"; por lo que, mi sugerencia como madre, docente, comunicadora social, líder de evangelismo y teatro en los jóvenes, es tener cuidado de qué entra por los oídos de nuestros hijos. No toda canción tiene letras que edifican su vida, ni nutren su vocabulario. Estamos en unos tiempos donde la industria musical ha abierto sus puertas a las grabaciones, promociones y ventas de temas musicales que incitan al sexo, relaciones y pasiones desordenadas, a la vanidad, a obtener todo de manera fácil, a denigrar a la mujer convirtiéndola en un mero y simple objeto sexual, así como a incluir un lenguaje vulgar y obsceno. Ellos como industria quieren obtener cada vez más dinero en sus cuentas bancarias y ofrecer un producto o artista que puede alterar la conducta de nuestros hijos conllevando al niño o joven a imitarlos, a la rebeldía, a confundir sus mentes, conductas y/o comportamiento y pare de contar... Por esta razón te digo ¡ALERTA PADRES! ¡FAMILIA, ALERTA!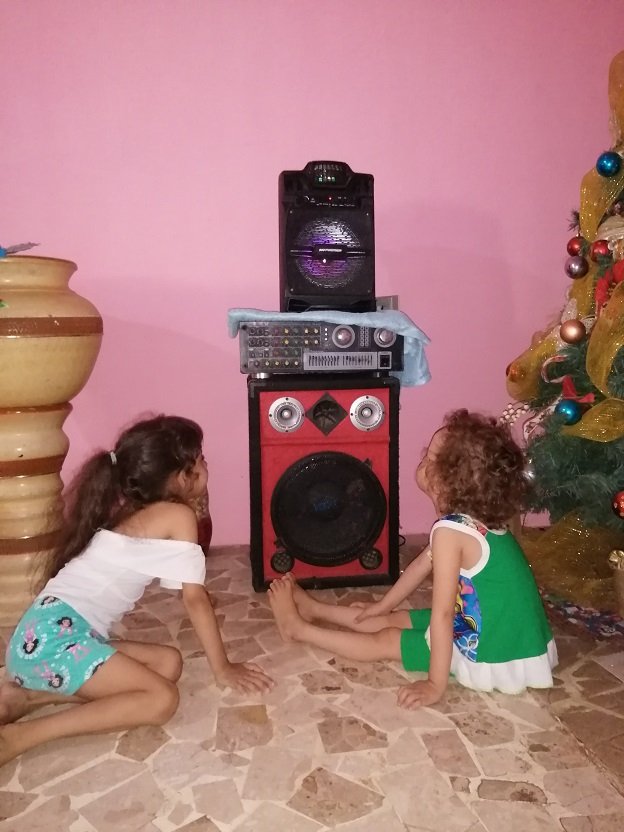 The first education begins at home and you have to be aware of your children and despite the occupations devote your attention to what they see, like and listen. You, only you, are responsible for their healthy training for life. My daughters are still small, but from their ages I place the songs according to them and I have already explained to them when for some reason or reason on television suddenly, out of nowhere something not pleasant or suitable for them is projected in this box of images in music videos, advertising or others... such as: alcohol, caresses, women displaying their bodies in bikinis or anything else... they have permission, authorization and the right to change the TV or tell an adult if for any reason reason a video appeared or post that it is not pleasant and that they change it. They are very knowledgeable about this. I always look for what is entertaining, sow values, teachings and learning, whether it be from the Bible, the environment, cultures, traditions, what in an entertaining way and based on their ages allows them to learn and acquire knowledge. Once these points have been raised, I want to tell you a little about the elaboration of this craft and educational task.
La primera educación empieza por casa y tú tienes que estar al tanto de tus hijos y pese a las ocupaciones dedicar tu atención hacia que ellos ven, les gusta y escuchan. Tú, solo tú, eres responsable de su formación sana para la vida. Mis hijas aun son pequeñas, pero desde sus edades coloco las canciones acorde a ellas y ya les he explicado cuando por alguna razón o motivo en la televisión de repente, de la nada se proyecte en esta caja de imágenes algo no agradable ni apto para ellas en vídeos musicales, publicidad u otros... tales como: alcohol, caricias, mujeres exhibiendo sus cuerpos en bikini o cualquier otra cosa... están en el permiso, autorización y derecho de cambiar el tv o decir a algún adulto si por alguna razón apareció un vídeo o publicad que no es agradable y que se lo cambien. Ellas están muy entendidas en esto. Siempre busco aquello que sea entretenido, siembre valores, enseñanzas y aprendizajes, bien sea, de la biblia, del ambiente, culturas, tradiciones, aquello que de manera entretenida y en base a sus edades les permita aprender y adquirir conocimientos. Una vez, planteados estos puntos quiero contarte un poco de la elaboración de esta manualidad y tarea educativa.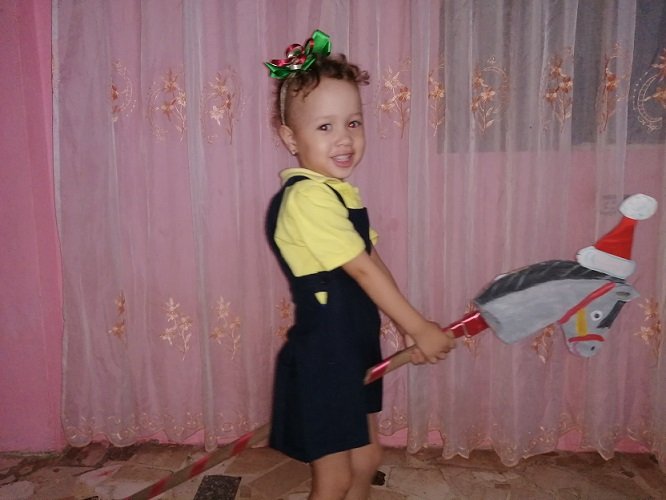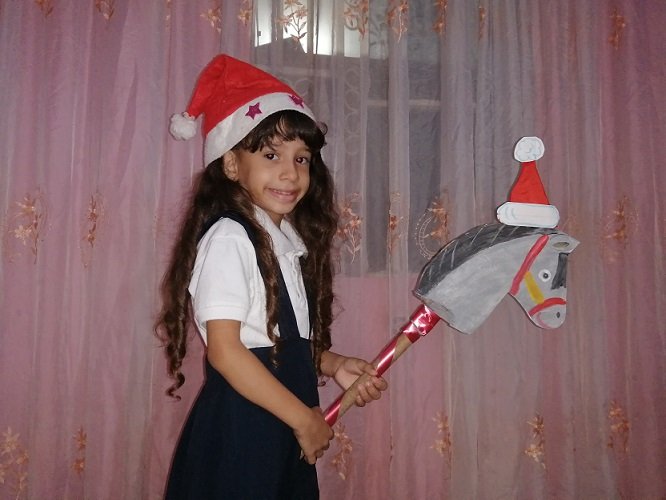 The teaching and learning process must be creative, innovative, loaded with varied strategies to achieve the end of education. At school, the teacher gave the representatives the task of making a donkey for our little ones and teaching them the song that I will share with you later. In making this, as always, I used recycled materials that I had at home (broomstick, thick cardboard, an architecture plan, temperas that I also mixed to obtain the gray tone, scissors, pencil, red gift ribbon, a bit of red cloth, light blue marker and silicone) and I involved my 8-year-old daughter to help me make this with a lot of love and affection for her little sister, who when she woke up in the morning to go to her preschool room, was surprised and happy with the result.
El proceso de enseñanza y aprendizajes ha de ser creativo, innovador, cargado de variadas estrategia para lograr el fin de la educación. En la escuela la maestra a los representantes les colocó como tarea realizar a nuestros pequeños un burrito y enseñarles la canción que más adelante se las compartiré. En la realización de este como siempre utilicé materiales de reciclaje que tenia en casa (Palo de escoba, cartón grueso, un plano de arquitectura, temperas que mezcle también para obtener el tono gris, tijeras, lápiz, cinta roja de regalo, un poco de tela roja, marcador celeste y silicón) e involucré a mi hija de 8 años a ayudarme en la elaboración de este con mucho amor y cariño para su hermanita, que al despertarse por la mañana para ir a su salita de preescolar, quedo sorprendida y contenta con el resultado.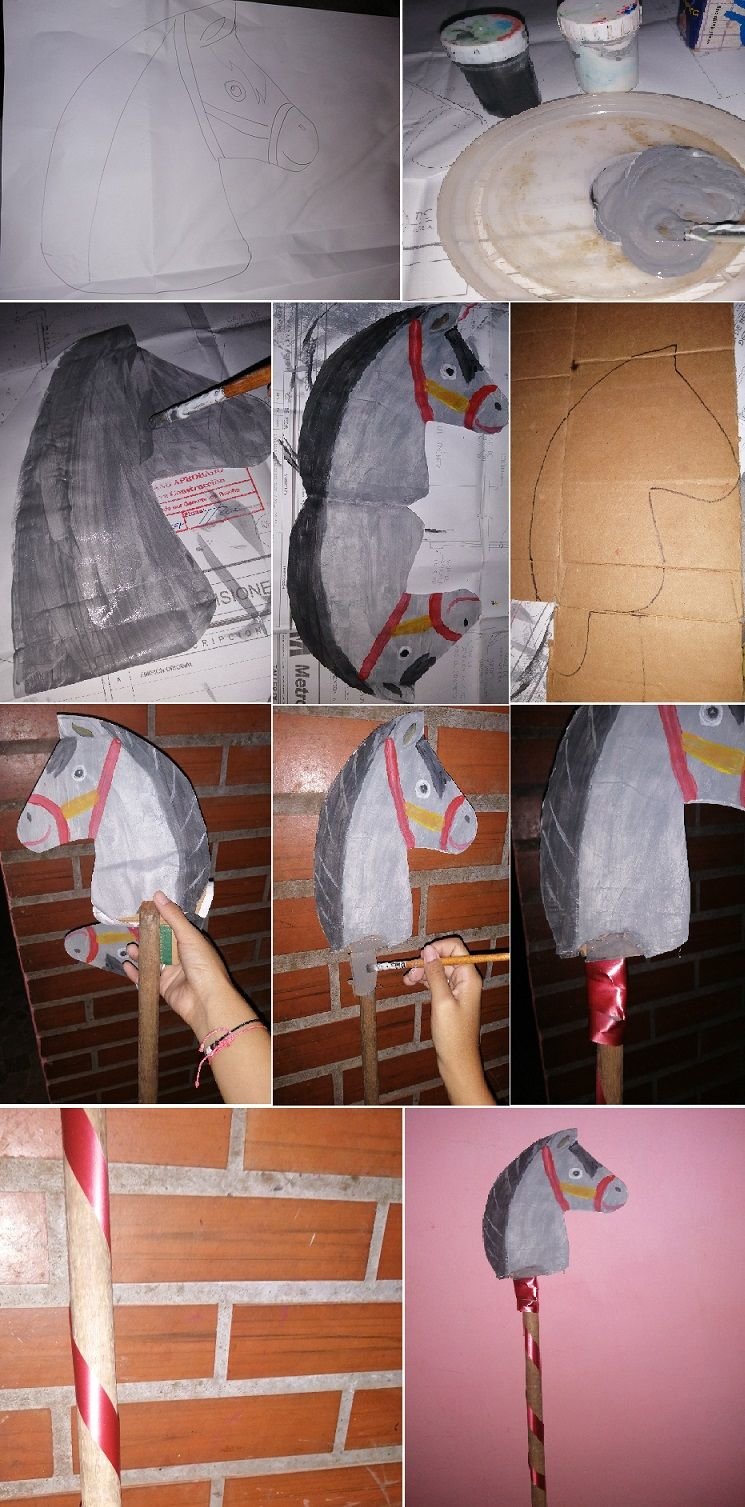 ---
The lyrics of the song has to study, it goes like this:
With my sabanero burrito, I'm on my way to Bethlehem
With my sabanero burrito, I'm on my way to Belen
If they see me, if they see me
I am going to belen road
If they see me, if they see me
I'm on my way to Bethlehem.
The morning star illuminates my path
The morning light illuminates my path
If they see me, if they see me
I am going to belen road
If they see me, if they see me
I'm on my way to Bethlehem.
With my four-wheel drive I'm singing, my little donkey is trotting
With my cuatrico I'm singing, my donkey is trotting
If they see me, if they see me
I am going to belen road
If they see me, if they see me
I'm on my way to Bethlehem.
Tuki tuki tuki tuki
tuki tuki tuki ta
hurry up my burrito
that we are going to arrive
tuki tuki tuki tuki
tuki tuki tuki you
hurry up my burrito
Let's go see Jesus.
(Whole letter is repeated again)
---
La letra de la canción ha estudiar, dice así:
Con mi burrito sabanero, voy camino de Belén
Con mi burrito sabanero, voy camino de Belén
Si me ven, si me ven
Voy camino de Belén
Si me ven, si me ven
Voy camino de Belén.
El lucerito mañanero ilumina mi sendero
El lucerito mañanero ilumina mi sendero
Si me ven, si me ven
Voy camino de Belén
Si me ven, si me ven
Voy camino de Belén.
Con mi cuatrico voy cantando, mi burrito va trotando
Con mi cuatrico voy cantando, mi burrito va trotando
Si me ven, si me ven
Voy camino de Belén
Si me ven, si me ven
Voy camino de Belén.
Tuki tuki tuki tuki
Tuki tuki tuki ta
Apúrate, mi burrito
Que ya vamos a llegar
Tuki tuki tuki tuki
Tuki tuki tuki tu
Apúrate mi burrito
Vamos a ver a Jesús.
(Se repite toda la letra nuevamente)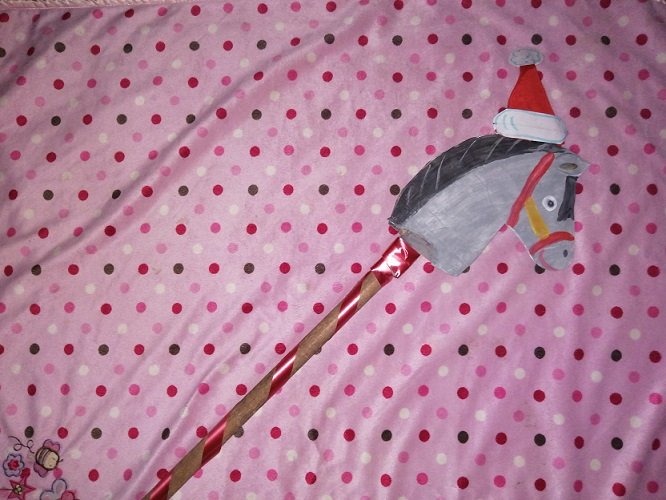 It is a Christmas carol from our country "Venezuela", very popular since 1972, many years on the radio and sung by every Venezuelan, especially it is striking for children. Let me tell you that this very traditional and popular theme has managed to have such great receptivity that I read there that, according to Billboard magazine, it is among the best 100 Christmas themes or songs of all time and that this song has even been played in other parts of the world. . Something very nice is being able to teach our little ones these types of songs that are part of a town on dates where we get together to share the joy of Christmas and sing them with them.
Es un villancico de nuestro país "Venezuela", muy sonado desde 1972, muchos años en las radios y entonado por cada venezolano, especialmente es llamativo para los niños. Este tema tan tradicional y popular déjenme decirles que ha logrado tener tan grande receptividad que por allí leí que según la revista Billboard esta dentro de los mejores 100 temas o canciones de navidad de los tiempos y que aun en otras partes del mundo ha sonado esta canción. Algo muy bonito es poder enseñar a nuestros pequeños este tipo de canciones que forman parte de un pueblo en fechas donde nos reunimos a compartir la alegría de la navidad y cantarlas con ellos.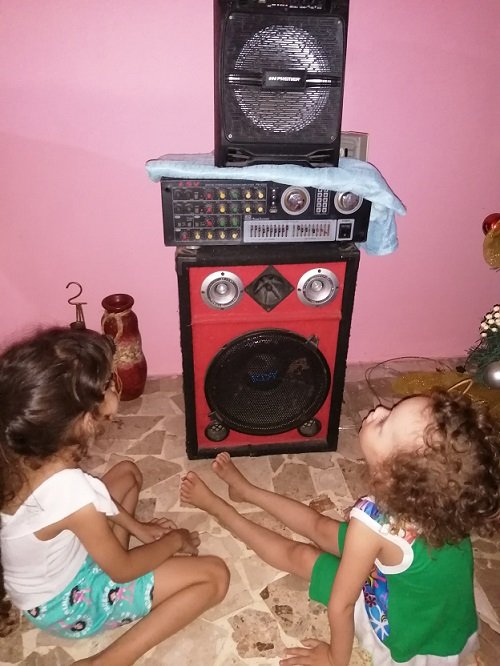 One of the things I did taking full advantage of all this activity for school but from home I like to be even more creative, "deepen reading and writing" I gave my eldest daughter a sheet with the lyrics of the song of the Sabanero burrito to read aloud, this allows to improve the reading and intonation in the pauses as in the commas and points.
Una de las cosas que hice aprovechando absolutamente toda esta actividad para la escuela pero que desde casa me gusta ser aun más creativa, "profundizar la lecto-escritura" A mi hija mayor, le entregue una hoja con la letra de la canción del burrito sabanero para leer en voz alta, esto permite mejorar la lectura y entonación en las pausas como en las comas y puntos.
The next thing was to listen to the song again on our radio or sound equipment so that they could memorize it. Once ready, I asked questions that my daughters had to answer together, such as: The person who sings... ¿Who does he go with? ¿Which way are they going? ¿What illuminates their path? ¿What was he singing with? ¿Who was jogging? ¿Who were they going to see?
Lo siguiente, fue escuchar nuevamente el tema en nuestro radio o equipo de sonido para que la memorizaran, una vez listo, hice preguntas que juntamente mis hijas debían responder, tales como: La persona que canta... ¿Con quién va?, ¿ A qué camino van?, ¿Qué ilumina su sendero?, ¿Con qué iba cantando?, ¿Quién iba trotando?, ¿ A quién iban a ver?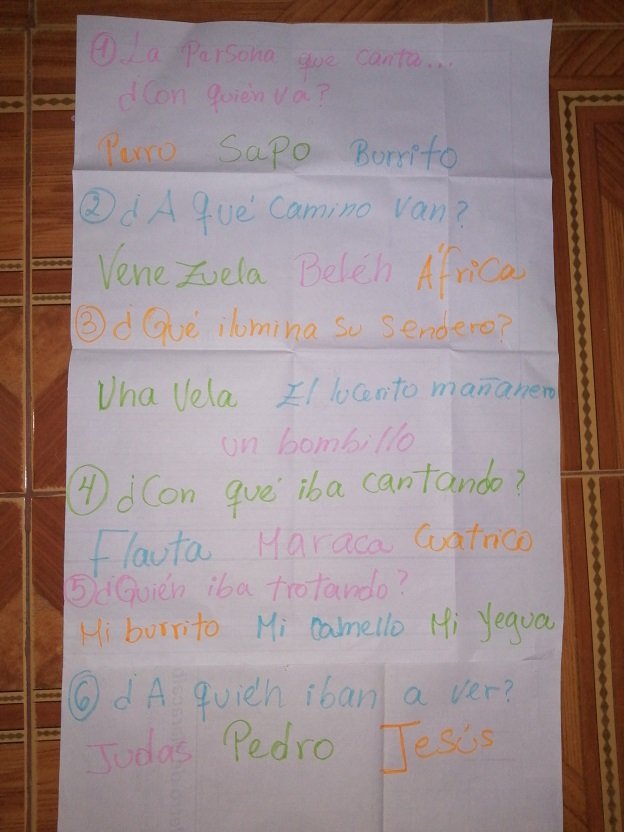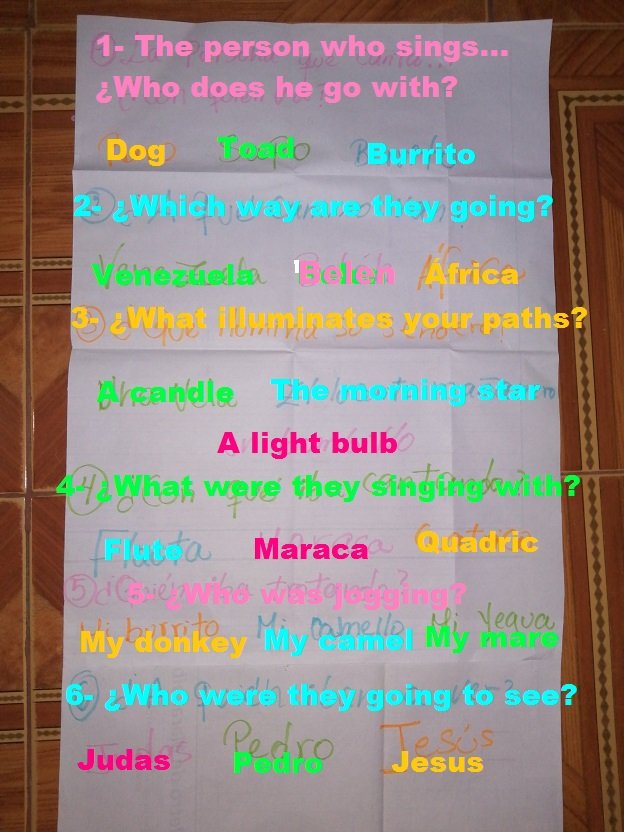 On a large sheet was each question that my eldest daughter read aloud and her little sister had to answer along with her, the correct answer had to be enclosed with a black marker.
En una gran lamina se encontraba cada pregunta que mi hija mayor leía en voz alta y su hermanita junto con ella debía responder, la respuesta correcta debía ser encerrada con marcador negro.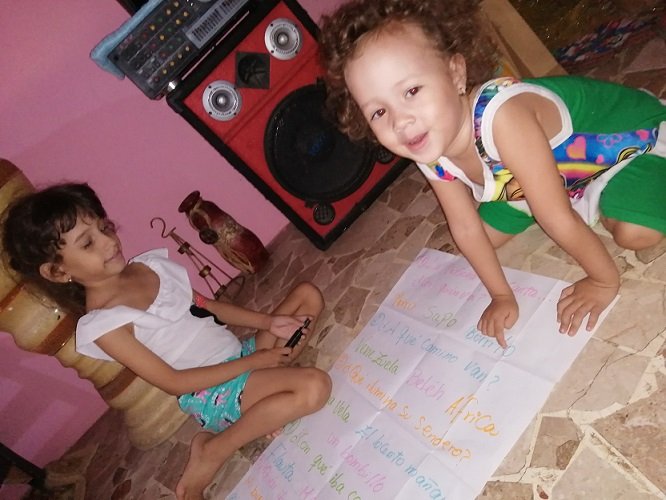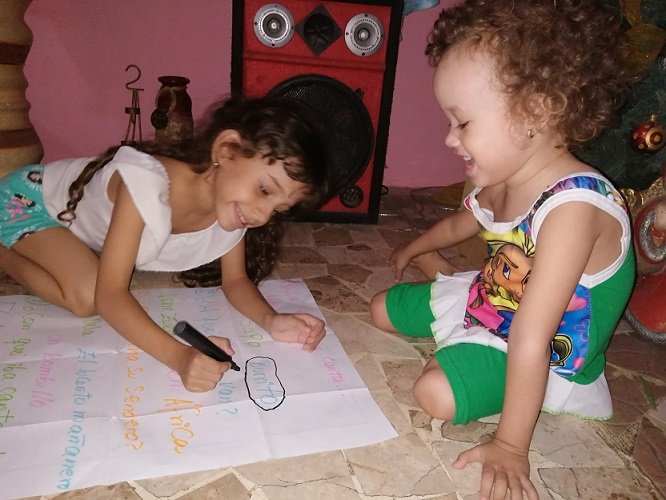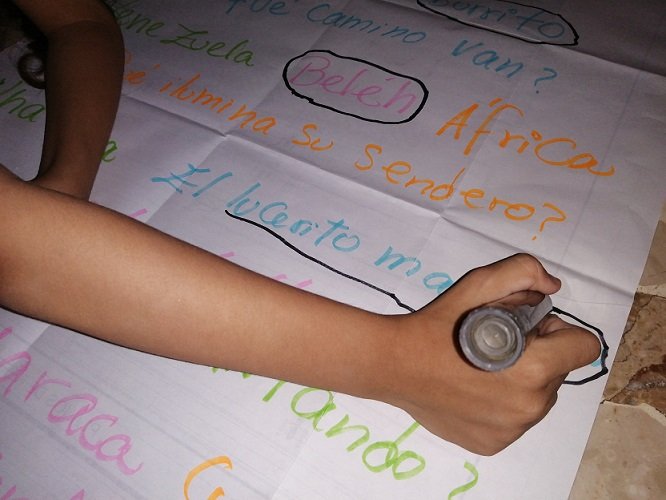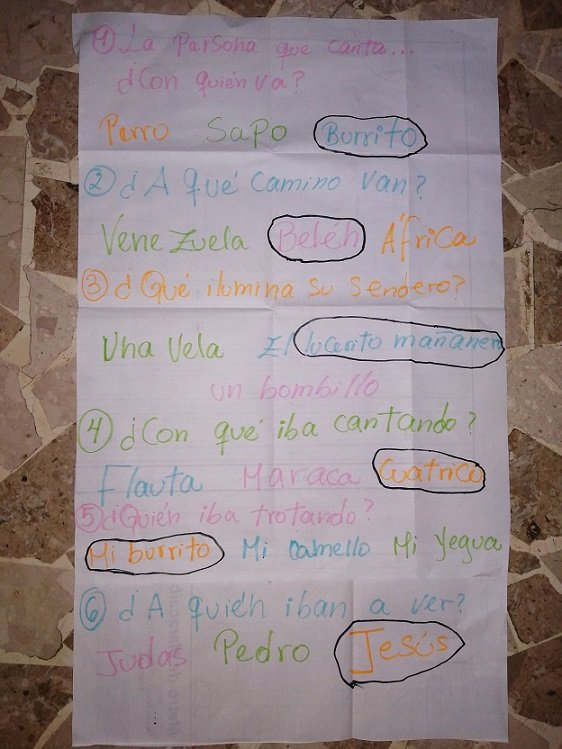 Finished this, I had prepared for them two white sheets where they would have to draw a donkey, putting into operation the mental idea they have of it and their creativity when drawing and coloring. In the case of my 3-year-old daughter, I had to draw some donkeys for her to give color, since the one she did herself "according to what she didn't like" hehe
Terminado esto, tenia preparado para ellas dos hojas blancas donde tendrían que dibujar un burrito, poniendo en funcionamiento la idea mental que tienen de este y su creatividad al dibujar y colorear. En el caso de mi hija de 3 años me toco dibujarle unos burritos para que diera color, ya que el que ella misma realizó "según no le gustaba" jeje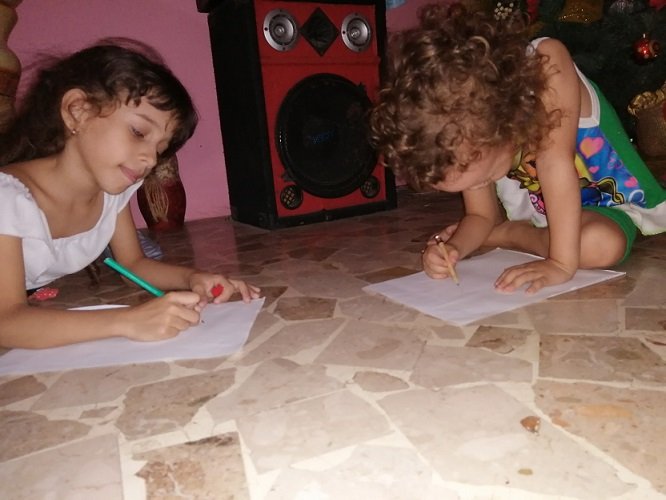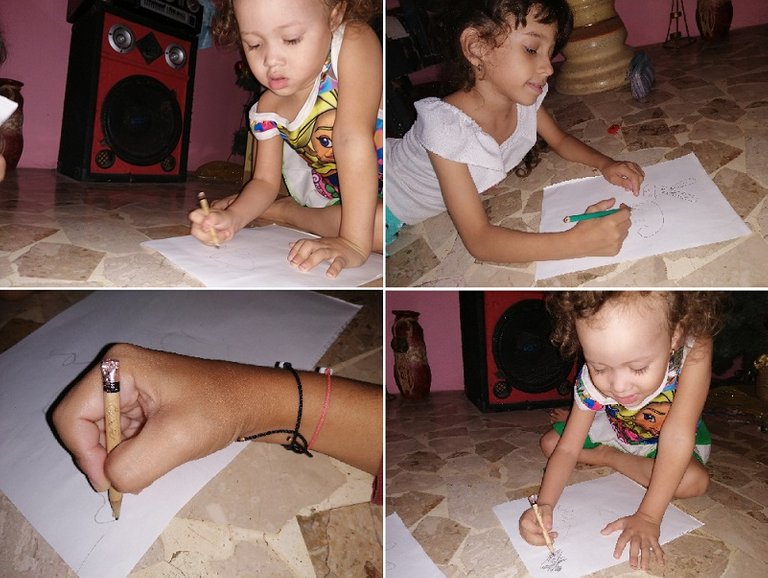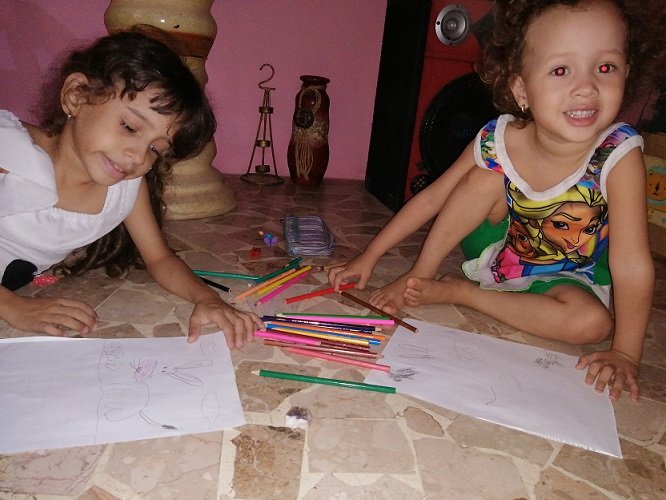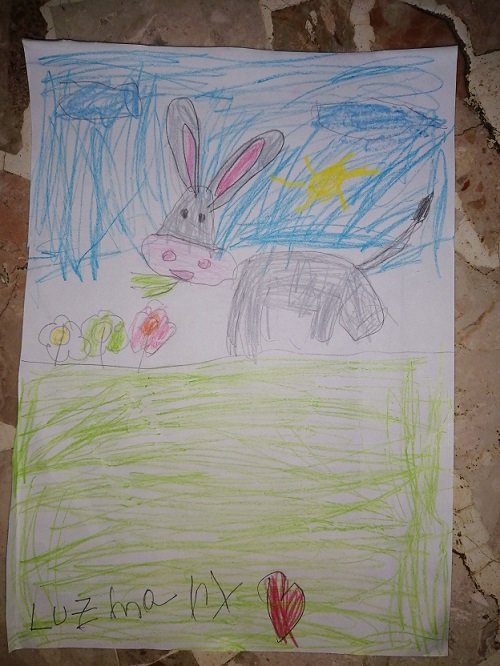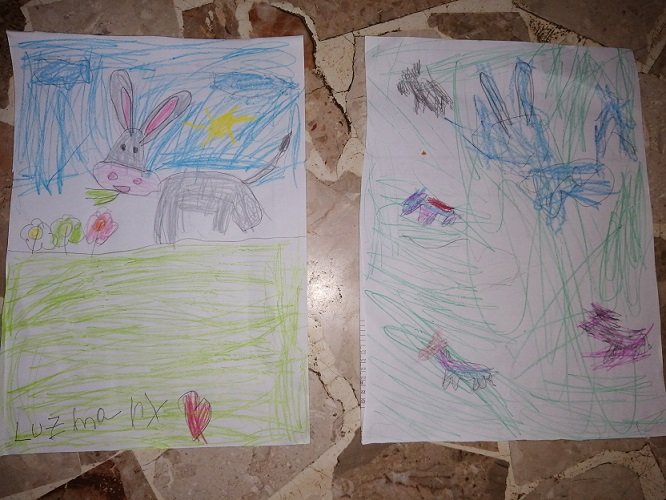 ---
¿What have we learned from this content and activity?
Music is a means of expression and as such it has its benefits and its cons depending on the lyrics of its songs.
Through music we can stimulate their minds, their language, body expression through dance.

Develops your vocabulary, imagination since you can travel through your letters to the story that is being presented there.

We work on the intellectuality, the sensory, auditory and speech part of children.

Through the songs we can create various learning strategies.
Reading the lyrics of songs allows you to concentrate, memorize, provides security, confidence, gives fluency to the language, speech and language through the act of reading.

Listening to a song and asking questions based on it, allows you to know how concentrated the child was, reasoning ability and answering, speeds up their mental capacity.
Drawing, such as coloring some of the lyrics of the song, allows the memory and fine motor skills of the little ones to work.
Music improves auditory perception.

In a song you can know a story and teach some tradition.

Singing a song and participating in a dance or dance about it allows children to lose fear, have confidence and be more sociable.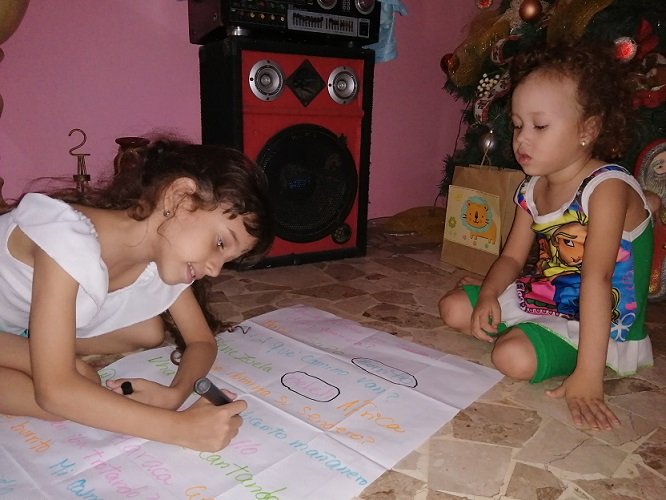 ---
¿Qué hemos aprendido de este contenido y actividad?
La música es un medio de expresión y como tal tiene sus beneficios y sus contra dependiendo de las letras de sus canciones.
A través de la música podemos estimular sus mentes, su lenguaje, expresión corporal a través del baile.

Desarrolla su vocabulario, imaginación ya que puede viajar a través de sus letras a la historia que allí en ella se esté presentando.

Trabajamos la intelectualidad, la parte sensorial, auditiva y el habla de los niños.

A través de las canciones podemos crear variadas estrategias de aprendizaje.
La lectura de las letras de canciones permite estar concentrado, memorizar, brinda seguridad, confianza, dar fluidez a la lengua, al habla y lenguaje a través del acto de leer.

Escuchar una canción y hacer preguntas en base a esta, permite conocer que tan concentrado estaba el niño/a, capacidad de razonamiento y responder, agiliza su capacidad mental.
El dibujar, como colorear algo de la letra de la canción permite trabajar la memoria y motricidad fina de los pequeños.
La música permite mejorar la percepción auditiva.

En una canción puede conocerse una historia y enseñar alguna tradición.

Cantar una canción y participar de una danza o baile sobre esta permite que los niños pierdan el temor, tengan confianza y sean mayormente sociables.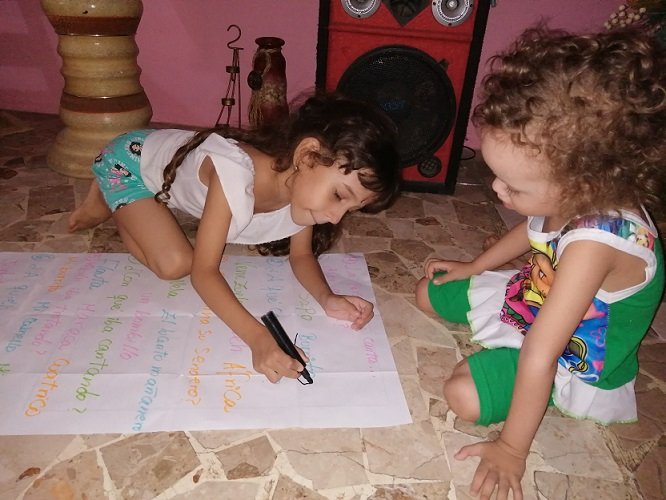 I close this content giving you the theme of the sabanero burrito my friends:/ Cierro este contenido regalándoles el tema del burrito sabanero mis amigos:

This has been the content of this creative mom today with love, I hope you liked it. Until next time.
💛💛💛
Este ha sido el contenido de esta mamá creativa en el día de hoy con mucho cariño, espero que les haya gustado. Hasta la próxima.

Photographs are my own, taken with my Alcatel Tetra cell phone. / Las fotografías son de mi autoría tomadas con mi celular Alcatel Tetra.
Image editing program: postermywall and Paint / Programa de edición de imágenes: postermywall y Paint.