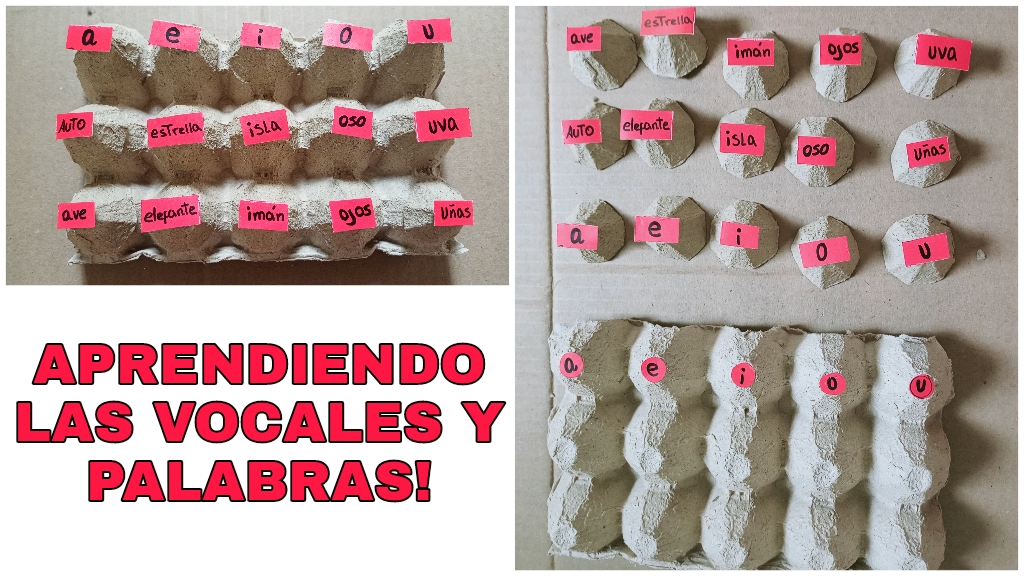 Saludos queridos amigos de
@homeedders
, es para mí un gusto Saludarlos y compartir con ustedes mi primera publicación en esta comunidad, la cual sinceramente me parece muy pero muy buena ya que podemos compartir esas herramientas que usamos para los pequeños de la casa, en esta ocasión les traigo una estrategia, didáctica, divertida y educativa, ideal para jugar, divertirnos e ir educando a nuestros pequeños. Se trata de un juego cuya finalidad es enseñar las vocales, su orden y palabras con su inicial, cabe destacar divertir al niño, compartir en familia.
Greetings dear friends of @homeedders, it is a pleasure for me to greet you and share with you my first publication in this community, which honestly seems very, very good since we can share those tools that we use for the little ones in the house, in this occasion I bring you a strategy, didactic, fun and educational, ideal to play, have fun and educate our little ones. It is a game whose purpose is to teach the vowels, their order and words with their initial, it is worth noting to entertain the child, share with the family.
Es un juego elaborado con materiales reciclados, así que lo podemos elaborar en casa sin ningún problema:
It is a game made with recycled materials, so we can make it at home without any problem:
Que Materiales utilicé:
Cartón para huevos
marcador.
tijera y pega.
Un trozo de cartulina.
What materials did I use:
Egg carton
marker.
scissors and paste.
A piece of cardboard.
♻️ Pasos para realizar este juego Didáctico
♻️ Steps to make this Didactic game
1. Tomé el cartón para huevos del cual con una tijera extraje los conos, siendo un total de 15 conos.
I took the egg carton from which I extracted the cones with scissors, making a total of 15 cones.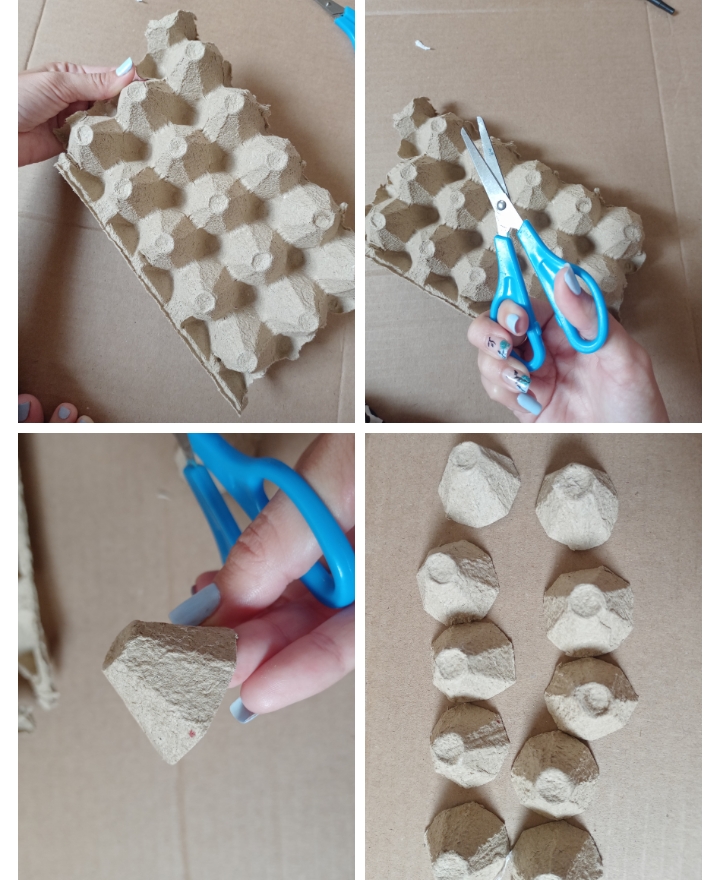 2. Luego tomé medio cartón y corte los bordes esta será la base para el juego.
Then I took half a cardboard and cut the edges this will be the base for the game.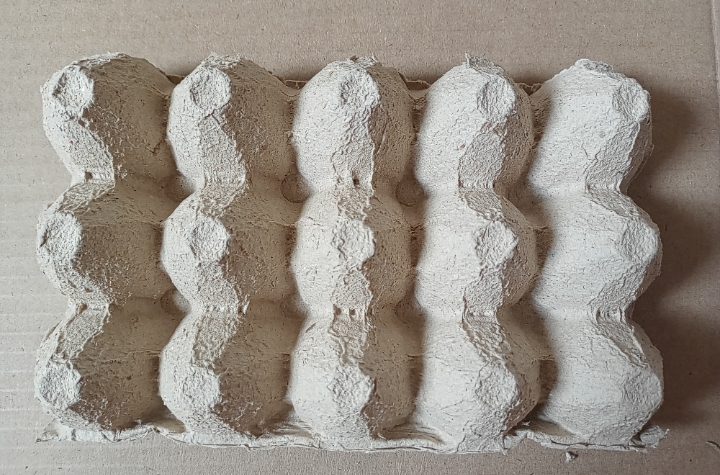 3. Tomé un trozo de cartulina y corte pequeños rectángulos.
I took a piece of cardboard and cut out small rectangles.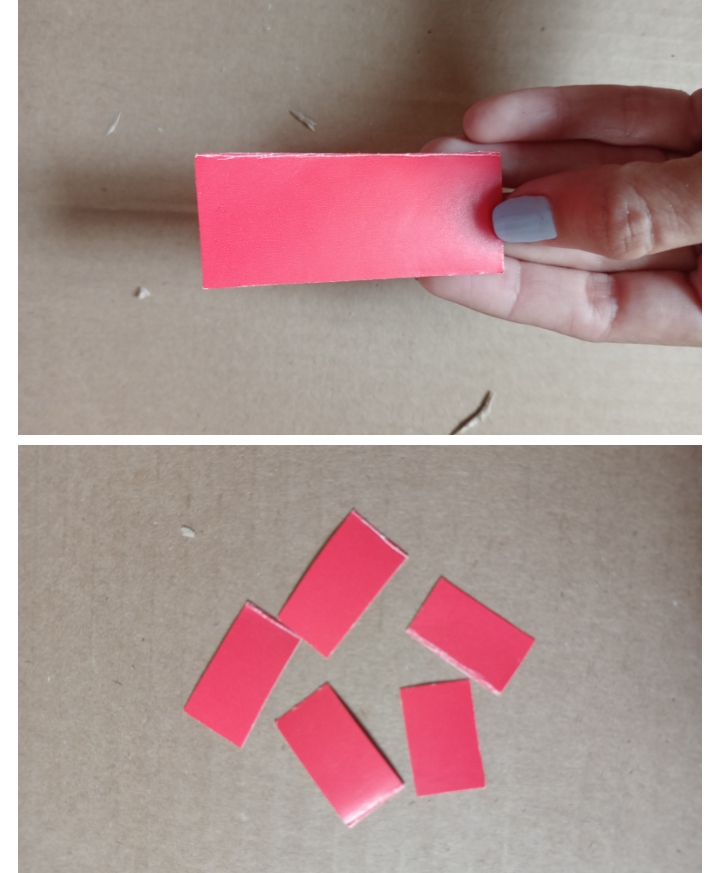 4. Bien, deberíamos tener las siguientes piezas.
Good, we should have the following pieces.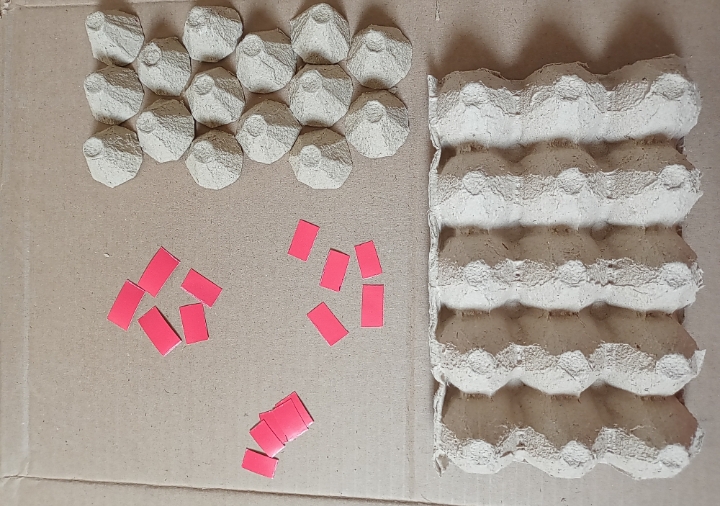 5. Corte pequeños círculos que pegaremos en los 5 conos superiores de la base, y con un marcador pinte las vocales.
Cut small circles that we will stick on the top 5 cones of the base, and with a marker paint the vowels.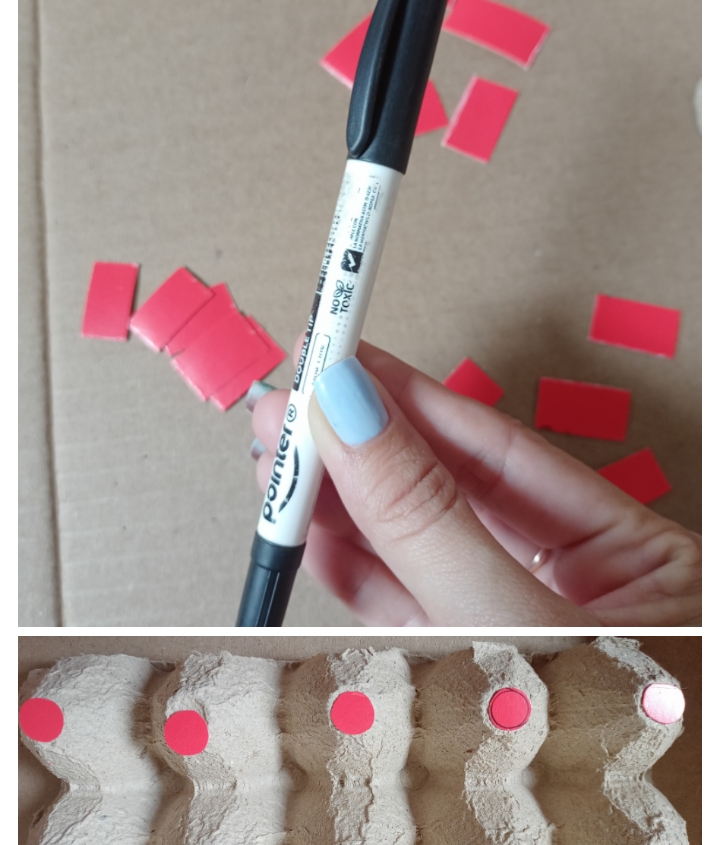 6. En Los pequeños rectángulos con el marcador escribiremos 10 palabras 2 que inicien con cada vocal, en los cinco rectángulos sobrantes escribiremos las vocales.
In the small rectangles with the marker we will write 10 words 2 that began with each vowel, in the five remaining rectangles we will write the vowels.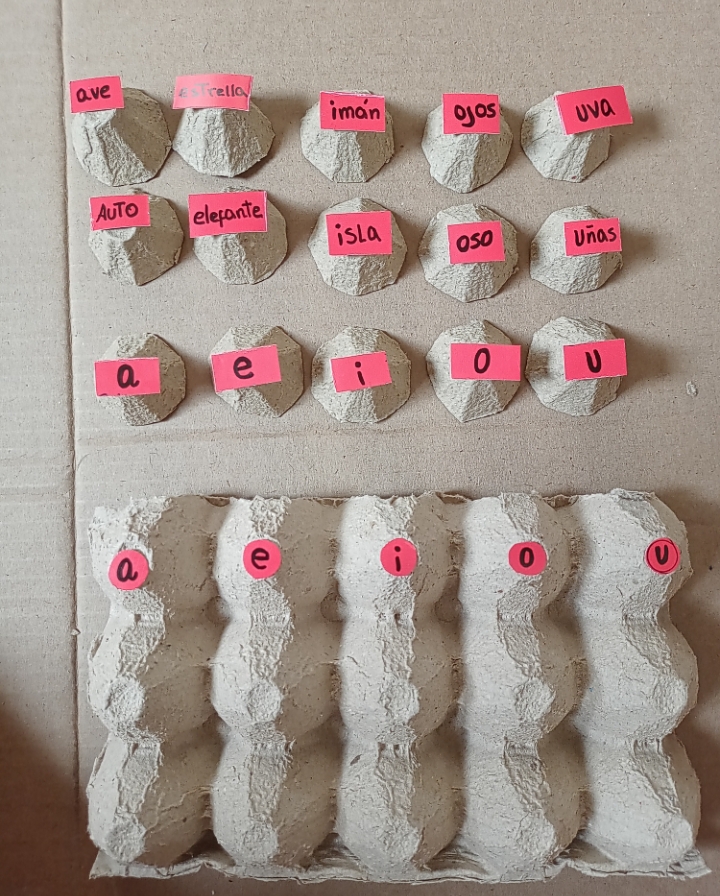 7. Finalmente procedemos a pegar los rectángulos encima de los conos.
Finally we proceed to glue the rectangles on top of the cones.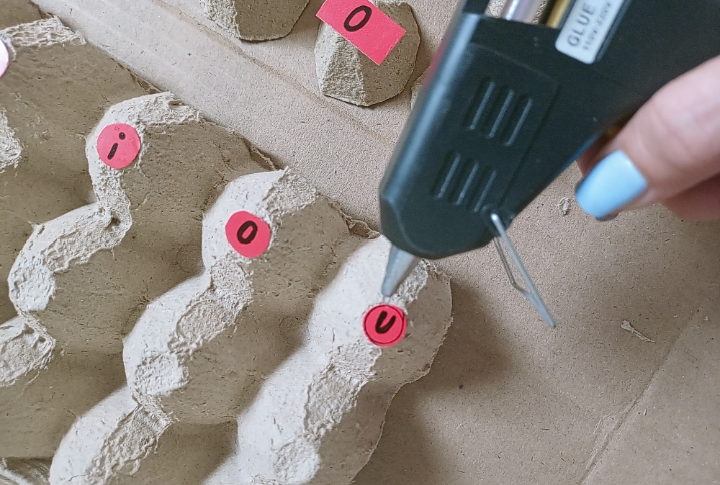 8. Así tendremos el nuevo juego listo.
So we will have the new game ready.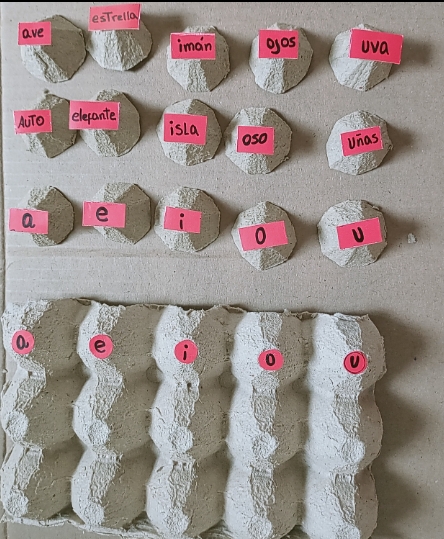 Como Jugar:
para iniciar debemos desordenar los conos, el niño debe primero ubicar en la base o tablero las vocales, luego identificar y ordenar las palabras cuya inicial corresponda a la vocal. Recordemos que mencionar el nombre de cada una es fundamental ya que así ira reforzando su memorización.
How to play:
To start we must disarrange the cones, the child must first locate the vowels on the base or board, then identify and order the words whose initial corresponds to the vowel. Let us remember that mentioning the name of each one is essential since this will reinforce their memorization.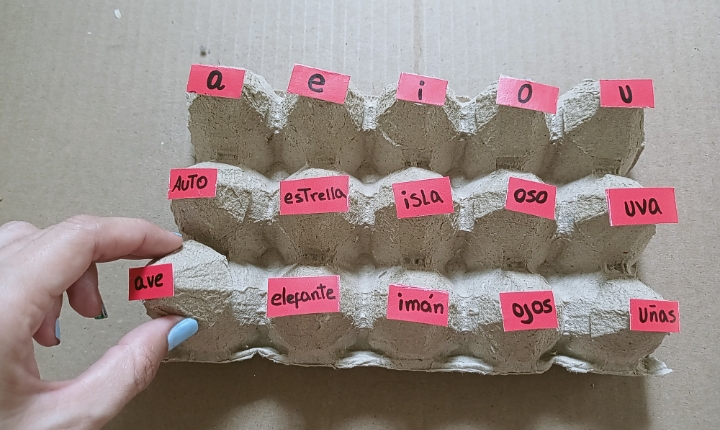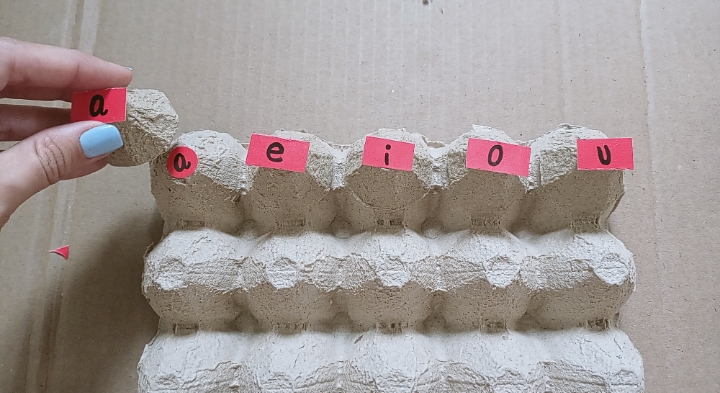 Beneficios
Esta es una estrategia muy creativa, es muy divertida y didáctica ideal para motivar y trabajar en casa, además es muy sencilla de elaborar ya que la podemos elaborar con material reciclado. Tambien enseñamos y reforzamos las vocales,a todo niño le gusta jugar y estás estrategias son ideales pues mientras juegan aprenden.
Benefits
This is a very creative strategy, it is very fun and educational, ideal for motivating and working at home, it is also very simple to make since we can make it with recycled material. We also teach and reinforce vowels, every child likes to play and these strategies are ideal because while they play they learn.
Finalidad
La finalidad de este juego es enseñar las vocales, su pronunciación, orden y palabras con sus iniciales, además de motivar, divertir e integrar a la familia.
Purpose
The purpose of this game is to teach the vowels, their pronunciation, order and words with their initials, in addition to motivating, entertaining and integrating the family.
Está es una actividad didáctica y muy divertida, además podemos adaptarla a otras actividades o temas de interés. Está actividad se me ocurrió gracias a mi sobrina.
This is a very fun and educational activity, we can also adapt it to other activities or topics of interest.
This activity came to me thanks to my niece.
Queridos amigos, espero que está estrategia que les comparto el día de hoy sea del agrado de todos ustedes y sobre todo de utilidad para aplicar en casa con sus pequeños, les agradezco por visitar mi publicación,me despido esperando sus comentarios, será un placer leerlos e interactuar con todos ustedes. Saludos y bendiciones para todos!
Dear friends, I hope that this strategy that I share with you today is to your liking and above all useful to apply at home with your little ones, I thank you for visiting my publication, I say goodbye waiting for your comments, it will be a pleasure to read them and interact with all of you.
Greetings and blessings to all!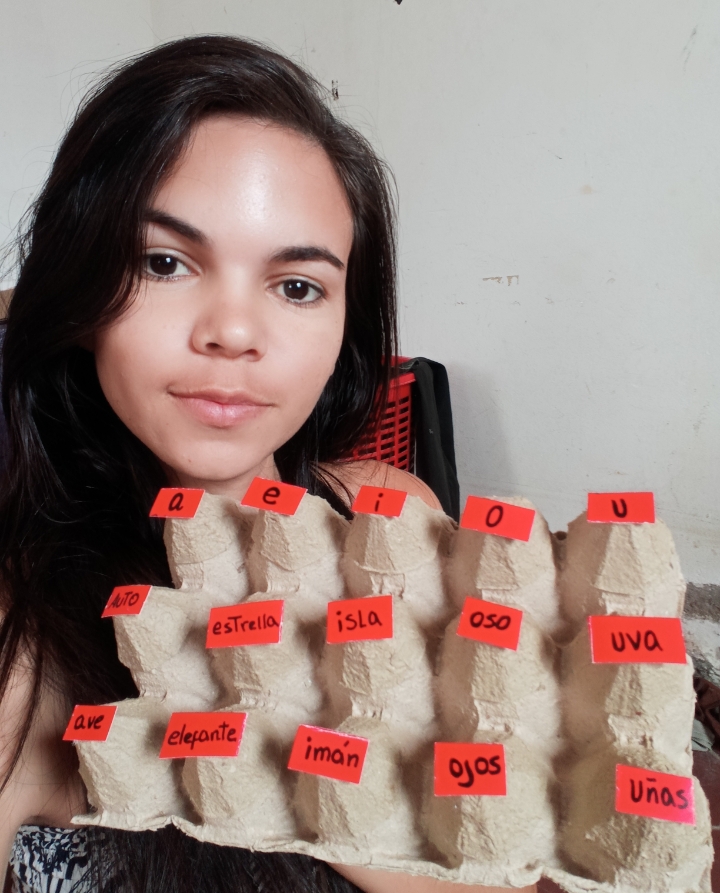 Fotografías propias tomadas con mi REALME 7i
Own photographs taken with my REALME 7i
Para traducir el texto utilice traductor Google// To translate the text use Google translate