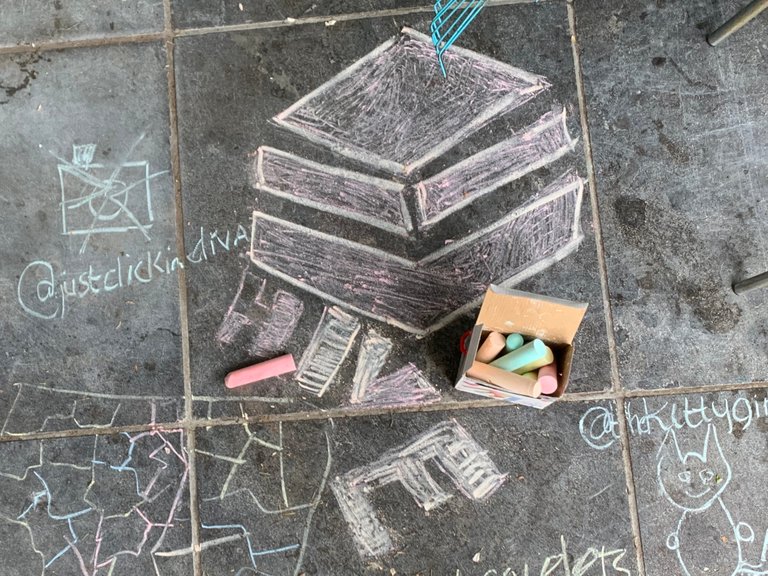 I tag @GUILTYPARTIES, @THEKITTYGIRL , @JUSTCLICKINDIVA AND @XCOUNTYTRAVELERS. I talked to the ladies this morning in admin office so I thought about them and the things we talked about concerning the @theterminal while I was chalking.

The cat for @thekittygirl, America with all the counties / states for @xcountytravelers for the counties she wants to visit, and a camera ( of which my son said that it looks crap ) with flash for the click in @justclikindiva. We were on the terrace, after my son started on the wooden floor because he wants to win the contest. Yes we are all competitive. His hive sign was nicer though ! Its was a co-operation with little D, and just plain old fun.

Next to the train set we built for the blog we did last sunday for #beautifulsunday, we tried after the rain started, but i think that was not the best idea.

How to Participate?

Get at least three colors of chalk or similar ✅
Go outside or onto your balcony ✅
Draw the Hive logo and your favorite Hive-based content creators around it frolicking ✅
Take 3-5 pictures of your art in progress and the finished product✅
Make a post about it and tag myself plus whomever you drew (you better do a good job or they'll downvote you) ✅
Link your post in the comments below
( i will after posting ) ✅

Prizes
The usual 0.25 HIVE per entry
and a choice of either ...
Prize A. 20 HIVE prize to the winner✅
Prize B. Mystery prize to the winner

LITTLE D AND ME want the prize to GO TO the REDFISHRALLY, with 20 hive we can make 20 people happy with one steem when we start on the 1st of may with the new @theterminal REDFISHRALLY ASSIGNMENTS

Write down whether you want Prize A or Prize B in your submission in comments here.
Winner to be judged by a subsequent Dpoll.

Rules :
One entry per person.
All entries must be unique.
No Photoshop or photo editing.
Drawing must be at least 2 x 2 feet in size and show you tried.
You must contribute to the art yourself. Not just make your kids draw it for you. Hahahaah you know me i love to chalk and talk so i was chalky busy. If you don't have a balcony and aren't allowed outside, draw it on your floor, thank you for that great idea, we did both.

https://hive.blog/contest/@guiltyparties/gp-contests-hive-street-art

This was my hive at 5 a daily sequel and the brother to my stem 4 o'clocky, also a daily and over 600 are already somewhere on the blockchain.

Thanks for stopping by, its appreciated and remember focus on being creative instead of being bee-zy. Consistent Actions Create Consistent Results. Not everyone is a blogger but everyone has something great to offer.

Lover of Life and L❤️ve in General - @brittandjosie


(c) All images and photographs, unless otherwise specified, are created and owned by me. @brittandjosie originals. Sources used : Pixabay and Pexels and with others its mentioned in my blog. I only use a canon camera and my iPhone.

I would like to thank you for reading my blog, feel free to leave me any feedback, if not, read you next time.

Your personal Discord terminal invite : https://discord.gg/XZGPGpz




Are you under 500 HP or SP , want to win prizes or delegations? Than you can enter the REDFISHRALLY, go to @theterminal blog and see what its all about.