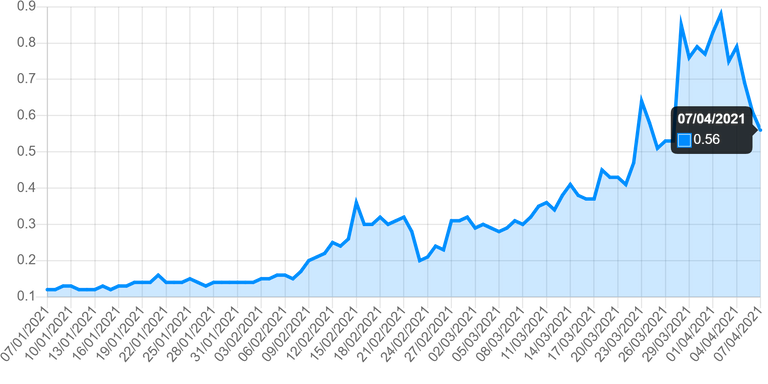 source
I am sure many of you are frustrated looking daily at the Hive price and that is just natural because many of us are staked in the project financially and emotionally. Emotionally as it takes loads of work to get anywhere and what we earn means that much more personally.
We have to put everything into context though so we can look for the positives as we all know what a great project and community we have here. Price will never always match our expectations as others don't see what we see and know.
It wasn't that long ago that Hive was sitting on 15c and any upward movement was noticed immediately with the wallet sizes increasing. Hive is up 312% in the last year and that is with the price falling dramatically over the last week. Actually Hive has lost nearly 50% in the last 10 days yet we are still up over 300% which is pretty amazing.
Thankfully we are at the start of a bull market and not at the end and starting with a price well over 50c gives me much hope that we are going to see some massive gains over the next 6 months. A steady rise is better than a pump as the value is still maintained when it does drop and as long as we maintain a higher high from the last increase we are still increasing our overall value.
We all saw what happened with Ripple yesterday as things are looking good for them with the SEC and investors took money out of BTC and invested in Ripple doubling it's market cap in one day. Ripple went from a market cap of $21 Billion to over $42 Billion in one day which tells us this came from the existing crypto eco system and is not all new money. This is pure speculation that Ripple is actually going to win against the SEC and is looking like a good bet right now.
All I am trying to say is things happen so quickly in the crypto world that nothing can ever be counted out. If we just compare our positions going back to January we now have CUB at over $3 each, Leo sitting strong at over 80c after dropping over 20% in the last day or so and Hive up over 300% so we have nothing to complain about as we will always want more obviously. The riches are here as they will surely come at some point ,just enjoy the ride.