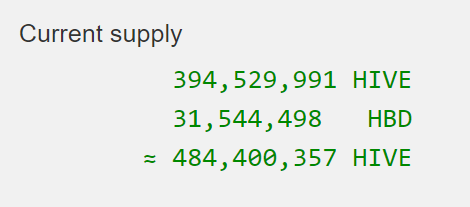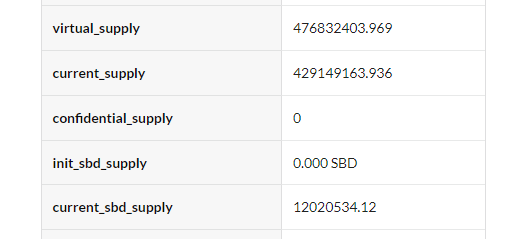 I don't wanna compare these two, but its quite useful for these type of data. Similar to like imagine having a twin, what he would look like if he was growing up in a different environment from you :)
When we put the numbers into a table we get this
| | HIVE | STEEM |
| --- | --- | --- |
| Supply | 394,529,991 | 429,149,164 |
| HBD/SBD | 31,544,498 | 12,020,534 |
| Virtual Supply | 484,400,357 | 476,832,404 |
| DHF/DAO Holdings | 19,555,173 | 3,430,633 |
| Adjusted for DHF Holdings | 428,687,611 | 463,223,716 |
| HIVE/STEEM POWER | 167,336,983 | 171,456,459 |
Some commentary :)
The HIVE only supply is smaller than STEEM, 394M to 429M. (8% less).
A total of 83M was transferred to the the DHF when the Hive fork happened, and later put in conversions to HBD. Around 30M of those tokens are now converted to HBD. We can say the difference is in these tokens only. But we can already notice that the difference is more than that, or close to 35M.
Furthermore if we exclude the current HIVE supply that is in the DHF, around 55M, this difference will become even bigger for HIVE. This will put HIVE at around 340M, while STEEM will still be 429M.
Next the HBD/SBD supply.
A much higher HBD then SBD supply, 31.5M HBD to 12M SBD. But a 19.5M HBD is in the DHF, or around 12M HBD is freely available HBD. On the SBD side there is 3.4M SBD in the DAO, meaning 8.6M freely available SBD. Furthermore, the amount of HBD in savings is more than 6M, while on SBD is almost zero. But lets sum it up to 12M HBD vs 8.6M SBD. Still a smaller SBD supply.
Virtual Supply
At the first sight HIVE has a bigger virtual supply. A 484M to 476M. But this again is coming from the DHF funds, where a total of 19.5M HBD is stored, while STEEM has only 3.4M. If we exclude the tokens in the DHF, we are getting a 428M HIVE virtual supply, VS 463M STEEM virtual supply.
HIVE/STEEM Power
These are almost the same now, with STEEM still leading with about 3M. I expect HIVE to surpass STEEM in the amount of powered up tokens this year. The reason why STEEM is leading here is because when the HIVE HF happened, the powered up tokens of Steemit Inc were powered down and put as liquid HIVE in the DHF. Actually if we add those tokens now as a HP, we will get somewhere around 220M HIVE locked/powered up, compared to the 171 STEEM.
In conclusion, HIVE has smaller available supply then STEEM. Even smaller when the HIVE in the DHF is excluded. The HBD supply is higher on HIVE, especially in the DHF. The freely available HBD is just a bit higher than SBD, or 12 to 8.5M.
The virtual HIVE supply is also lower when compared to STEEM.
The biggest difference is the DHF/DAO holdings, that is understandable, having in mind that a lot of tokens were moved there.