Splinterlands Dominates Top Viewed Posts on Hive.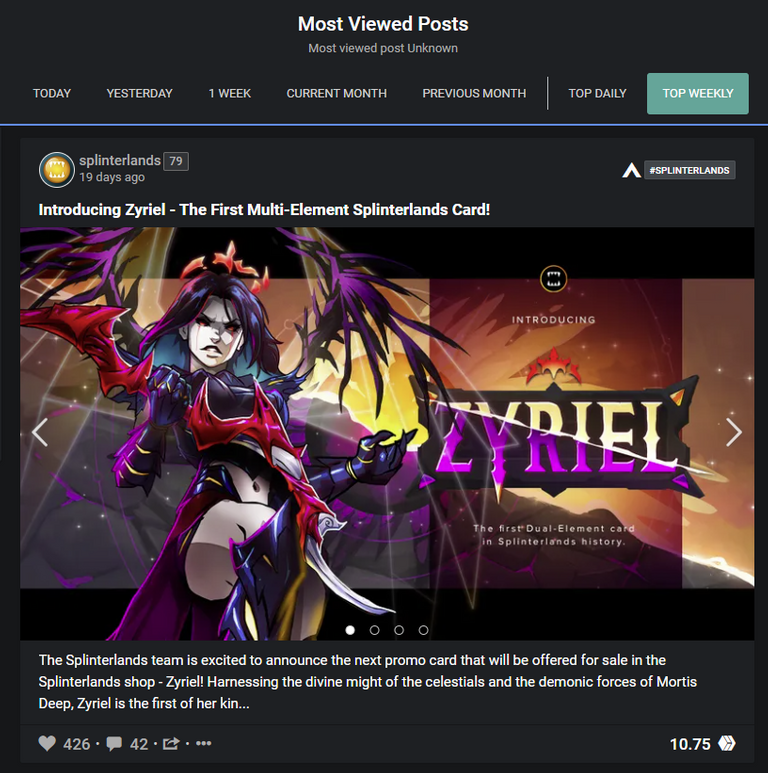 For the past two years, a Splinterlands post has won the Top Weekly Viewed award on Peakd.com almost every week. Occasionally other Hive gaming content such as Rising Star games or Golem Overlord manage to edge Splinterlands out for the top spot, but those are the exceptions. Usually Splinterlands wins.
In fact very often, it's not even a Splinterlands post made that week. The post may have been made a week or even a month before, and still in terms of views it's beating everything else posted that week.
Before this month, the last time an account not relating to Splinterlands, Golem Overlord or Rising Star Games got the most viewed weekly post was in November 2021, when @punksonhive was launched. That is almost a year and a half ago.
All that is to say, Hive-gaming content absolutely dominates Hive when it comes to actually bringing eyeballs into the ecosystem.
Streak Broken - New Streak Started
In the first week of May, for the first time in 76 weeks, a new contender managed to place first for the top viewed weekly post on peakd.com.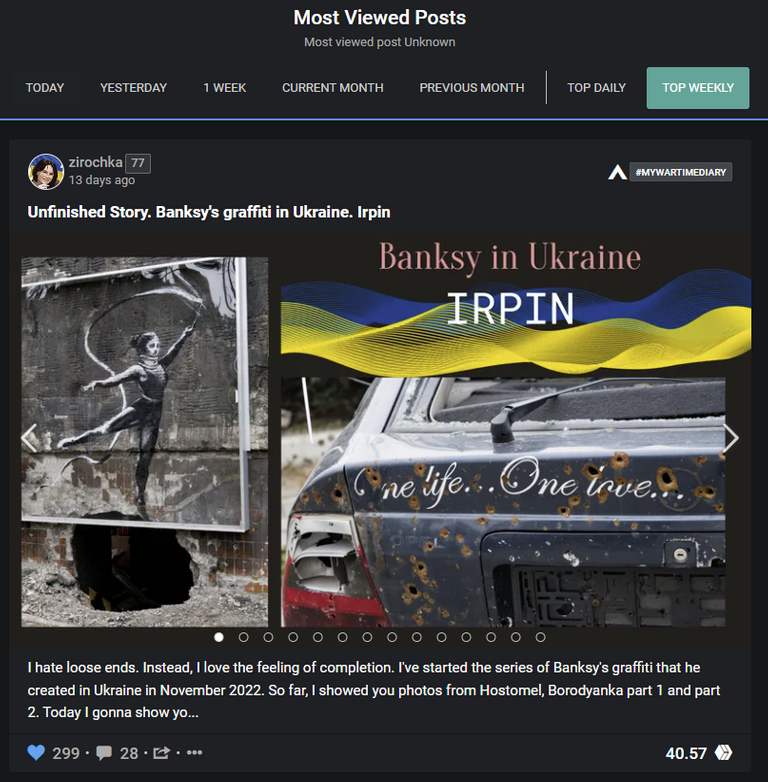 @zirochka was the first author on Hive in nearly 18 months to beat out the Hive-Gaming accounts to a top viewed weekly post. Then, not only did she beat it once, but she is on the verge of doing it a second week in a row.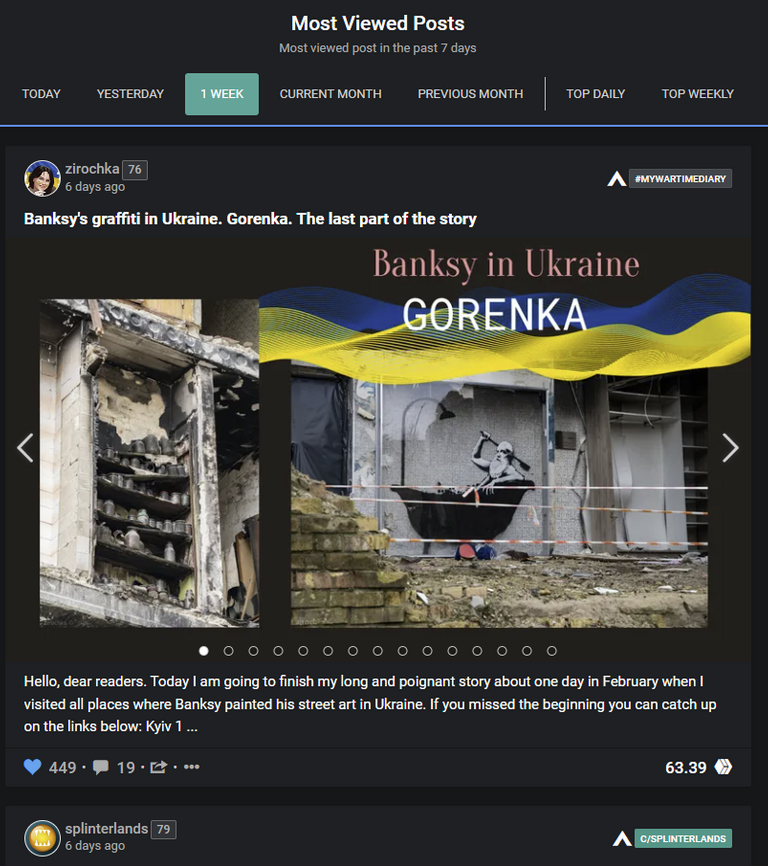 You may notice in the screenshot above, her post is pretty much neck and neck with Splinterlands again, and it's possible it will be edged out in the last few hours of the week. Update: It has now gotten the award.
How did it happen?
Well firstly these are compelling and interesting stories of personal experience, in an ongoing event. It's also a well written blog full of emotion and context for how these pieces are understood by Ukrainians.
However, that alone is not how a post manages to get enough views to reach the top weekly post on peakd.com. These posts by @zirochka were shared on appropriate communities in Reddit. Because they were appropriate and the content was interesting to those users, they were able to rise up without being deleted by the mods. Even relatively small subreddits have an enormous amount of traffic compared to anything in our Hive space. In the end, that is all it takes to beat everything else on Hive in terms of views - even the Hive-gaming content which usually dominates.
There are many high quality, interesting posts on Hive, as we have a dedicated commuity here constantly curating Hive to ensure that high quality posts are encouraged and rewarded. However, the incentives to focus on getting curated on Hive have also encouraged an inward focus, where we make little attempt to get our posts seen by the outside world. Even those attempts we do make, such as sharing on Twitter, we have little data to determine just how much outside traffic that actually generates.
Introducing Eyes on Hive
In the few days I have been running some contests to try and reward users for bringing traffic into the Hive ecosystem, by sharing Hive posts and aiming to make them the top viewed post of the day. I put up funds for the bounty out of my own (and @danday's) pockets, as well as the rewards for the post.
Going forward I plan to make it a daily competition - where both the author of the top viewed post each day gets a reward, and users who generate traffic get a reward. The last two contests required that the post become #1 for the day as well as at least 1500 views. I will scale that requirement down - the user who drives some traffic will merely need to beat all other contestants to win the reward. So if you think 1500 views is too hard, it may be possible to win with a much smaller number of views.
The contests will be funded by the current bounty if nobody wins it today, as well as the author rewards from this post and all related contest posts going forward. That way, a very small portion of the reward pool will be redirected towards rewarding users for bringing in traffic.
In the future, if these contests are in any way successful, I will try to run a short term but larger scale experiment where the funds are provided by the DHF.