STEP-BY-STEP GUIDE TO CREATE YOUR ACCOUNT AT WAX, HIVE AND NFT-PANDA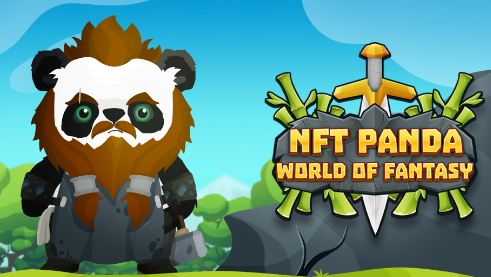 In this Guide you will learn How to:
• Create your WAX account
• Create your Hive account through 3Speak
• Manage your Keys
• Set up your HiveKeychain
• You will learn how to swap $LTC / $HIVE / $WAX / $BEER / $PIZZA
• Do Transfers between HIVE and WAX wallets
• Set up your CPU / RAM / NET from Wax
• Join the nft-panda game
• Buy NFT at ATOMICHUB
• START PLAYING YOUR FIRST GAME NFT P2E
• Have fun with games on BlockChain
So let's RUUUMBLEEE NOW Crypto Warrior!!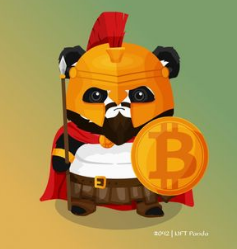 ---
So you don't want to get the error message: "Account xxxx has insuficient RAM; needs xxxx bytes has xx bytes" ?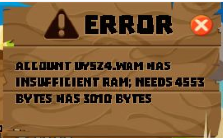 Or the Message
"Billed CPU time xxxx is greter than the maximum billable CPU time for the Transaction xxxx" ?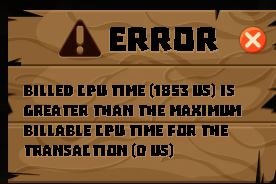 You need to learn about some things and perform some processes to be able to start and have some fun.
---
- Create your WAX account
Visit the website: https://wallet.wax.io/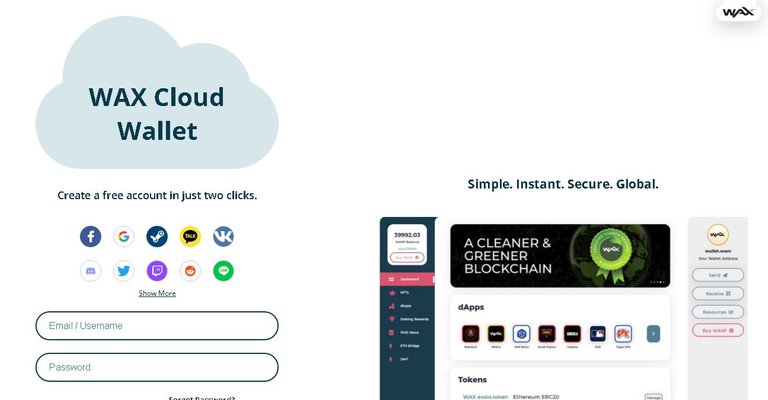 Choose the best way to create your account and set your password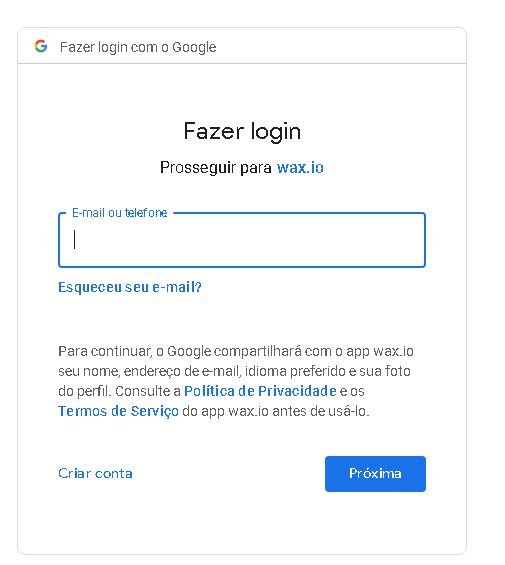 Accept the Terms of Service to be provided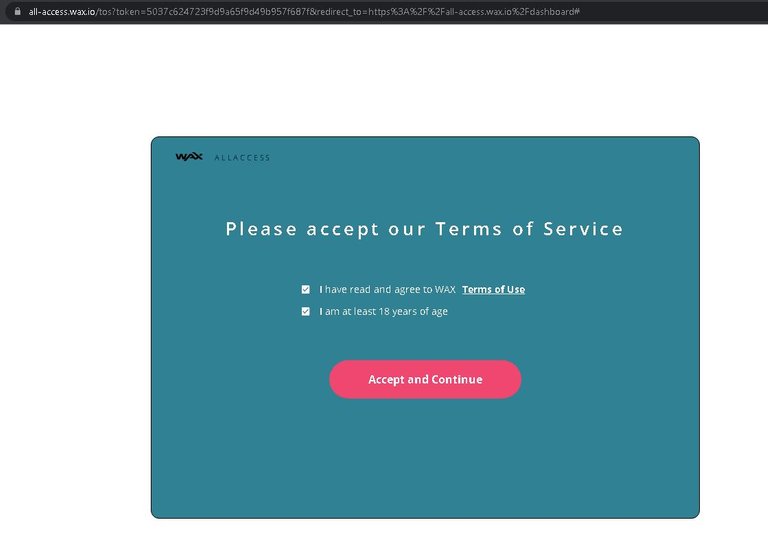 YOUR ACCOUNT IS CREATED!!!! WELCOME TO WAX!!!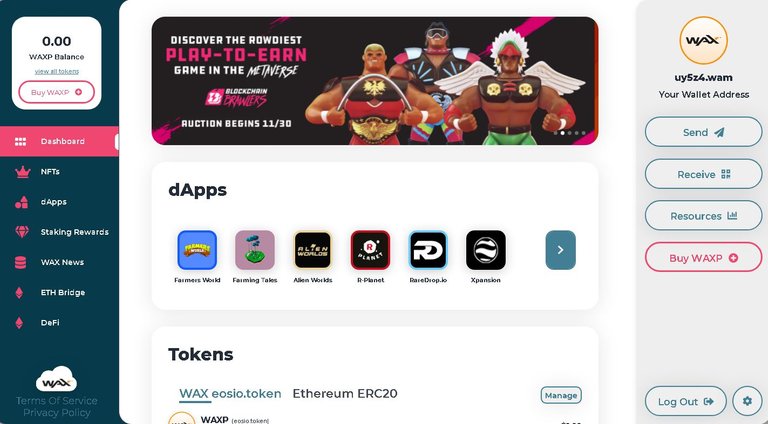 ---
- Create your Hive account through 3Speak
Now let's create your HIVE account!

The interesting thing about HIVE is that by creating your account on one of its platforms, you will already have access automatically to all others, so by creating your account you will automatically have an account available to be created and accessed in Splinterlands, Dtube, PEAKD, 3Speak and many others.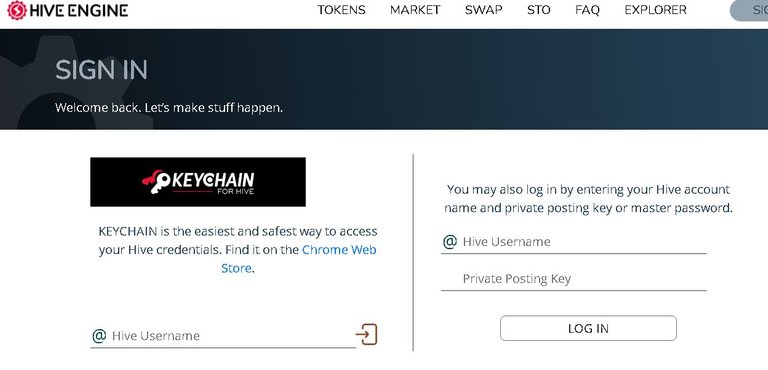 By clicking Sign In to create your account, you must choose one of the services for your first access.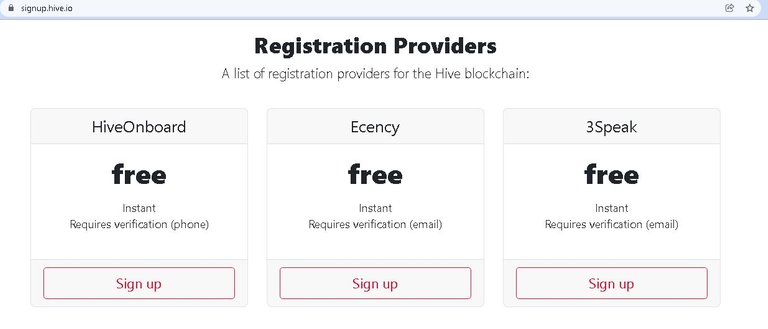 Set a user and password carefully because it will be the same for the entire HIVE platform you are going to use...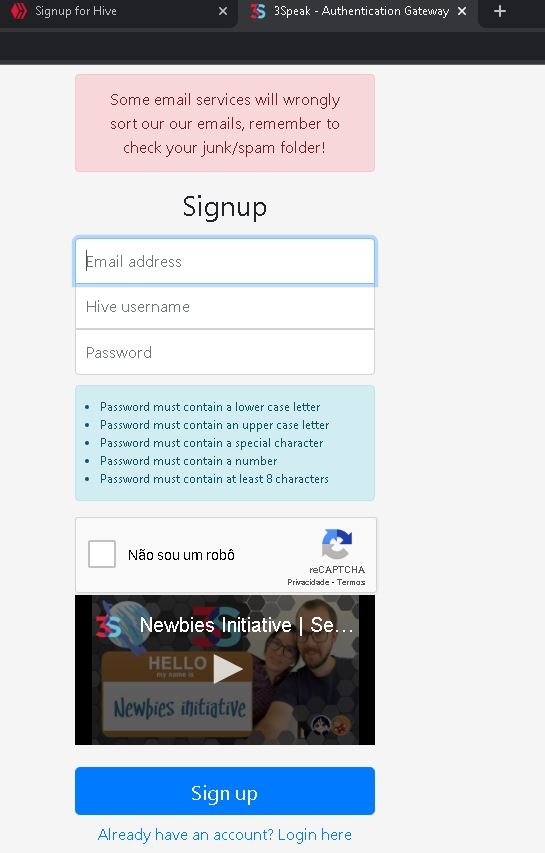 Created your account, you will receive an email and must click on the link to confirm your registration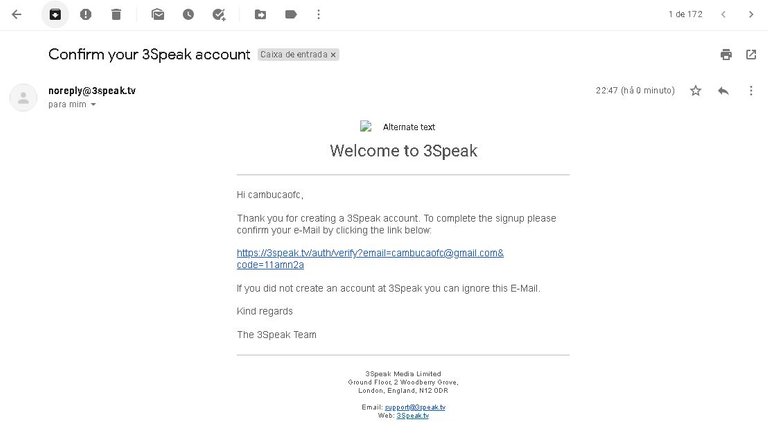 Perfect!! Once this is done you have successfully created your HIVE account through 3Speak!!!
---
- Manage your Keys
Your Keys are your most valuable asset, you will take the utmost care, both not to lose these keys, and not to share NEVER with anyone.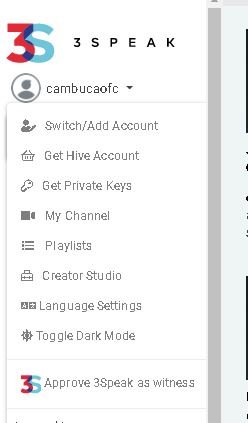 Still at 3Speak you will click on your user and select the option of "Get your Private Keys" to receive your keys in your email, have a Lots of Attention, because you can only do this once, so avoid being completely drunk to be able to remember something later... 😅
After that you will have to confirm if you want your key, for you to see how important this is!!
Remember you are responsible for your key, decentralized systems do not have customer service for you to be crying to mama that faltered and lost your key...
Well.. on HIVE and WAX, you can find help,but NO ONE can help you with your keys, its restricted only for you!!!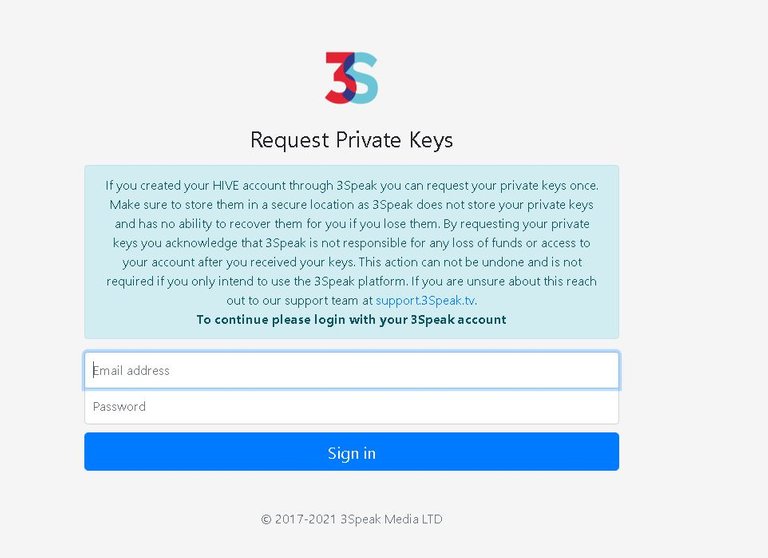 Once that's done you'll get this message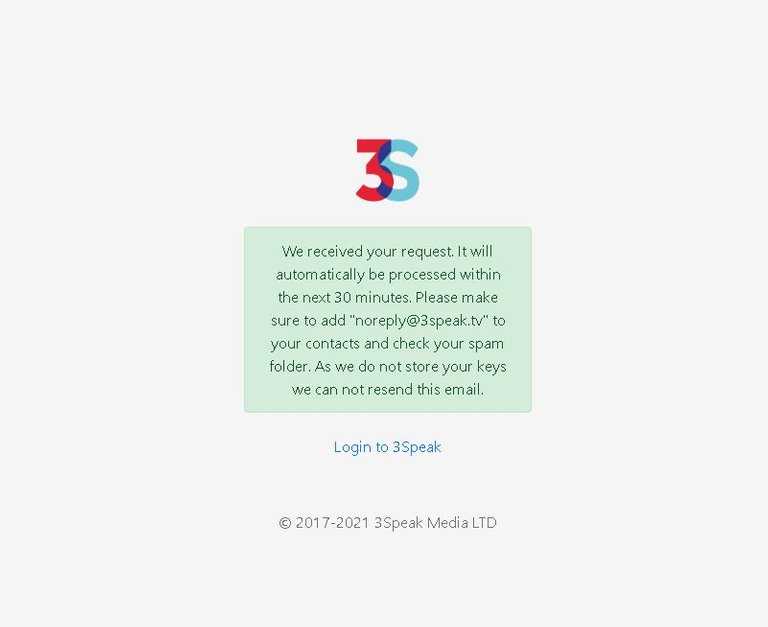 And you will receive in your e-mail your keys!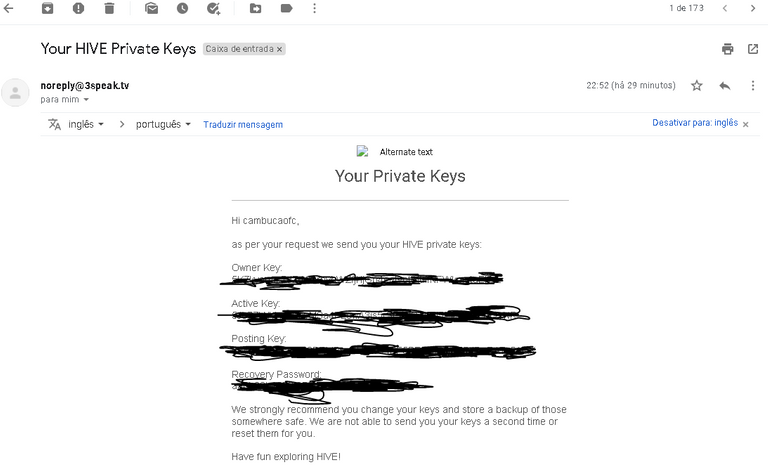 Now be as careful and save it somewhere safe and wait for us to still use these keys for more settings.
For you to understand, these keys are your passwords so you can make transactions, make posts, and recover passwords, which is why they are so important, they are like your Bank passwords!
So be careful and never divulge to anyone. We will teach you a safe method to use your keys with maximum security through Hive KeyChain!!!
---
- Set up your HiveKeychain
Hive Keychain was developed by HIVE with an extension for your browser, be it Edge, Chrome or Brave.
With this extension installed, it will make it much easier for you to make transactions, as it will prevent you from having to pick up your keys and paste them to every time to approve the entire transaction.
Be sure that this extension is official, extremely safe and if you do not want to install it is your option, but I guarantee that it will help you a lot!!!
To install you will access the site:
https://chrome.google.com/webstore?hl=pt-br
Search for Hive Keychain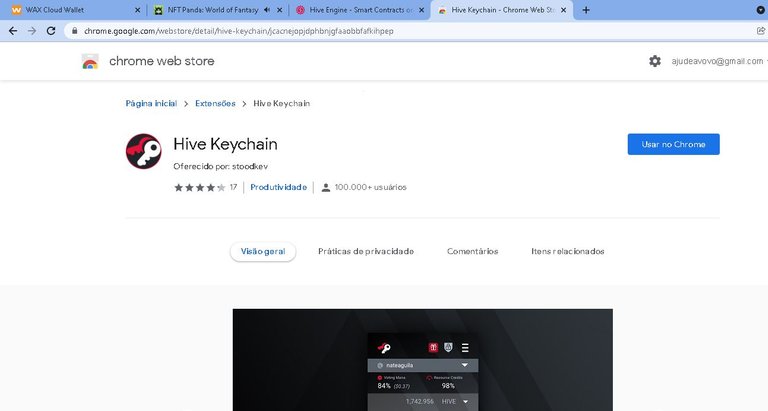 Add to your browser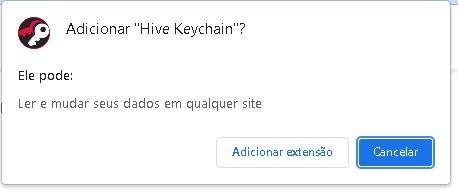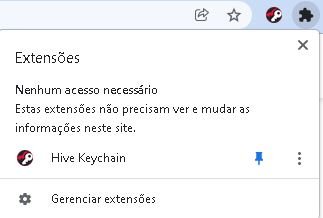 If successfully installed, it will look like the image above, be sure to mark it with your PIN to always be visible in your browser.
Click on it and start the setup!! Choose the first option to import your keys...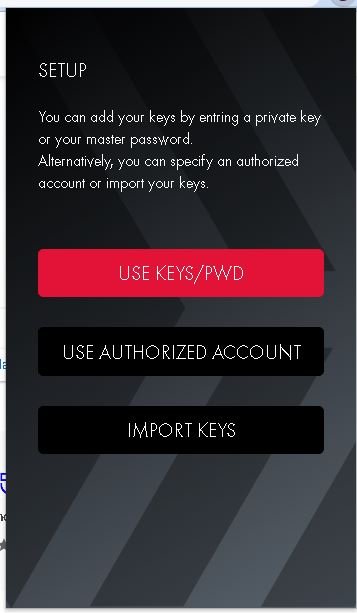 Set your user and your password you will the data you received in your email: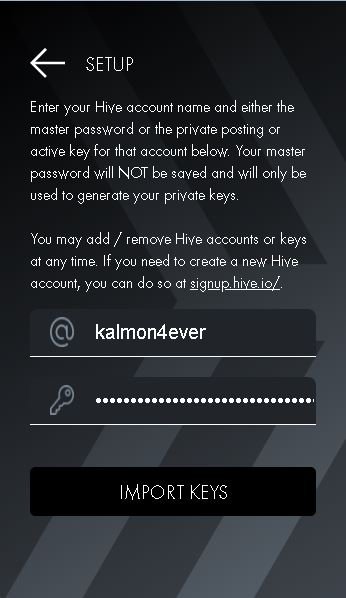 Choose MASTER PASSWORD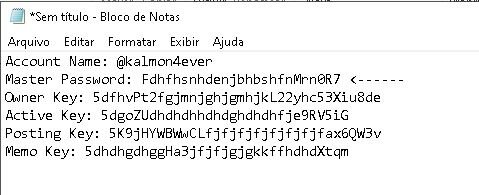 Leave everything selected and click SAVE !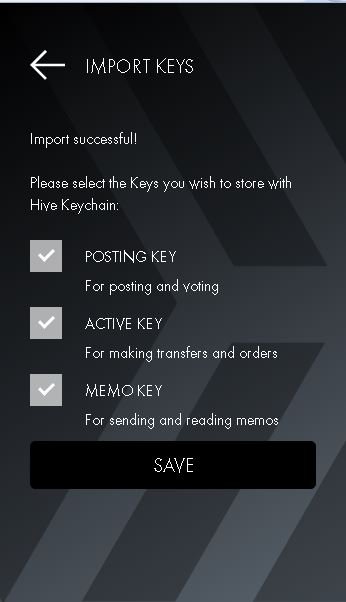 Doing this your wallet was setup successfully !! Congratulations the Future is now!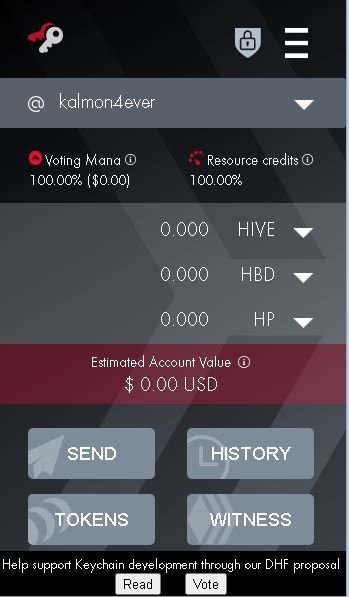 Now you can use your Keychain to connect to the HIVE wallet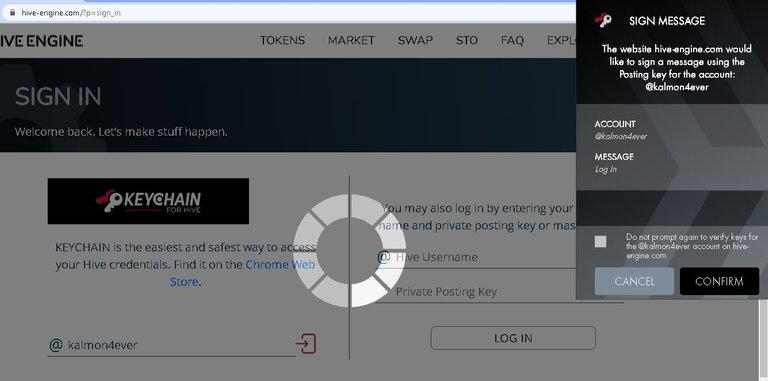 Put your user and authorize with your Keychain, if everything goes well you will be on the screen below ready to start conducting your first negotiations on HIVE.
---
- Trading $LTC / $HIVE / $WAX / $BEER / $PIZZA
Your wallet is already enabled, but this COMPLETELY empty ... But calm everything has solution.. Here you can receive tokens from other exchanges, exchange for other currencies, sell, save, burn, and send to whom and wherever you want...

First thing to learn will be to put money in your wallet, you can play games like Rising Star which are PlaytoEarn games in free to play mode, and you don't need to pay anything to start playing and can earn some coins every day according to your dedication and commitment to the game...
This is my referral link!! I love this game!!!
https://www.risingstargame.com?referrer=derivativador

But if you don't want to wait a few months to be earning about $1 a day, for free, with Rising Star...
Your other option is to buy LTC on your preferred exchange, such as Kucoin and transfer to your wallet.
To do this you need to get your LTC Network address on HIVE and send your token there.
Click deposit and this screen will appear, with several currencies, choose the Litecoin (LTC)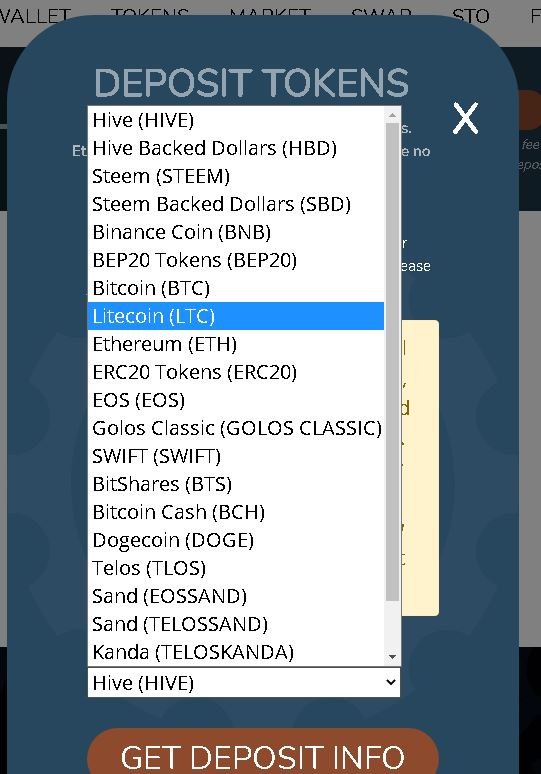 We chose LTC because it is one of the cheapest rates on the blockchain and you will spend something like 0.40 cents transaction fee... Soft near the tava of ETH and many others...
Chosen the LTC you will receive an address, you must copy and use it only once, that address is changed every time you enter this page, and it is not a fixed address, so you will receive a new one for each transaction you are performing... Don't worry if you close the window and get another address.
The important thing is you just send it to the last address you viewed and copied so you didn't have any unforeseen things.
Then perform the transaction on your favorite exchange: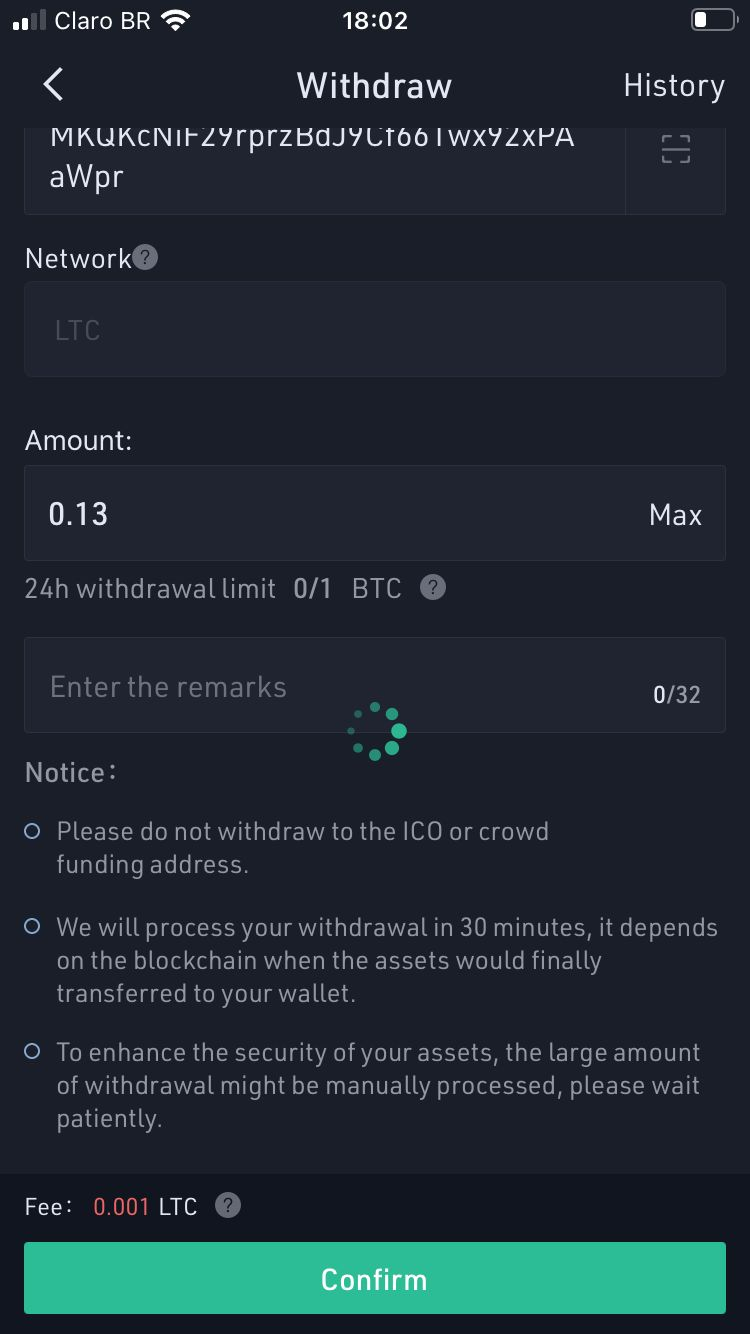 After sending LTC to your HIVE wallet, you can now start your first negotiations...
Wait a few minutes until the amount appears in your wallet, it will look like this:


Made your first deposit, we will now teach you how to perform an LTC to HIVE transaction.
Just for you to understand the dynamics of this site, all tokens and coins are based on the HIVE pair, that is you need to have HIVE to buy whatever you want...
So now we will teach you how to sell this LTC and buy HIVE and after that you will be able to buy WAX, BEER and PIZZA!!!
Remembering that here has no financial advice, all the decision of values and transactions are your responsibilities, here we only suggest and indicate the operations that I performed ...

Click on the Token Market icon to go to the trading market. This screen will appear, where you will see:
• Table with Tokens for Trading
• Token Graph
• Fields for purchase order and sales
• Tables with order history and miscellaneous information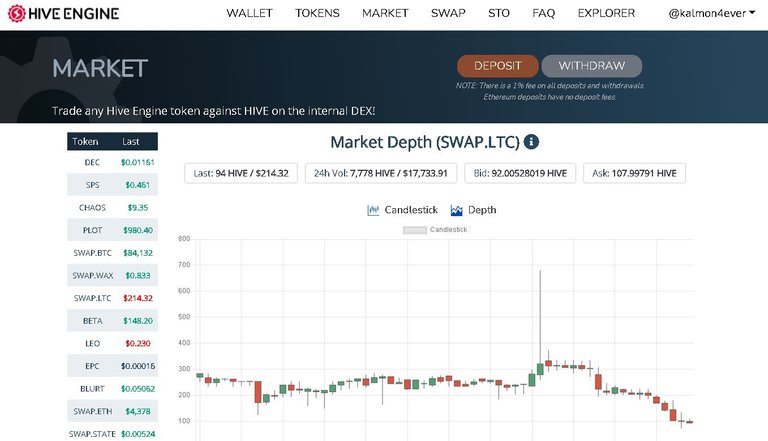 Attention, See that in the Title has to be written: SWAP. LTC
If you have SWAP. LTC in the title, go down to the end of the chart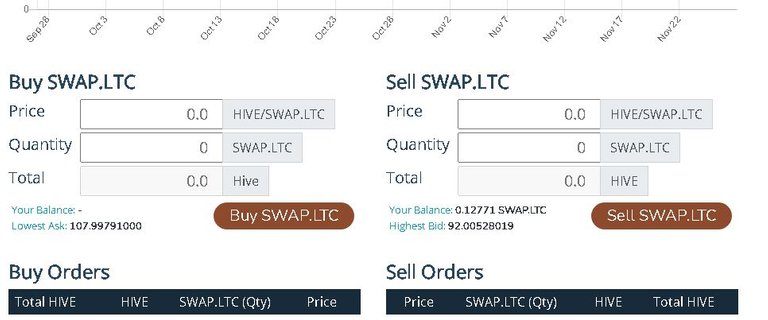 As you have LTC and want to get HIVE, you will sell (SELL) , for this, just click on the value next to "Your Balance" and then on "Highest Bid" with this you will sell everything you have in LTC and receive in HIVE.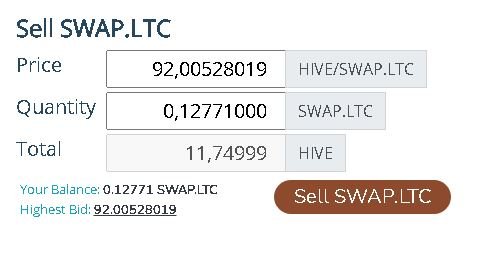 Confirm to perform the transaction.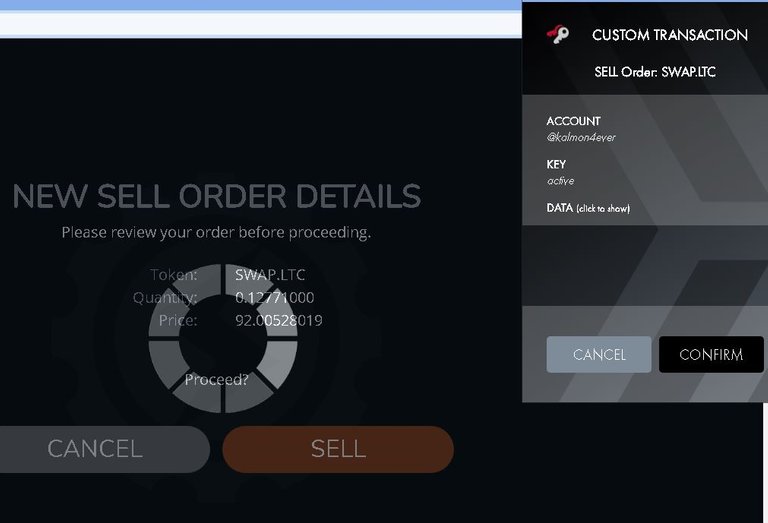 All right your WALLET screen will look like this now:
Now we will buy WAX with what you bought from HIVE!!! Click Token Market again, on the HIVE line, because LTC is now with any token anymore.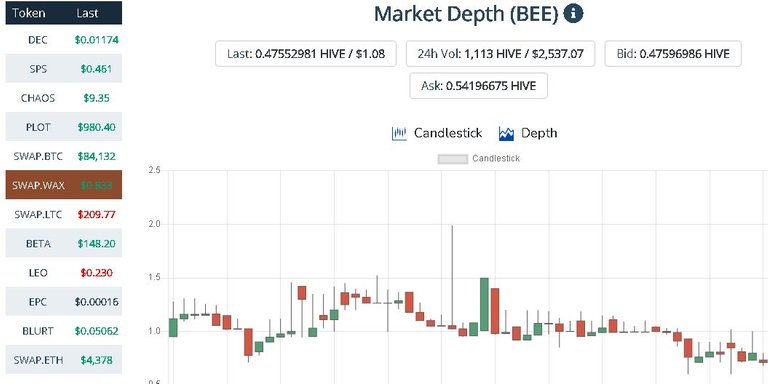 Now VERY IMPORTANT!!
You need to be careful, see the title, this is not the token you want to buy now, so look at the table on the right side. Look for SWAP. WAX, so you will buy WAX with your HIVE.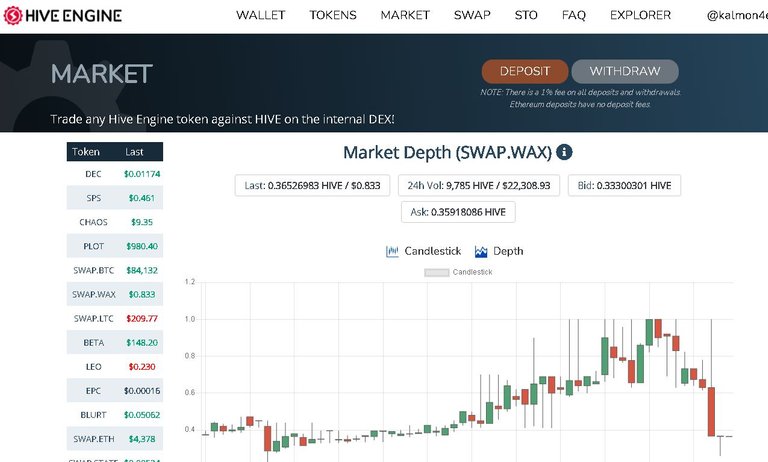 Note that the Title has changed, make sure is appearing. SWAP.WAX
And now you will buy (BUY) some WAX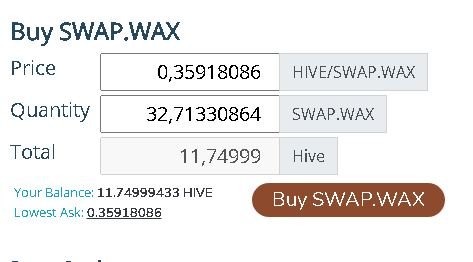 Sometimes this error message above may appear, but it's no big deal, just round out the values of the amount that will work!!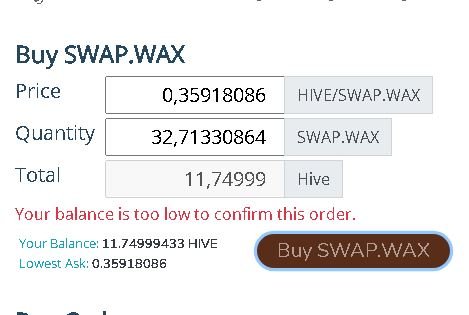 Take a few cents just like this example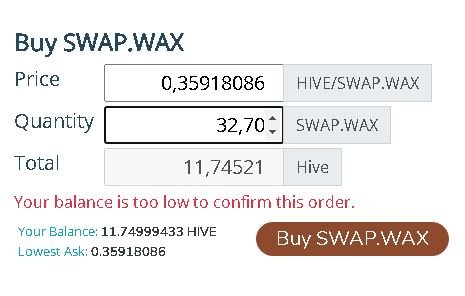 If you have made your purchases and tokens are not showing up, check your open orders, if you cancel and create a new one, this is due to the token price variation.

But if everything worked out, your wallet screen will look like this:


Once that's done, we'll teach you how to transfer your WAXP from HIVE to WAX WALLET and with what's left, you'll be able to buy some beer and some pizzas too... yes blockchain is magic!!
---
- Transfer between HIVE and WAX wallets
Now get your WAX address inside WAX Wallet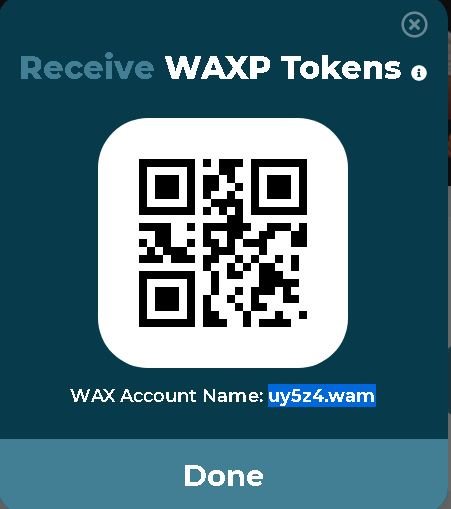 Go back to HIVE and click WITHDRAW to withdraw HIVE money for WAX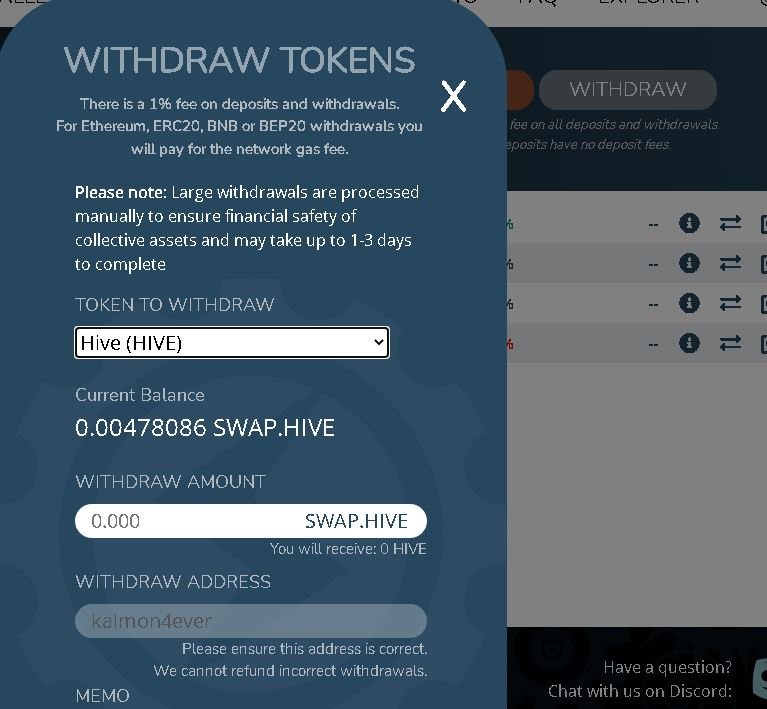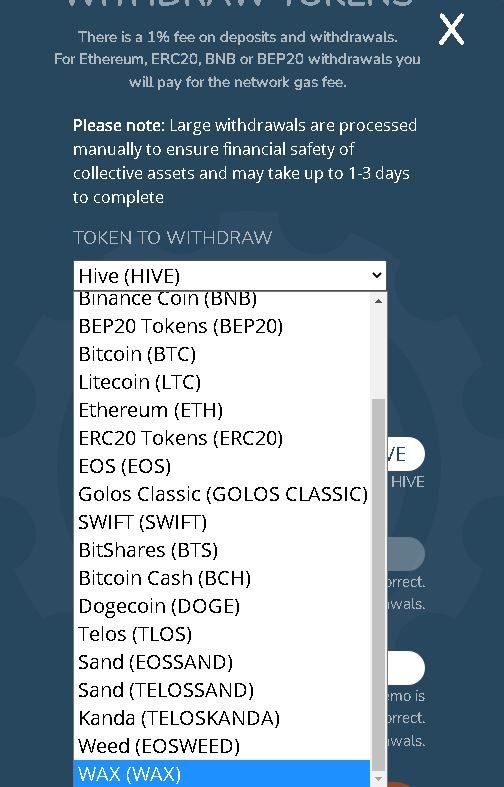 Switch from HIVE to WAX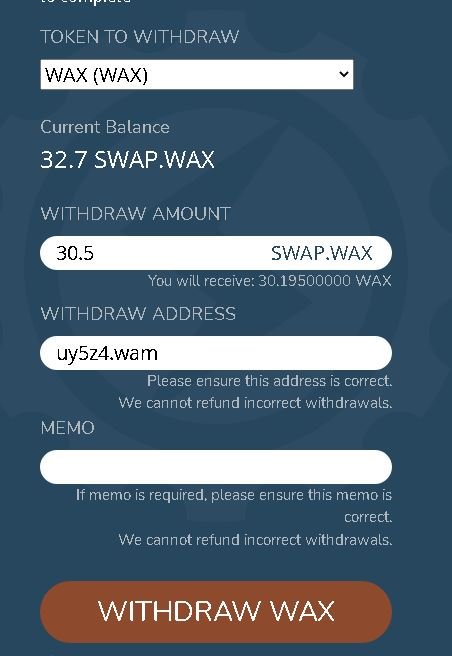 Send at least 30 WAX so we can perform the basic settings and so you can start playing too.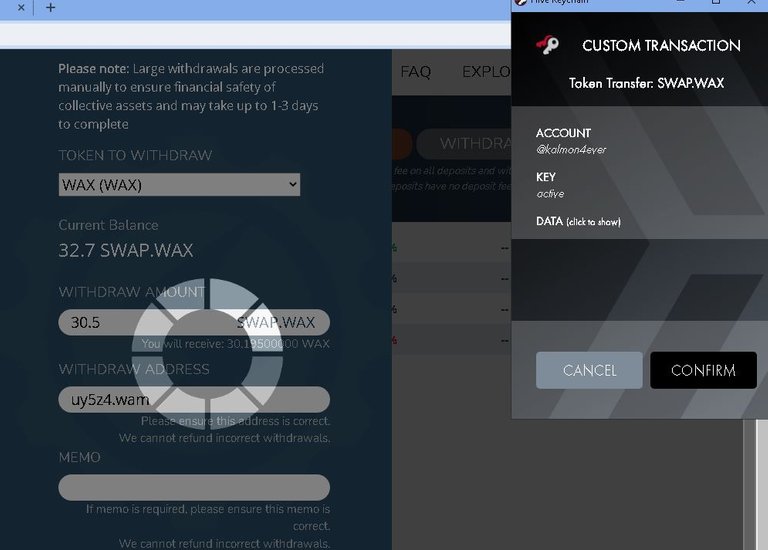 Once this will appear the confirmation message:

and you have successfully uploaded your Token to WAX!

---
- Trading $HIVE / $BEER / $PIZZA
Now you've seen that there's a little left in your wallet... so how about buying two tokens with the things we like the most in life? Because it's bora buy Beer and Pizza! hehehehe
Jokes aside, we will make this quote, due to the importance of these two projects, look for more information and if you want to buy your breweries with the following step by step
In the tokens part, type in the BEER search

And buy your beers, one thing is fact, a beer is not enough ... lol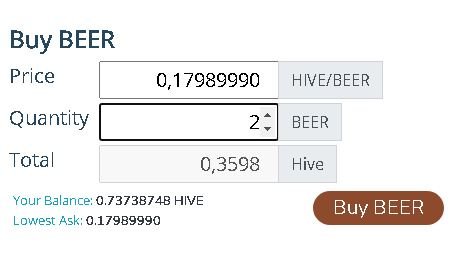 and if you want to do the same for PIZZA!!!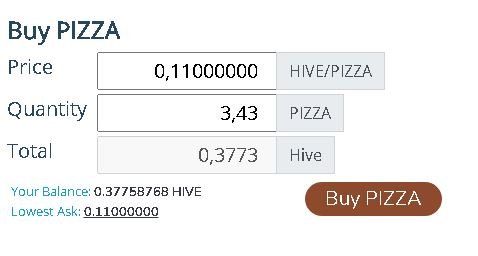 Once that's what your wallet will look like:

---
- Set up your CPU/RAM/NET from Wax
Now that your wallet has a balance...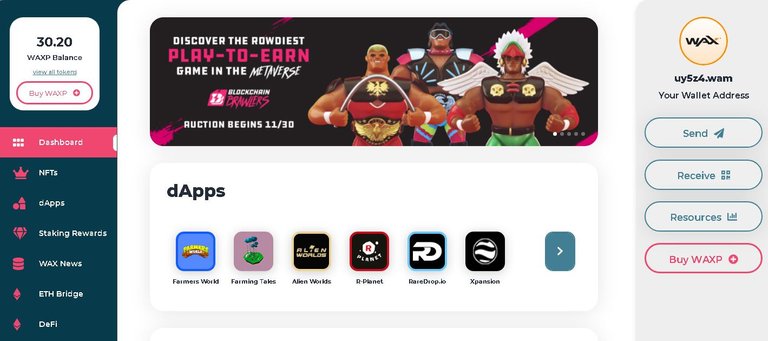 We need to configure some features of WAX BlockChain, as it is a decentralized exchange, you need to allocate your own resources, to be able to have your computing power to be able to carry out your operations, such as buying, selling, transferring and to be able to play the Play to Earn you want.
WAX has 3 items that we need to allocate WAX so that they work properly, and this value you are allocating, is not selling and not being lost, it is being allocated, as a staking, and the currency is yours and will be accumulating to generate computational power for your operations.
For you to play the @NFT-PANDA with good resources and without any crash, with 1 card, you will need to put at least:
10 WAX on CPU
0.2 WAX in NET
2 WAX in RAM
To understand what each represents in the WAX ecosystem, we have the following summary:
NET - WAX network transfer capability, measured in bytes
CPU - processing time of an action, measured in microseconds
RAM - stores data from dApps on the blockchain
So by clicking ON RESOURSES, you will have this home screen with very limited features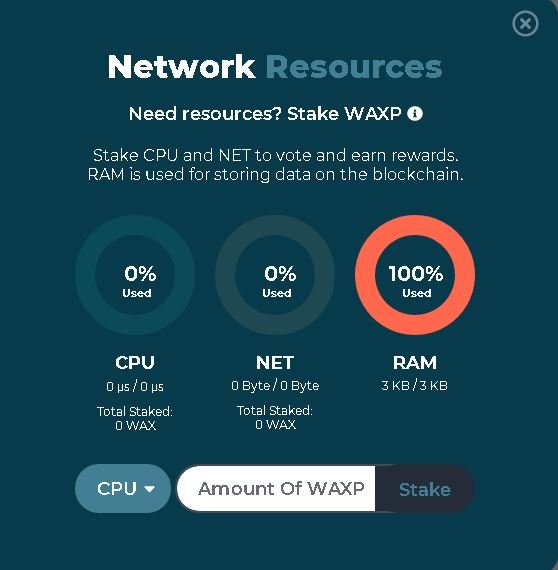 Add 2 WAX in RAM, do not forget to change the CPU button to RAM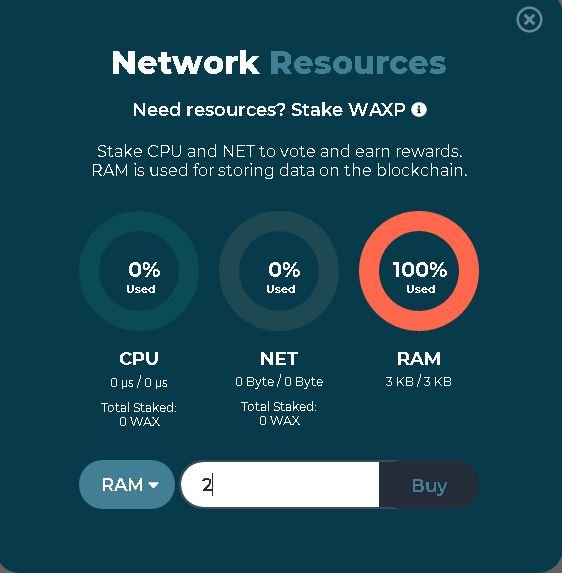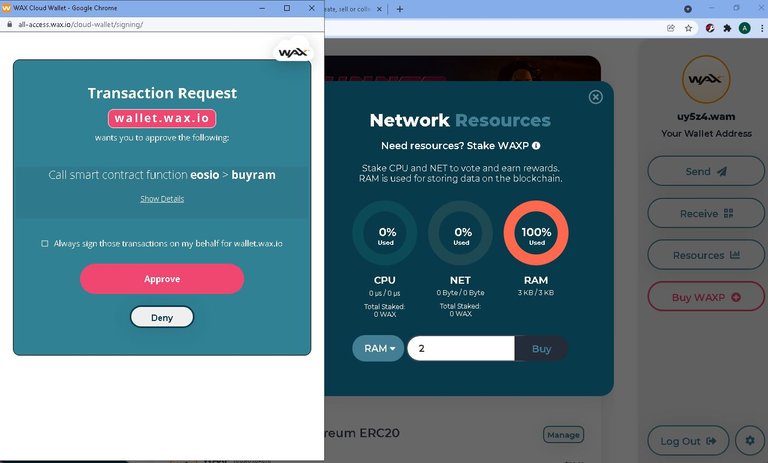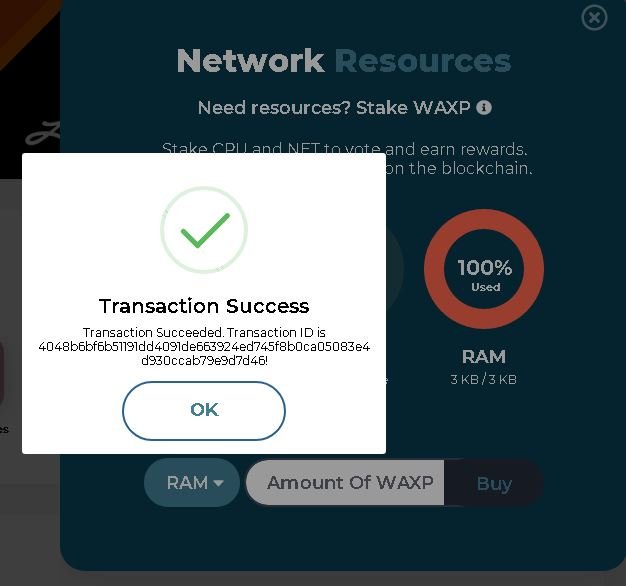 Once that's done, let's add some CPU too...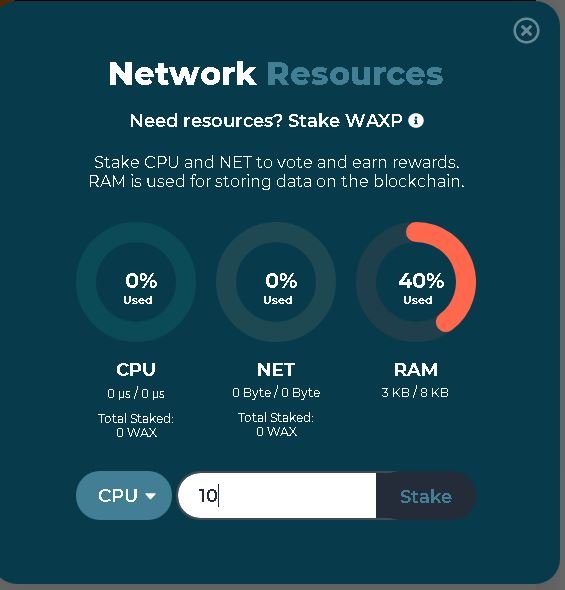 And pretty little net too

Once that's done, your resources will look like this: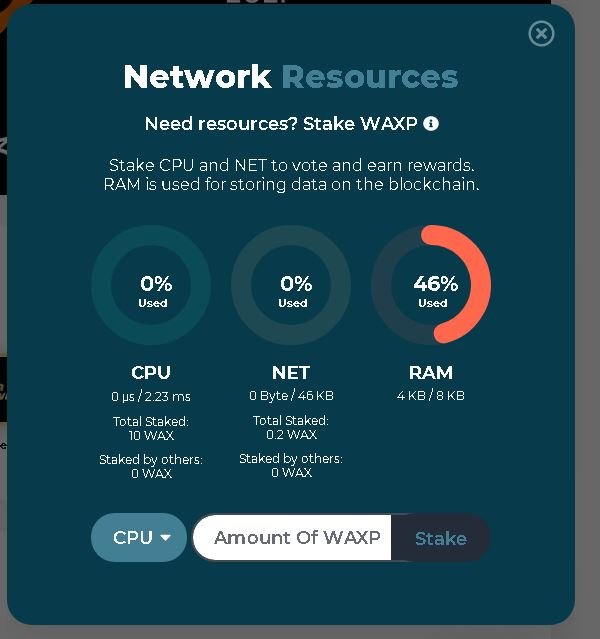 READY ALL SET UP SO YOU CAN PLAY AND HAVE FUN
---
- Enter the game NFT-PANDA
If you can use my referral link, I'm very happy about it:
https://game.nftpanda.space?3ljxm.wam
So using the link you will be on this page and if you followed the previous steps the game will run good and you will have fun and win by playing...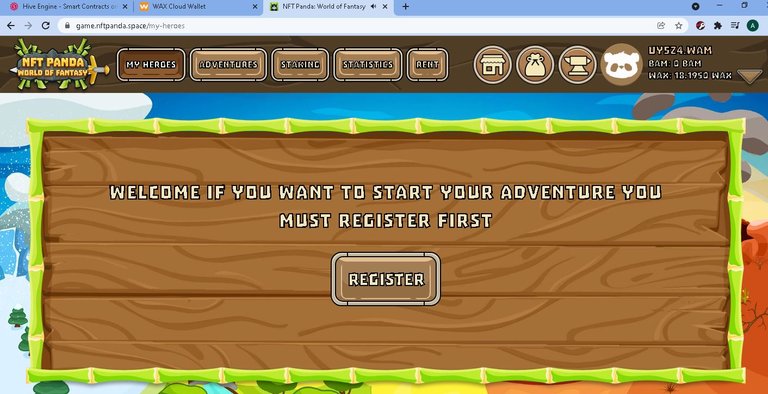 After your registration you will need to buy your first Warrior Hero, then click on "BUY HERO"

You will be directed to the Atomic HUB website, there you can choose your warrior.
https://wax.atomichub.io/market?collection_name=nftpandawaxp&order=asc&schema_name=heroes&sort=price&symbol=WAX
NOTE: In our simulation, with 30 WAX, we chose the cheapest option, but this unofficial site can help you make some decisions in your choice about the type of warrior: https://panda.f12key.shadysapy.fr/


You can see that the Promo card seems to be more advantageous, so if you want one of it, you'll need 3 WAX more than we did, meaning it would be better to make your transfer in the amount of 35 WAX rather than just 30 to secure.
In ATOMICHUB you will have the options, do not forget to change the filter rating to "PRICE (LOWEST), so you sort by seeing the smallest values first.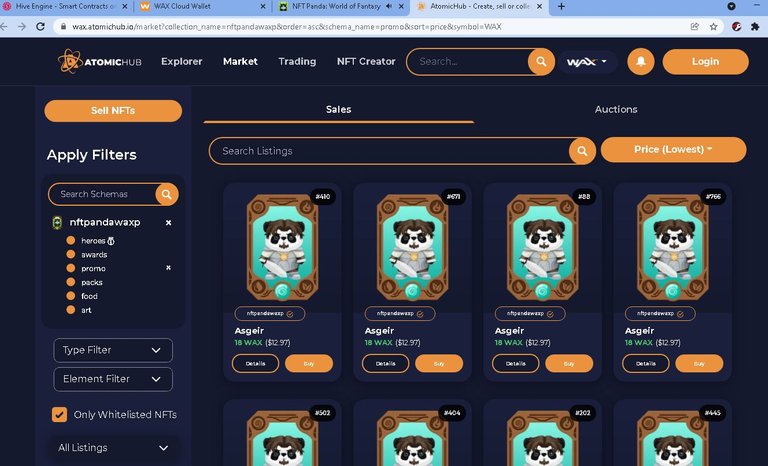 Chosen your Warrior, click BUY to buy..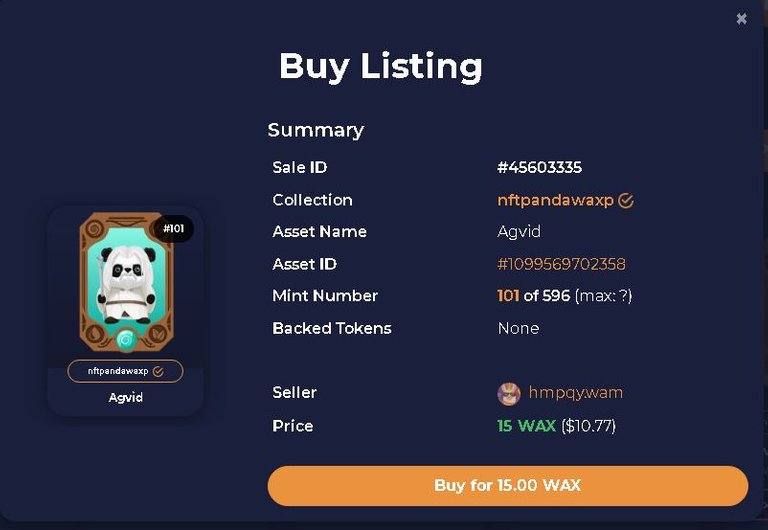 Choose the WAX Cloud Wallet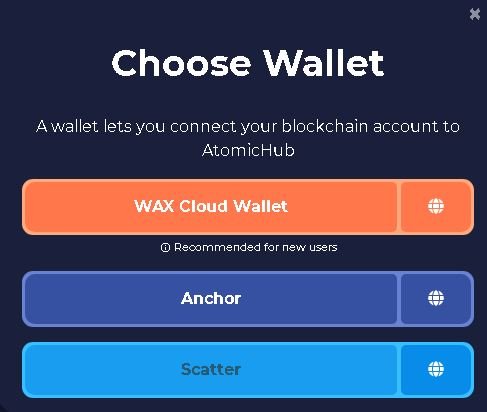 Approve both screens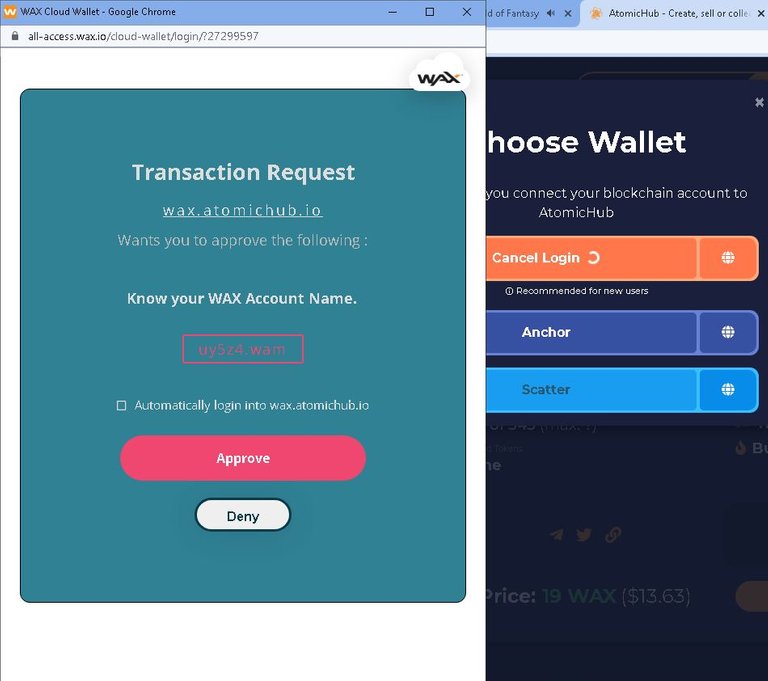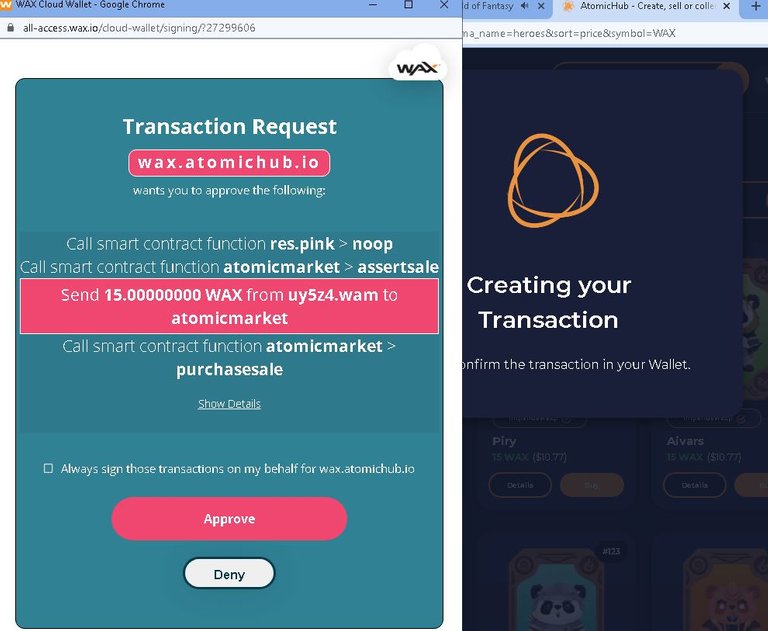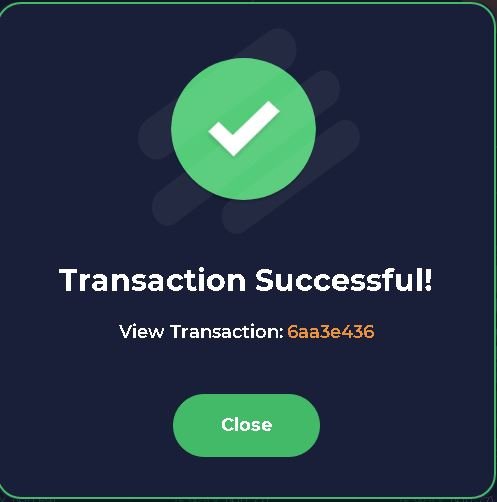 Done that, CONGRATULATIONS!!! You bought your first NFT and can already play this sensational and very promising game!!!
Now go back to the game page and click to refresh your web browser page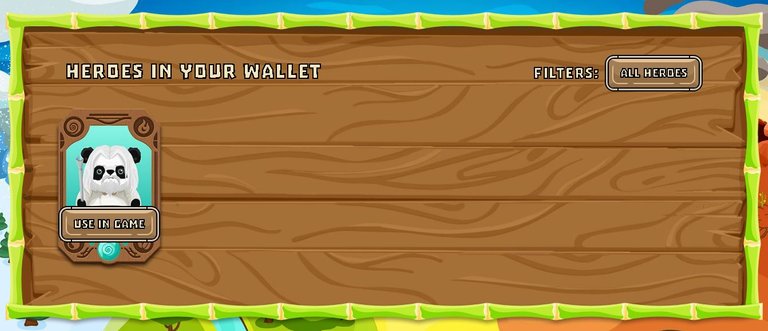 Click USE IN GAME and approve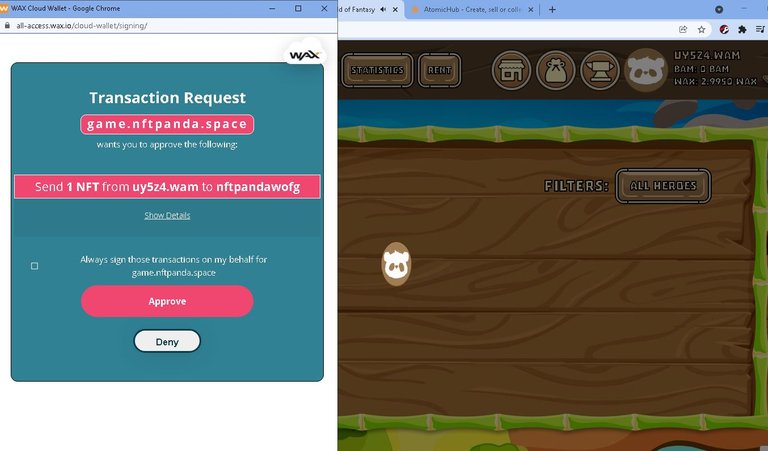 Now the screen will look like this
Click BEGIN ADVENTURE to start playing!!
Choose your hero by clicking on "Choose a Hero"


Click CHOOSE to select this hero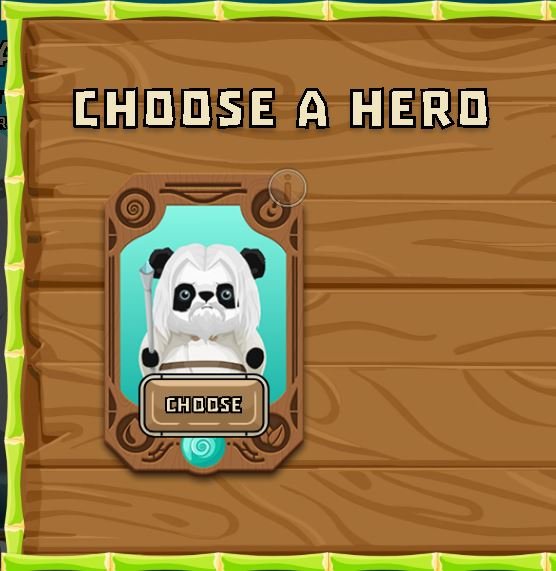 When you click on "SEND TO ADVENTURE" you will send your hero for a great adventure and he will collect some chests with your rewards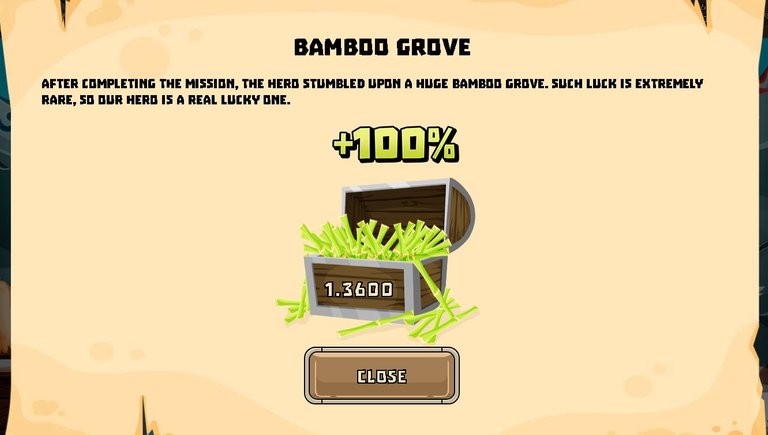 After bringing great rewards, your hero will need to rest for 2 hours and only after that can he bring you new rewards...
As it gains experience, you can level up and earn more rewards as long as you invest in staking your coins into your own hero...

Another creative way to teach players how to hold and staking cryptocurrencies and change the world with it..
With great effort, very soon you will have your results and you will be able to invest in your dream team...
I've already started building my...
What about you? What are you waiting for? 🤑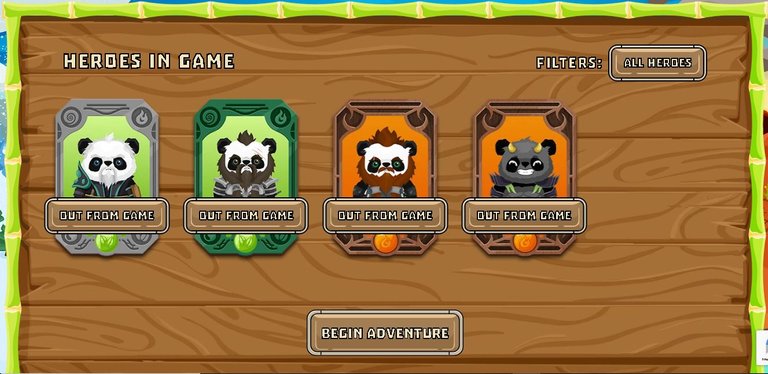 If you want more details about this fantastic game, follow the official channels and my last post talking about the initial concepts of the game ...
https://peakd.com/hive/@derivativador/tudo-sobre-o-nft-panda-que-roda-na-wax-blockchain
Discord NFT-PANDA Portuguese Group : https://discord.gg/9dthjU4V
News and more Details: https://nftpanda.medium.com/
BAMBOO PAPER: https://nft-panda.gitbook.io/nft-panda/
Official website: https://nftpanda.space/
---
Group of the Brazilian Community of the game NFT-Panda: World of Fantasy
Telegram Brasil NFT Panda Group Invitation Link:
https://t.me/+0YBrzJTYK-M0NmNh
Follow our friends and Partners:
#UNIAOSPLINTERLANDS
Twitter:
@derivativando / @derivativador / @crypto2tower
@jaopalas
---
New Player ? Use my referral code!!!
---
https://game.nftpanda.space?3ljxm.wam
---
https://splinterlands.com?ref=derivativador
---
https://www.risingstargame.com?referrer=derivativador
---
https://www.cryptobrewmaster.io/game/invite?ref=7327c137a28c455d8a2aedb649a7333a&code=AlphaBonus
---