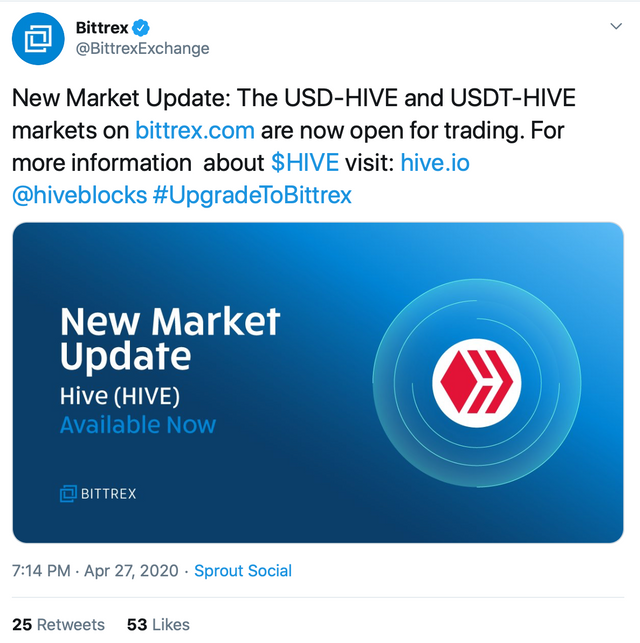 ---
As you can see from the screenshot above, Bittrex just announced on Twitter a new trading pair for HIVE, namely USDT. It happened literally like 20 minutes ago and when I checked their website, HIVE did appear as a listed pair, but no transactions were yet recorded. I expect this to change very soon :)
---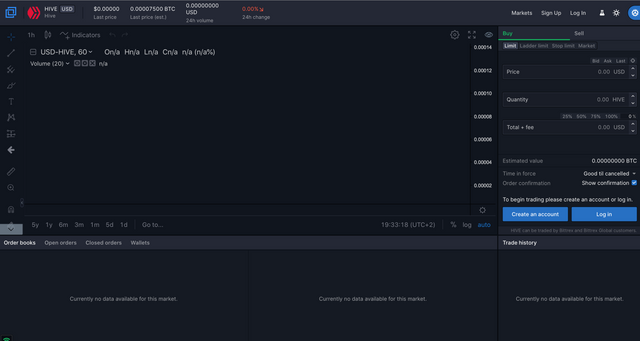 ---
If I'm not mistaken, this is the first major listing involving USDT for HIVE, a move which should add significant liquidity, IMHO.
The price action for HIVE across all the major exchanges, Bittrex, Huobi and Binance is following a correction compared with the last few days, currently trading around 50 cents.
---
There is an ongoing funding proposal for two of my Hive-related projects, which will allow me to support some of the costs involved. If you want to support this proposal, all you have to do is to vote it using any of the two links below:
Sign this proposal with Hivesigner
Peakd: https://peakd.com/me/proposals/92
Already supported by: @toofasteddie, @alina.romila, @amico, @bluerobo, @chrisaiki, @erikah, @ervin-lemark, @ew-and-patterns, @guruvaj, @mytechtrail, @pharesim, @ryivhnn, @sacrosanct, @captainklaus, @santigs, @inertia, @bro.poker, @distantsignal, @doze, @gadrian-sp, @shmoogleosukami, @valued-customer, @condeas, @justinashby, @likwid, @bucipuci
---
I'm a geek, blogger and ultrarunner. You can find me mainly on my blog at Dragos Roua where I write about productivity, business, relationships and running. Here on Steemit you may stay updated by following me @dragosroua.


---
Wanna know when you're getting paid?
I know the feeling. That's why I created hive.supply, an easy to use and accurate tool for calculating your HIVE rewards
It's free to use, but if you think this is a useful addition, I'd appreciate your witness vote.
Thank you!