I may be the last one seeing this, but today I noticed something on the UI of my peakd UI: a small giftbox, between the number of votes and the number of comments. It looks like this:
---

---
When you click on it, you get a specific UI for sending tips, like this:
---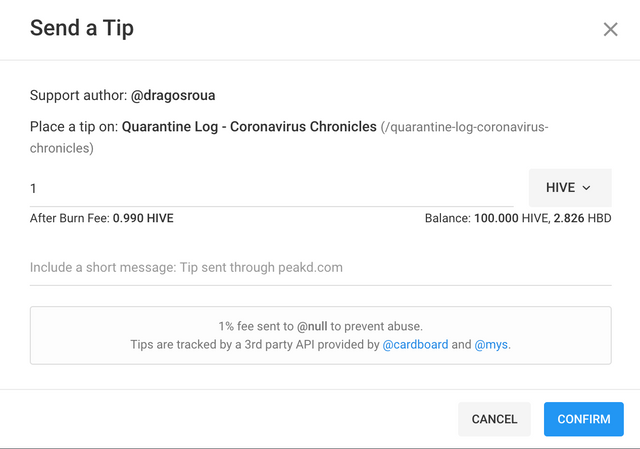 ---
The interesting part is not that some part of it is sent to null, that is something expected, in order to prevent spam (remember those dozens of 0.001 "tips" you got on Steemit, a couple of years ago, only to stuck some memos down your wallet, so to speak?). In my opinion, the interesting part is that I couldn't find any official statement about this (again, I may be wrong, so if you know something, please show me the way).
@cardboard is the author and maintainer of the @tipu bot, and I'd be curious to know if all @tipu activity would be transferred to this new API.
Anyway, tips are something that I wanted to see in HIVE (STEEM) for some time now, and I even had some payment algorithms which included some "skin in the game".
All in all, a nice addition, kudoz to those who implemented it!
---
There is an ongoing funding proposal for two of my projects here on Hive: hive.supply and the PHP Hive Tools library, which will allow me to support some of the costs involved. If you want to support this proposal, all you have to do is to vote it using any of the two links below:
Already supported by: @toofasteddie, @alina.romila, @amico, @bluerobo, @chrisaiki, @erikah, @ervin-lemark, @ew-and-patterns, @guruvaj, @mytechtrail, @pharesim, @ryivhnn, @sacrosanct, @captainklaus, @toofasteddie, @santigs, @inertia, @bro.poker, @distantsignal, @doze, @gadrian-sp, @shmoogleosukami, @valued-customer
---
I'm a geek, blogger and ultrarunner. You can find me mainly on my blog at Dragos Roua where I write about productivity, business, relationships and running. Here on Steemit you may stay updated by following me @dragosroua.


---
Wanna know when you're getting paid?
I know the feeling. That's why I created hive.supply, an easy to use and accurate tool for calculating your HIVE rewards
It's free to use, but if you think this is a useful addition, I'd appreciate your witness vote.
Thank you!