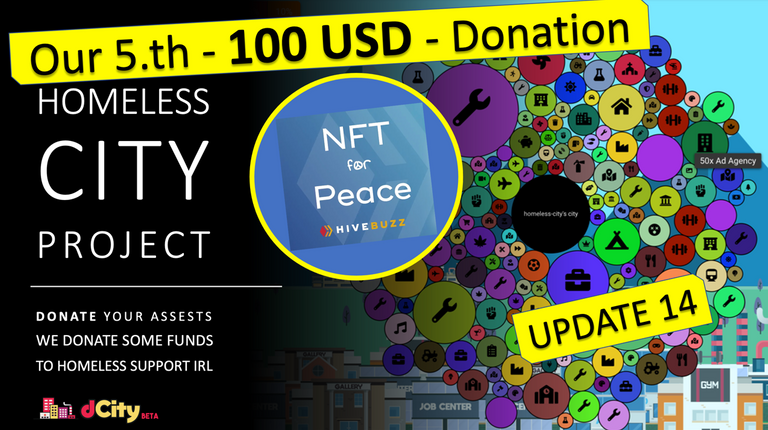 A few years ago, driven just form the idea that someone has to create a virtual home for all the homeless cards from the game dCITY, this account was started by @detlev on the blockchain.
He sponsored the funds to create the account and as well the first few homeless cards. But this attract a few more people who donated funds or cards or whatever they can give to support this project.
---
Today we made a 5th 100 USD donation payment
Just some minutes ago a few transfers where made to the "NFT for Peace" project at https://peakd.com/created/nftforpeace using the https://hivebuzz.me/@homeless-city website. There you can get this NFTs and support the good things.
Read more about the NFT for Peace project at https://peakd.com/@hivebuzz/nft-for-peace

---
Facts
Today we started to send funds to the project.
Our Hivebuzz status was like this...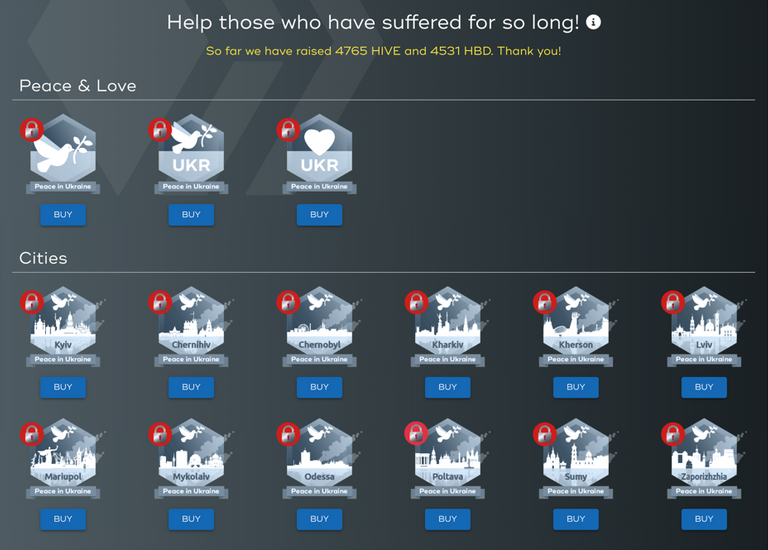 See the transfers of within the @homeless-city wallet
First 100 Hive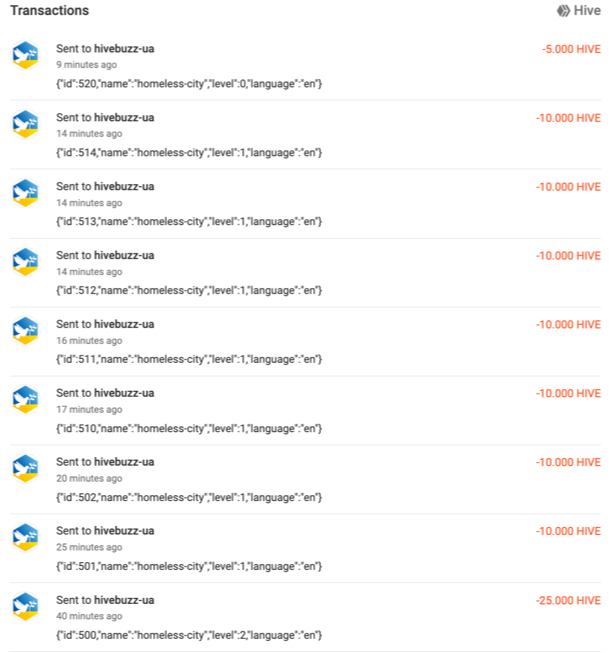 Second 110 Hive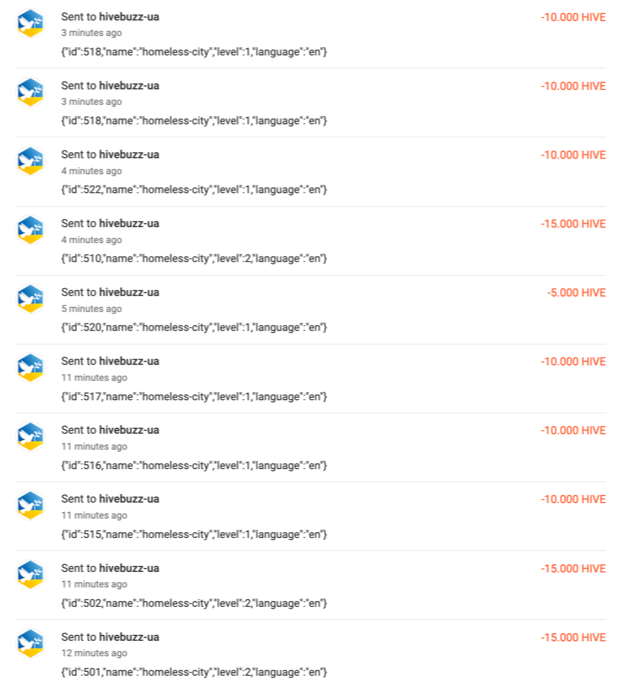 Buying NFT for Peace
You can do the same with any amount you like to donate for the team behind the #NFTforPeace - have a look at the speech from @zirochka and @arcange during #HiveFest 7 in Amsterdam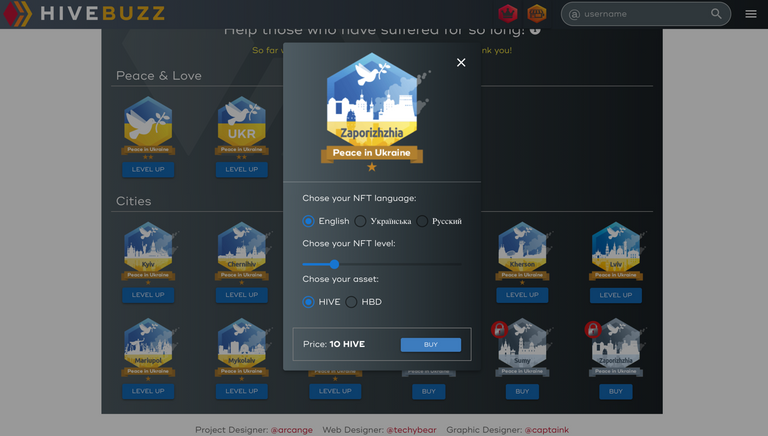 The new Hivebuzz overview
We bought all NFT at level 1 ( * ) and some as well on level 2 ( * * )
Seems one NFT is missing as I made the screenshot maybe a bit to early.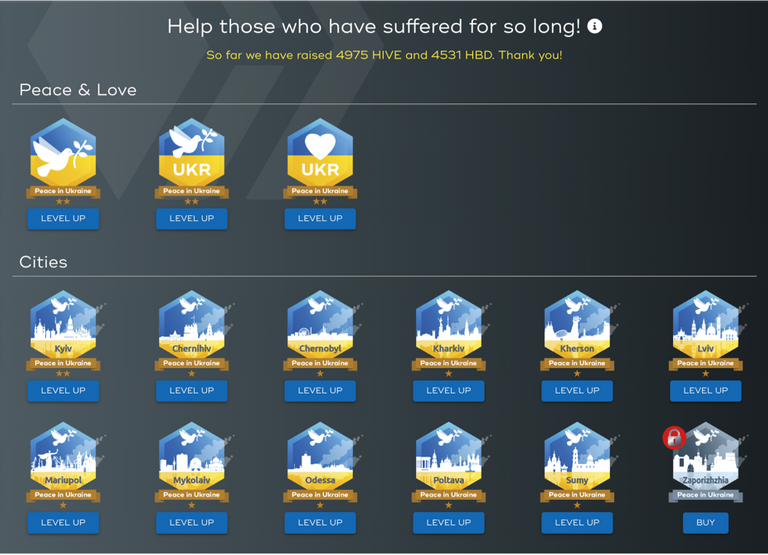 Feel free to get yourself some of this NFT as they support the people in Ukraine.
The speech about NFT for peace
Spend some minutes to enjoy this interview from HiveFest with @zirochka and @arcange talking about the project
---
Calculation
We just send 210 Hive to @hivebuzz-ua which is a bit more than 100 USD at the actual rate of 0,48 Hive/USD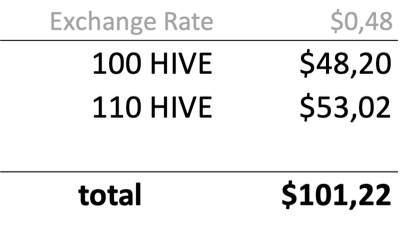 ---
The idea
For me @detlev, this is just a little game inside the game, and we will see where this might end up.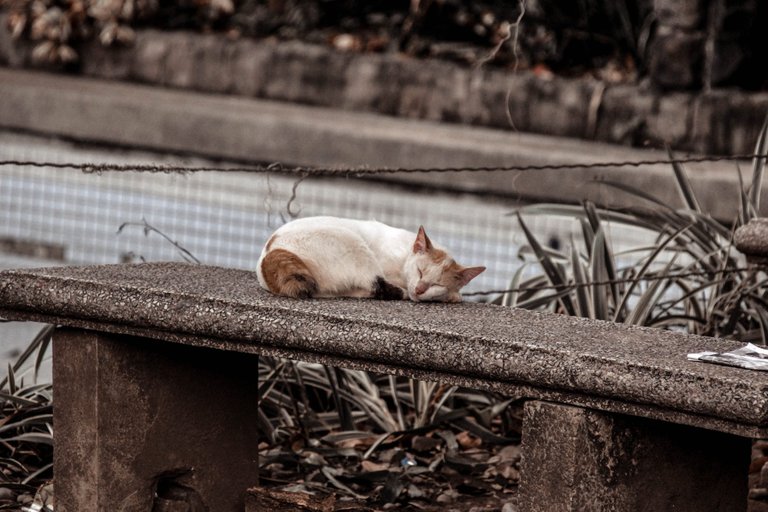 ---
---
Thanks to Charityball

Today we send a big Thank you to @charityball as they collect a huge amount of nearly 909 SwapHive and we will donate and develop with this funds.
Some of this we use for new cards or investments and other will be changed in HIVE and will be used for donations.
---
---
From an idea to real help
At March 2nd 2020 we wrote
"We don't really know where this idea ends up, but we thought that somebody has to give this people a home."
"We all see them hanging out at the dCity Market and nobody buys them, so if you have to many - send them to "@HOMELESS-CITY""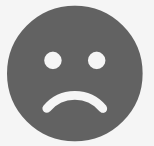 If this account ever gets some revenue. all of this will be for the community.


said by @detlev who manage this account at the moment
If you have anything "leftover" in your city, just think about to send it to that account @homeless-city within the #dcity game.
---
Yes, we where a bit busy with other things during the last few month, but the city was even growing with some minimal activity.
Ranking
We do good and the next sep will be to get to Top 100 in Ranking within the next weeks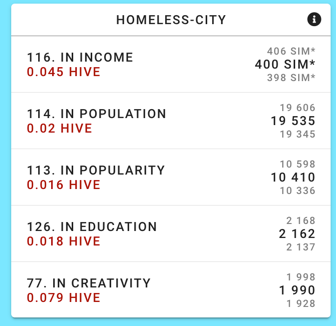 The City
See the actual status and please let us know if you have any good idea to generate better results from the city. If you have any cards leftover, we love to get any donations.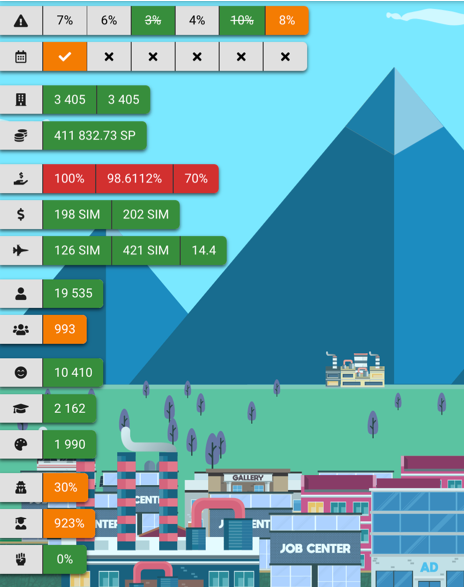 ---
From the blockchain to the people
A plan is born!
As a great community here on #hive we will to grow the account to get some funds to donate this to the following groups
(1) Institute of Global Homelessness as they provides homes for families in need
(2) https://www.habitat.org/donate/?keyword=header&link=58
(3) http://nationalhomeless.org/references/directory/
(4) The #NFTforPeace project on #Hive to support humans in Ukraine
This is actual a small initiative, but it is the start and the #HIVE can do it.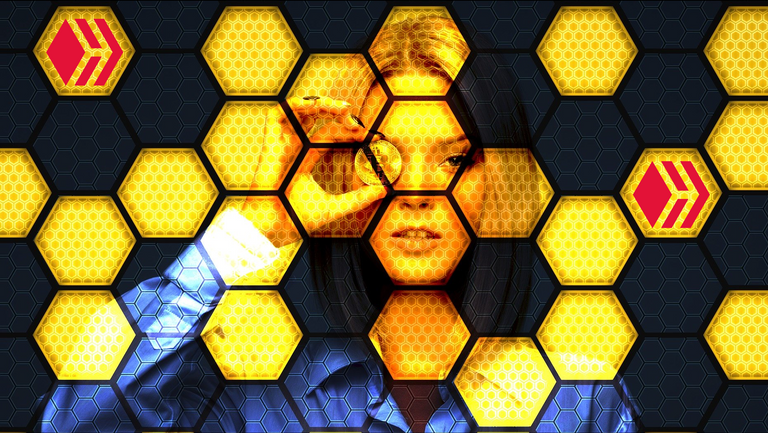 Whenever there is 100 USD we will issue the first transaction and as we are on the blockchain, everything is transparent for everybody.
If you have any idea, feel free to help or let us know.
---

50% of our income
goes to HELP!
The other 50% into
building the city
to earn more
to help even more!

At the moment, this account is managed be @detlev
---
Supporters
and our game inventor @gerber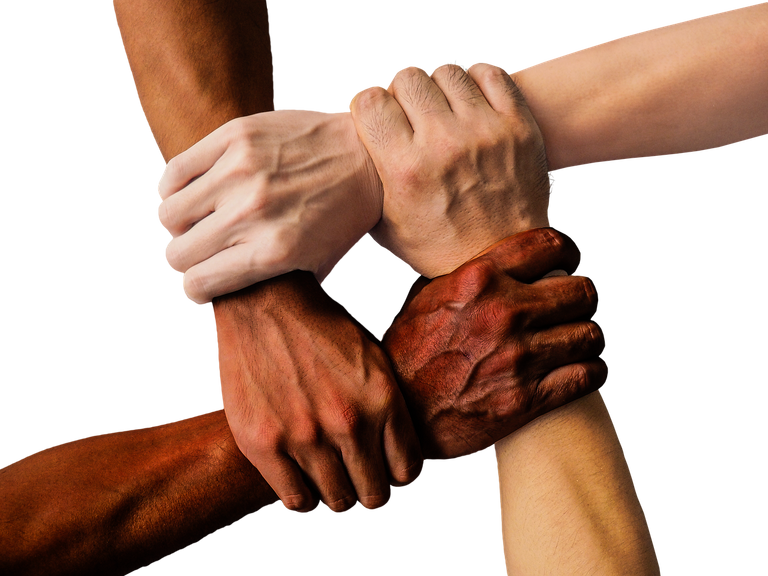 please let me know who is missing on this list of supporters and I will add the names - Love to see a huge list some time
---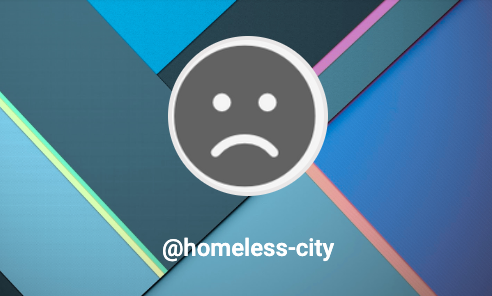 The @homeless-city is available on dCITY
We are the
@homeless-city
and we care!

Enjoy
Engage
Follow