~~Español~~

Como diferenciar un lunar de un tumor agresivo. Melanoma es uno de los tumores que ocasiona mayor resultado de muerte por cáncer de piel.

~~English~~

How to differentiate a mole from an aggressive tumor. Melanoma is one of the tumors that causes the greatest number of deaths from skin cancer.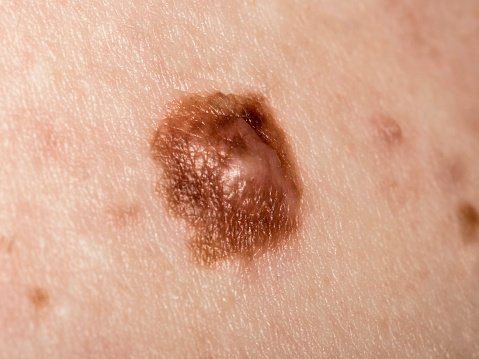 Fuente de Imagen
~~Español~~
Su detección a tiempo lo hace inofensivo, mientras que en detecciones tardías podría tener una mortalidad del 90%.
El melanocito es la célula responsable de la pigmentación de la piel, y la melanina es transportada por dendritas que son una especie de tentáculos, así se unen con otras células de la piel formando una protección para evitar los daños de los rayos solares, por eso el cambio de color al broncearnos.
Los melanomas se forman cuando por sobre exposición a rayos solares o genéticas, existen mutaciones en los melanocitos transformándolos en células malignas, se producen lunares pigmentados que pueden ser melanomas o cáncer.
Una de las opciones para reconocerlo es:
La asimetría: su contenido es totalmente diferentes, es decir al dividirlo, las partes son distintas en forma y color.
Los bordes: son irregulares, no son redondos.
El color: varía, puede ser marrón con zonas claras, negro, rojo o azul.
Diámetro: puede tener más de 6 mm.
Evoluciona: cambia de aspecto.
Generalmente, aparece en las zonas más expuestas al sol, puede doler y picar, aunque no siempre. Las personas más expuestas son las de piel clara, ojos claros, cabello claro, con pecas, con muchos lunares, que han tenido antecedentes familiares con melanomas, las personas que abusan del sol.
Los melanomas son muy invasivos una vez que avance, la metástasis reduce la posibilidad de sobrevivir a menos de 5 meses.
~~English~~
Its early detection makes it harmless, while in late detections it could have a mortality rate of 90%.
The melanocyte is the cell responsible for skin pigmentation, and melanin is transported by dendrites that are a kind of tentacles, so they join with other skin cells forming a protection to prevent damage from the sun's rays, hence the color change when we tan.
Melanomas are formed when there are mutations in the melanocytes due to overexposure to solar or genetic rays, transforming them into malignant cells, producing pigmented moles that can be melanomas or cancer.
One of the options to recognize it is:
Asymmetry: its content is totally different, i.e. when divided, the parts are different in shape and color.
The edges: they are irregular, they are not round.
The color: it varies, it can be brown with light areas, black, red or blue.
Diameter: may be more than 6 mm.
It evolves: it changes its appearance.
Generally, it appears in the areas most exposed to the sun, it may hurt and itch, although not always. The most exposed people are those with fair skin, light eyes, light hair, with freckles, with many moles, who have had a family history of melanomas, people who abuse the sun.
Melanomas are very invasive once it advances, metastasis reduces the chance of survival to less than 5 months.