There are over 600 million blogs on the internet says Google. Yet very few of them are hosted on blockchain-based platforms like steem and hive.
On the other hand, most users of these blockchains have come here because they were attracted by the cryptocurrency. They had to start a blog, sometimes awkwardly and reluctantly, because this was the main application allowing them access to the underlying cryptocurrency.
Some people, probably quite few, were interested by both blogging and blockchain-based apps (including cryptocurrencies). For these bloggers, among which I count myself, the fork between steem and hive poses an uncomfortable dilemma: we all want our content to get the highest possible exposure and be found and read by as many people as possible.
Steemit remains the better known brand, which offers higher chances that people outside the "crypto bubble" may discover the content. But the Hive community is more vibrant and although there are fewer readers, they will likely be more involved, more interested in stimulating intellectual interactions.
For my part, I chose to publish mostly on Hive for the latter reason. Yet I reckon the potential of attracting more bloggers to blockchain-based platforms is huge and a lot of "pre-blockchain bloggers" stand better chances of having learned about Steemit than about Hive.
I recently discovered Brett Scott, an author writing for CoinDesk and also publishing a subscription-based newsletter on Substack. Brett used to be enthusiastic back in 2016 about the potential of blockchain to support financial inclusion and social development. He has since cooled off seeing how deflationary cryptos such as Bitcoin and Ethereum have been captured by the financial system and turned into tools for financial exploitation.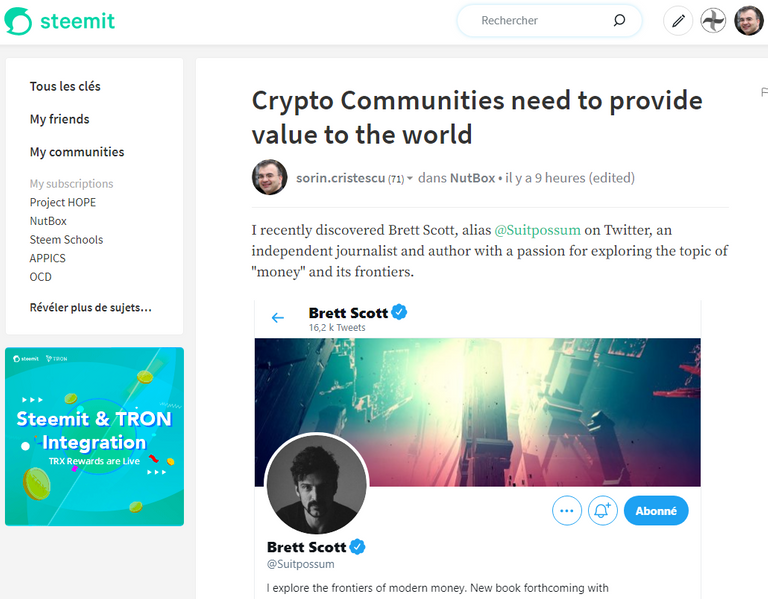 Brett's current view of blockchain and cryptocurrencies (gathered from reading a number of his recent articles) seems rather narrow, focusing mostly on Bitcoin, appearing to believe that most other cryptos are slightly-altered copycats of either Bitcoin or Ethereum.
I reckon people like Brett would be able to understand the fundamental difference that the steem and hive crypto-economics make.
And such people would bring a lot of value to blockchain-based platforms if they chose to switch from blogging on Medium, Substack or on an ad-fueled personal blog to blogging instead on steem and/or hive.
But changing old habits is very hard and cannot be rushed. In order to foster such a change, one needs to provide a smooth, gradual path which helps the subject navigate the change.
This is why I decided to publish an article challenging Brett's current view not on Hive but on Steemit. To me it was a difficult and suboptimal decision, as I feel closer to the Hive community and would like to share with it a blog which is not zigzagging between the two sister blockchains.
However, I am a strong believer in the power of blockchain technology to improve our societies. For that to happen though, more people like Brett Scott need to come aboard and begin using the technology, so that applications gradually improve to a level where they can compete with Medium, Substack, Quora and other "old world" applications. Having a zigzagging blog is small compromise to make.