The News
It has been another rocky week in crypto. A nervous market has sent prices downwards again, but $HIVE is not losing too much ground against $BTC. 'The other coin' is still tracking it around 10c lower. The fact is that our $HIVE is worth a lot more than a few months ago and anything you earn now could gain in value. I see no point in being less active based on the current price when I cannot power it all down immediately. I do not intend to sell yet anyway.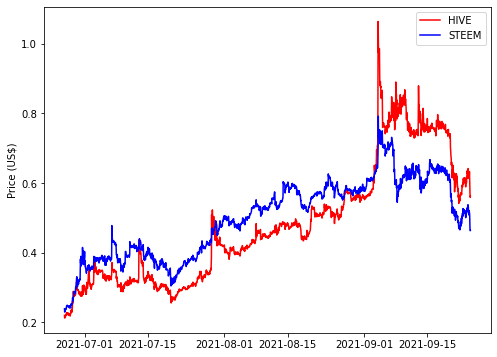 My own plot from @coingecko data
Some sort of collaboration between Hive and Telos is being looked at. I do not know much about the latter, but we should be open to working with other blockchains to add value.
The trending pages are being dominated by posts about Hive projects. The big accounts need to support more of the sort of content that would attract a general audience. The crypto geeks are a tiny minority.
Friday Followings
I have been hearing some cool music on Hive and that does not always get the appreciation it deserves. People talk about the effort they put into writing a post, but composing and recording a song, plus making a video could take far longer. I know rewards do not have to correspond to effort, but you should vote on what you enjoy.
The Doghouse
This week we had a case of impersonation that was confusing at first. An introduction post by @neiryna appeared to have been copied by @missalchemist, but investigation by @livinguktaiwan revealed that the original was on 'the other place' and had been verified as being by an Instagrammer with 13k followers. People got her to verify that she had created the matching Hive account. Meanwhile the fake had clocked up a lot of rewards. Those have now been removed and I doubt we will see further activity there. This is the sort of fraud we are likely to see more of as Hive grows and it becomes more lucrative to post here. We need to be vigilant.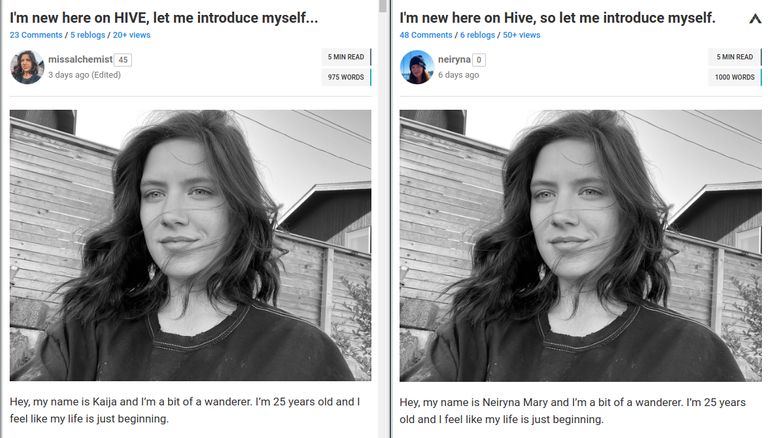 Some other bad behaviour I just spotted was on a comment that replied to a certain comment spammer. The comment got a load of tiny downvotes from some accounts that look designed to get a reaction. They may not have a significant effect on reputation or rewards, but this could flood notifications and statistics sites with data you do not what to see. We may need the dapps to apply filters. peakd does not show votes below a threshold, but it does show these downvotes as negative upvotes.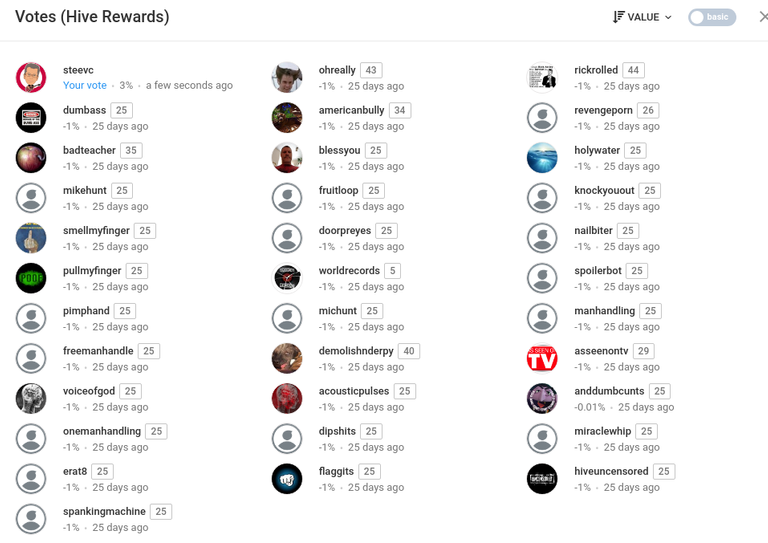 The End
I would hope we can see some further improvement for $HIVE and activity on Hive over the rest of this year. We have so many great dapps to appeal to a wide audience. I know it can be initially confusing, but once people have set up Hive Keychain they can easily log into most of them. Not everyone wants to read or write long blogs, so other content should be appreciated for what value it gives. Just keep it original.
I will be compiling another #BritList soon. Let me know of people I may have missed and give a nudge to any UK Hivers who have been inactive later.
Hive five!