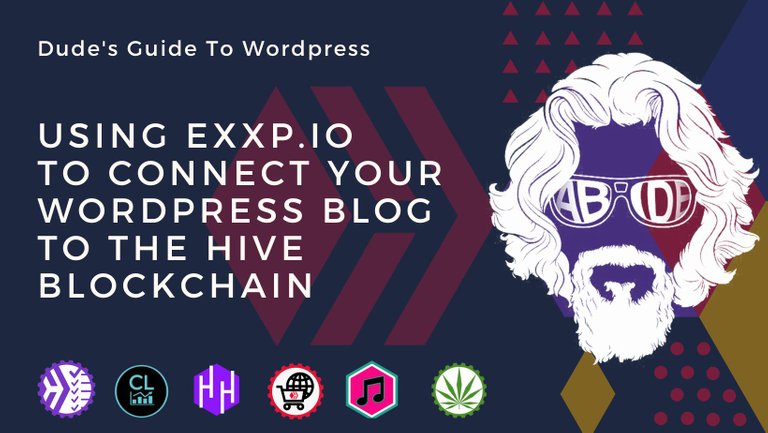 Did you know that you can send your Wordpress blog posts directly to the Hive blockchain? Exxp is a great tool that you can use to connect your branded blog site to Hive and not only earn crypto, but solidify your content on the blockchain.
Why not just use one of the Hive front ends for your blog instead of using a Wordpress blog? Well with Wordpress, you can create a site to match your branding as well as add features to like ads and other content that can help you monetize your blog even more than just what you earn on Hive.
In this post I will show you how to install and set up the Exxp plugin on your own Wordpress site so you can get to blogging on your own branded platform and turn your business into a Hive business!
Wordpress Requirements
First off, you have to be using self hosted Wordpress. You cannot use the Wordpress.com platform because it does not give you the ability to use the plugin aspect of the content management system. Wordpress.com allows you to create a simple blog very quickly, but doesn't give you the ability to do much customization.
With a self hosted Wordpress site, you can do all kind of things with plugins and custom themes. You can use platforms like Dreamhost to easily do everything you need to get your site set up and running. You can buy your domain and get your site setup on one of their hosting plans.
Once you have a self hosted Wordpress site up and running, you are ready to install the Exxp plugin.
Installing EXXP
First off you go to your plugin section and click Add New.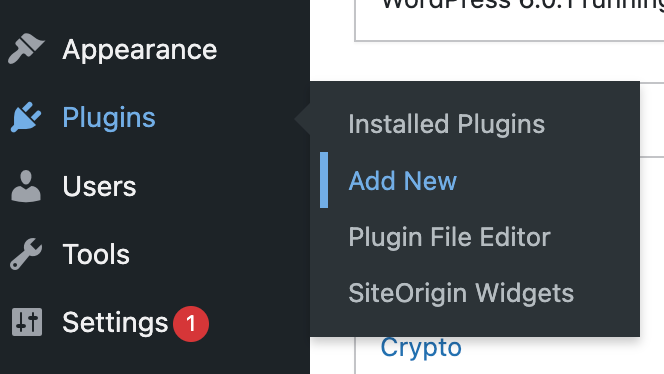 Then you will type 'Exxp' into the search bar and then click to install and activate the plugin.

Once that the plugin is activated, you can then go into the main setup for the plugin.
For this example, I am using https://coin-logic.com, which already has it installed.
Setting Up EXXP
Next you will hover over the Settings area and then click on the 'Exxp' option.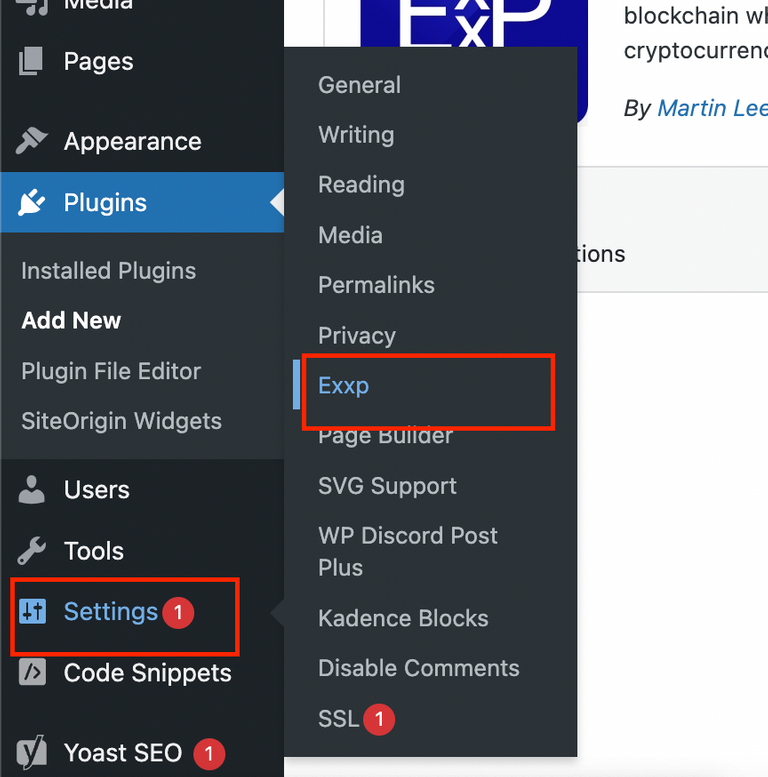 Once you click that it will open up to the settings window.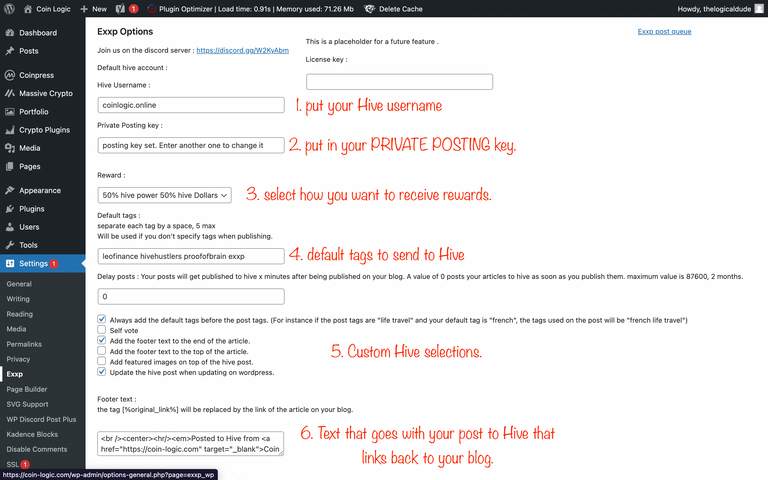 First you will enter the Hive username that you will connect you blog to. Then you will enter your private posting key for your account. This is the key that allows the plugin to post to Hive on your behalf.
After that, you will set how you receive your Hive rewards. You have the same options as you do if you were posting through a regular front end.
Next set up the default tags. For instance if you have specific tags that go with every post, here is where you would add them. For example, if you have a specific community, like LeoFinance, that you want to send your post to, make sure it is in the front. Exxp only sends the first 5 tags to the blockchain. If you want to use more tags, then you will have to edit your post on one of the Hive front ends after you publish.
After that you have some custom selections that you can check like always adding default tags to the front, self voting, where to add the footer text, and if you want to update the Hive version when you update the Wordpress version.
After that you can customize your footer text that is added to either the top or bottom of your post as per the custom selections you choose on in the options above. You can say what you want, I tend to just leave it as is.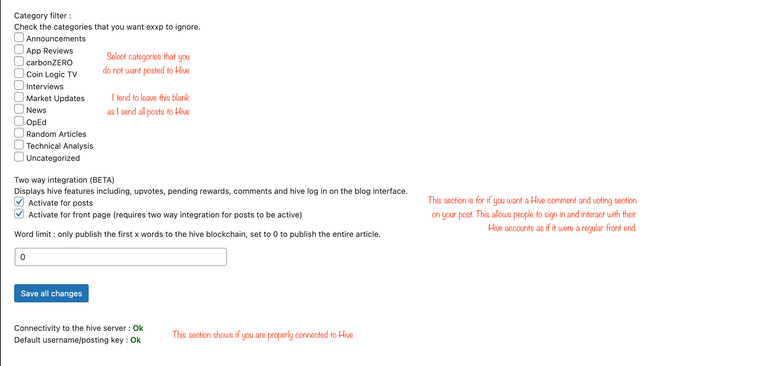 The last part of the setup section consists of a category selection if you were to want EXXP to ignore specific categories of your blog. I want all posts going to Hive, so I leave these unchecked.
The next section is the selection of whether you want a Hive comment and voting section on your blog page. Hive users can sign in using their private posting key our using Hivesigner and interact with your posts directly from your blog! No Hive Keychain support currently available.
Beyond that it is just the connection monitor. When this says OK, you are good to go! If not, it will tell you something is not connected properly. If you are not connected, make sure you are using the correct key. Generally any other time, it would be something on their server end that would cause the disconnection.
That's it! Now your Wordpress blog is set up to be connected to Hive!
Posting From Your Wordpress Blog To Hive
Now that Exxp is all set up and ready to go, all you do now is post!
Get started by selecting New -> Post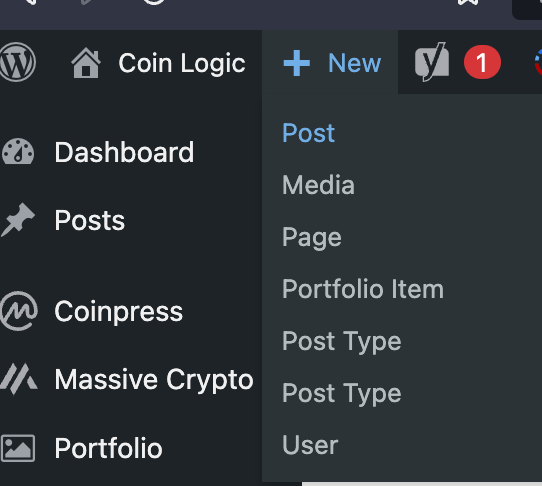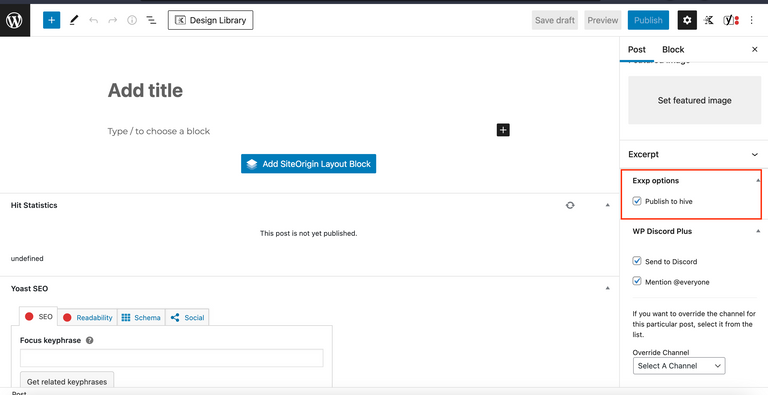 Once you are in the editor, either block or classic editor, you will look in the right hand side bar under the post settings, then you will see the 'Publish to hive' option. If you want to post this to the blockchain, you want to make sure it is checked! Then all you have to do is write your blog and publish!
You then have not only a branded blog article on your own site, but you have just sent your post to your immutable blockchain account to earn crypto and be on a permanent recorded database! This gives you the security that if somehow someone wants to try and shut down your website, your content is always available on a decentralized blockchain!
Happy posting and until next time...
Be Cool, Be Real, and always Abide!
Support The Logical DAO
If you want to support the efforts of The Logical Dude and his projects that come out of The Logical Labs, you can support by purchasing a special NFT directly from the site using pHBD on Polygon! These funds are used to fuel the income engine in The Logical DAO
https://thelogicaldude.com/nfts
https://thelogicaldude.com/dao
The Logical Labs Projects
https://hivelist.io - Classifieds, NFTs, DEFI Pool, Online Retail
https://HiveHustlers.com - Community for Entrepreneurs and All Around Hustlers
https://coin-logic.com - Live crypto market data, news, and research
https://blocktunes.net - Music NFTs, DAO, Downloads, and more
https://groovelogic.audio - DJ/Producer/Sound Engineer music and services
https://weedcash.org - The Highest Form of Social Media
Video Channels
View my channel on 3speak.tv! Video platfrom for a free speech society!
https://3speak.tv/user/thelogicaldude
But if you must... here is the YouTube channel link:
https://www.youtube.com/channel/UCtGApfTp4ZzLHksDdImJ9JA
Other Ways To Support
If you like what I am doing, please consider voting for my Hive Engine witness with your staked WORKERBEE!
https://tribaldex.com/witnesses
Get started playing Splinterlands, the top blockchain game in the world, today!
https://splinterlands.com?ref=thelogicaldude