Hello Hivers,
I hope you are well. I wanted to give a quick update on Twitter activities. I have been spending much more time on Twitter than on Hive. And I haven't published a post in weeks.
Many of you on Twitter have engaged with my main Twitter account @HiveTrending. The account has grown beyond expectations, and now it has more than 600 followers. I want to echo this inspiring message from @jongolson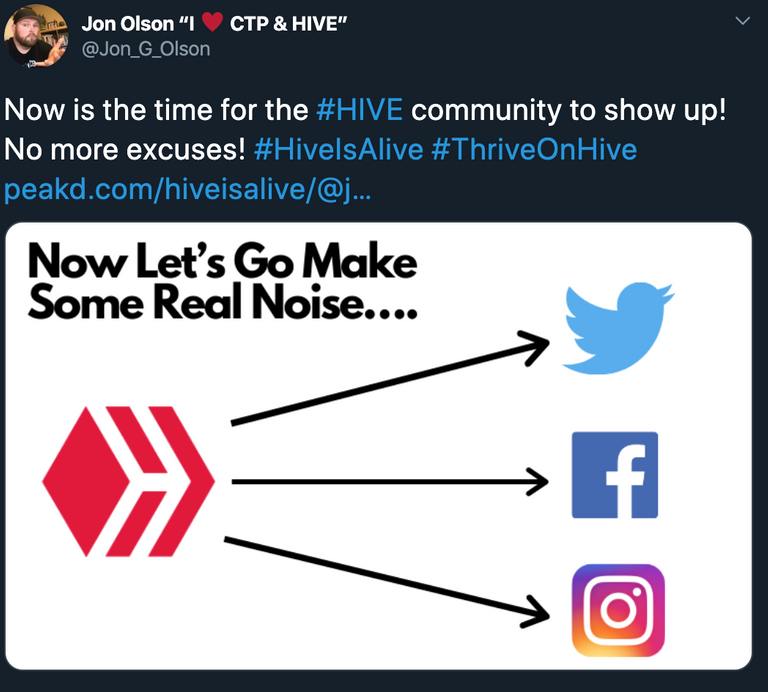 Check out his full post here: https://peakd.com/hiveisalive/@jongolson/nowletsgomakesomerealnoise-yf9bkwd9vf
The Twitter Poll and Follow Up
4 days ago, I (@HiveTrending) Tweeted a poll to which 93 Hivers responded. Here are the latest results: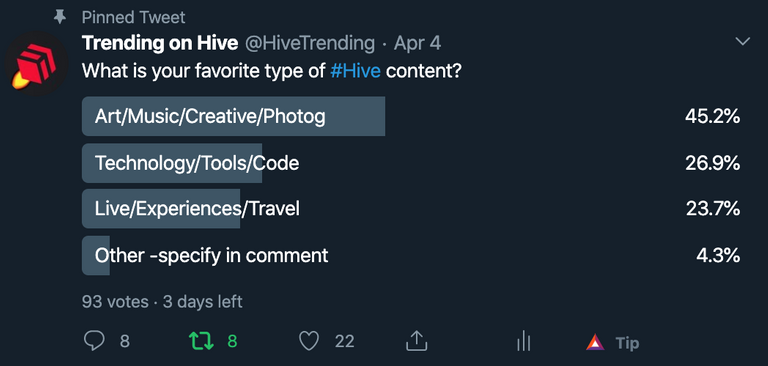 Please excuse my dumbass typo. It should say "Life" not "Live".
Based on this feedback, I decided to start new experiments. Three of them, maybe more. The "Trending on Hive" account tweets out links to trending posts with the #hive tag. There is a lot more great content to highlight. Thus, today, three new Twitter channels are born.
@ArtistsHive - highlights popular #art posts
@HivePhotog - highlights popular #photography posts
@music_hive - highlights popular #music posts
If you'd like to see more hive content in your Twitter feed, please give these a follow.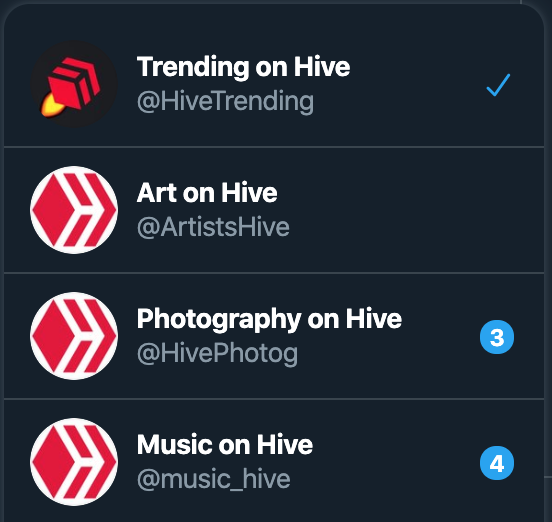 Future Work
@ericwilson came up with a great idea: To enable curation communities to easily share curated posts on Twitter. It should be possible to do this using Hive database API. It will require a few code changes to HiveRSS. Work in progress.
A few other people have asked me to hook up their blogs to their Twitter accounts, and I owe guys a "how to" post to explain the steps for setting this up. I'll do it soon, I promise!
Have a great day,
Torrey