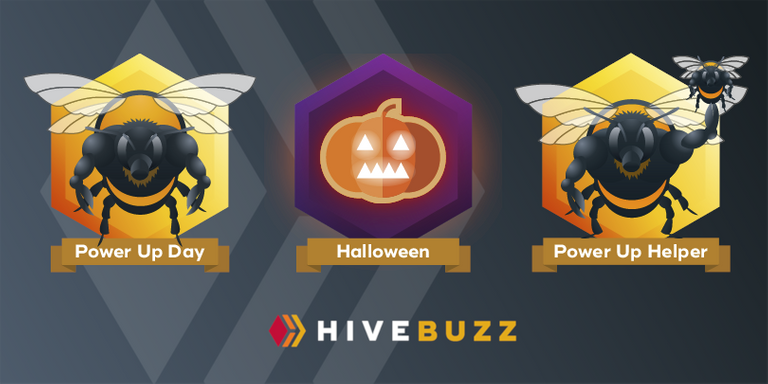 There has never been such an opportunity to get 3 new badges in just a few hours.

The Halloween badge
The first is the Halloween badge. you only have a few hours left to have it, but it's very easy to do:
write a post today October 31st before midnight (UTC time)
include the magic words "Trick or Treat" in your text.
use the #hivebuzz and #halloween tags
upvote @hivebuzz's Halloween post
All the details about this challenge in this post.

The Power Up Day badge
This one is also super easy to earn: power-up at least 10 HIVE tomorrow 1st November and it will be yours. No rocket science here.
Read this post for more information.

The Power Up Helper badge
The last badge is also easy to obtain but it does involve helping someone else and following a few tricky rules.
Long story made short: find someone who has never done a power-up and never received help for it. If you're the first to help her/him power up, then the badge is for you.
For a full description of the rules, read this post
A matter of timing
The amazing part is that we have a perfect combination of Full Moon, Halloween and Power Up Day.
I don't know if these three events are linked, but it would be a shame not to take advantage of them and, in less than 24 hours, add 3 new badges to your board.
Don't miss the opportunity!
---
Check out my apps and services