Our Alpha took a first step into E. It was last week, it was in September, with the public release of the first content of version E. It can still be accessed from our regular game launcher!
This important update opened new features such as the 'crew registration' and access to most of our hundreds of cards in the real game! A few players posted their feedback, but let's review again some of what was released.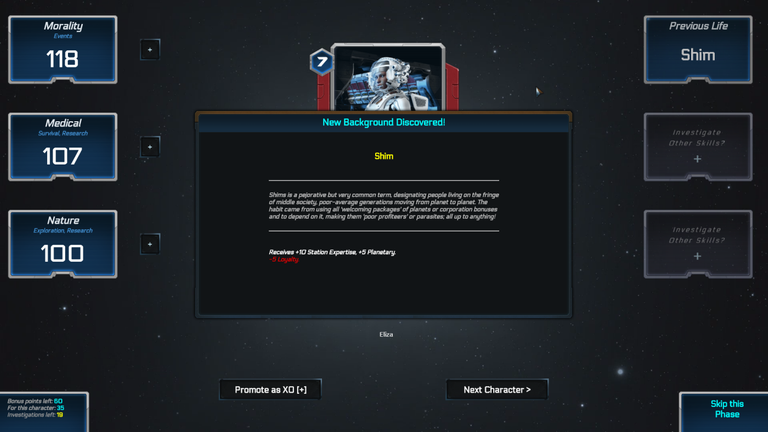 So what's new here?
Ok pilot, there are so many things to enjoy here, yet many more things to expect in the next version.
But first let's review what we have.
In EXODE, we have cards. You can trade them, there are Commons, Rares, Epics and more, and "Elite" versions of them too. These cards are used into your play deck.
This happens in our Game Launcher here: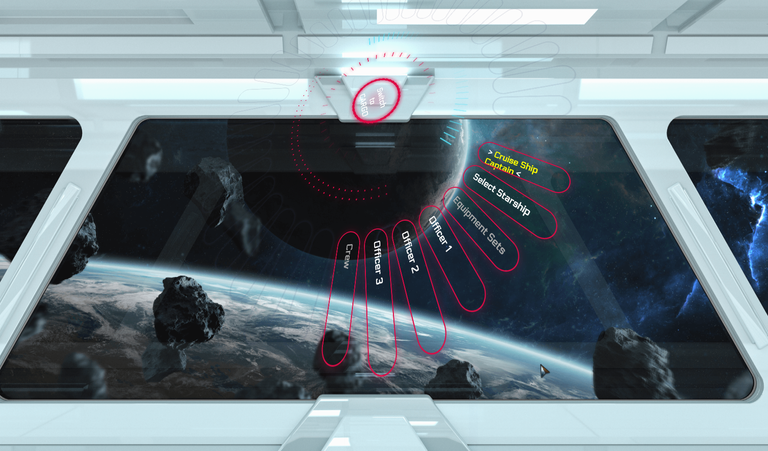 In EXODE, we have characters.
These characters are the people you pick as your crew. Basically, you pick an Origin (which will be "you"; you can be a navy lieutenant, a top scientist, and anything between), a Ship, and fill it with crew members. Crew members like her: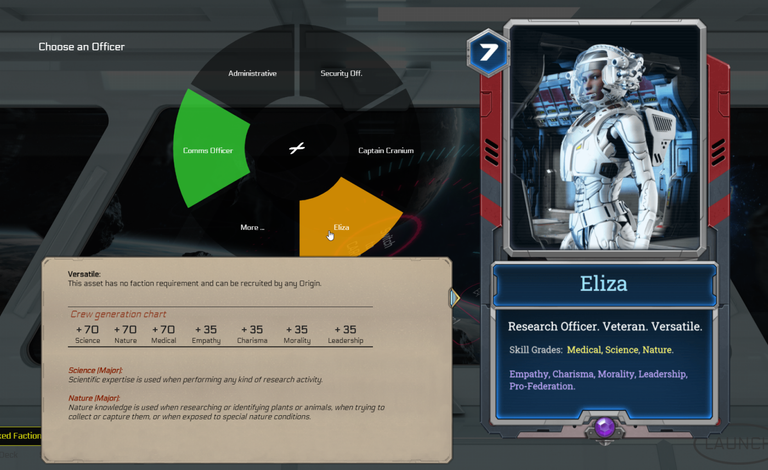 In EXODE, we have some kind of a roleplaying game.
I am a game developer because I just can't get rid of this passion.
This love of depth and meaning in games. You know what I mean!
I love the story of each of our characters, I love the way they have skills and different abilities, I love that they can fail or succeed and do a hundred things between. This is what I want to happen, because this is where something new, unique and fun can happen to players in their games.
And that is exactly what we try to make possible with this new version: allowing things to be simple yet also deep, not being totally random, giving you some knowledge, some control, and trying not to lose you along the way.
So, we have been expanding the number of crew features, skill features, and all the while, we have tried to share some knowledge, a glimpse of how it works.
I supposed it was no easy feat because I am always afraid to release too much, to lose the player, and that the player will "lose the touch". I said this part will be improved, and this new version tries some of these improvements.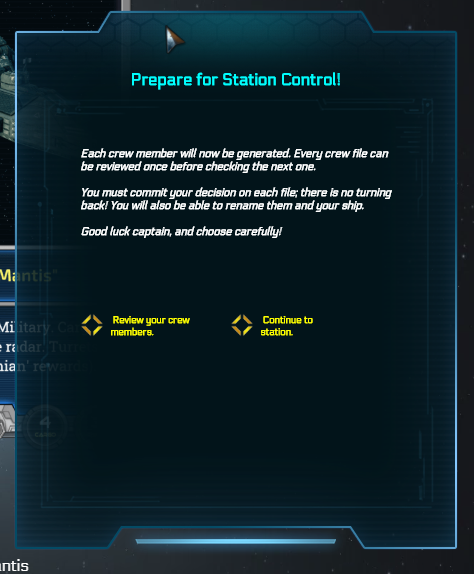 You can see the big picture quite fast.
But if you are a hardcore player, if you want to see the little tiny details, you can too: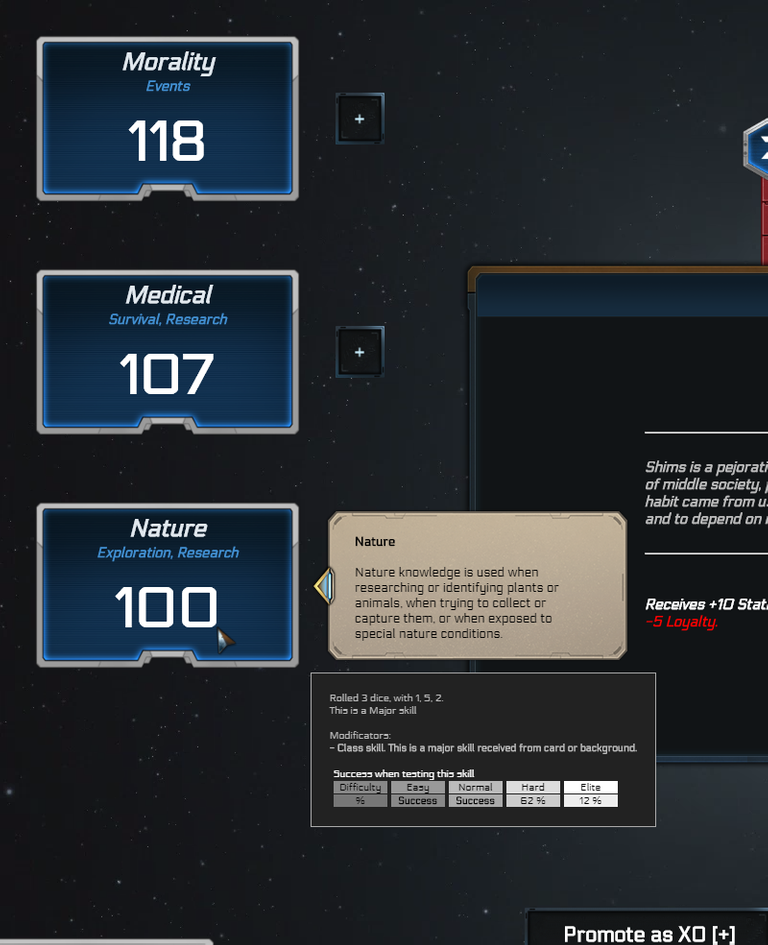 There are class skills given by your card.
There are natural talents acquired personally by your character.
We are adding affinities this week, a whole new concept with your characters more attuned to physical, social or academic tasks.
But the big picture?
It's actually simple.
Eliza is a top scientist!
Add her to your ship, make her survive evacuation, and give her a research project - it will work.
Of course, you can now spend bonus points, you can investigate your crew member and learn more about him or her. And you can discover their background (their past), and we released many different ones already.
But for colonization the basics is that while she works on projects (project you pick, technologies you invent, we are releasing the layers to make it solid ground), so while she works on projects Eliza just needs materials, needs food and needs water.
And yeah, maybe having a trooper or someone to fight the dinosaurs or creatures on this new planet, too. This can be a good idea, because voracious giant creatures can disturb projects a bit.
Also... why did we mention that you can "investigate" your crew members?
Because in EXODE, we have mysteries.
There is always something more that you can learn later.
Our wish is that you could never get all of it in one, two, ten sessions, that you could dig deep, then deeper, and be owerwhelmed by the possibilities remaining and especially, the ones yet to explore.
Everything works with a simple click, but there is some depth behind every action.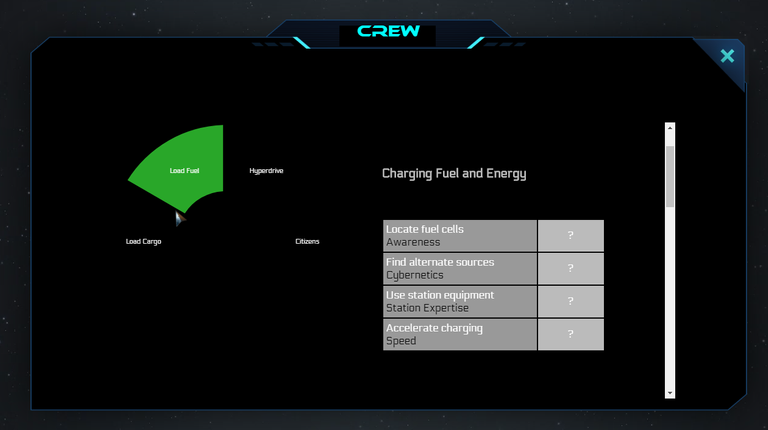 In EXODE, we are a strategy game.
Let's not forget that you will manage a spaceship, a colony, its citizens, a planet to explore, your own technologies to invent (I did say your own, twice now), resources to produce. And to trade. And to trade for blockchain value. Because we definitely are HIVE-powered.
Now let's see how this fits with current plans and releases for this month.
TESTRUN #2 is coming
Yes, Testrun 2, the Big Boy, is coming our way.
It's planned for the end of this week because it has many things to it.
I have yet to cover some ground here, so people need to watch our Discord feed for updates near the end of the week. (Captains are used to know that my weeks include the Saturdays and Sundays - most of our good releases were made on a Sunday actually!)
We now use what we call "Testruns", which are full interactive packages to test a limited section.
It helps in packaging content in a proper, enjoyable way. It also helps also in making sure we spend enough time to release something that aligns with our vision.
But despite all that, Big Boy will be huge. It will fill a whole station.
Or three.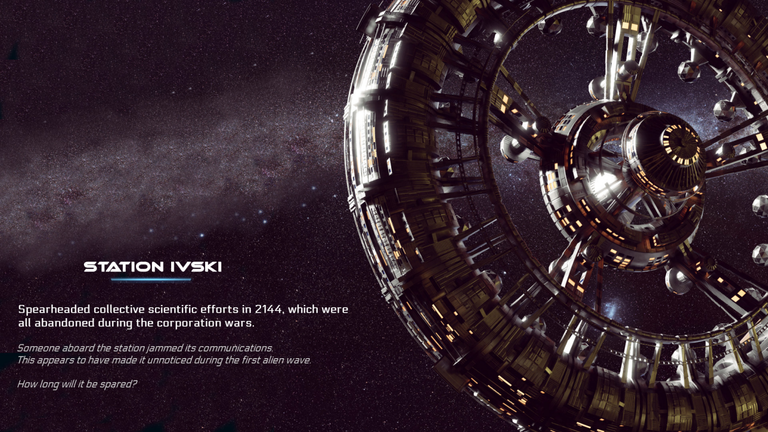 Testrun 2 has many things and I'll know later in the week the spread of this test. But it will include station gameplay, which mean the core evacuation. Here I share some of what was showed previously while working on it last week.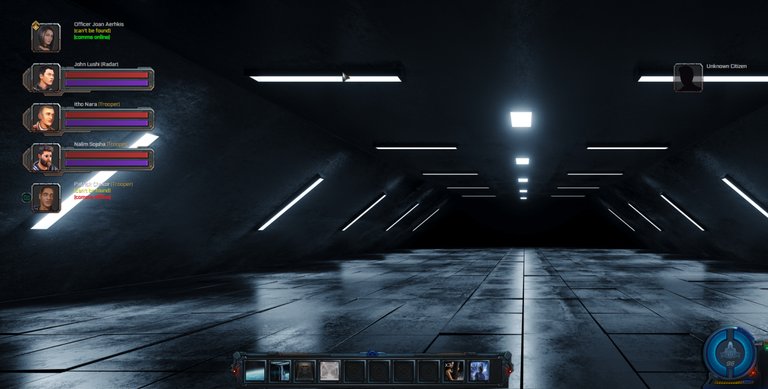 It will include some of the nice and the unexpected improvements...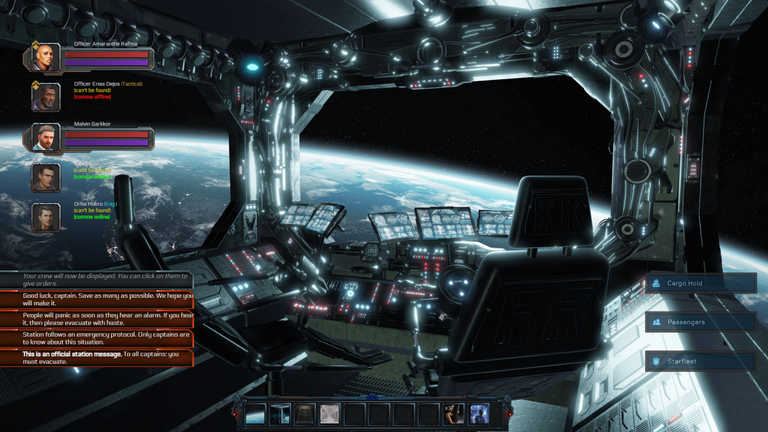 But most of it will be about making more cards and more crew members work.
As many as possible.
If we can go that far, behind the curtains, the refined damage model will be activated too.
We'll use the Archeon modules list for that test, though, testing it properly before releasing other ship lists.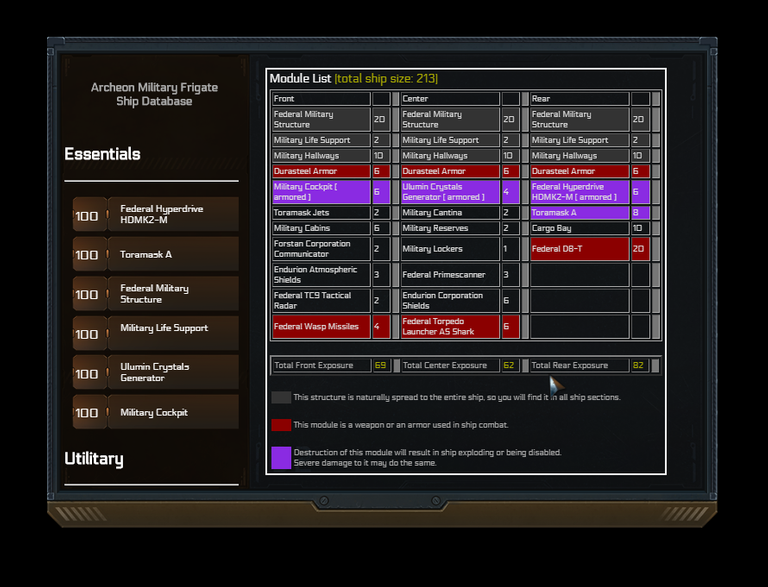 Some new screens are coming too - and yes, a Hardfork is coming as well to our blockchain!
Regarding HF24:
It has been mentioned on the developers discord as postponed for a few days - please follow the news! it's still hot, and coming really soon!
HIVE developers have worked hard to make it happen and they have released code to test out already.
As you have seen, since a few days there are node issues while nodes are adjusting - it is expected and all will work better after.
Our market may be paused 'around the hardfork', if required, to avoid generating maintenance issues while we are working on a release rush ourselves.
As a dapp EXODE uses Hive Keychain - which has been updated and is awaiting a new Chrome validation - and dhive. This limits most of what we have to do to updating and testing these libraries.
There could be things happening of course, but it's more about broadcasts than game content, so if anything happens we can set up test versions to access your premade decks.
Considering the libraries we use, I am quite confident. But I'll have more work on the witness server of course to update it - which may happen after our big release.
That's all captains!
Thank you for your support, and get ready for blazing days!
====================================================================
More information about EXODE can also be found on our website, our Discord, or multiple posts such as this one about our epic characters, or this trailer made by a fan, or this review or this one . A summary of latest posts and events is also here.
Also running a witness node:
You can check the post about it here and if you like what this means you can:
See you soon in eXode!