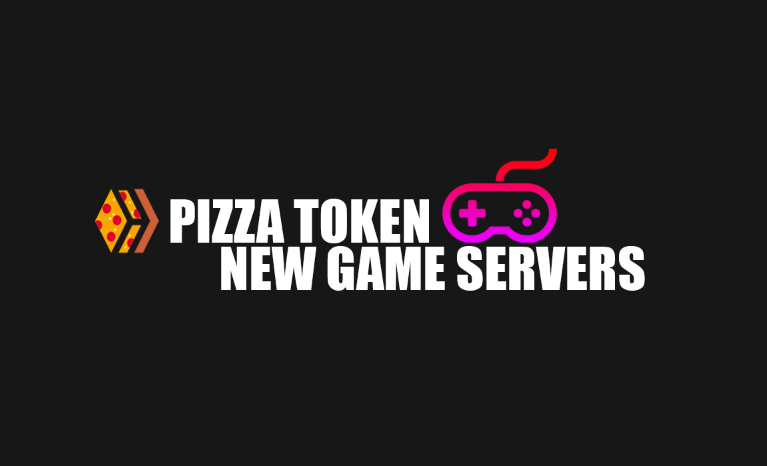 What's up Pizza Crew?
We've had another exciting week! We're happy to announce a long awaited contract as well as some new roll outs! Let's jump in!
Staking
We're excited to announce that STAKING is now enabled for PIZZA! To read our official announcement, check here.

Weekly rewards have been formally moved to STAKED tokens only! If you wish to participate in a lottery bracket, make sure you stake your tokens!
We've decided to allow use of the PIZZA command whether you have your 20 / 200 tokens staked or not. The engine will now look for both liquid/staked and if combined = or exceed Rank 1 or 2, you will still be able to use the command.
This DOES NOT mean there are curation rewards for tags. That is not part of the staking contract and is something we need to consider further before building ourselves or purchased scotbot functionality through Tribaldex/HE.
HiveRSS
Updated HiveRSS blog feeds to show HIVE profile pictures.
PizzaEngine
Updated to version 1.5.0 to accommodate staking changes.
Game Servers
We're excited to announce two new game server launches that will join our growing list of game servers that are being tailored and focused for the HIVE community! Outside of HIVE, we have run a whole series of game servers that we are transitioning to HIVE.

RUST

Whether you enjoy PvP, casual gameplay, roleplay, or quest adventures our HIVE focused RUST server has a little something for everyone!

STARBOUND

We have a Starbound server up and running with the Fracking Universe mod installed to open a whole new world of possibilities. To play, simply subscribe to the Fracking Universe mod in Steam and in your game settings enable "allow asset mismatch".
For connection information, join our DISCORD!
HIVE Witness Update


As you can see we're really close to taking another spot!
To vote and to support the project, simply click this link:
VOTE FOR PIZZA
If you do not feel comfortable using the link above, you can also vote for us in Peakd by click on your profile in the top right and click 'Witnesses'. Search PIZZA!

Writing Contest - Splinterlands Untamed Packs
This week we ran another writing challenge with some Untamed Packs up for grabs!
The challenge required participants to write about a memorable game from their past!
We saw some really great posts (seriously, those were all great reads and we want to thank everyone for participating!) but here are a few that stood out!
@kennyskitchen - The Most Memorable Game I've Ever Played - Hive.Pizza Writing Contest
@dadspardan - Harvest moon the game that gave me the view for the little things in life
@drunksamurai - Fallout - my most memorable game ever
You have all won an Untamed Booster pack! We've sent these directly to your Splinterlands accounts! Congratulations!
If you didn't win don't worry! We have frequent writing contests that are announced in our Discord! Join the Discord for details about winning your own booster packs!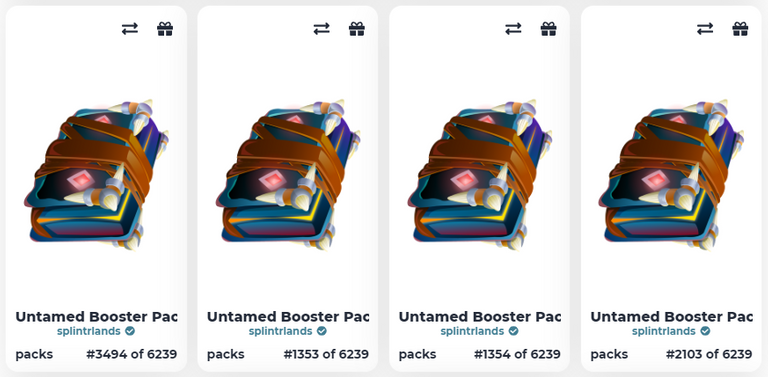 TOKENOMICS
| Circulating Supply | Burned | Max |
| --- | --- | --- |
| 278,000 | 51,876.83 | 100,000,000.00 |
---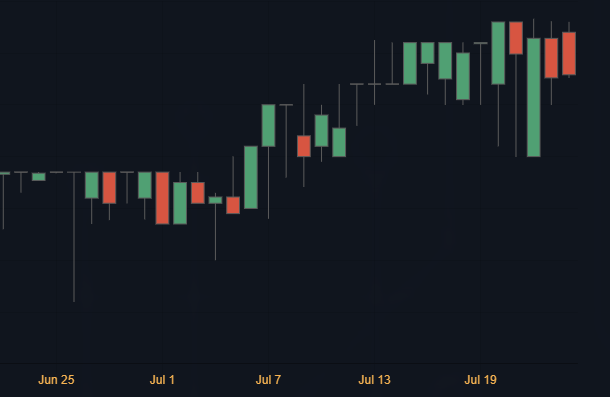 Wallet Status


3338 wallets hold $PIZZA
0608 wallets hold >= 1 $PIZZA ( 8-) )
0261 wallets hold >= 20 $PIZZA (bot access level 1)
0048 wallets hold >= 200 $PIZZA (bot access level 2)
0023 wallets hold >= 1000 $PIZZA (badass level)
0005 wallets hold >= 10,000 $PIZZA (baron level)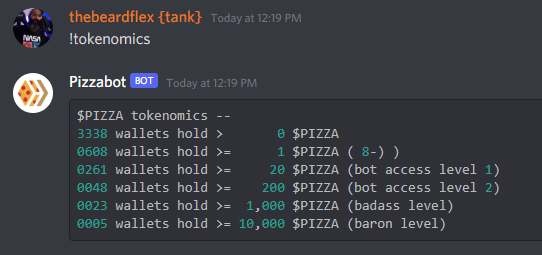 Top Deliveries
Let's recognize our top 3 delivery drivers this past week! (those who handed out the most pizza to people throughout HIVE)
1st - @johannpiber - 137
2nd - @tomhall - 80
3rd - @eii - 68
Thank you for your engagement!

Discord Submission
We love Pizza, it's a fact! Pizza is the bond that brings us together. In the Discord we encourage our $PIZZA family to share photos of their pizza creations or of 'za they are trying throughout their day.
This week, we are choosing THREE winners from the Discord!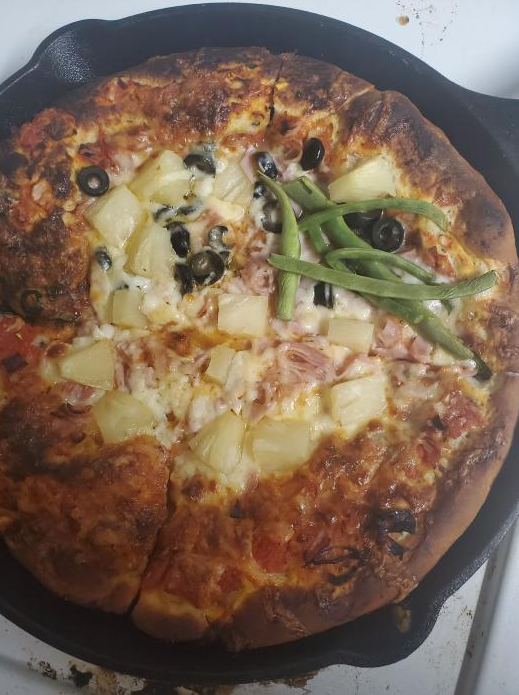 First Place
Submitted By: @dibblers.dabs
Award: 15 $PIZZA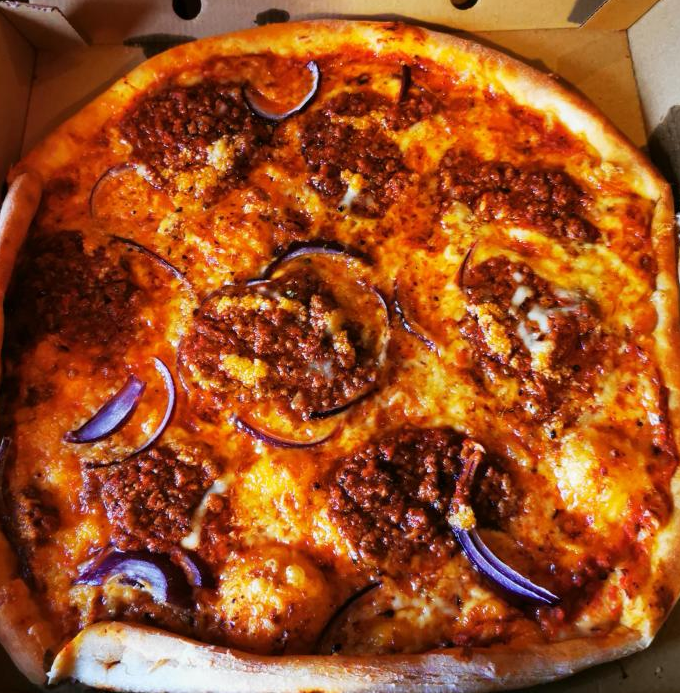 Second Place
Submitted By: @saffisara
Award: 10 $PIZZA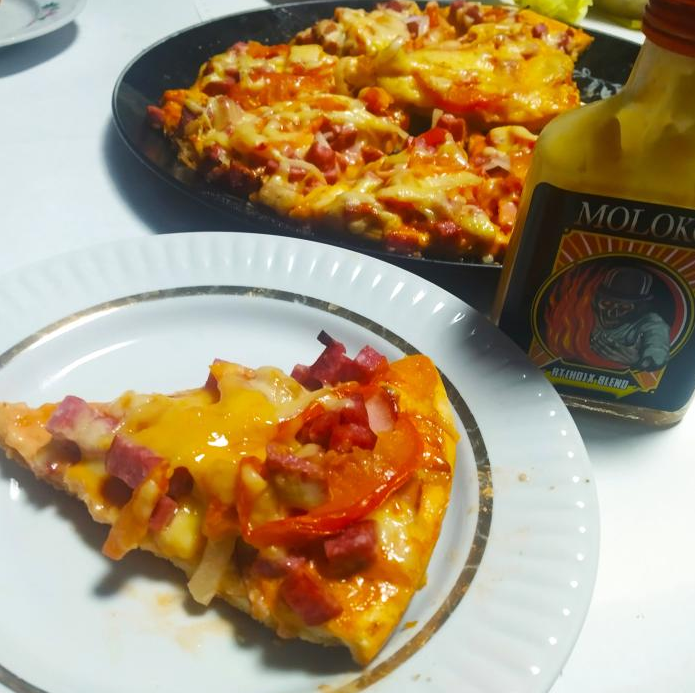 Third Place
Submitted By: @drunksamurai
Award: 5 $PIZZA


Thank you for your participation and enjoy your tasty $PIZZA tokens!


REWARDS
Top 10 Leaderboards (Bag Holders)


Date: 7/25/2021
Token: #PIZZA
This weeks bonus: 8% $PIZZA



NOTE
We are going to go back to RNG for a while on the Top 10 Leaderboard rather than volume based rewards which we were using to incentivize higher volume. The RNG kept things more fun and ultimately saw bigger rewards as the RNG allowed more flexibility (and higher potential) in the weekly dice roll. In the spirit of rewards, games, competition, and keeping the rewards fresh, RNG it is! We hit 8% this week out of a possible 10%.



Want to get in on the action and secure your own weekly bonus rewards?
You can buy $PIZZA on LeoDex, TribalDex, or Hive Engine!
You can earn up to 10% back in the form of $PIZZA and other tokens by knocking our current leaders out and claiming your spot among the top!


We've had a rather large shake up this week as some have not yet staked their tokens to be eligible for rewards! Congratulations to those who staked their tokens and moved up in the top 10!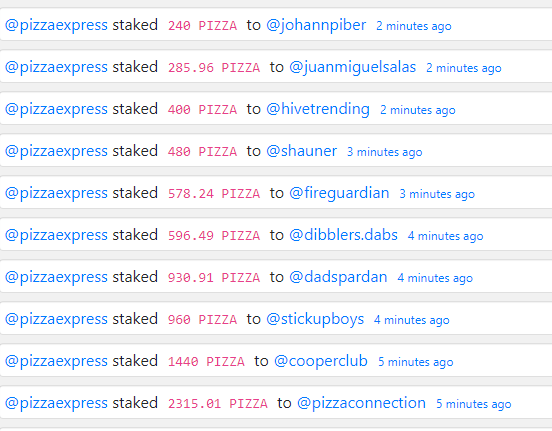 @pizzaconnection @cooperclub @stickupboys @dadspardan @dibblers.dabs @fireguardian @shauner @hivetrending @juanmiguelsalas @johannpiber
Lucky 5 Weekly $PIZZA Holders
(randomly chosen weekly from all holders with >= 1 $PIZZA in their wallet)
These lucky winners have won 3% of their staked $PIZZA holdings value back!
Remember! If you want a chance at BIGGER rewards, simply stake more $PIZZA in your wallet!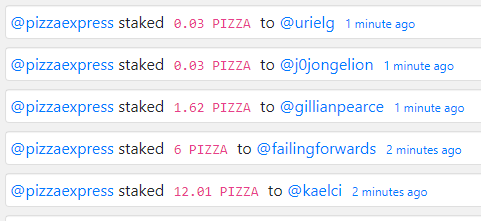 @kaelci @failingforwards @gillianpearce @j0jongelion @urielg
BONUS 5 Weekly $PIZZA Holders
These 5 bonus winners are drawn from holders with >= 500 $PIZZA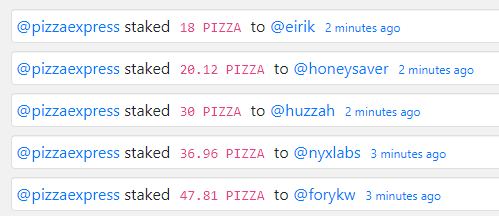 Congratulations and thank you for locking up your tasty za! Enjoy your bonus rewards of 3%!
@forykw @nyxlabs @huzzah @honeysaver @eirik
Daily Winners
Congratulations! You have won 5% of your $PIZZA holdings back in additional $PIZZA!
@charcoalbuffet @honourablefelix @creodas @amico.sports @allcapsonezero @solairitas @ykretz

DELEGATE TO PIZZA
You can also delegate your HP to our @hive.pizza curation account and farm your share of the daily $PIZZA rewards pool! The reward pool increases 10 tokens every 10k HP that is delegated to the account!



You can also check out the HIVE.PIZZA website here.
Buy $PIZZA
Leodex
Tribadex
Hive-Engine

Join the Discord and $PIZZA NATION

Join our curation trail here
Vote for us as Hive-Engine witness here
Vote for us as HIVE WITNESS HERE