How It Started vs. How It's Going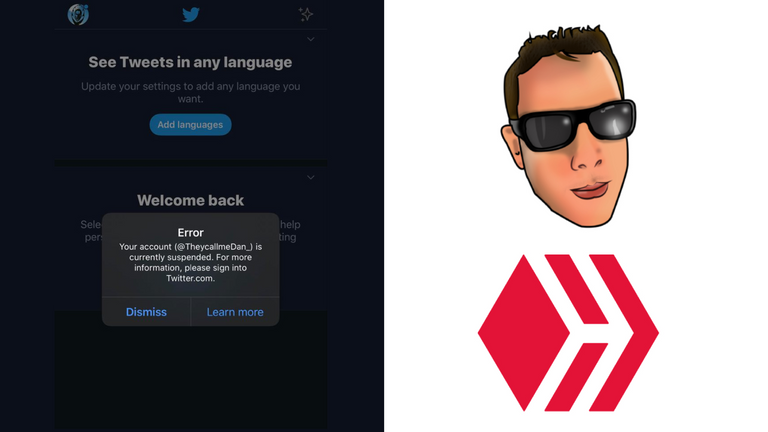 Another day another complaint about censorship. #TwitterCensorship is trending, despite reported attempts at twitter trying to censor people complaining about them censoring people.
Inches being taken everywhere! Oh my!
For this initiative, I want to combine two trending topics into one. #TwitterCensorship + #howitstartedhowitsgoing
The idea with this is to raise awareness about Hive for those currently on web2 yet to make the leap to web3. These people are just like you and me before we go on Hive, and then seeing people's stories could help inspire them to make the switch.
How did your social media journey start and when did your web2 experience end to start your Hive journey? Of course, most people that use Hive still use some form of web2, but for those people, I would say a majority of their social time is spent on Hive instead of web2 now.
My example will be on Twitter, they banned my account, which primarily talked about Hive and freedom of speech (ironically right before arguably the biggest mass censorship we've seen yet) & how now I am on Hive and loving it. Hive is here for me when other social platforms banned me, and for that I am thankful.
Your story does not have to be about being censored, however you can let people know you can't be censored on Hive and you can speak your stories freely by using the #twittercensorship tag in your tweets. Your story could be one of maybe you posted 10 thousand times on Facebook and earned zero money, but then earned more on one post on Hive then ever on Facebook. Or maybe the people you met here and communities you joined, the things you've built. Can talk about other tokens on Hive and all the possibilities that one has on Hive they do not on web2. For this initiative, we will focus on the here and now, so use Hive (not Steem) when referring to your "how it ended" part.
To participate:
Write a full post sharing how your social media journey started on web2 and ended up on web3 (hive) + make a simple meme like the one I did above but with your story.
Share your post link on Twitter & use the hashtags: #HIVE, #TwitterCensorship, #HowItStarted & #howitstartedvshowitsgoing (these are trending tags atm) And post the MEME as a picture in the tweet.
On your Hive blog post or video include the tag #howitstarted & leave a link to your posh tweet in your Hive post for easy checking for curators.
On Twitter put your HIVE links into a comment. Twitter is shadowbanning some Hive links and all 3speak links, but if you put in your comment section it won't shadowban your tweet.
Optional: When making a video, upload a short clip of it to Twitter as a teaser, and put the link in a comment under the Tweet. Videos get a lot more views if uploaded directly to Twitter, and to see the rest they will need to go to your 3speak profile.
No need to leave a link to your post in the comment section of this post. We will be curating the #howitstarted tag here on Hive. So by using the #howitstarted tag on hive you will be eligible automatically for a vote if you followed the above instructions.
Up to 10 posts will be voted at 100% with my accounts. If you make a 3speak video, you will also be eligible for an additional 100% vote from the 3speak account. Post that do not win a 100% vote will still be eligble for smaller votes for participating.
COMMUNITY LEADERS, please translate this initiative into your language for your community and we will get with you for your help in curation.
For people that achieve semi-trending/trending tweets we will be giving out nice sized Hive tips! :)
Have ideas for future initiatives similar to this one? Reach out to @eddiespino on Twitter or eddiespino#1698 on Discord to let him know your ideas and he will relay them to me.