Happy HivePud and happy April Fool's day. Let the trickery begin! No tricks in this post today though.
It's the first of the month and time once again for Hive Power Up Day. If you don't know about HPUD / HivePud, many of us buy a little HIVE and add it to our Power Up. For the most part, it's just a great way to support the community.
This will be my 8th consectutive PUD!

I actually kept it small this month and only added 39 HIVE to my power up. The image says 31, apparently I can't do basic math when I first wake up. I wanted to get myself to a nice round number of 4000 Hive Power. After realizing I wasn't at 4K I added another 8 making it 39.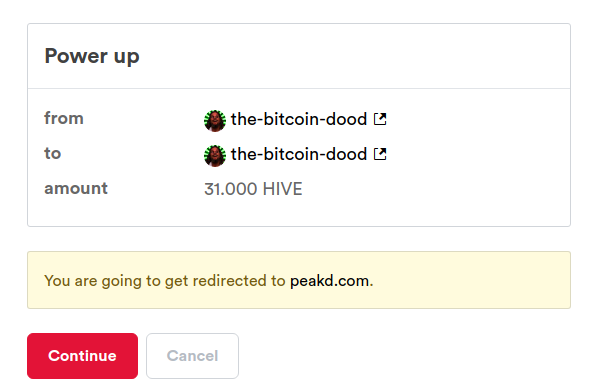 I set a goal this year to reach 5500 HivePower which I think puts me in the rank of Dolphin. I started around 3K for the year so 4 months into the year it's looking like I'm right on track to hit that goal!

I would have liked to add more to my HivePower this month but when we were around 13 cents I bought a bunch that I set aside for computer money. I've been working on an older computer and it's really time to upgrade. So I dipped into my computer money for this months power up. I'm not sure when I'm going to pull the trigger on the new PC but it will probably be somewhere between $1 and $2 Hive.
Not Powering Down This Market Cycle
This part of the post might be a little controversial, but The Dood always tries to call it like it is. For the most part once I put HIVE into Power Up I never touch it! I have HIVE I use for trading, I'm now hodling HBD and loving the interest rate! I play around with those positions. I'll rarely touch my Hive Power!
On that note, I've already made a decision not to touch my Hive Power this market cycle. Regardless of price I really want to hit my goal of Dolphin by the end of the year. Still, I'm not going to say I'll never touch my Hive Power. Back when we were on the "other chain" I watched my account go from being worth 5 figures to a few hundred dollars. I trade market cycles and this is the exact reason why. Although I'm not touching my Hive Power this market cycle or probably this year, once I hit dolphin status I may do the occasional power down from time to time. I live off my trading and I just can't stomach watching the account price swing that much. I'd never completely power down but take some gains and replace them later then continue to build even larger!
With that said I wouldn't hold it against anyone that did a small power down when the time was right. These markets are cyclical. We don't just go straight up. Some people can handle watching an account value swing from 15K - 20K down to a few hundred dollars. For others that is a down payment on a house, a new car, bills, food, each persons needs differ. For some of us a five figure social media account is a serious luxury! I would never hold it against anyone that takes some gains from their Hive Power around a peak market cycle. I'm not sure we're there yet though, and honestly I feel HIVE has a lot of room to grow. I think we're around the halfway point of this market cycle but that's just a gut feeling I have. I'm honestly expecting HIVE to reach between $2 and $5 dollars by the end of this market cycle. NOT FINANCIAL ADVICE!
Why I PUD 🤣
The main reason I power up and participate in the Hive Power Up Day is for the community support it creates. Not only does Hive Power increase our influence in the community but more than that it's a great way to share the wealth and help us grow together. Increased Hive Power gives us increased voting power. By building your Hive Power you're able to give increased votes and basically share the wealth with the rest of the community and your friends when you vote on their posts. For this reason I'm very conservative about any decision to power down. If it's not an absolute emergency or just too much money to look the other way, my Hive Power doesn't get touched!
If you'd like to find out more about HivePUD you can check out this post.
https://hive.blog/hive-167922/@traciyork/welcome-to-hivepud-hive-power-up-day-april-1st-2021
Delegations
Recently I noticed I had a lot of incoming delegations! I was actually shocked when I seen the amount of delegations I had coming in. I think some of the delegations were from contests I participated in. Anyway, I wanted to give a sincere and heart felt thanks to these accounts for delegating to The Dood. With the increased Hive price I've been putting the delegations to good use and trying to upvote as much content as possible!
@dhenz - aka TheyCallMeDan Thank you for your generous delegation!
@c0ff33a - Thank you so much! Your generosity is much appreciated!
@jeanlucsr - Many thanks friend. I appreciate all you do for the community too!

Also, seeing I'm thanking people! I can't forget @traciyork I just wanted to shout out and say "THANK YOU FOR ALL YOU DO FOR THE COMMUNITY!"
Also @nathanmars. I've never seen someone so dedicated to supporting and promoting our wonderful community here on HIVE. Truly inspiring! You rock man! Thank you for all you do! We all see your hard work and really appreciate it!
So that's where I'm at with this months HPUD / HivePUD. This will also be my first post for the #HiveBloPoMo (Hive blog posting month) @traciyork hosts this every year! This is my second year. You can find out more about it here. Short version, it's a commitment to posting daily quality content for the entire month of April! I plan on posting daily, hopefully YOU find the content quality! You can find out more here:
https://peakd.com/hiveblopomo/@traciyork/nablopomohiveblopomoakahiveblogpostingmonthforapril2021-grslb1b7orcoimipviak
Wishing you all a prosperous and productive April! I hope you'll consider joining in on both the #HPUD / #HivePUD and also the #HiveBloPoMo challenge. Thanks for reading and love you all! We have an awesome community here on HIVE and I'm so proud to participate and appreciate each and every one of you!