Please support this proposal here
https://peakd.com/proposals/221
Dear members of the Hive community, Ukraine is on the 78th day of the war. This means that for the third month already, many residents of Ukraine have been in dangerous zones where hostilities are taking place. Many families were left without homes, people do not have enough food and water. There is no electricity in many regions.
We are ILYSA RAZOM, and we choose peace ☮️, love ❤️, help 🤝 and freedom ⭐️
That's why we do not participate in war. Our team decided to help people with vital things. We save life's of usual Ukrainians. Our team consist of 15 headquarters coordinators and 105 Volonteer's.
ILYSA RAZOM is a volunteer organization that provides support to Ukrainian Nation. We are a non-governmental, non-profit organization, the work of which is based on the implementation of charitable activities in the interests of Ukrainian people. The organization was created during the war and it operates solely on a volunteer basis.
Our organisation is represented in Kiev, Kharkiv, Zaporozhye, Dnipro, Chernihiv.
We have made over 420 deliveries and helped hundreds of thousands of Ukrainians.
For example we brought 80 tones (this is 4 huge trucks) of building materials&shelter kits. These kits contained the necessary materials for repairing houses that had been damaged by rocket and artillery attacks, as well as flashlights, sleeping bags and other things for arranging bomb shelters. We delivered these kits and materials to more than 20 small towns in Ukraine. Especially strongly we helped such Bucha and Irpen.
We delivered medicines, hygiene products, food, first aid kits, shelter kits, warm clothes, baby products and much more. All these goods were taken by our brave hero-drivers to shelters, hospitals and villages even during missile strikes. One time the bomb felt just 30 meters from the ILYSA's car with Hummanitarian aids. It was very dangerous.
We are very proud of our team members. This is really hard to keep on doing good things for 78 days. And we are very tired.
In every corner of Ukraine, the volunteers of IlysaRazom bring Ukrainians everything they need to feel safe. We also provide psychological support because a lot of women, men and kids who have seen the horrors of the war just don't want anything besides an ordinary human hug and a good word. They are left alone. Their families are dead. We can't fully understand that feeling or its absence but we try to help anyway.
Supporting the victims during this difficult time is the least we can do. When we bring food to those who need it, it's a feeling of supposed moral fulfillment.
ILYSA RAZOM keeps on working and helps many people. Thanks to Hive community we've bought more than 100 tones of food. The money we got from the Hive blog let us feed more than 20 000 people.
And we are very grateful to the Hive community for this opportunity!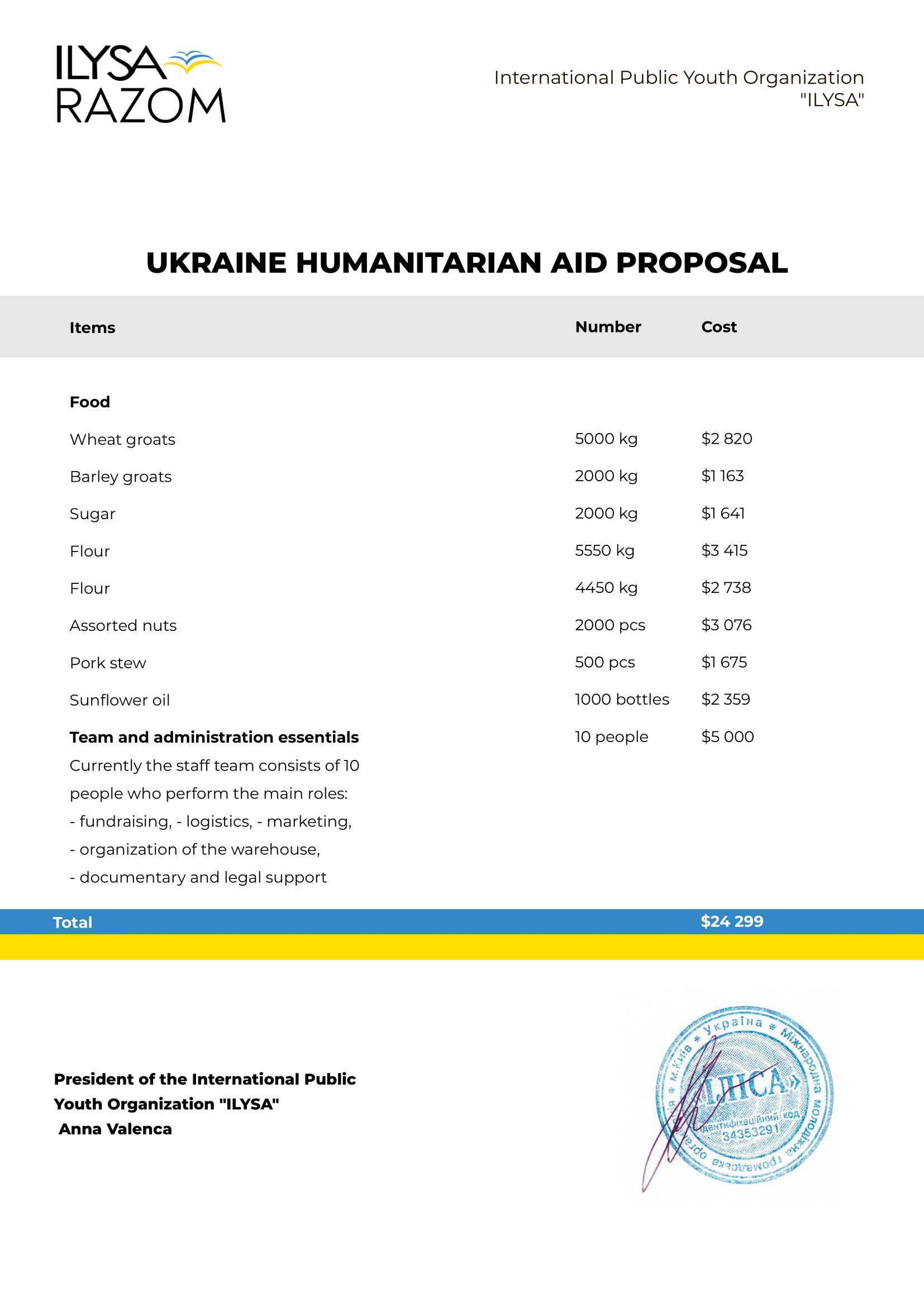 Despite the fact that ILYSA RAZOM is a non-profit organization, we work according to the standards of the European Union. Despite the fact that Ilisa Razom is a non-profit organization, we work according to the standards of the European Union. And this means that we make high-quality reports for donors and investors for every dollar spent.
We promise to provide the video and photo reports for every dollar we will get from the Hive platform.
In such a difficult time for all of us, we must unite and help each other out so the help of each of you would be invaluable.
If you have any questions surrounding the proposal, please reach out to us.