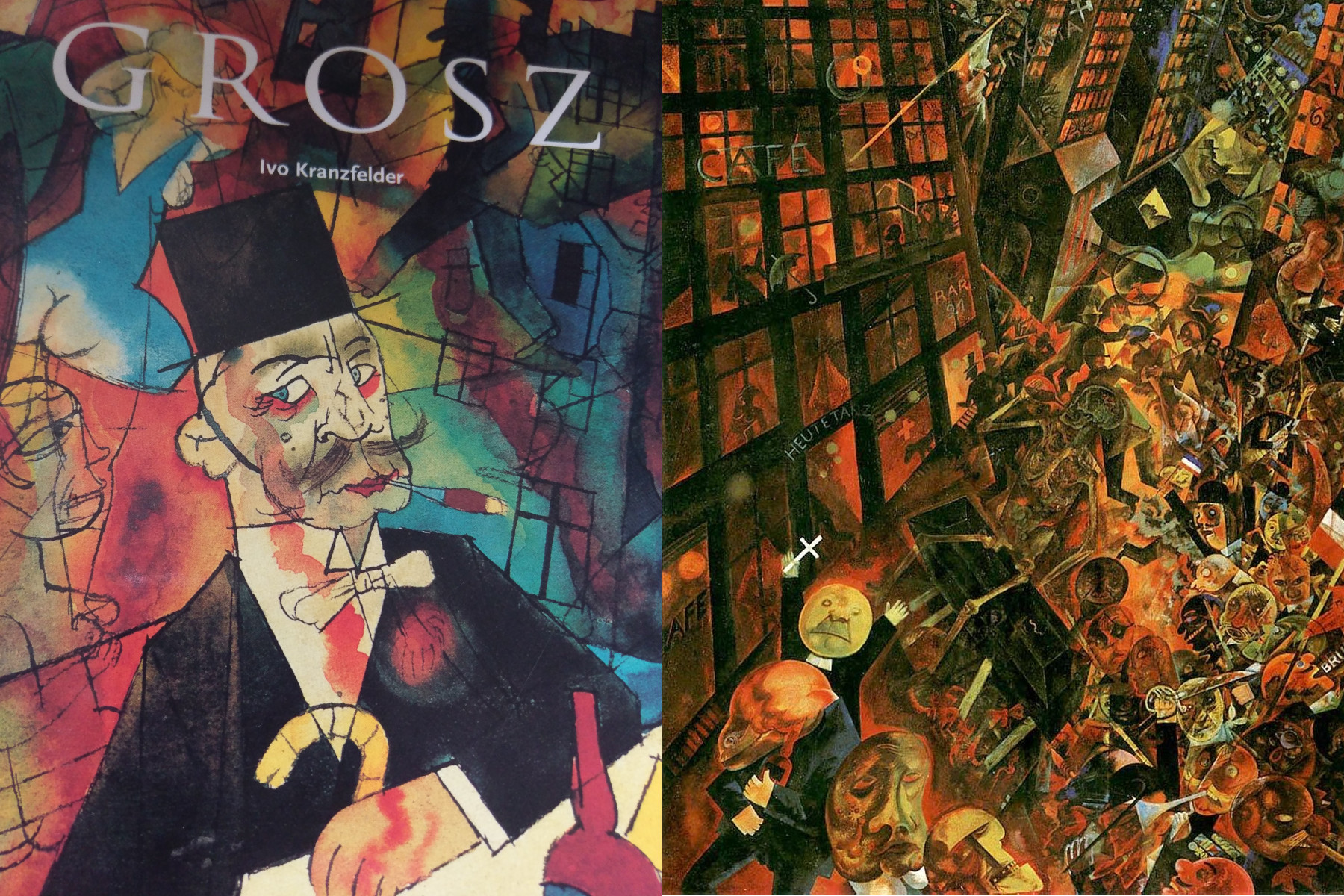 AIM: Pose 2 questions for elucidating a possible answer existing between the pair.
---
Question 1: Could a birth and emergence of the "Dadaist" as a subset of intelligentsia revolutionaries be easily explained as cause / effect, given the time and place from which it was borne?
Question 2: Or was the "Dadaist" a sophisticated social programming operation? Were individuals chosen then groomed to be corralled into a "Dadaist" revolutionary mindset? Were they corralled through the iron gates of a grotesquely garish & debased Weimar Germany under the guise of protection, only for them to emerge from the other side into a world of further aberration to nature, tradition and beauty?
---
Hypothesis
I have an academic background in the Fine Arts and graduated from Art College in 2003. The college I attended had a fixation on being a 'conceptual' school where traditional disciplines such as oil painting, sculpture, lithography & life drawing were not taught exclusively, nor where the skillful display of artistic technique was considered the penultimate goal of all young budding artists in attendance.

In retrospect I can blatantly tell it was a place for the academics who were teaching us to test their latest socio-political indoctrinations. I excelled, especially in Visual Culture, Art History and anything to do with post-modern academic concepts. I hungrily gobbled up ideologies & concepts that were so abstract as to be out of place in a town like my hometown backwater, and out of place in an Art College.

I learnt about Deconstructionism, Epistemology, post-feminism, phenomenology, Post-Structuralism, Marxism, Communism, Capitalism, Homosexuality, Existentialism, all fairly unrelated to what I wanted to learn (which was traditional fine art techniques, painting, art history and print making).

Futurism, Brutalism, Surrealism, Cubism, Abstract Expressionism, Impressionism, Symbolism, Pointillism, I learn through Art History and Visual Culture. Studying these, I made the discovery that the philosophical underpinnings which guided each artistic movement preceded the artist and their artwork. Yet the role of the artist was to translate that birthing of a new zeitgeist into a form which could be mirrored down to society at large, to form a new synthesis within the culture. The artist was the trailblazer, their art was the subject and object over which a further coterie would be formed. As the ages passed through time and man evolved, the coterie also became a market, an economy of its own.
Hypothesis: The Dadaist Is Still With Us.
Now we have a question posed by the Dadaist. I believe that the Dadaist remains amongst us today, I believe the Dadaist persists as Dadaism wasn't an art movement in itself, it was an antithesis of an art movement. The first Dadaists were corralled through revolutionary environments, exposed to acerbic literature and witnesses to depraved debauchery never before recorded (except for the present day!).

A lingering mind cage remains by correlating the act of creation, of making manifest your imagination in the pursuit of aesthetic and philosophy beauty into the antithesis of exactly those concepts:

Inversion of aesthetic and artistic values

Sidelining of traditional praxis & techniques

Subjugation to Cultural Marxist dogma as the penultimate goal for the artist (and in turn, society)

An attraction to the repulsive & a repulsion to the beauty (natural or not) in our world.

Celebration of enlightenment in a Luciferian sense: knowledge as terror.

Franz Kafka — 'I am a cage, in search of a bird.'
---
Question 2 is th correct question to ask. It's answer is observed during this current year of 2020.
A friend whom I value as a source of scholarly shock + epiphany attacks suggested a link between Dadaism, Surrealism and the current state of man terrorized. A blame was laid at Communist theory and Marxism as the perpetrator, perpetrator of what exactly, I asked myself?
I naively clung to my Question 1... After all that is what i learned in the tertiary learning institution. The Dadaist, much like the art movement Dadaism was easily explained as cause / effect phenomena; further evidenced by contextualizing phenomenology, epistemology and the traumatic experience of World War One.
The Weimar Republic was a filthy, licentious and immoral sum of all that which came before, for which it could be quoted to be at blame... Or something like that?
I opened this book on George Grosz. The first page immediately slapped me with an attack of epiphanies hence I knew my friend was onto something quite deep. Sinister supplication of humanity via the cultural importance of Fine Art being subverted, with that subversion being exalted as the sublime act of creation. Destruction as creation, I did not know then what I know now about inversion, subversion and synthesis being thew new paradigm striven for by evil forces. I did not expect to stop my search for information at one book but hey, that's the beauty of books.
Influences, Media and Memberships of George Grosz
George Grosz was born in 1893 in Berlin. Volunteered at the outbreak of war in 1914 but was discharged as unfit for service in 1915. Called up again in 1917 to the war but discharged again (permanently?).
Following the revolution in Russia, the November Group (an artists' association) was established during 1918 in Berlin. Grosz joined.
Became a member of the Communist Party.
Started magazine in 1919, "Die Pleite" (rough translation: bankrupty or disaster) with Wieland Herzfelde of Malik Publishing.
Collaborated with Franz Jung on "Jedermann sein eigener Fußball" (Everybody his own football), and with John Hoexter & Carl Einstein on Der blutige Ernst (The bloody seriousness). His harshly critical of society drawings started appearing in various Malik publications.
Prosecuted for defamation of the Reichswehr (army) in 1921, offences against public morality in 1924 and blasphemy in 1928.
Became Chairman of Rote Gruppe (red group), an artist's association in 1924.
Regular contributor to "Der Knüppel" (The Stick), a communist satirical weekly, until 1927
Supplied drawings to assist Erwin Piscator in his 1927 stage production of The Good Soldier Schwejk
Co-founded "Association Revolutionarer Bildender Künstler Deutschlands" (German Association of Revolutionary Artists) in 1928.
Invited to lecture to The Arts Sutdent League in New York, in 1932. Emigrated to USA with his wife the following year.
---
In 1917, George Grosz co-founded the Berlin wing of the Dada Movement. Every member was assigned a function (not a role..) and Grosz's was PropaganDada. His business card had printed on it a question as his job description:
"What Shall I Think Of Tomorrow?"
---
A volume of his poems were published in 1986. He also published an autobiography, copious letters & correspondence & other writings on life and art.

Curiously, this book provides a blunt warning on the above mentioned published works of George Grosz:

It is advisable to approach this material with caution: Grosz was a shape-shifter, continually trying out new roles, even in his letters.

---
Grosz managed to talk his mother into sending him to Art College. He passed the entrance exam & began his studies at the 👑 Academy of Art in Dresden. His teachers were Richard Müller (who was to organize an exhibition of "degenerate art" in Dresden as early on as 1933), Oskar Schindler & Robert Sterl.
---
1915, Berlin: Grosz frequented "Cafe de Westens," meeting place for established writers & intellectuals. The cafe crowd included; Theodor Daübler who published an article on Grosz in the Kunstblatt in 1916, bringing George Grosz into the public eye, poet Else Lasker-Schüller, who was once married to the editor of "Der Sturm" (The Storm) who also owned an art gallery with the same name, writer Gustav Landauer, who after WW1 was to be one of the leaders of the 1919 Bavarian Soviet Republic, together with Kurt Eisner, Erich Mühsam, Ernst Toller; Richard Huelsenbeck, eventual co-founder of Berlin Dada, Johannes R. Becher, Franz Jung, Martin Buber.
Grosz met Wieland Herzfeld at the painter's studio of Ludwig Meidner. Herzfeld recently took over periodical "Neue Jugend" (New Youth). Grosz published poems & drawings in Franz Pfemfert's "combatively" pacifist Magazine, "Die Aktion."
---
THE MAGAZINE "DIE AKTION STARTED OFF AS GERMAN EXPRESSIONIST BUT BECAME GERMAN SOVIET IN AFFILIATION."
Pfemfert was out to asset the political function of art. It was this above all that set Die Aktion apart from other publications
---
I think that is a fitting point to end the excerpts on. Die Aktion sounds familiar to me and I'm sure it's combatively pacifist pages will be enlightening when read over 100 years after publication.
My epiphany whipped sojourn into the connections George Grosz made early in his career led me to another unsuspecting one. His painting: (The Funeral, Dedicated to Oskar Panizza), 1917-1918 was one I remember dearly from College, it's hectic nature with skewed perspective weighted with scattered shapes resembling distorted human crowds influenced me.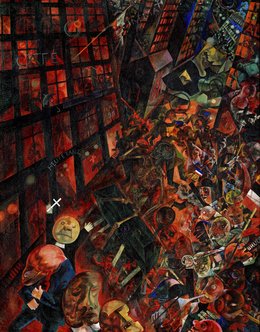 Oskar Panizza, for whom the painting was dedicated for is someone I will have to revisit. His perverse creativity and background in psychiatry could explain a lot more, could answer questions arising from the gaps of history which I haven't asked yet.
Below is what i've collected on Oskar So Far. Adios!!!!
Oskar Panizza
YOUTUBE VID: The Weird and the Wonderful Episode XV: Dämmrungsstücke & Visionen by Oskar Panizza
https://www.worldcat.org/identities/lccn-n82148770/ Panizza, Oskar 1853-1921
https://viaf.org/viaf/34461295/ - Virtual International Authority File Panizza, Oskar 1853-1921
https://en.wikipedia.org/wiki/Oskar_Panizza
https://www.imdb.com/review/rw1665141/?ref_=tt_urv - Liebeskonzil (1982)
CASE OF OTTO-PREMINGER-INSTITUT v. AUSTRIA http://hudoc.echr.coe.int/eng?i=001-57897
https://en.wikipedia.org/wiki/The_Operated_Jew
https://www.artsy.net/artwork/george-grosz-der-leichenzug-widmung-an-oskar-panizza-the-funeral-dedicated-to-oskar-panizza
- Liebeskonzil (1982) 🇩🇪 Antonio Salinas, Magdalena Montezuma, Kurt Raab