This is my first steemit post ever and I'm excited! I'm here to introduce myself but first a story.
The Mice Story
On a beautiful Sunday night after dinner has been served and eaten, the members of John McAllister's family each retired to their rooms, ready to sleep until the next morning.
---
As usual, the two mice that lived in their basement climbed the creaky stairs up to the kitchen. They did not have to worry about the creaks because their feet were too small. They jumped and climbed until they reached the kitchen table. Slowly but surely they climbed it.
---
On top of the table, Mrs. McAllister had forgotten to cover the milk cream bucket and put it away.
---
The first mouse said to the second mouse, "Hmmm, it smells like cheese, wanna try it?"
"Yeah, sure," said the second mice.
Gently, they climbed the bucket and stood at the edge of the bucket. There was just one problem: it was a half-full bucket of milk. But the mice were determined. As the first mice stretched its neck, so did the second one, both trying to taste the stuff that smelled like cheese. Then it happened. Both mice fell into the cream.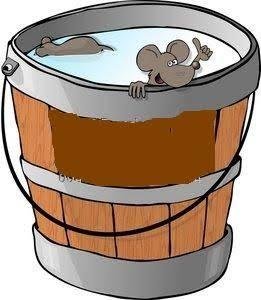 source
"Help! Help! Help!" the first mouse screamed and as he screamed, the cream filled his throat until he could not scream anymore. He gave up and drowned.
---
The second mice did not scream. He knew that it was within his power to get out the situation he put himself in. He struggled, paddling with his four feet, struggling, spattering cream all over the place. He did not quit. He refused to drown.
---
As he struggled to free himself, a miracle happened. The cream began to thicken. He continued until, lo and behold, the cream became cheese. He crawled out and had some rest, then went back in the bucket to eat all that cheese.
Ladies and gentlemen, I am that second mouse
This story was adapted from the movie: Catch Me If You Can
Just kidding!
I am Uzo
@uzochukwu from Nigeria. I love technology and I love to make friends. I shall be writing on a wide range of topics ranging from my work to travel, to education, fiction and whatever interests me or whatever I'm involved in.
It is lovely to be here. I'm not happy for the lost time since I registered but I have promised myself to make up for it.