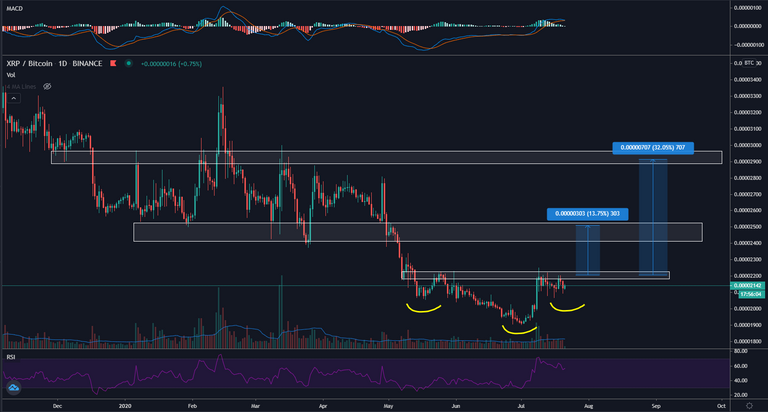 Hello again my wonderful friends!! 😀
This is your friendly neighbourhood Lj for your daily dose of Price Analysis for interesting cryptos out there.😀
For this segment I would like to discuss the potential move of RIPPLE or XRP against BTC.
This is very interesting because as we can see in the yellow curves, the price is forming a head and shoulders pattern.
This is a very good pattern to watch and to successfully form because it greatly indicates a reversal in the trend.
The real formation of this and good confirmation will be a break of the 2,200 Satoshi price area resistance.
If this happens, that would be a really good indication that there can be a big upsurge in price upto the 3,000 Satoshi area price resistance.
That would be a potential of upto 30% profit from the break point price.
As usual this is a speculation and based on the current chart pattern. This can easily turn downwards and go back to the previous support of 1,900 satoshi.
So it is very important to have a good plan and execution with this.
And always have a cut loss or stop loss in place to prevent a big and further loss of our capital.
Stay safe everyone and always have a disciplined investing and trading life. 😀
Till next time,
Cheers!! 😀
#Ripple #Xrp #Investing #Trading
Disclaimer: This is only for educational purposes only and not a financial advice.