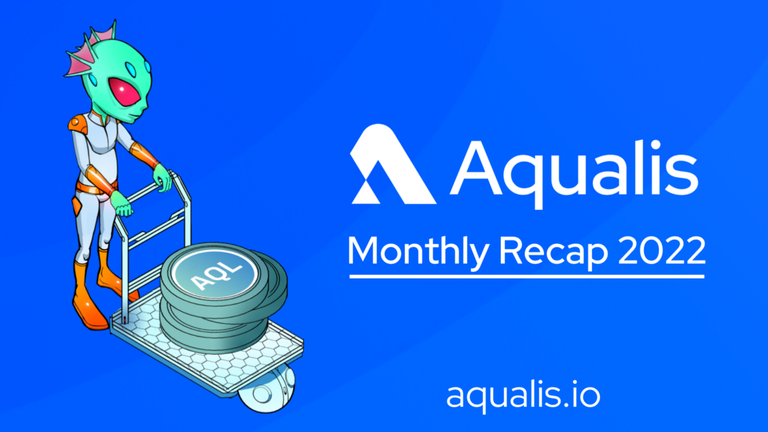 Dear Aqualiens,
Over the past few months, the Aqualis team have been working hard to build our protocol from the ground up, and are now ready to share some of our exciting new developments.
Firstly, we apologize for the delay since our last major update. We hope this article will reassure our community we have been working hard on updates worth announcing!
Table of Contents
Updated tokenomics
Seed sale progress
New team member
Splinterlands guild
Updated whitepaper
Research paper progress
MVP Smart Contract Development
What's next at Aqualis?
Updated Tokenomics
For those who may have missed it, we have recently updated our tokenomics in alignment with current market conditions. For more information, please have a read of this article.
Seed Sale Progress


As a testament to the success of our updated tokenomics, we have secured our first seed sale participant! This has been an invaluable experience for us to ensure the seed sale process is as straightforward as possible - especially as we begin ramping up our efforts to pitch to VCs.
The team has recently implemented a new CRM software to manage and automate as much of our seed sale process as possible. With this, we believe the time saved by streamlining this process will far outweigh the minor delay in setting this up.
New Team Member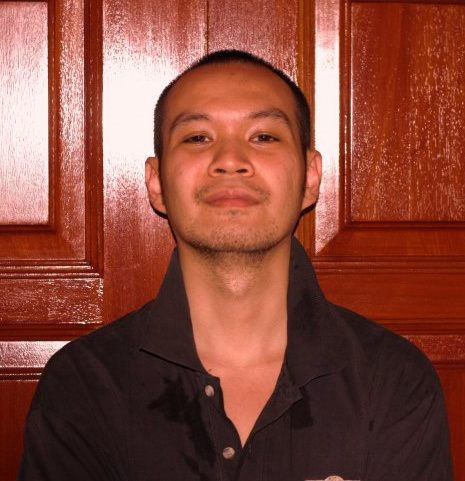 To further expand the team at Aqualis, we have recently hired Lim Chuan Shin as our in-house graphic designer. As we create our dApp and expand our site + ecosystem, we will need many more creative assets such as backgrounds, dashboards and of course: characters to populate the Aqualis universe.
Shin has worked on multiple web3 projects such as Splinterlands and was even awarded the Concept Art Association Award for his work on Exode. Shin has also worked on AAA game titles such as Street Fighter V and various other freelance projects, so it is definitely a great honor to have Shin officially join the Aqualis core team as our graphic designer.
To begin his journey at Aqualis, Shin has helped us bring the "Aqualien" concept to life with these cute and quirky characters below: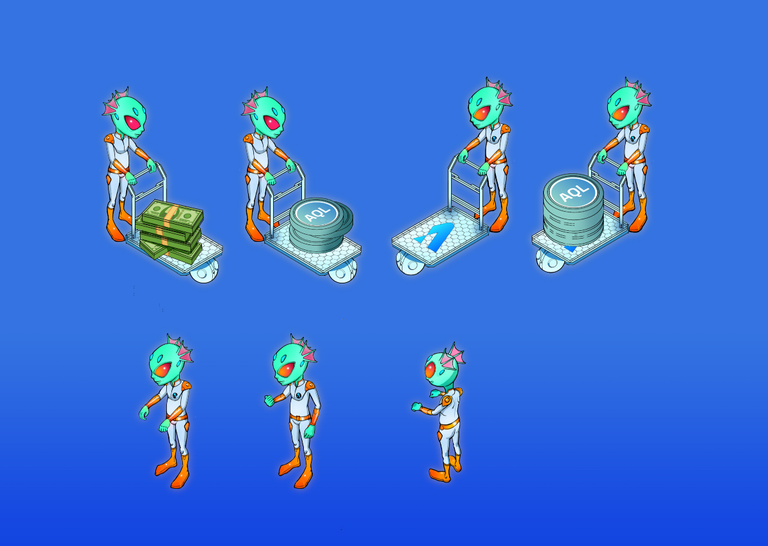 You may also see some of these on our website.
In fact, the first person to find all four Aqualiens hidden on our website within a week of this article and post it in our Discord general chat will get a special (non financial) prize!
Splinterlands Guild
In our original post announcing our advisor Yabapmatt, co-founder of Splinterlands, we promised we will give back to the Splinterlands community. Our first move to deliver on this promise is by creating a new Splinterlands guild. We are currently in the process of leveling it up and as soon as we reach a competitive state, we will begin inviting more advanced players to further promote the Aqualis brand within the Splinterlands ecosystem.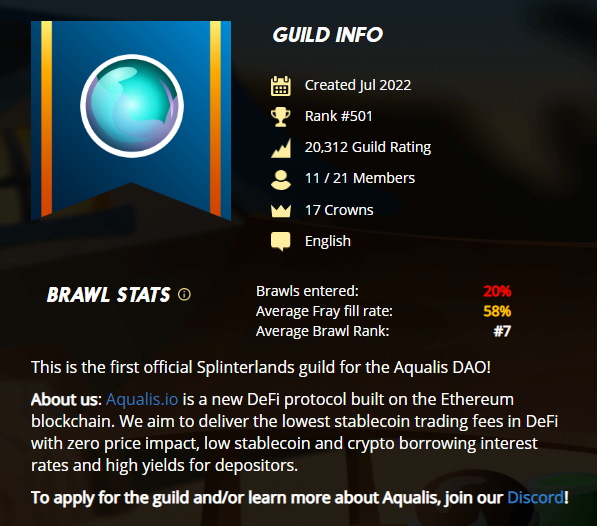 Future Splinterlands Initiatives Planned:
Splinterlands tournaments with AQL token payouts
Cross promotional content/marketing
DAO level Splinterlands investments by Aqualis (given the proposal passes)
Stablecoin deposits into Aqualis liquidity pools from Splinterlands DAO (given the proposal passes)
Updated Whitepaper
Throughout the past few months, we have been continuously updating our whitepaper as we change certain product specifications and parameters; update our roadmap, and create new features.
We have now added a "last edited" tooltip at the bottom of the page which will be updated when there is any important information being added/changed.

Please note this is different to the auto generated "Last Modified" tooltip that reflects any change, including correcting simple spelling errors or format updates.
Our second major update to the whitepaper is our new "Accounts and Assets" page. This will reflect all Aqualis assets with a clear division between team controlled and DAO controlled. Since we have not yet reached our public sale nor TGE, all assets are currently team operated.
Research Paper Progress
Dr Alan Downes, our head of R&D, has been working on a research paper for Aqualis to explore the sustainability of our model, and our ability to actually deliver the lowest fees in DeFi - while providing sustainable returns for depositors. Using his findings, we have discovered the current iteration of parameters only outperforms existing AMMs in some situations. To rectify this, we have decided to lower our average trading fee from 0.02% to 0.01% to match UniSwap's stable pools. This effectively ensures that Aqualis has the lowest average trading fees due to our zero-price impact guarantee. We will continue our scenario based analysis to systematically and objectively determine if our model is sustainable and efficient.
MVP Smart Contract Development
Our preliminary vesting contract for seed sale participants and team members is now complete. Although we are still looking for existing audited smart contracts to utilize, we have not yet found one that can deliver our exact needs.
Further testing on our staking and governance smart contract has uncovered some bugs. We are now working to fix these.
Our MVP MALP smart contract has been completed for a few months now with swapping, depositing, withdrawing and fee capturing functionality enabled. We are now working to enable the lending capabilities, security enhancements and gas optimization.
What's Next at Aqualis?
With our first seed sale participant successfully onboarded, we have shifted our focus to full on development! We are in the process of hiring and onboarding a new developer to accelerate development progress; in talks with auditing firms for our existing and future smart contracts; and forming new relationships with potential advisors and partnerships down the line.
Excitement is definitely in the air at Aqualis, and we're delighted for our early community members to share this with us along the way!
For More Information
Join our Discord
Follow our Twitter
Visit Aqualis.io
Read our docs