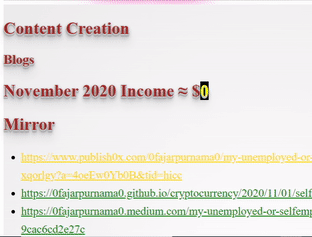 Content Creation
Blogs
Videos
Images
Personal Monetization
Common Tasks
Browsing
Referrals
Currently the quantity is too much to handle when the value I earned is not much. So I may report this on a separate article.
November 2020 Income ≈ $126.5205
Grade: C
Personnal Comments (Bahasa Indonesia Dibawah / Indonesian Below)
Yes, I earned $20 less than last month but I actually feel that I earned more than I expected. I wrote sad things last month and I predicted that I cannot continue like this much longer. It was sad for me because this would have been almost a perfect life as a full time content creator if I were living alone where earning a hundred dollar a month is enough for me. By then, I made a decision to stop working on my book, stop writing about my ideas, stop pursuing online earnings, and complete my curriculum vitae to increase my opportunity of getting a job. Yes, this month I was working full in publishing any research and scientific writing that I have written in the past during my studies online where I only expect to earn a few pennies but I never expect that I reached over a hundred dollars a month once again and received some supportive comments that liked those works. Therefore I would like express my deepest gratitude to everyone in the platforms that I mentioned above.
Personal Missions
Last month I expressed my sadness of having to give up this dream job but this month I finally understood the main reason why I was sad. It is not truly because I have to give up my dream job but because I have personal missions that I want to fulfill. This month, I realized what those personal missions are that I subconsciously made long ago:
Publish everything that I have done during my studies to my blog. I have accomplished my primary mission long ago which are publishing my publications, final project, thesis, and dissertation to my blog, and almost accomplished my secondary mission which are posting any research or scientific articles and assignments to my blog. As for the rest of my small assignments, I am willing to post them leisurely and in indefinite time with ofcourse a quality that is good enough at least from my evaluation.
Write an article about almost all the videos the I uploaded for example I wrote a detailed article about my current most popular video about fixing optimus laptop blank screen when installing Nvidia driver in Kali Linux. One example that I really want to write is my tutorial about upgrading Moodle from version 1 to version 3 conducted on an actual case of elearning.unud.ac.id which I believed it is a significant problem that is rarely discussed.
Finally, I would like to finish my book about cryptocurrency 101 for users. I would like to stay unemployed and focus until I finish up to this mission or at least a majority of it. I am willing to put the rest of my desires to the shelf or to the waiting list for an indefinite of time. For example, I have more books that I want to write but if I have to give up on it, then I have to give up.
Not only video record myself playing story video games but also write a detailed story and conversation of the video games. This was inspired by Youtube's timestamp and the situation since long that I no longer have time to play story video games but I still want to know the story so I watched the Youtube gameplay briefly. Also I wanted to be a video game streamer because I was actually a fan of story video games but have to give up playing games after I became busy since my undergraduate studies.
I want to try referral blogging where I write a good article about a product that has a referral system and put my link there and see the earnings while at the same time adding more quantity to my blog. For example, the fourth chapter of my book about cryptocurrency 101 for users.
I wanted to be a Youtuber because I enjoyed it and stories of famous crypto youtubers that he actually earns more quitting his job and do the work he was passionate about and one of them is being a crypto youtuber. Also a sarcasm that if we love Saturdays and hate Mondays is an indication that we hate our jobs and why are we stupid enough to accept how it is for years while other people are enjoying their lives? This happened to me in highschool, some years of my undergraduate, and my job in 2015. In my graduate studies and now I found blogger to be my passion more than a youtuber I really felt that the distance between Mondays and Fridays are short. Often during the weekends, I regretted to not work more on weekdays and wished I could go back to Monday where in the end I almost always chose not to take holidays on weekends and just keep blogging.
I became very interested in cryptocurrency and I really want to start learning programming such as programming Bitcoin and writing smart contracts on Ethereum. Alas I am in a phase where learning is not appreciated but results mainly incomes are expected. I hope that I am wrong but the people whom I wrote this report for are probably not interested in this writing but only interested in the numbers above and that is it whether it is enough or not, whether the numbers can amaze them or not. So I thank you very much if you really read in detail until this point.
Appendix

Publish0x Earnings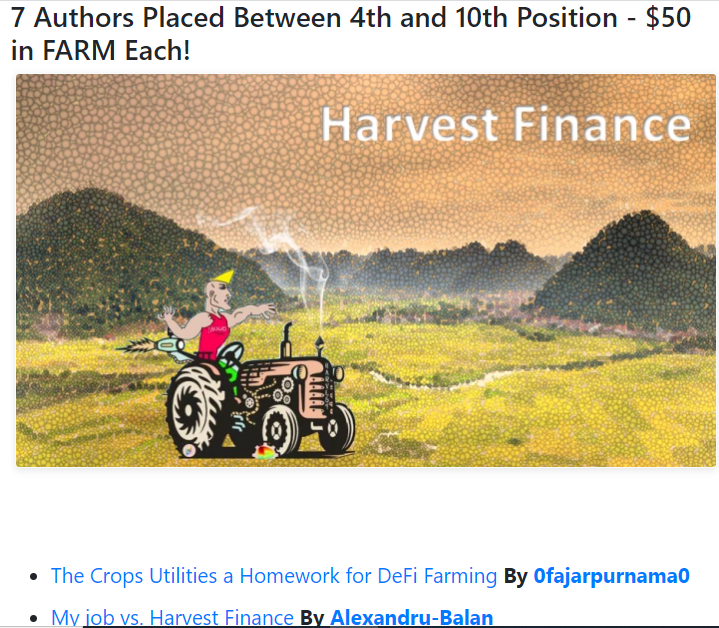 Publish0x Competition Earnings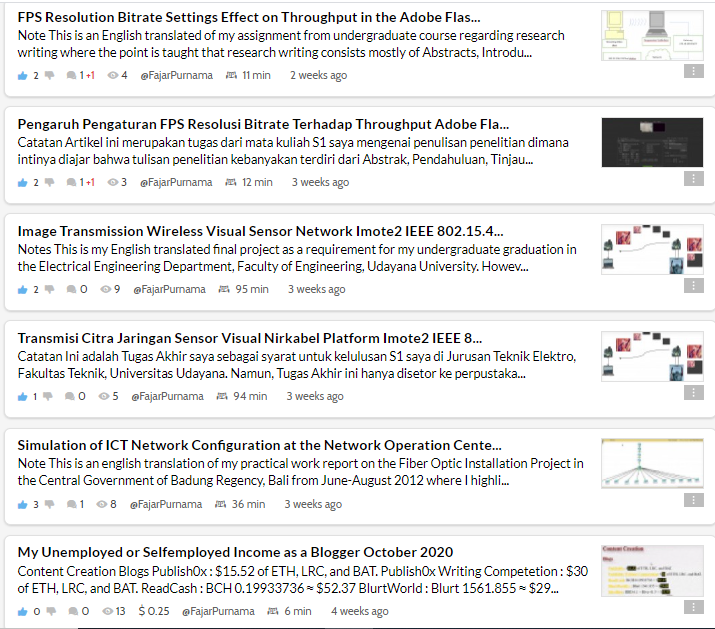 ReadCash Earnings, right after October Income report I did not earn anything. Either the admins read it and decide to blacklist me for it and/or the bot detected me as a cross poster. Well no matter, I did not come to read.cash for that. I initially came solely because it is another blogging platform especially a crypto one where users can tip in Bitcoin Cash and I want to share my posts to its users. The random rewarder bot was a surprising bonus and thank you for supporting me last month. I'm thankful enough to be allowed to post there and I will continue. (tepat setelah laporan Pendapatan Oktober saya tidak mendapatkan apa-apa. Entah admin membacanya dan memutuskan untuk memasukkan saya ke daftar hitam untuk itu dan / atau bot mendeteksi saya sebagai poster silang. Tidak masalah, saya tidak datang ke read.cash untuk itu. Saya awalnya datang semata-mata karena ini adalah platform blogging lain terutama crypto di mana pengguna dapat memberi tip dalam Bitcoin Cash dan saya ingin membagikan posting saya kepada penggunanya. Bot hadiah acak adalah bonus yang mengejutkan dan terima kasih telah mendukung saya bulan lalu. Saya cukup bersyukur diizinkan untuk memposting di sana dan saya akan melanjutkan.)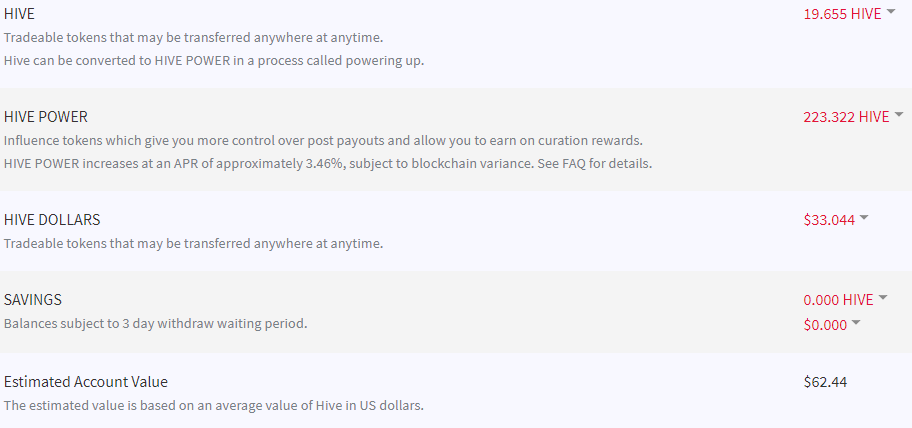 Steemit Earnings

Leo Finance STEM Geeks Earnings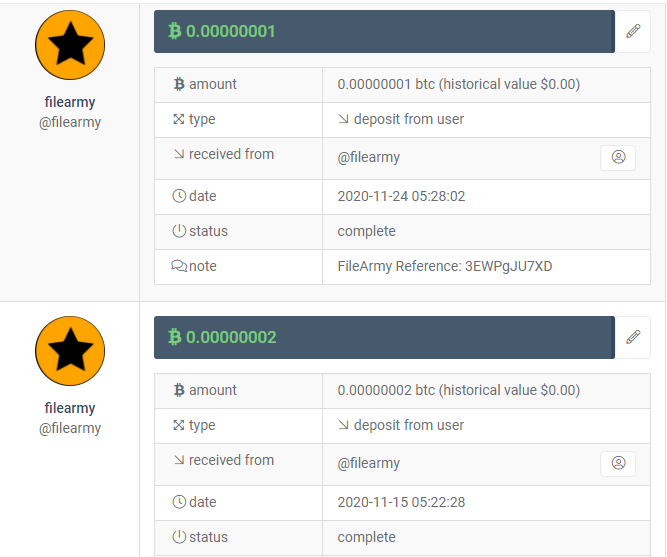 Filearmy Earnings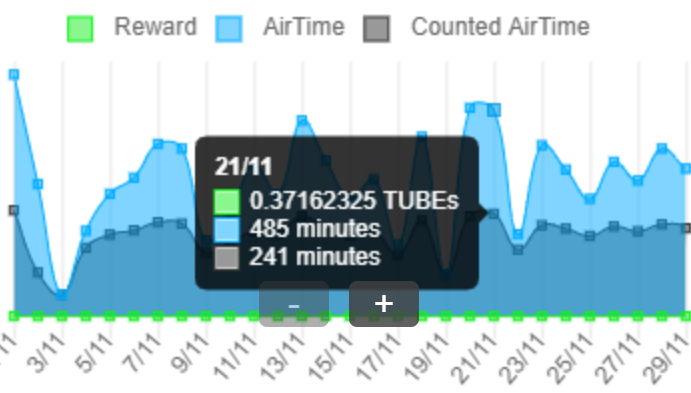 Bittube Airtime Earnings

Netbox Browser Rewards
Donation
Personally, I enjoyed being a full time independent content creator very much and I once again thank the platforms, investors, donators, and viewers for making my venture possible through donations, tippings, and upvotes. If you enjoy and/or want to further support my work you may choose more form of donation:
Komentar Pribadi
Ya, saya memperoleh $ 20 kurang dari bulan lalu, tetapi sebenarnya saya merasa penghasilan saya lebih dari yang diharapkan. Saya menulis hal-hal sedih bulan lalu dan saya memperkirakan bahwa saya tidak dapat melanjutkan seperti ini lebih lama lagi. Sangat menyedihkan bagi saya karena ini akan menjadi hidup yang hampir sempurna sebagai pembuat konten penuh waktu jika saya tinggal sendiri di mana menghasilkan seratus dolar sebulan sudah cukup bagi saya. Saat itu, saya membuat keputusan untuk berhenti mengerjakan buku saya, berhenti menulis tentang ide-ide saya, berhenti mengejar penghasilan online, dan lengkapi riwayat hidup saya untuk meningkatkan peluang saya mendapatkan pekerjaan. Ya, bulan ini saya bekerja penuh dalam menerbitkan penelitian dan tulisan ilmiah yang telah saya tulis sebelumnya selama studi saya online di mana saya hanya berharap untuk mendapatkan beberapa sen tetapi saya tidak pernah berharap bahwa saya mencapai lebih dari seratus dolar sebulan sekali lagi dan menerima beberapa komentar dukungan yang menyukai karya-karya itu. Oleh karena itu saya ingin mengekspresikan grafik saya yang terdalam kepada semua orang di platform yang saya sebutkan di atas.
Misi Pribadi
Bulan lalu saya mengungkapkan kesedihan saya karena harus melepaskan pekerjaan impian ini, tetapi bulan ini saya akhirnya mengerti alasan utama mengapa saya sedih. Ini bukan benar-benar karena saya harus melepaskan pekerjaan impian saya tetapi karena saya memiliki misi pribadi yang ingin saya penuhi. Bulan ini, saya menyadari apa misi pribadi itu yang secara tidak sadar saya buat sejak lama:
Publikasikan semua yang telah saya lakukan selama studi saya ke blog saya. Saya telah menyelesaikan misi utama saya sejak lama yaitu menerbitkan publikasi, tugas akhir, tesis, dan disertasi saya ke blog saya, dan hampir menyelesaikan misi kedua saya yaitu memposting penelitian atau artikel ilmiah dan tugas apa pun ke blog saya. Adapun sisa tugas kecil saya, saya bersedia mempostingnya dengan santai dan dalam waktu yang tidak terbatas tentunya dengan kualitas yang cukup baik setidaknya dari evaluasi saya.
Tulis artikel tentang hampir semua video yang saya unggah misalnya Saya menulis artikel mendetail tentang video saya yang paling populer saat ini tentang memperbaiki layar kosong laptop optimus saat menginstal driver Nvidia di Kali Linux. Salah satu contoh yang sangat ingin saya tulis adalah tutorial saya tentang mengupgrade Moodle dari versi 1 ke versi 3 yang dilakukan pada kasus sebenarnya di elearning.unud.ac.id yang menurut saya merupakan masalah signifikan yang jarang dibahas.
Terakhir, saya ingin menyelesaikan buku saya tentang cryptocurrency 101 untuk pengguna. Saya ingin tetap menganggur dan fokus sampai saya menyelesaikan misi ini atau setidaknya sebagian besar. Saya bersedia untuk menyimpan keinginan saya yang lain ke rak atau daftar tunggu untuk waktu yang tidak terbatas. Misalnya, saya memiliki lebih banyak buku yang ingin saya tulis tetapi jika saya harus menyerah, maka saya harus menyerah.
* Tidak hanya merekam video diri saya sendiri saat bermain video game, tetapi juga menulis cerita dan percakapan detail dari video game tersebut. Hal ini terinspirasi dari timestamp Youtube dan keadaannya sejak lama saya tidak lagi punya waktu untuk bermain video game cerita tapi saya masih ingin tahu ceritanya jadi saya menonton gameplay Youtube sebentar. Juga saya ingin menjadi streamer video game karena saya sebenarnya adalah penggemar video game cerita tetapi harus berhenti bermain game setelah saya sibuk sejak studi sarjana saya.
Saya ingin mencoba blog rujukan di mana saya menulis artikel bagus tentang produk yang memiliki sistem rujukan dan meletakkan tautan saya di sana dan melihat penghasilannya sekaligus menambahkan lebih banyak kuantitas ke blog saya. Misalnya, bab keempat buku saya tentang cryptocurrency 101 untuk pengguna.
Saya ingin menjadi Youtuber karena saya menikmatinya dan cerita tentang pengguna YouTube kripto yang terkenal bahwa dia benar-benar mendapatkan lebih banyak penghasilan dari pekerjaannya dan melakukan pekerjaan yang dia sukai dan salah satunya adalah menjadi youtuber kripto. Juga sarkasme bahwa jika kita mencintai hari Sabtu dan membenci hari Senin adalah indikasi bahwa kita membenci pekerjaan kita dan mengapa kita cukup bodoh untuk menerima keadaan selama bertahun-tahun sementara orang lain menikmati hidup mereka? Ini terjadi pada saya di sekolah menengah, beberapa tahun sarjana saya, dan pekerjaan saya di 2015. Dalam studi pascasarjana saya dan sekarang saya menemukan blogger sebagai passion saya lebih dari seorang youtuber, saya benar-benar merasa bahwa jarak antara Senin dan Jumat pendek. Seringkali selama akhir pekan, saya menyesal tidak bekerja lebih banyak di hari kerja dan berharap bisa kembali ke hari Senin di mana pada akhirnya saya hampir selalu memilih untuk tidak mengambil liburan di akhir pekan dan terus ngeblog.
Saya menjadi sangat tertarik dengan cryptocurrency dan saya sangat ingin mulai belajar pemrograman seperti pemrograman Bitcoin dan menulis kontrak pintar di Ethereum. Sayangnya saya berada dalam fase di mana pembelajaran tidak dihargai tetapi hasil utamanya adalah pendapatan yang diharapkan. Saya harap saya salah tapi orang-orang yang saya tulis laporan ini mungkin tidak tertarik dengan tulisan ini tetapi hanya tertarik pada angka-angka di atas dan apakah cukup atau tidak, apakah angka-angka itu bisa membuat mereka kagum atau tidak. Jadi saya ucapkan terima kasih banyak jika Anda benar-benar membaca secara detail sampai saat ini.
Donasi
Secara pribadi, saya sangat menikmati menjadi pembuat konten independen penuh waktu dan sekali lagi saya berterima kasih kepada platform, investor, donatur, dan pemirsa yang telah membuat usaha saya mungkin melalui donasi, tip, dan upvote. Jika Anda menikmati dan / atau ingin lebih mendukung pekerjaan saya, Anda dapat memilih lebih banyak bentuk donasi: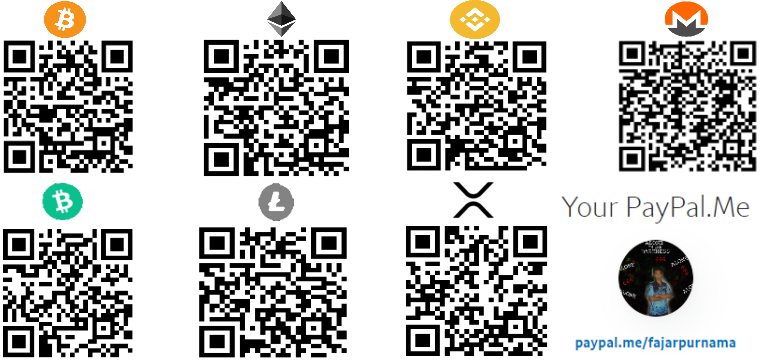 Bitcoin bc1q6hg4lllxthryke7zhxflcdrcm0nr8ph7antxk9, Ethereum 0x3D4c67A2A40bC24ec53ab767b9247c02A2250BCB, Litecoin ltc1qqxl8dng0swv7zuhe30y5kzwht3l25krfaqzu2k, XRP r9rwEdZBWFRbsGzwG5gm1MjDoyBKWLPyx5, Bitcoin Cash qpd74d52rxpt3w70qv555ccq0254j7dhtg2mxst0dc, Binance Chain bnb10hdlv95jyjn92j2l6um6gkmc96a6g57lnezd66, Monero 43V43g1UC9AdgjmjJZPQRxCotyi9VTb8jbYisw2cSqEjbuvp9Y, paypal.me/fajarpurnama.
Mirror