Using a good wallet is like war, easy to start, but hard to stop. And this is one of my daily quests, to find a wallet that I like, that is fast enough, secure, and cheaper than the others (have you noticed that Tally Ho fees are 0.5% compared with 1% for Metamask). This one is an open-source, community-owned, and operated web3 wallet. There are talks about their native token future airdrop (I know that you want some free $DOGGO, isn't it?). A unicorn. Not so easy to find, but some of the wallets are getting close to my ideal one. And, in the end, there is always room to improve, right?
How do you set up the wallet, and what are they offering as preferred features?
You can download the wallet here, and we got 3 options available: Chrome, Firefox, and Brave. This is good, as I tend to use Brave a lot more lately. Once you choose your option, the extension tab is activated, and all you need to do is to click "Add to browser". Now you can see the little dog icon on your right corner (in my case), and once you click on it you will have the option to either transfer an older wallet or create a new one.
I chose to create a new one, as they suggested, and the passphrase appeared (24 words, quite a secure one). I memorized the password on my mind's inner screen and there we are, ready to go (you can write it in a notebook instead or on a password-protected file stored on the cloud, this is your choice). Then I got the starting screen, where you can see clearly how many networks, addresses, and assets you have. I like this part. You can see a whole summary of all your accounts on a single screen, and this is something important for me.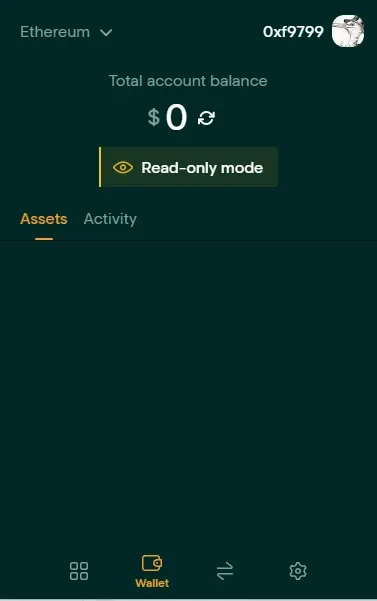 Selected Ethereum, and the screen is familiar, reminding me of Metamask, with balance, assets and activity, and the options on the bottom of the screen. This wallet also has full Ledger support, and you can sign with Ethereum. Their code is 100% open source and can be verified by anyone here. They seem to connect to the dApps that are already supporting Tally Ho! quite fast and without any issues.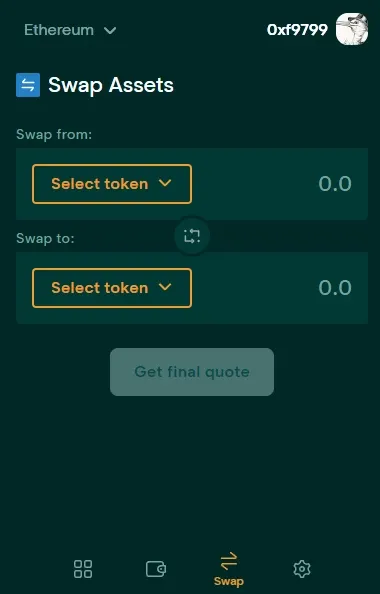 Other than the Wallet, you also have a swap option, which is something that I tend to use a lot lately on metamask, especially on cheaper fees networks like MATIC or BNB. For ETH I still search around for the best bridge or exchange (my main bridge to use is Across, and of course, my most used exchange is PancakeSwap). They do have some interesting side notes, such as a higher transaction success rate via ​better node connection with Alchemy, unlike the transactions susceptible to a single point of failure via conglomerate-owned Infura used by metamask, and accurate gas estimation via Blocknative. infrastructure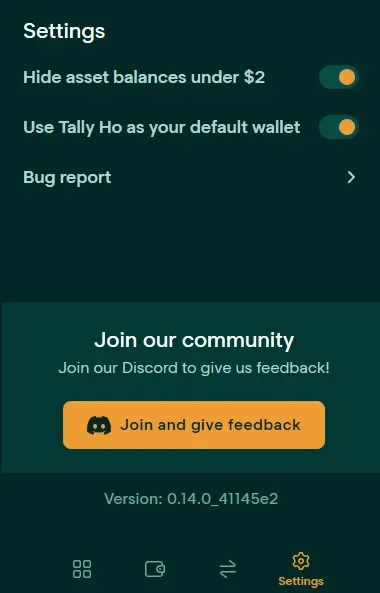 Then we have the settings, quite minimal at the moment, with a required bug report button, a hide low balances button, and something that confused me a bit, an "Use Tally Ho as your default wallet" button. I am quite choosy, and I have specific wallets, exchanges, and bridges to use for each network, and I do not like a wallet to push itself as default. Seems a bit like a power grab. But, then, this is an option and you can activate it or not, so I cannot complain about it. They do have a privacy policy (you can read it here), but basically they say that no personal info is required to sign up, and no activity or address that you use is tracked. Seems good enough for me, if I want to keep a secret stash hidden somewhere in the crypto-world. To add to this, Tally Ho is 100% self-custodial. Your private keys are secured on your computer and never leave your device. Nice!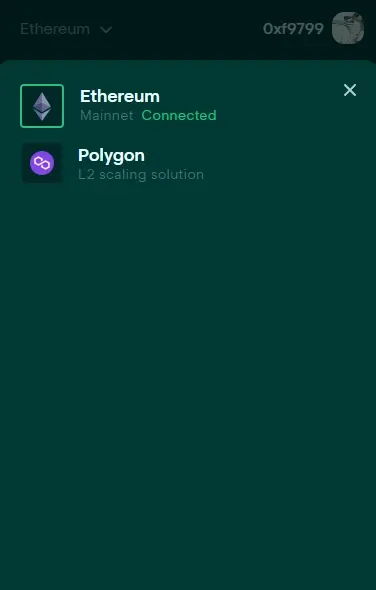 If you look at the networks available, at the moment we got only ETH Mainnet and Matic, if they manage to add BSC to the wallet, I'll be happy to use it for some of my day-to-day businesses. I feel quite safe reading that it was independently audited by at least three decent security auditors (Open Zeppelin, Least Authority, and Code Arena, in August 2020 and November 2021).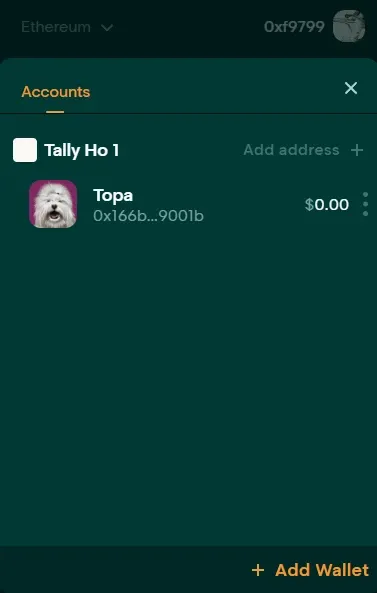 Then, on accounts, unlike Metamask, you can add or delete an account with one click, and you can use one address transactions if you want to, just to delete it after use. I did not check how easy is to delete an account with crypto in it (not that courageous) but I presume there is at least some "Are you sure?" question tab or something similar in place to prevent that. If it is not, please do it, sometimes my fingers type around like a drunken duck and I really need that in place. Other than that, we are cool, and I can see that this is only the beginning, and some great stuff is about to happen at Tally Ho! wallet.
I was wandering on their governance website, and there are quite few good ideas in there for the future. Checking their roadmap, I may find another use for the wallet, as they plan to add RSP support, with Arbitrum and Optimism later, adding Wallet Connect also. Are you planning to add BSC eventually? And to end in an optimistic note, did you see this whole list of bounties that they got available for us? If you are good at any of the tasks, go get it, tiger!
You can find more about them on their own blog: https://blog.tally.cash/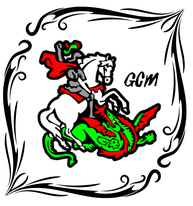 All the best,
George
​
Why not...
...have fun and win rewards on my favorite blockchain games (Splinterlands- Hearthstone-like card game) (Mobox - GamiFI NFT platform) and (Rising Star - Music creators game).
...get the higher rewards for your investments using Blockfi, Hodlnaut, and Celsius.network. Get crypto while writing on Publish0x blog, using Presearch search engine to maximize your income with PRE tokens. Use Torum instead of Twitter. I am also writing for crypto on Read.cash and Hive.
​