Cryptocurrency has given everyone brave enough to step into it's world an opportunity to earn and grow their assets. It gave us multiple methods to earn and get free crypto. From trading and investing, earning passive income through lending, staking or liquidity farming or gaming and social media, NFT's and also micro earning through pay-to-click (PTC), get-paid-to (GPT), short links, faucets, affiliate marketing or you can also get paid in crypto for your work. But one way to earn crypto that can give you a massive return's to decent or a worthless cryptocurrency is through airdrops.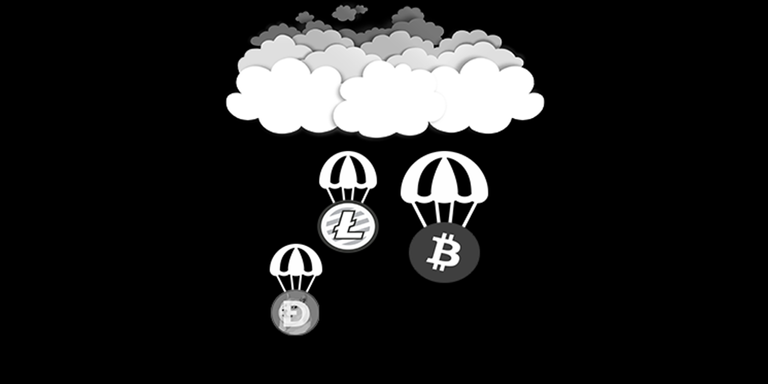 So What Exactly Are Airdrops?
Simply put, airdrops are cryptocurrency deposited to a user's wallet as a reward for doing some tasks or simply using a platform. However, there are 2 ways an airdrop occurs.
The 1st one is through a hard fork. A hard fork is when a new blockchain is created because of a change of code needed in it's previous blockchain. Since the blockchain was split, new crypto is given to previous hodlers of crypto in the old blockchain.
The 2nd one, which is the juicy part of getting airdrops and will be the focus of this article is by doing tasks or simply using an app. It's a marketing tactic to encourage crypto users to be aware and explore a new project.
There are many ways to claim these airdrops. Such tasks are (not all) are listed below.
Social Tasks - Liking, following, subscribing to a page or channel. Sharing a particular post to your personal social media page. Sometimes, commenting on a post is also required.
Wallet Address - Providing your wallet address where the airdrop will be sent.
Download or use a crypto project - Some crypto projects airdrop you a certain amount of crypto for downloading or using their project.
Hodling a specific amount of crypto - These option give's hodlers a certain amount of new crypto based on their hodl of another crypto. One example of this is with the XRP network where XRP hodlers get new crypto based on how much XRP they have in a supported wallet.
There are also token's that randomly show up on your wallet. You can see these using a blockchain explorer but majority of these tokens are worthless or scams and can drain the funds in your wallet if you try to sell it on a DEX. So always DYOR when you spot a new token in your wallet before you interact with it.
Where To Get Airdrops?
Airdrops are visible in almost everywhere related to crypto. You can check Meta (formerly Facebook) or crypto twitter and use the hashtag airdrop or join groups/ pages related to crypto. Since majority of airdrops are with affiliate links, it's pretty easy to spot one when your on crypto social media platforms. There are also messenger app's group's or channels dedicated to share airdrops they found such as telegram. You can also join new crypto related social media platforms or forums like Reddit and see if a user posted airdrop related posts.
There are also websites that have airdrop related or focused content that you can visit to look for airdrops.
Here are a few site's that posts airdrops:
Airdrops.io, Freecoins24, 99Airdrops, Airdrop King- Site's dedicated for new airdrops
Coinmarketcap - Live crypto price checker with airdrop & other earn campaigns
Coinmarketcal & Coindar - Calendar of events related to crypto
MyCointainer - Staking platform with airdrop page
Torum - SocialFi platform with airdrop events
DApp Radar - Data analysis on DApp's that also host's weekly airdrops
PlayToEarn - Data analysis on all blockchain games with airdrop events
Blockzone - DEFI analysis and STPT staking platform with airdrop events
DutchyCorp - Crypto content aggregator
Usually, these airdrops can be worth a small amount during current drop but can be worth more if you hodl it or can also be worthless on the long run depending on the status of the project. Although, one of the best airdrops come unannounced or an immediate announcement is made and airdrop's user's who used an app on a specific period of time. An example of this is the Uniswap platform which gave it's user's a base of 400 UNI tokens which was worth $1-2K if sold during it's release and is worth more if held till now. Other apps that gave a somewhat surprise airdrop for early users are the 1inch app, Zilswap, Quickswap and the ShapeShift app. There is no way to predict this kind of airdrop but you can find popular crypto platforms still without their own utility token (like Metamask), use it once in awhile and hope they airdrop you some tokens if they decide to create one.
** You can check airdrops.io page about potential airdrops but take note that this is just pure speculation whether the app's listed will create their own tokens and give airdrops.
Also, one way of increasing your airdrop earnings is through affiliate marketing where your chances of earning more is by sharing your affiliate links (if available) to your crypto buddies or on social media platforms. Each person that clicks and uses your affiliate link will give you more airdrop tokens.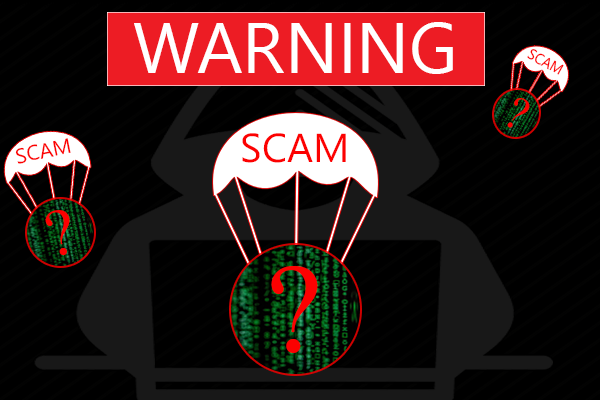 The Problem with Airdrops
Airdrops are always a good source to earn free crypto with minimal tasks. However, as crypto is still considered in the wild west stage, there are a lot of bad actors, scams or simply failed projects that plague the industry.
Scammers online are everywhere not just in the crypto space. As more people are getting into crypto each day, scammers will find a way to lure you into their dirty tactics. Scammer's can use airdrops to try to steal your information or steal your crypto assets. An example of this are those airdrops that magically appear on your wallet. When you try to trade them on a DEX, it can drain the funds in your wallet.
Scam airdrop's are also rampant in the space because of the crypto community itself. Because of their advertising tactics with enticing referral rewards, some users just share them in social platforms without doing proper research about the project luring more users to join.
Another problem with airdrops is with the "lottery system" style that has become popular with new projects where only a selected number of user's will get the airdrop.
What Makes A Bad Airdrop?
Even if an airdrop project is paying, there are reasons why it can be a bad airdrop.
Asking for KYC (Know Your Customer) - Not all projects asking for KYC are bad but are you willing to give up your personal information on a new unproven or untested project for just a couple of bucks?
Lack of visibility in the crypto space
Relying on users to market their project or no marketing strategy which may lead to spamming.
Too many requirements needed
Asking to pay - Airdrops are suppose to be free. Projects that ask you to pay in return of an airdrop has a high possibility that will end up as a scam.
Asking For Private Keys - Basic. Never ever share your private keys to anyone.
Is It Still Worth Joining Airdrops?
To be honest, there in no straight answer to this question. The answer will still depend on the airdrop project itself. There will always be promising projects coming up or totally bad projects that it's main intent is just to scam. Before joining an airdrop campaign, maybe some of this questions can guide you to help you in your DYOR.
What does the project try to solve to make the crypto space better?
Is the project offering something new to the space?
Is the website well done and functional or just copied from another website?
Is the whitepaper legit?
Are the developers anonymous?
Is the project just riding the hype train?
Are the requirements worth it? Or is the requirements too much to ask for a startup project?
How long before you receive the airdrop?
What does other's say about the project?
The crypto industry in young but growing fast. There are more than 10,000 crypto coins and tokens in the market today and more are being created by the day. In the long run, most of them will be totally worthless and just a handful will survive. So if your joining airdrops, always Do Your Own Research and ask yourself if joining that specific airdrop is worth it before participating in them.
NFA-DYOR-PEACE✌️
** Pictures were downloaded from https://freepngimg.com/, https://toppng.com/, royalty free and reedited by me.