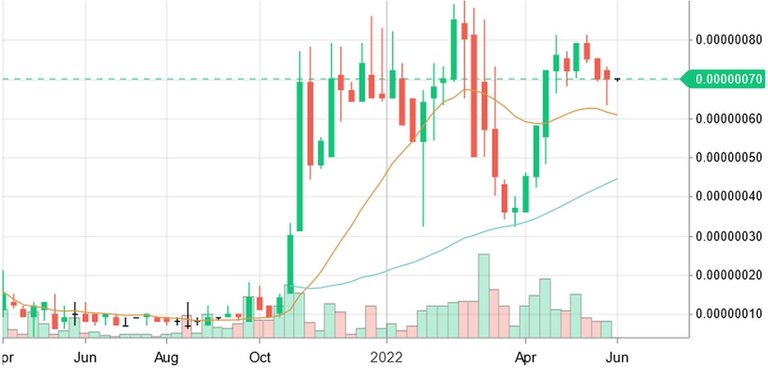 Pull backs are bullish!
It's about that time again. Time for a Travel Pro Blurt Market Up-Date! and there is no better way than to start this one by reminding everyone that pullbacks are bullish! Nothing goes up in a straight line, and after a mega recovery from the @double-u dip, this price action is exactly what I've expected and hoped to see.
Above is the weekly chart of Blurt from Probit (image credit: Probit.com). First notice how the price came right down to support in the end of March, touched the 50 week moving average (blue line) and then rallied strongly over the next month right back up to it's recent highs, clear resistance. From there it ran out of steam which was to be expected after such a powerful recovery.
The price then consolidated in a sideways trading range for the entire month of May. Very healthy, but the weak hands still needed to be shaken out before moving higher. That shake out seems to have been as brief and as bullish as it gets when last week's selling pressure broke the price down to about about the red line, the 15 week moving average (not even technically).
Since then we've seen an overwhelming amount of buying come into the market leaving us with a "hammer" reversal candle and a price back at 70 satoshies. Volume still looks healthy when compared to much of 2021's weekly volume while Blurt's middle class is growing, with more and more 100,000 + blurt power accounts coming online.
In summary May's consolidation and last week's recent pullback and bounce off a key moving average is very bullish and it looks like Blurt is setting up to make new highs sometime this summer. As always, trading and investing comes with risk and an unexpected whale dump or purchase can shake things up at any moment. That being said, from a pure technical analysis perspective things are looking very good for Blurt!

Click here to join!
Click here to learn more!
Learn how Hive is a totally centralized platform here
Learn how Hive is destroying itself and driving investment towards Blurt here
Find out who is in full control of the Hive blockchain here