There has been a lot of discussion in the community about changes to the Steem blockchain license. Posts and comments made by @sneak and @dan / @dantheman have left the community in a state of uncertainty as far as what is and isn't allowed.
There is a valid discussion to be had about making the code 'fully open sourced'. Whether you agree with that position or not is not real the purpose of this post though.
I will quickly express my personal views though, for those that are interested:
I support the position of @sneak and Steemit in preserving a single blockchain and currency that we are all a part of - for now. Eventually I would like to see it become a fully open source project, but I don't believe that now is the right time to do that. The likely result would be to fracture the community into multiple factions, each with its own chain and own currency. Every little disagreement over platform changes would turn into threats to create alternate coins. I do not believe that is what is best for the community and it's stakeholders at this point in time. Once the platform is successfully launched and mainstream, then will be the time to open source it. (Ok, enough of my personal views..)
Whether you want 'full open source' or not, I think we can all agree that to update the license to reflect what @sneak said in this post and this post - would at least be a big step in the right direction. Please help make this happen.
I went through and parsed the comments from @sneak, and based on what he said - came up with a change to the license wording that I believe is in the spirit of what he is saying is allowed:
I removed this text:
The software is not used with any forks of the Steem blockchain that are not recognized by Steemit, Inc in writing.
and replaced it with this:
The license allows anyone to fork the repository and make alternate releases and derived works. The witnesses are allowed to adopt those releases without permission from Steemit, Inc. The only restriction is that the code may only be used to run the official Steem blockchain, produced by the witnesses, who are voted in by the stakeholders. It may not be used to create or run forks of the blockchain that run in parallel with, or in replacement of the official Steem blockchain, unless officialy recognized and permitted by Steemit, Inc. in writing.
I submitted it as a pull request to the Steem blockchain GitHub repo:
https://github.com/steemit/steem/pull/945
My expectation was that it would not be accepted "as-is", because I am not a lawyer. @sneak agreed and asked that we move the discussion to Steemit.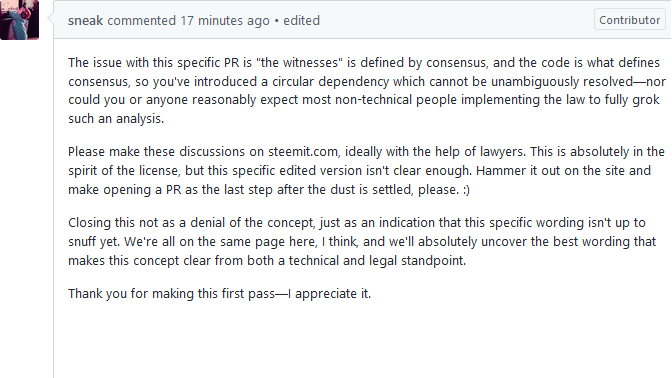 PLEASE PROVIDE FEEDBACK AND HELP ON THE WORDING SO I CAN RESUBMIT THE PULL REQUEST WITH GOOD LEGAL WORDING