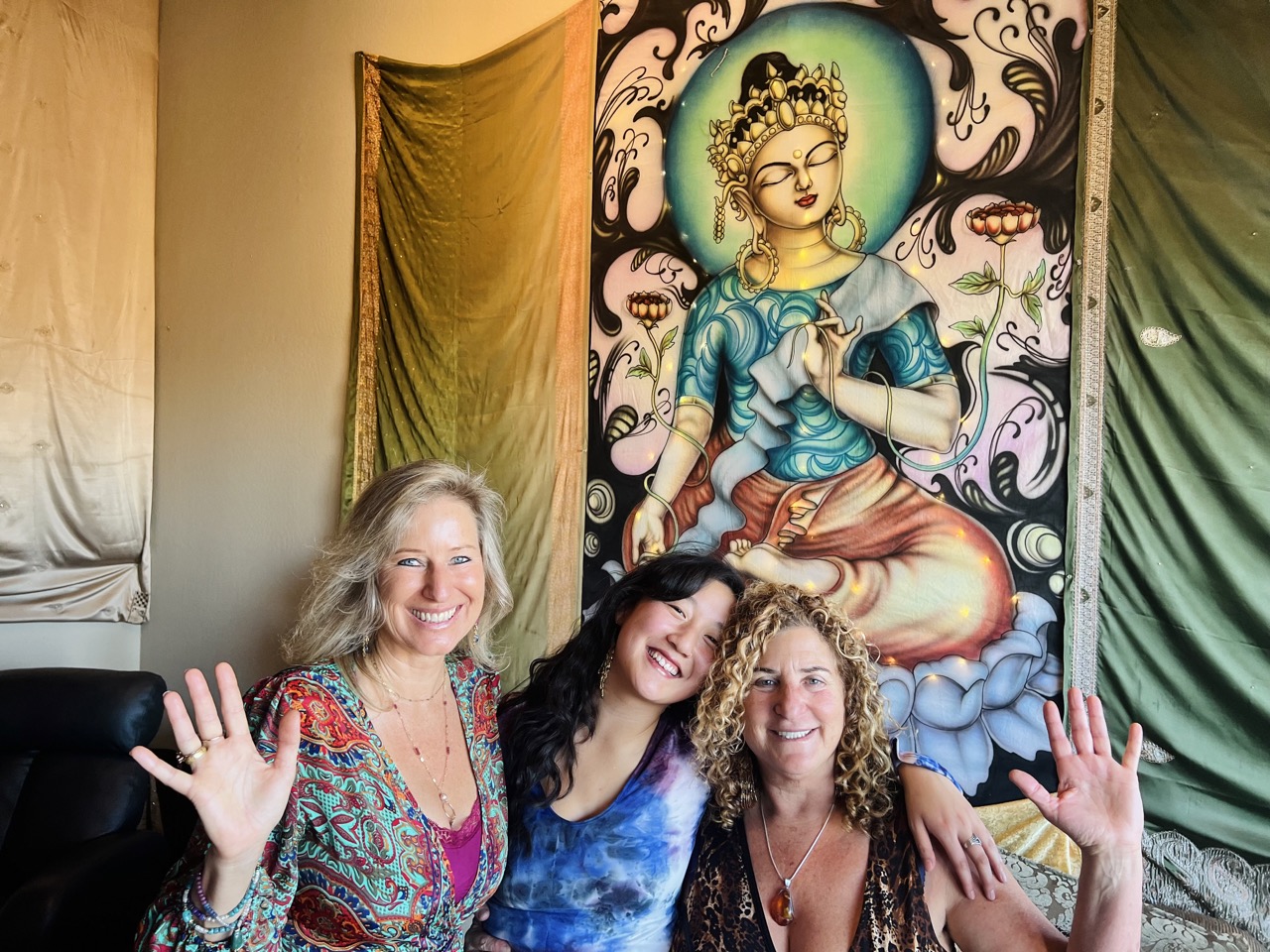 I had a wonderful Thanksgiving brunch with my lovely housemates and neighbors yesterday. Pictured above are two lovely souls, Ashanna and Shakti. While we ate, we each went around the table and shared something we'd like to call in or express gratitude for. In the spirit of the new age culture of our neighborhood cul-de-sac, we held hands and chanted, "O Universe, we are so grateful. And we want more!" after every share. I find this amusing and also endearing at the same time.
I didn't know what I was going to say until it was my turn to speak. What came out of my mouth was gratitude for self-confidence. For the first time in my life, I feel really satisfied with myself (physically, mentally, emotionally, professionally) and what I'm cultivating in my life. Feeling like a poser is something I've lived with my whole life, especially with the way my parents raised me. Yet I am breaking free from patterns of the past more than ever. My relationships with my parents have totally transformed this year. I'm making time for creativity and self-care practices. I'm getting better at self-regulating when the self-critical voices come in. I feel loved and respected by many people around me. People tell me I'm looking radiant and free, which is what I totally feel inside despite the part of me that has difficulty taking in compliments. I have a strong feeling that @mada is a huge part of why this is all coming into fruition now.
This feeling of self-confidence is changing all aspects of my life. This morning, I woke up at 5am, feeling a great desire to do something I've only given a few seconds of my attention before always brushing it off: start my own personal website. So I spent most of today working on it. Here it is!!
I see this website as a passion project, an expression of who I am. I'm not interested in making money or promoting my services, as much as I am interested in sharing my life, what I'm learning, and my passions with the world. Of course this website will evolve as I evolve, and I'm curious to see how it'll all unfold. And my Hive blog is important to me, yet I also talk about pretty personal things here. What I'm doing on Hive has its own sacred intention, and that mostly has to do with interacting with @mada (and of course all the other amazing people on this platform!)
Looking back at some of the writing I've done here, I realized that some of my posts on politics and social issues are actually pretty good and informative. I came to the conclusion this morning that I want to honor all the things I've done in the world, despite all that I have yet to learn and step into. It's easy for me to walk around feeling like I'm a nobody because of how young and therefore naturally inexperienced I am (the voices screech, "you actually feel good about yourself? who do you think you are?!"). On one side of the coin, this makes me a humble person because all that I've done so far in my life was never about promoting myself, but about completely serving all that I care deeply about. Yet on another level, I totally disregard my own worth.
So this website is an expression of my growing self-confidence. To be willing to own who I am right now, and to show others a glimpse into the life that I've created so far! Plus now when people ask me if I have a website, I have something to give them that I feel comfortable sharing.
Lastly, I'm so grateful for this Hive community. My life has changed since I've started writing and connecting with others on this platform. I've got a long ways to go in terms of learning about the blockchain technologies that make Hive possible. Somehow I don't feel like I'm in my full integrity with using Hive until I learn more about the crypto money world and how decentralized technology actually works. I commit to educating myself on this during my free time.
Hive feels like some of the best of what social media can be. I went on Instagram for the first time in weeks and felt completely turned off by what I saw on there. I'm probably going to delete the app off my phone, and possibly consider even deleting my account for good.
Did I do the Safe Tech newsletter that goes out to tens of thousands of people and other important work things today? No. But did I do something that gave me huge amounts of joy and satisfaction? Absolutely!
To finish off this post, here's a picture of me celebrating life and this lovely redwood tree in a beautiful forest/meadow. What a gift that this is a 10 minute drive from my house.