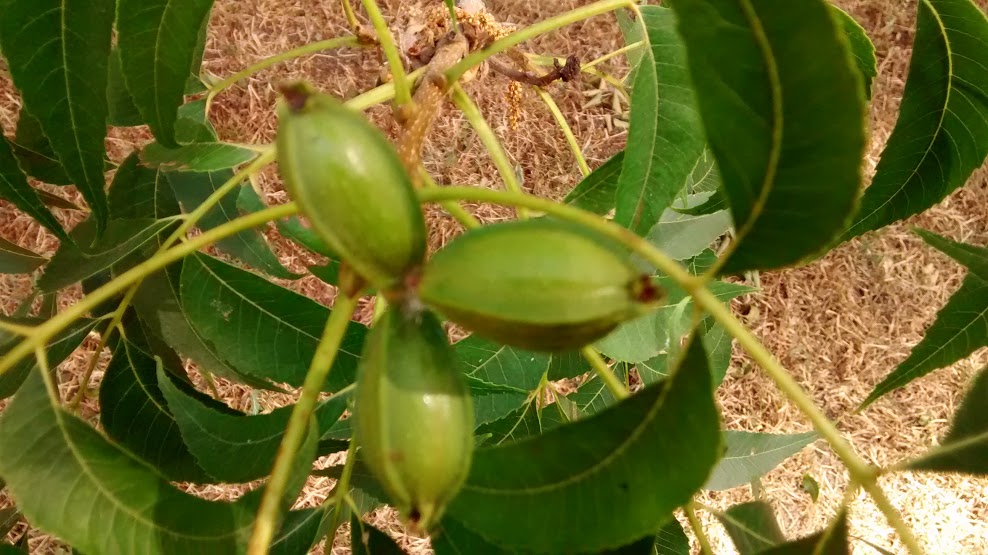 I took this picture about eleven days ago. It was when I was mowing my moms lawn.
The tree was there before my mom moved in more than twelve years ago.
I wonder who planted the tree. Or maybe the tree was a volunteer.
Yesterday morning I heard something like knocking on my roof. What was that? Well, it was a bird trying to open up a nut and maybe even a pecan nut. I have seen pecan nuts in my own backyard, yet I don't have a pecan tree in my front yard or backyard.
So I guess the birds like to bring their nuts to my roof, then to pound there beaks into the nut to open it up. Why my roof? Well, my roof has a lower slope than my other neighbors. Well, if a roof has a higher slope then there is more of a chance for the nut to roll off of.
You know it took me awhile to figure out that birds were using my roof to break open nuts. And for a long time I thought something was knocking on my roof.
Nope, it was more of a natural use of a really large tool for the birds to break open the pecan nuts that seem to be in the neighborhood.
Is that how a bird might be planting a pecan tree and not even know it?
Sure, the bird could just be on its way to find someway to break open a pecan nut for food, but it may accidentally let go of that pecan nut and that is a possible way to unintentionally plant a pecan tree.
Well, I unintentionally planted a plum tree just by getting some plums from one tree and eating them in my backyard and spitting out the seeds near my shed.
Well, about 30 years after I spit out those seeds near my shed do I have a really big plum tree near my shed that I unintentionally planted and now I even have some purple grapes growing on my plum tree too.
I also have purple grapes growing on my persimmon tree which is not too far away from my plum tree.
So we still don't know how mom's pecan tree got planted, but I would have to say it is all in the plan of God that humans and birds do unintentionally plant trees at times.
Let's end with some scripture, But his delight is in the law of the LORD; and in his law doth he meditate day and night. And he shall be like a tree planted by the rivers of water, that bringeth forth his fruit in his season; his leaf also shall not wither; and whatsoever he doeth shall prosper. Psalm 1:2-3.
If you enjoyed this blog, please upvote and follow.
Thank you, David.
Image is mine, taken with my Moto G.