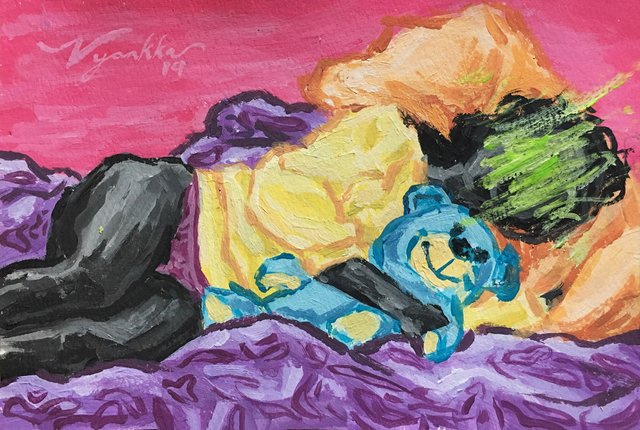 My painting "Sweet Dreams", acrylic on paper, 2019.
Ever since I was a child, I have been sleeping with the lights on. No lamp, just the normal light you would use in the room. I can't sleep with the lights off... I mean, technically I can fall asleep to it, but I just don't want to.
As far as I can remember, it started when I was sleeping with my cousins in my room when I was around 8 years old. The light was off and my cousins were asleep. It was 3 or 4am that I had a dream/hallucination that my mind was awake and that I can see through my perspective that I was laying in bed and just looking at the bed above (it was a bunk bed). It was dark but I was just staring there. I could probably consider that my first sleep paralysis, even though I wasn't really that conscious and it felt more like a dream to me.
All of a sudden, some black demon-looking face appeared right in front of my face. Like he did a peek-a-boo on me. I was terrified and it woke me up instantly. Even though my cousins were there beside me, I was still terrified because it was dark.
So yeah, since that night, I never turn the lights off when I sleep. You can imagine the electricity bill but my parents were kind enough to understand.
Why I do it
I'm not afraid of the dark. I mean, there's nothing to be afraid of when you're in your own room; when you are familiar with basically everything.
What I'm truly afraid of is having a nightmare and waking up in a dark room... With no one to hug when I'm frightened. So the only thing that makes me feel safe is the light on.
I usually get nightmares and night terrors. And you know when you are having a nightmare, the environment is pretty real right? And waking up in the dark after having one just makes it worse.
You could probably compare it with watching horror movies in the dark. The dark surroundings adds to the thrill that you're wanting to experience. Except in dreams you're in first person point of view, and during a dream it feels real.
How I was able to conquer it
It was last year when I was getting sleep paralysis more often for some reason. It was so often that I finally was able to not get scared of it. The same with nightmares. I was learning how to sense when a nightmare was coming and prevent it either by thinking of good things or hyping myself with silly things in the dream.
I also started to research more about it, buy crystals just to manifest things, talked to people, and started believing in myself (that I am in control of my mind, that they are just visuals, etc).
Those things greatly helped and I started to be less afraid day by day.
It started from sleeping with the main light on til sleeping with a lamp or a fairy lights on.
About a week ago, I tried turning the lights off when I sleep and it's going pretty well. I still have weird and vivid dreams. Like literally every night I remember my dreams and they are all vivid, I can only count a few nights when I don't remember a dream.
They are stressful sometimes (because emotions and it feeling real) but I'm not afraid of it anymore.
It feels good knowing I've struggled for so long and that now I am able to sleep with it soundly.