I have always had a love for trees. Growing up we had a big field that was surrounded with trees, the council even put a gate in our fence so we could walk straight through. We sometimes forgot to lock the gate then in the morning you would find a horse staring into our kitchen. I played in the field all the time, climbing trees or hiding as my parents could never find me. We would make camps in the trees and staying there until it was dark.
Where I live now there are trees but sadly I can't walk very fast so can't get to see them. I have lived in this house for 32 years, at the side of my house is a little green area that has a big Cherry Blossom Tree, I have write about this tree a few times on here. I can see it from my window. I watch the changes of the seasons, when it comes to Spring time I watch it fill up with Cherry Blossom. Its a beautiful tree.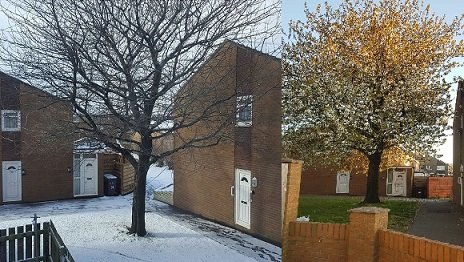 Seeing it come back to life gives me so much pleasure, it brightens that space so much, the fragrance fills the air and once the tree is full it lets go of the pretty leaves covering my car.
I hope the tree stays there for a lot more years.
Thank you for visiting. 💟