I woke up this morning to a the sun being out and it being dry, perfect day to take in my stride. I should really make a list but know from my past list making I will end up losing the list, so my main priority today is to get out and water the plants, I haven't been out there for such long time, think I have put it off because I don't want to see the plants I have lost through neglecting them.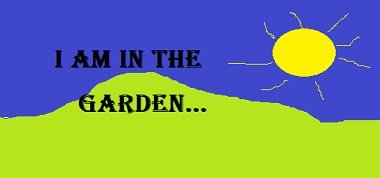 I first had to find an end to the hosepipe as the one i was using was broken, hubby sorted that for me. I started in the back in the decked area. I was expecting to soo a lot of dead plants but thankfully I think I have only lost 1, My Geranium plant looks dead, I gave it a water and tomorrow I am going to give it flask full of water that has banana skins in, this give the plants a lot of nutrients. I was expecting my Peonies to be gone as when I last saw them they were looking sorry for themselves, when I went out today they are both standing tall. I was going to take photos but then the hosepipe end fell off soaking me with freezing water, Hubby answered my screams.
I managed to get the gardens done but by the time I had finished I was in agony with my back, my spine was on fire, I had to quickly sit down before I fall down. I was feeling down as the thought of having to give up my garden hobby, I can't manage anymore now I have Arthritis in my spine. I was at the time speaking to my daughter via text, I told her how I felt thinking she would probably agree with me but she said the opposite, she replied with the exact words I was hoping for, Don't worry mam I will come out and help you, You tell me what needs doing and I will do it.
My daughter comes home on Monday, hopefully she will still feel the same way and come help me. I need my garden done not just because its what I love doing its somewhere for me to sit when I have down days, sitting amongst nature is the perfect way to relax and clear an over active mind. I will get my Sunflower garden.
Once the garden was done hubby had made us something to eat. With my daughter not being here I take over looking after her Parrotlet Sprout, she was in her carry cage whilst I was eating, Then off to her bedroom so she can get some exercise. I am starting to think Sprout prefers me as I am more laid back than my daughter, well that's what I keep telling her as I am parrot sitting quite a lot lately.
Sprout had a fly around, chewed on a few of Nichola's shelves then came down to see me, he stayed on my knee for quite a while watching me playing Bingo, she wasn't very lucky as I didn't win.
CUTEY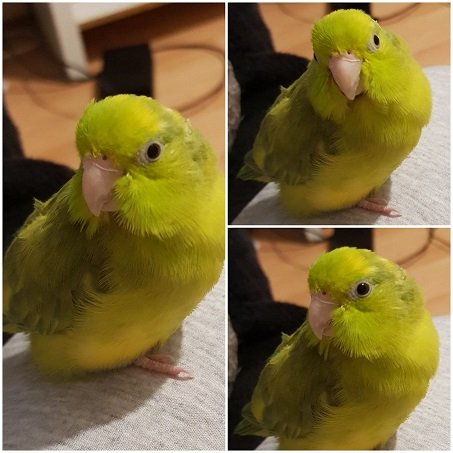 She flew off again looking for something to destroy, she loves ripping wall paper off the wall of pecking chunks out of anything that is wood. She flew around for around 30 minutes then landed back on me. She was getting tired, she landed on my keyboard and demanded tickles, she started to fluff her feather up This tell us she is getting ready to sleep. I gave her a little tickle to calm her down, she was closing her eyes.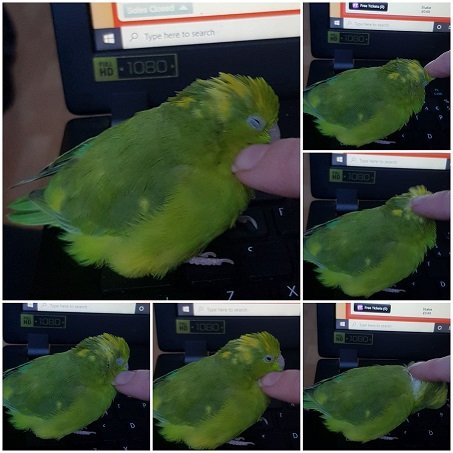 I put her in her cage where he ragged her toy for a little while then fluffed up again, I covered her up making sure there was no light getting through.
By the time I got finished with Sprout I was ready to relax myself, I got the pups sored then off to bed. I need to be up a little earlier tomorrow as hubby has said he will so some gardening for me... Fingers Crossed.
Thank you for Visiting. 💟