So much for thinking we may be heading for Summer, I have just heard the forecast telling is we are expecting a lot of rain and strong winds. Here I was thinking just maybe I can get my first Sunflowers planted out a little earlier this year.We usually have a lot of rain through April well this year we hardly had any then we get into May and what do we get YES Aprils rain and loads of it. I have to sit and wait this out.
I have seedlings growing that will be strong enough for Summer don't think they are strong enough to learn to swim and not drown.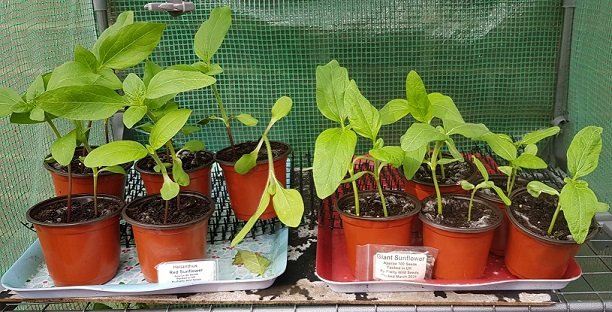 Me and hubby have cleaned up the garden all we need to do is remove the bags taking them to the recycling village then give the ground a good clean with the hose pipe. I have a bundle of different sized garden pots that I placed on Facebook Marketplace, Had a few enquiries but so many demands.
First buyer said she wanted them told me she would be here the next day, she never arrived. I text to ask if she was still interested to be told could I hold on to them for Friday as she couldn't get away until then. I told her I couldn't hold on as they were taking up quite a bit of space so she agreed for me to sell them on.
*Second buyer, She definitely wanted them but only the ones that matched, she didn't want the odd ones. I told her they came as a bundle, NO she just wanted the best one. I then asked when she would like to come she arranged for the next day. I waited until just after lunch before texting to check she still wanted them, sadly he was in hospital and didn't know when she would be discharged so to sell them on.
Third buyer, Again she wanted them but asked if I could hang on until the 23rd of this month as she doesn't get paid until then.I told her I couldn't.*
I then removed the post, I am going to wait until I have found all the pots I don't need, there is a basket full of them just haven't had time to sort them. I will then put a big bundle on stating all to be sold as a bundle, No special offers and no holding, pick up ASAP.
I was trying to be fair but people take the Pee. I will deal with the pots later on this month.
OTHER NEWS
I have had a massive dream since being young, I have always wanted to visit Graceland, Elvis Presley's home. I have hung on to this wishing it would happen, but every year there is always something more important to do or just couldn't afford it. I would love to be able to stand in the same place he stood, to be in the home where he lived, I have always Loved Elvis. I am 57 next week I am busy sorting out a little tea party for my family. Hubby comes in from work to say "I've been thinking with it being your 60th in 3 years why don't we save up and go to Graceland's, Make my 60th a year to remember," I said yes straight away but then thought about it. If I hadn't have fallen down the stairs last year I could have possibly pushed myself, taken plenty of medication and struggled on but since damaging my spine there is no chance as I can't sit in a normal position or stand for more then 5 minutes, I need to have my back supported or I will be in tears. ALSO 8 hours in the sir would have my anxiety in orbit. I wouldn't have thought twice about this if I was younger and healthier. If I had my time again i would have been by now, we never know what the future holds for us, If I can give any advice to anyone it would be, Do it whilst your young, do it while your healthy.
Thank you for Visiting. 💟