My ambition of getting back to posting regularly has not really been fulfilled. Maybe it is me swimming a kilometre every day and then being too exhausted. Maybe it is the preteen moods of my youngest daughter. Maybe too much other work, like building websites. Maybe it is all those little things that I have neglected and now have to clean up, put in order and archive. Maybe it is the late summer light.
Well... here I am again with a small report.
I'm fine, but busy. The small text file on my computer called "gøreliste.tekst" (todolist.txt) is changing all the time and things get done. My website is up and running I am selling comics and prints to people - but I still needs to tidy up the texts, the layout and other little things that annoy me. I am also considering how to promote the whole thing. Even though the Katharsisdrill art project only exists in grassroot networks like this one, it would be nice to get it further out in the wild. I might make a Mastodon account if I can find an instance that is not too puritan when it comes to nipples and penises for example.
At least I have posted the first artwork on Katharsisdrill.art. You might have seen it here before. It was one of the New Years wishes that I granted in early 2019. @shortcut asked me to make it and now it is officially included in the Katharsisdrill ouvre.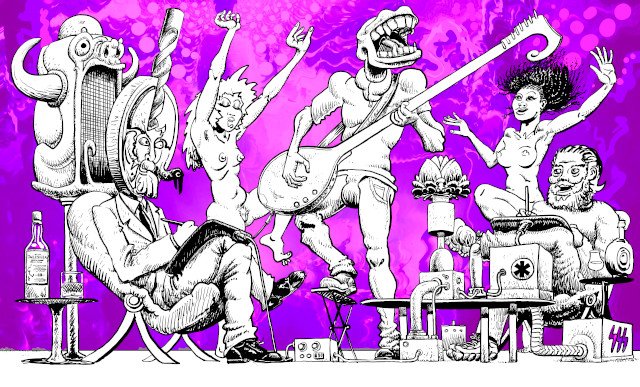 Le déjeuner en violet - Dedicated to Jörn Bielewski
But...
One of the things on my todo list is to move my leftover Steem to this place. I tried to find an exchange that had both Hive and Steem, but was unsuccessful in my first try, so I decided to ask here. Which exchange (or the like) can exchange Steem for Hive?
Hope some of you can help me out.