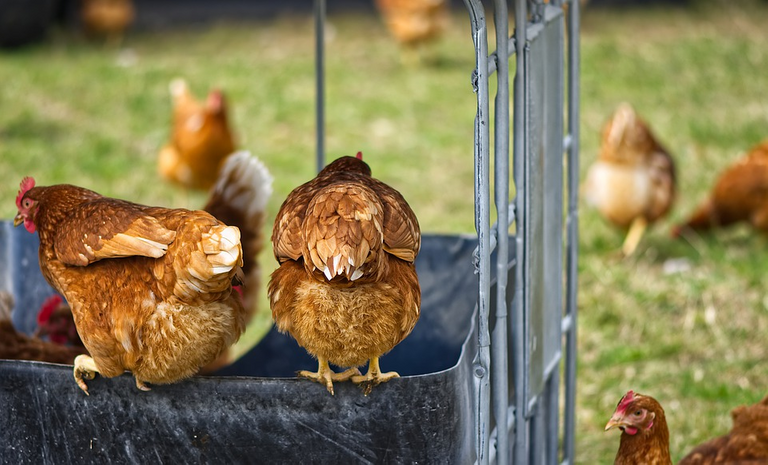 Image Source
When house sitting
The lovely house owners have traveled to the motherland again. Apparently, with two other siblings, I am always selected to house set. One would normally be excited, but the craziness that is taking care of chickens removes any excitement. If you read my last experience, don't worry.
One cannot forget the chicken
Thankfully, no chicken has been lost or killed. With their new home keeping them safe from the other wild animals. Taking care of them as being lovely. They go inside the coup at sunset. They wait at the door at sunset for me to open the door. They don't act or run away.
There is always one...
Then there is this one. Last night, I arrived home later than normal. As usual, most of them were in their homes sleeping. I check for eggs and placed them in my shirt to carry out. I only need one hand to close the door. As I turn to leave, I notice one stray chicken sitting on top of the door.
How did you get up there?
I wave it in, no movement, I slap it around, it tightens its grip, and I am left with a dilemma. Leave the chicken outside or potentially drop the eggs and grab the chicken?
What would you do?
In order to grab it, two hands are required. Letting go of my shirt would mean dropping the eggs, probably cracking them and losing the chicken in the process. I attempted to tie my shirt, it just as quickly untied. With ninja-like reflexes, I grab the chicken and drop her, some might say throw, into the coup. With less than half a second to grab the shirt, save the eggs, lock the door, and walk away.
It's silly, it's my life, have a great day!
---
Small steps for chickens. Giant leaps for me!
Thanks for reading, upvoting, and commenting!
Love always,