My name is Cliff, I am 47. I have a brother Frank, he is 45. We were adopted in 1971 at the ages of 3 and 9 months old. We were adopted by a great family. Our parents did not hide our adoptions from us at all. We knew very little of our birth parents. The only information we had is we had 5 other half brothers and sisters. I did not even know our birth mothers name
Frank and I had a good childhood, we talked many times of finding our family. We both seen our adopted parents as our parents. So, it was not to replace them. It was more about just knowing. We grew up knowing one piece of information. Our birth name was Hall. As you can imagine having so little information, we did get very far. Soon only to forget about it. You never truly forget, but, just in the very back of your mind.
Later in life , Frank and I had several conversations over the years. We had met people with the last name of hall. We always would just wonder if we were related. Life went on.
Fast forward to Febuary 2016. My brother called me and said a woman (Suzette) call him saying she was his sister. He was so excited. Me being the conservative one figured it was a scam. I told him I would talk to her via text messaging and see what comes of it.
I was at work the next day and she texted me. Of course I was very sceptical. She said she had photoes of me. I asked her to send one. She did.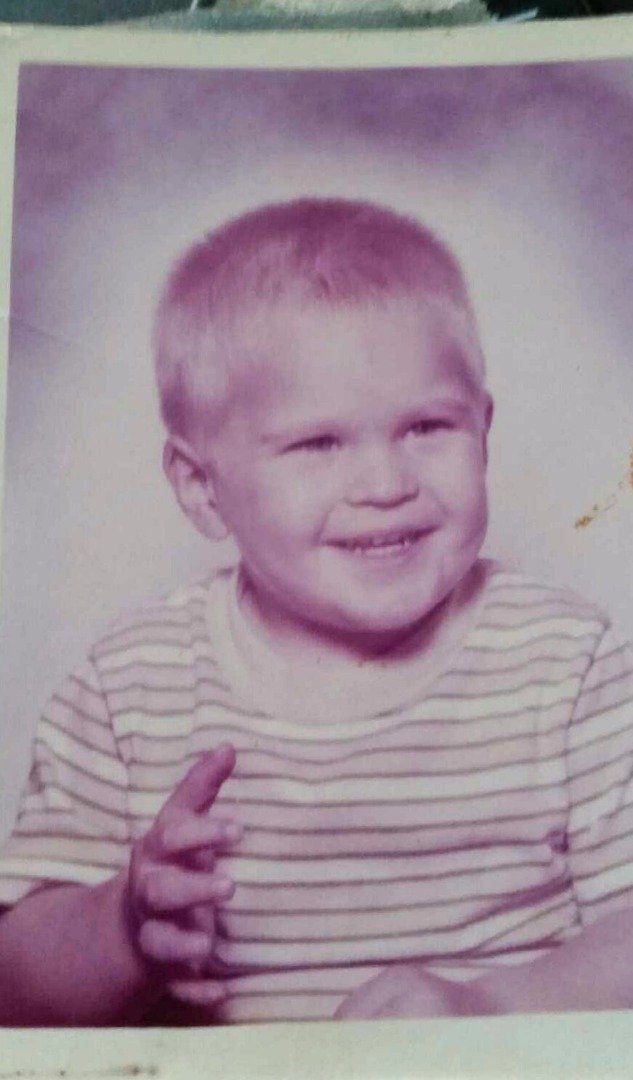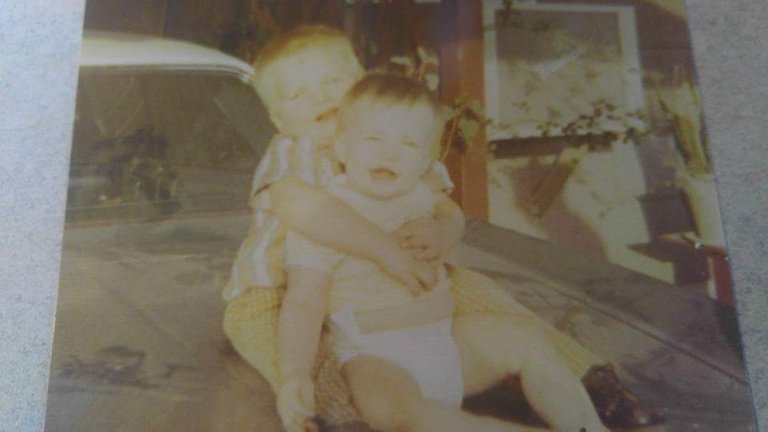 ME HOLDING SUZETTE
As soon as I seen this photo, I busted out in tears. I have many pictures of myself at age of three right after the adoption. I knew at that moment, THIS WAS REALLY HAPPENING. MY SISTER FOUND US.
We talk for several days, I was so intrigued. She proceded to tell me frank and I was her full brother and sister. We had a half brother Tracy and a half sister Rhonda.
Suzette had been adopted by my birth mothers best friend and had stayed in contact with our maternal grandmother. Only because of this she had more information than anyone.
Tracy and rhonda was the children of my father, but different mother. Suzzette found them 20 years ago. Tracy Rhonda and Suzette all three looked for us for 20 years together.
The same adopted parents was trying to adopt me and Frank. We evidently stayed with them for several months. Thats why Suzette had photoes of me. Frank and I was adopted very quickly, and Suzettes Dad was so furious. He was trying to keep us all together. All the adoptions was a closed adoption, that means all files are sealed. We were seperated for 45 years. Suzette said her dad had a picture of us in the hall way, he would dust it till the day he died. He was devistated and talked about Frank and I till he died.
I had talked to Tracy and Rhonda one the phone. WE WERE ALL STILL IN TEXAS. So, we set up a meeting. It was very emotional. Here are some images of the meeting for the first time in 45 years.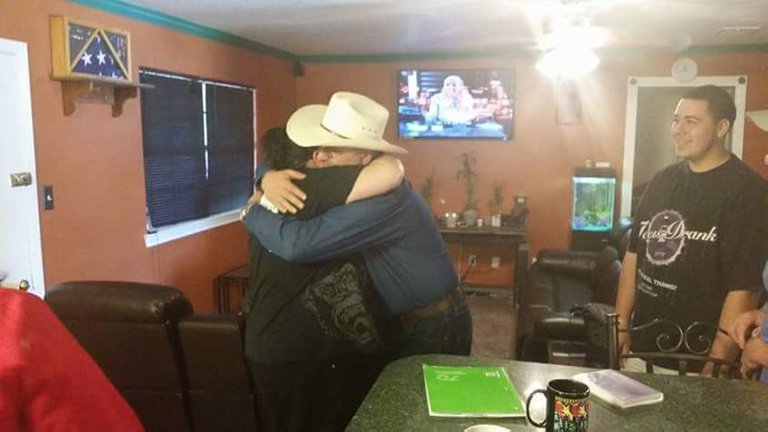 MEETING MY SISTER FIRST TIME IN 45 YEARS.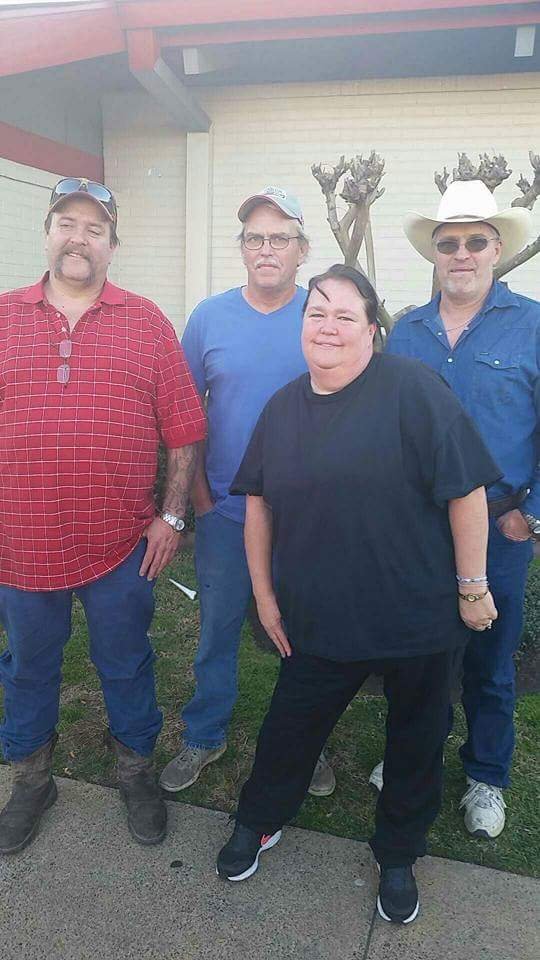 Frank (red shirt) Me (cowboy hat) Suzzette and tracy

ALL 5 SIBLING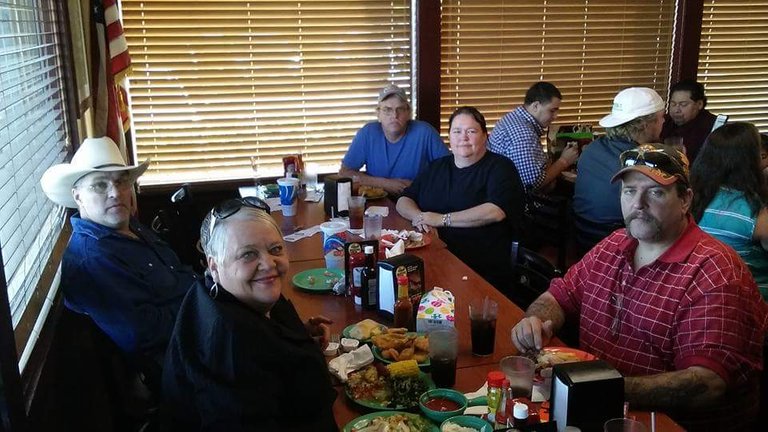 FIRST TIME ALL SIBLINGS EATING TOGETHER IN 45 YEARS
In closing we talk all the time. We get together and will never be seperated again. So, if this absolutely great thing can happen to us, dont give up if you are in a simular situation. 5 siblings all adopted out to three different families reunited. This is just an amazing event and had to share it.
This is dedicated to my sister Suzette for putting all the pieces together. By, the way just told her I was trying my luck at writing.
Thanks for reading.
Piece from Texas, stay safe and stay prepared.
Cliff