It's April 2021 and I'm celebrating almost 6 months of professional activity within Radio USV, the student radio station of Ștefan cel Mare University of Suceava where I'm currently a 2nd semester bachelor student specialising in Digital Media.
For nearly 6 months (namely since November 2020) I have been a radio presenter of two shows during almost each Friday, more specifically the morning show which airs between 10:00 AM to 12:00 AM and then a special music show on rock music which I am solo in charge between 13:05 to 14:05.
The last edition of 'Let's Get Rocked!', the name of my music show, focused on the first part of a series of editions on the life and career of American musician and educator Jaco Pastorius and the jazz-rock fusion band 'Weather Report' with which Jaco played as a bass player throughout the late 1970s up to the early 1980s.
The first part included songs from Jaco's self-titled debut solo album released in 1976 as well as a string of other tracks from Weather Report's discography, spanning studio albums both with Jaco on bass and with other bass players, more specifically Miroslav Vitouš, Alphonso Johnson, or Victor Bailey.
In the meantime, our former control console which I and a colleague of mine for the morning show use in order to pan the sound of the songs on air and have interventions live through the two microphones, got replaced with a newer, better model which we both like.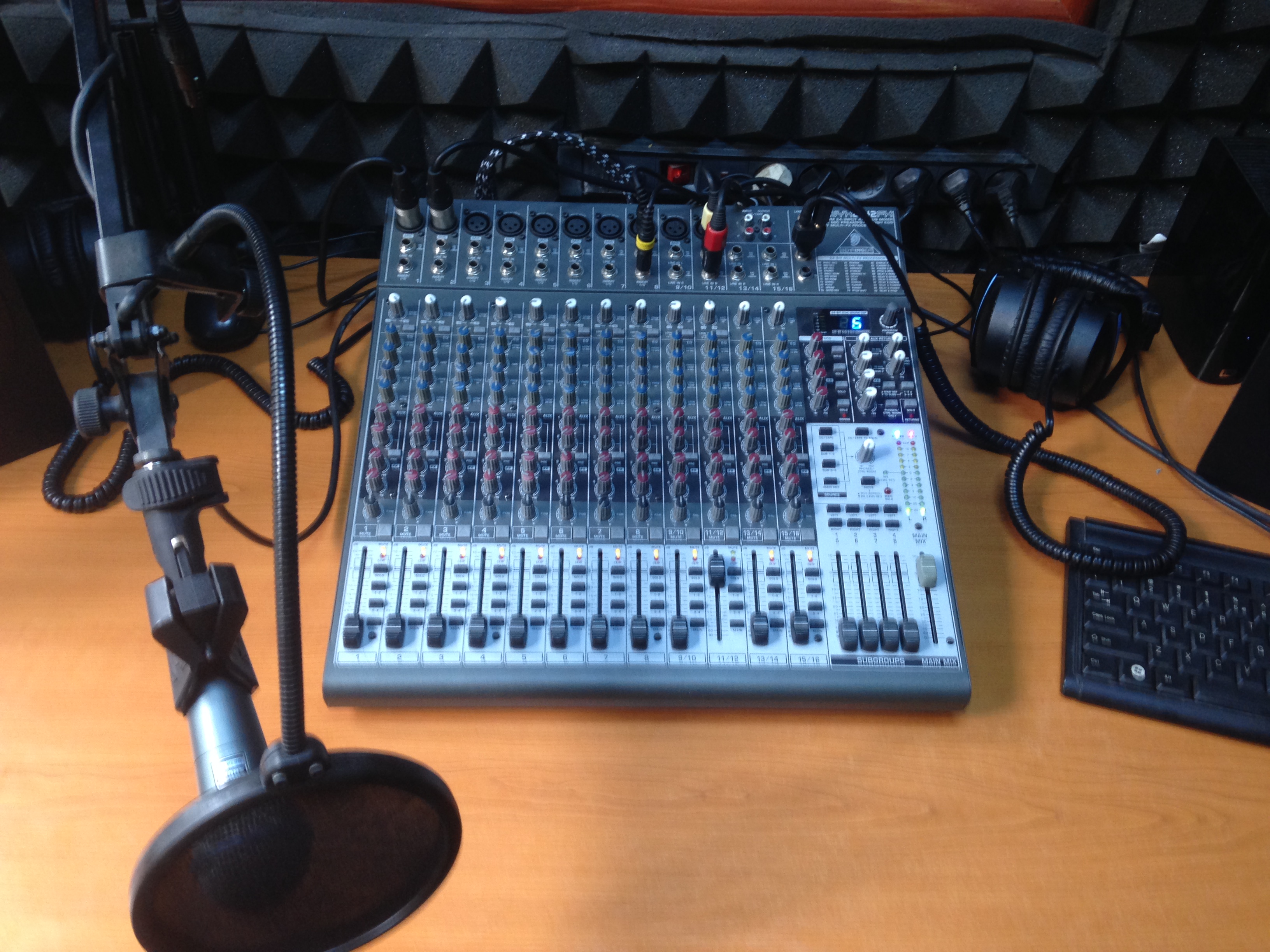 The new audio console which was brought into our studio since early March 2021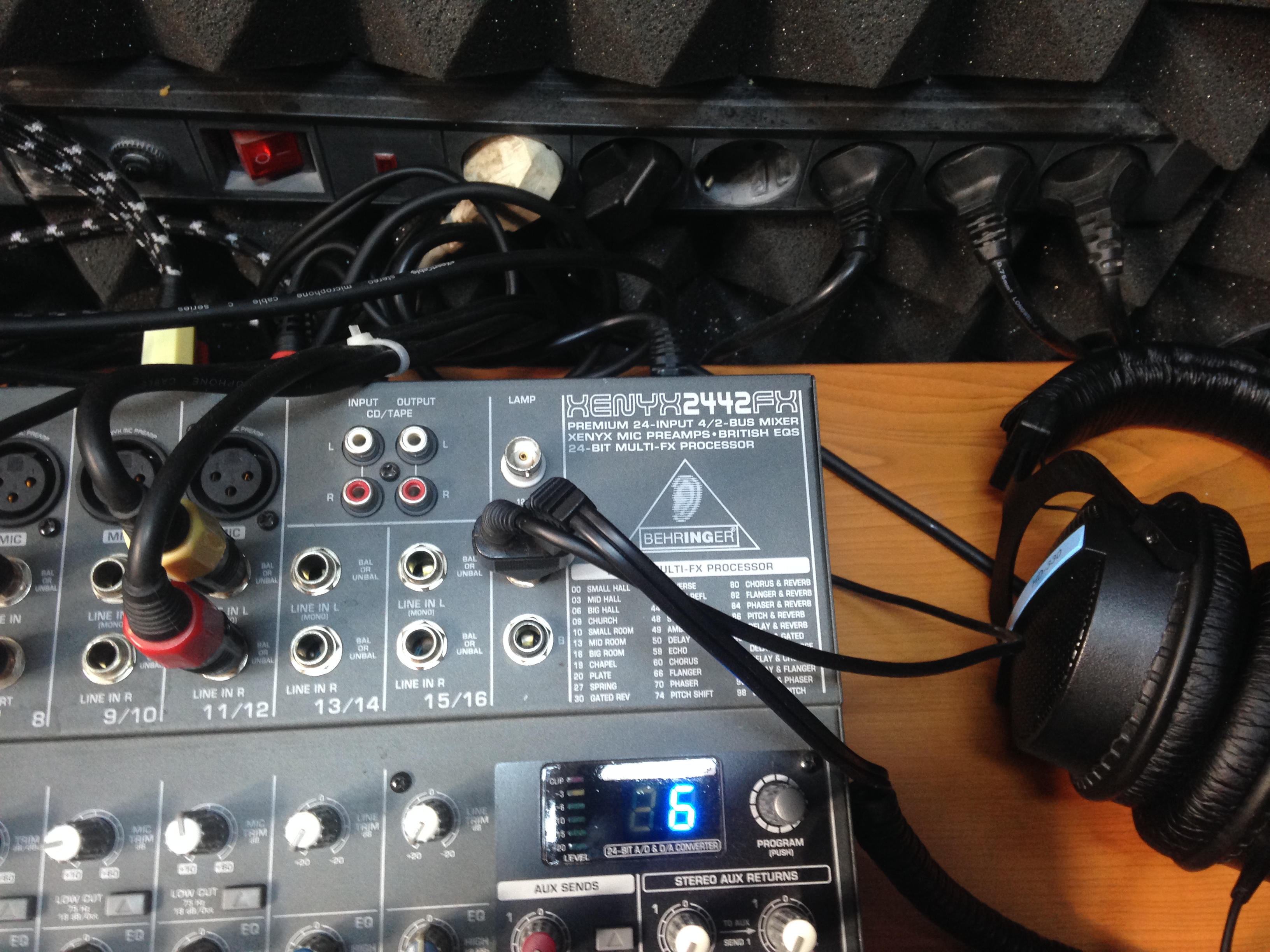 As you can see in this photograph, the brand of the main audio control console which I and my colleague use for the morning show is Behringer. It is a Xenyk 2442 FX model with a premium 24-input 4/2-bus mixer with preamps for the microphones and British equalisers along with a 24-bit multi-FX processor.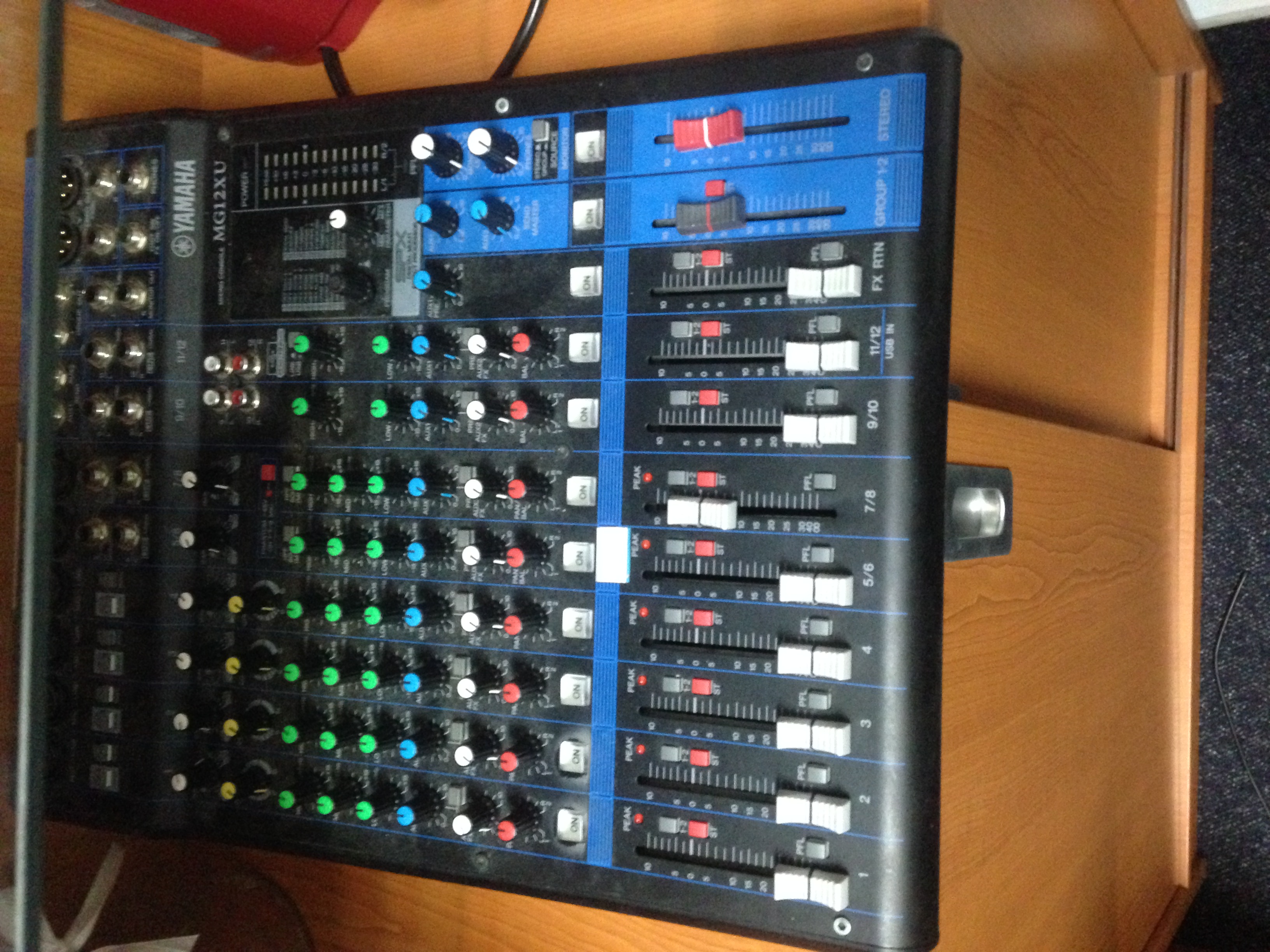 The old audio console which I and Nicolae, my morning show colleague and co-presenter, used from November 2020 until early March 2021
In addition, we also invited a classmate of mine in Digital Media for an interview on her experience as a student here, focusing on what she liked/not liked, the overall context of the pandemic which negatively impacts our studies, and the future of digital media in our society.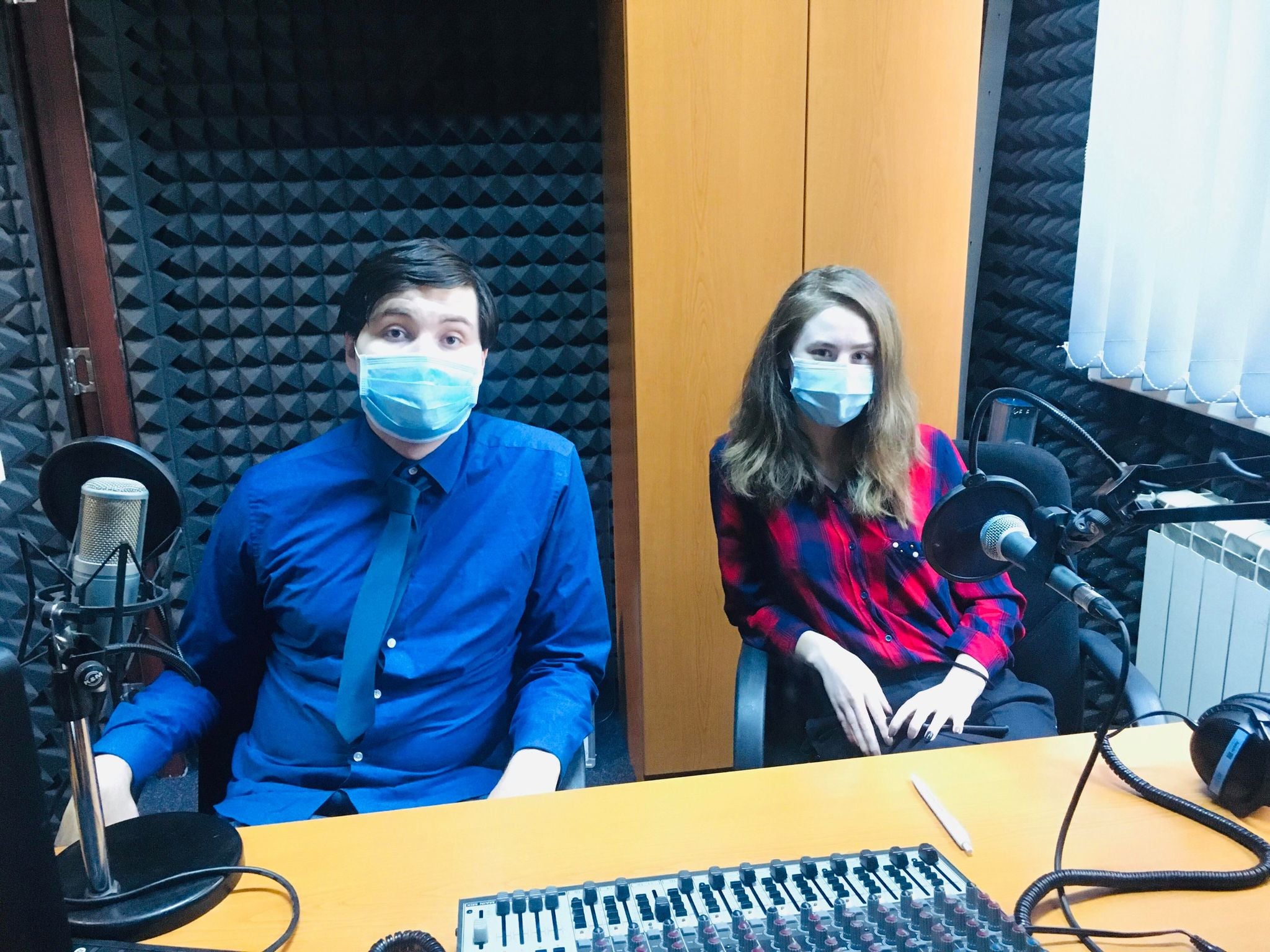 The first interview I made in my professional radio life. The interview's guest was fellow Digital Media student Antoanela. I conducted the interview on 26 March 2021. Photograph credit: Nicolae Șapoval
In another order of ideas, I was also very happy to finally receive a paid salary, so to put it, from my work here in the form a scholarship worth 400 RON, or roughly 81.31 EUR per month. I will receive my first pay this April.
This money will come in handy for a health problem that I wanted to fix for quite a while, more specifically segmental vitiligo. This money will help me buy a natural plant-based cream which will help me heal a small series of white spots on a certain part of my body. I have been waiting for this opportunity for quite a while now, namely for nearly 10 years. But I will further delve into this health problem in a separate post in the near future here on HIVE.
That being said, for Romanian speakers, I wholeheartedly wish more of you out there who are into rock music to listen to my show each Friday starting at 13:05, if you have the time for it that is. In this regard, here's the link for audition: https://radio.usv.ro.
Also, I don't think I have shared so far the small recording room in which I recorded my jingles and promos for my own show. In the small and narrow recording room we also have another audio control console which was made by Alesis.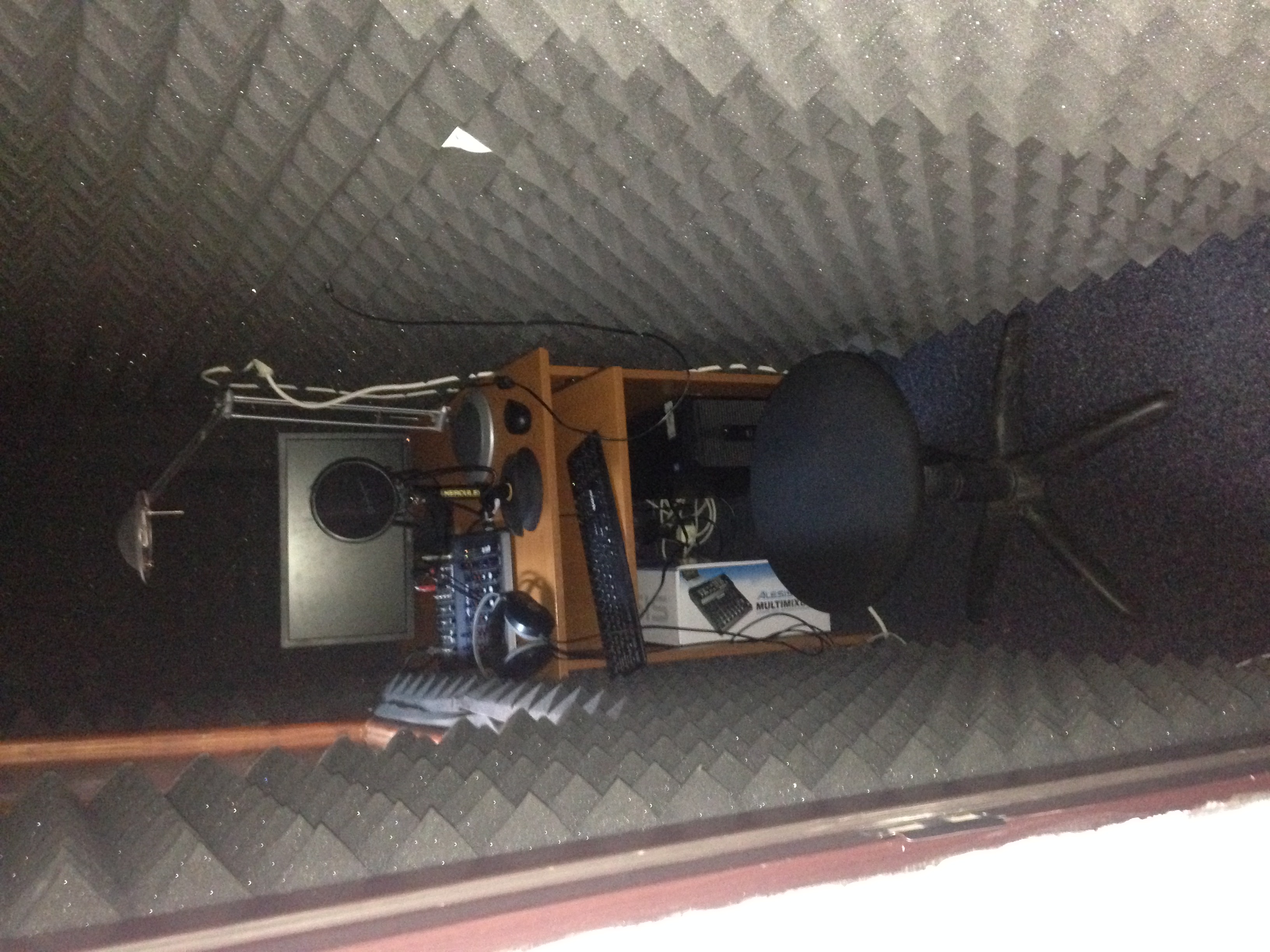 The narrow, small recording room inside the Radio USV's studio (March 2021)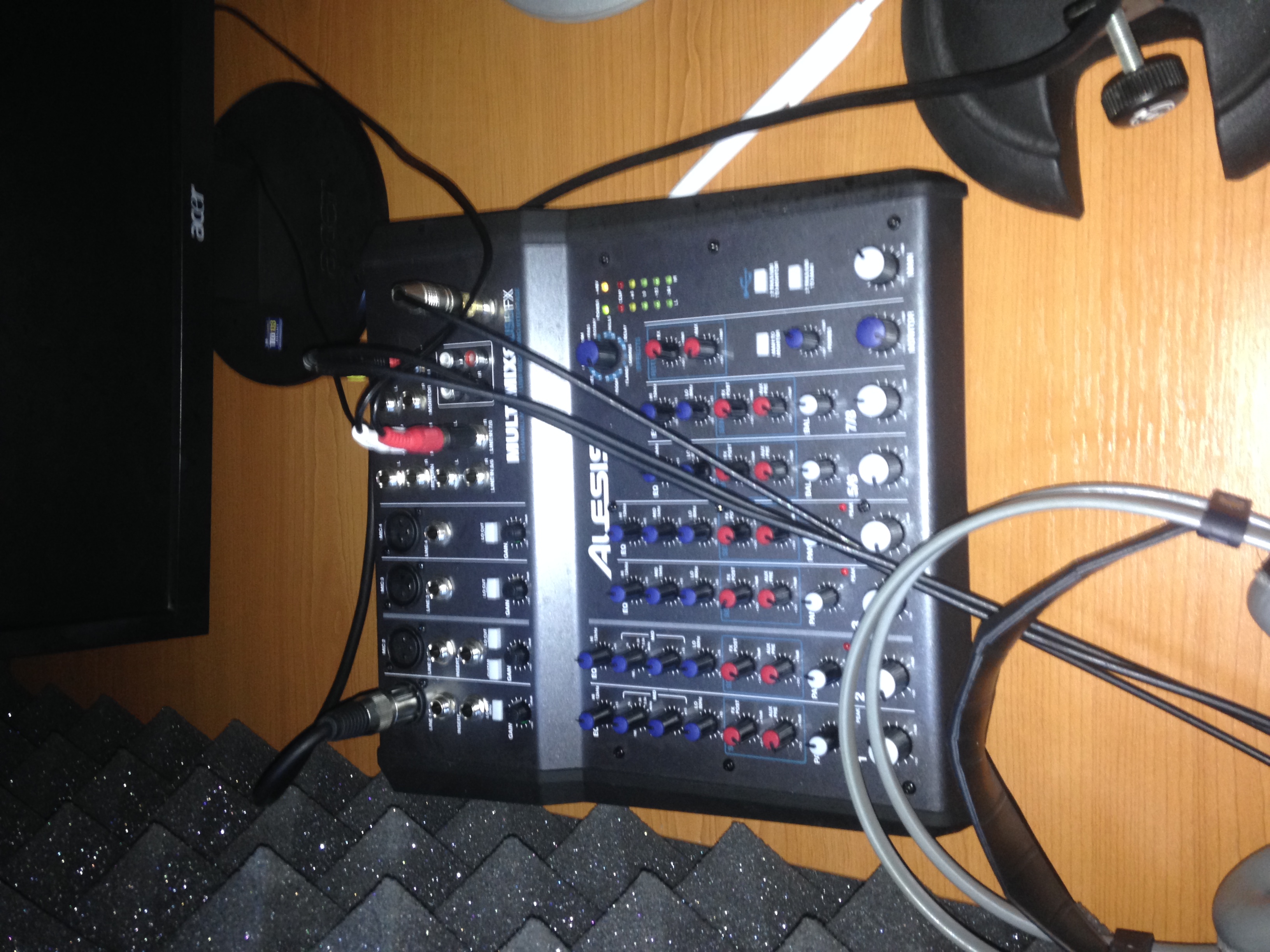 The audio console of the recording room at Radio USV's studio (March 2021)
P.S.: Last but not least, here's the volunteer certificate acknowledging 88 hours of hard work, based on which I earned my first scholarship from USV: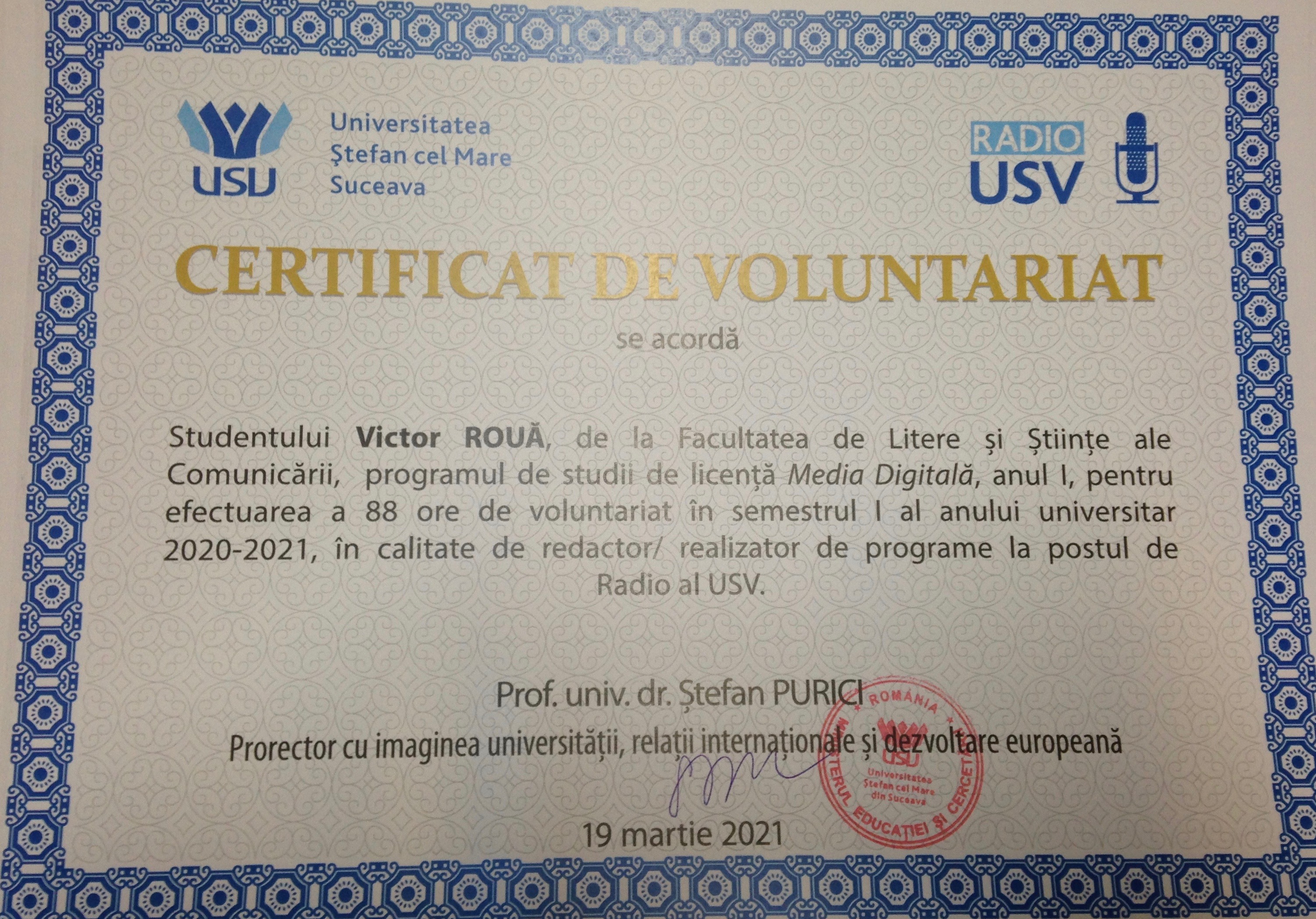 88 hours of hard work by moi. Each and every one of them was a lot of fun and I have to admit I gained a lot of experience on the way through the last 6 months of professional activity.