Good evening from Romania, fellow HIVE users and dear readers from both HIVE and outside of it! For today's first and last post here on my HIVE blog, I decided to share the fact that I am, very much fortunately I should add, back in GarageBand on one of my MacBook Pros (early 2011 model, to be more specific) in the prospect of mastering and further editing two songs which I already composed on my own in GarageBand on my iPad mini.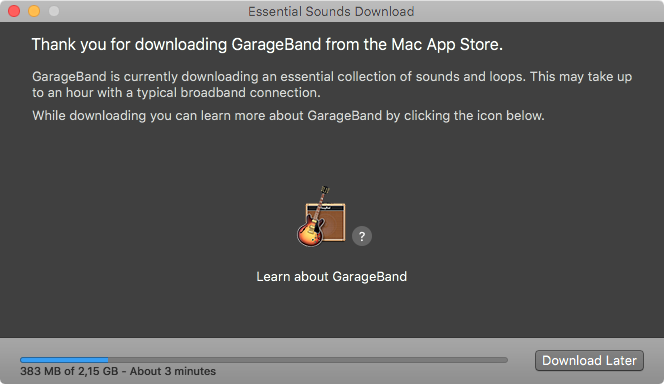 I really missed being back in one of my all time most favourite applications on Mac. Image source: personal screenshot using Grab on my MacBook Pro Early 2011 model
I have immediately resumed my activity in GarageBand on MacBook Pro with virtually speaking no technical problems after quite some time by mastering/editing a track/song that I have already composed yesterday on the GarageBand version for my iPad Mini. The track is titled 'Survivalist' and, as I promised during this summer (but, unfortunately, the initial plan got a little bit derailed) I intend to independently release a brand new musical album (or EP, I will see, depending on how many tracks I will be able to finish) during this December. The name of the forthcoming new album or EP is already set in stone, namely 'Survivalist', primarily as a tribute to a very handy perk which a player can obtain in Fallout and Fallout 2.
I will keep you posted in the near future with more news and my overall progress in this direction as well. Wish me luck! Thank you very much for your readership, attention, and time! All the best, many blessings, take care, and stay safe!
Thank you so much for your readership, attention, and time. I am very grateful for all of them! Cheers and all the best until next time!
Many blessings your way, much health, take care, stay safe, and, just as in the words of Ringo Starr, peace and love your way! Great peace and a lot of love your way, I might add! Have an excellent and most peaceful day along with your close/dear ones! Namaste! 😊🙏✌️☮️
Also, please don't forget to keep praying for Ukraine and its people! Much love, blessings, and peace to Ukraine and the Ukrainians as well! May the war stop very soon! 💛💙🇺🇦
P.S.: Thank you very much for all your support, readership, attention, precious time, appreciation, re-blogging, and feedback here on HIVE. 😊
Stay blessed, loved, well, and safe along with your family and friends! Cheers and please stay tuned for more amazing content on my HIVE blog! 😊