I always had the idea of writing a text like this one and that it would serve as a contribution to a larger essay or an investigation that would be updated according to new achievements and new experiences. But no, life has its own path and​ as Alan Parson said "Time keeps flowing like a river" and life itself has now turned this a historical review.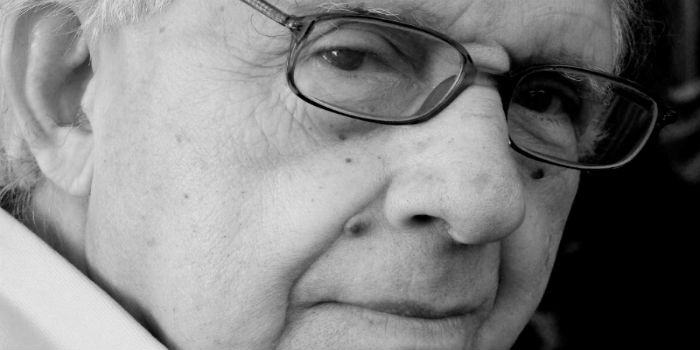 Source
---
Este post está disponible en español. Clic aquí
This post is available in Spanish. Click here
---
Last October 26th, I had to witness the moment when the light of life was extinguished in my father's body, the two holding hands, surrounded by doctors who could do little and medical equipment that rapidly diminished the rhythm of its sound. It was at that moment that I realized that "that" could happen and it happened.
To say that I had the best dad is a cliche, which will always be welcome from any grateful child. And one will always want others to understand that this is true, because it will always be true for one. To support my thesis, I tell you who he was.
Beginning backwards
Maybe this story should start at the beginning, like any well-told story, but I like the idea of starting from the last moment to the first, because the present (recent, which is already past) is much fresher in my memory.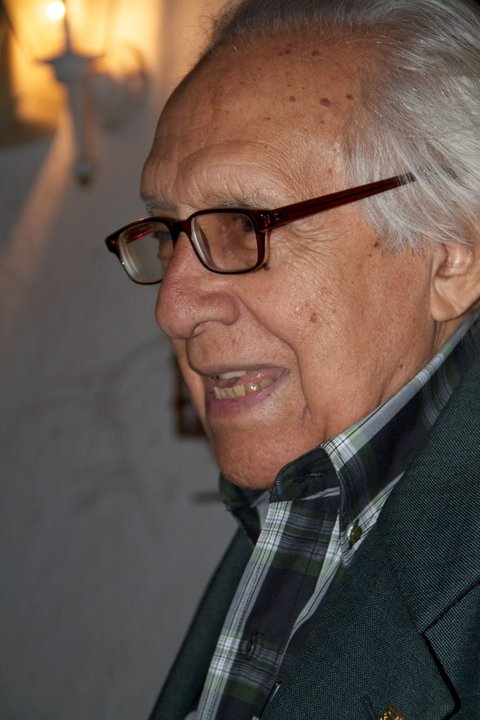 Before that last moment with him, I passed (and so the rest of the family) more than two years missing him because in August 2015, he received a blow to the head that erased the innumerable memories of a life dedicated to the family, the teaching, the theater, the political struggle, in short, to life. Two years where he suddenly remembered that Prokofiev was convoluted, that Bertolt Brecht had the clearest vision in theater, that Román Chalbaud was the best film director in Venezuela, that Pablo Neruda was the greatest poet of all time. But many times he could not remember who I was and asked me to call myself. Days when he knew that something was not right, but he did not know how to face it, he could not understand it.
His last moments of consciousness he had in the midst of the spaces where he developed his restless and fruitful work, between the spaces of the Experimental University of the Arts (UNEARTE) (where he carried out his teaching work, the area of museums, where he always took us when we were children, my sister and me, and the Book Fair, where he was always a faithful activist, as a reader, as a writer, as a public, and as a speaker. In that hustle and bustle he suffered the blow that changed not only his course of life, but that of all of us, a blow that occurred, according to those were closer, having a fall, but according to the analysis I was able to make, it was given by someone else, possibly to steal a briefcase from those that are usually used for Portable PCs, but that he used for the papers he wrote with the details of all his projects. Since at the age of 89, my father was still developing and promoting new projects, as for him there were no limits in creation. Besides age was never a problem, because he was "timeless", it was like age had no importance in him and had no effect. That's why he always had friends of all ages and was an idol among his young students and people of all ages.
The Teacher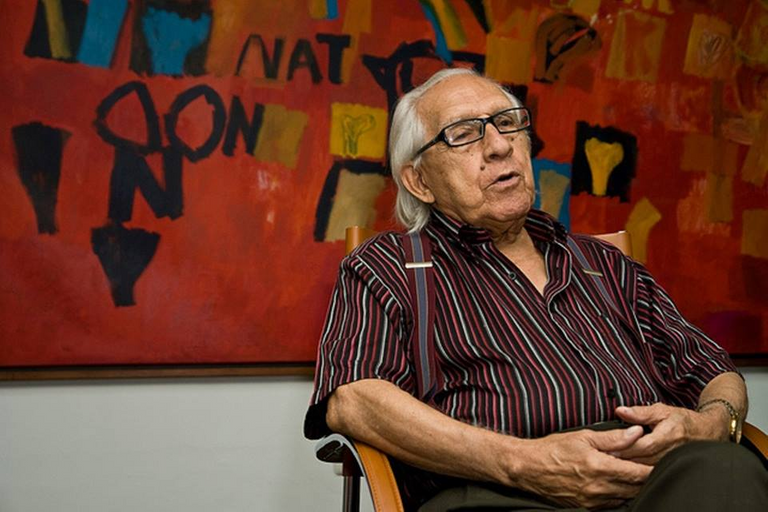 His last clear memories were next to the University that he saw being born and that he drove every day with his new proposals, with his pedagogical analysis, with his constant call to renewal to positive rethinking, to a new academic conception. The same university that gave him the degree of "Honorary Teacher".
And that was his highest academic degree, because his life was not of schools, but of experiences. Deep experiences in a life dedicated to knowledge without doctorates, but thorough, delving into the depths of Venezuelan and world theatrical knowledge. That is why books like the "Anthology of theater direction" (2009) sprout out of his hands, which became a mandatory reference in that area; or "Sainetes of today with themes and styles of yesterday" (2008), a book that includes several of his plays, which point to the rescue of authentic Caracas theater. But beyond his own creations, Humberto was always a promoter of the great works of other authors, so one of his life tasks was to promote publications of all kinds linked to the theater, including the Teatron magazine, which was the organ informative of the University Institute of Theater (IUDET), books and brochures of all kinds. He began with this in the 60s from the Directorate of Culture of the Central University of Venezuela (UCV). This task was carried out on all the fronts that he attended, such as the Venezuelan Center of the International Theater Institute (ITI-UNESCO), where he gave a boost to the regular publications on Venezuelan theater.
In 1995 he received the National Theater Award, the highest recognition that is given in this country, in arts. But his work was not limited to Venezuela and that is how he made the ITI a trench of struggle and demands for the theater of the third world countries, a Commission that he presided over for several years, beyond all the activity he carried out in that international organization, work for which that same year he was commissioned to write the message for International Theater Day. Before my father, this honor was given among others to Arthur Miller, Laurence Olivier, Helene Weigel (Brecht's wife), Dimitri Shostakovich, Pablo Neruda, Eugène Ionesco, Wole Soyinka, Antonio Gala and many more. That text was translated into more than thirty languages and was read in the theaters of 128 countries on March 27, 1995, before the beginning of the performances.
It is an extraordinary message that is still valid and of which I encourage you to read it. http://www.world-theatre-day.org/humberto_orsini.html
The man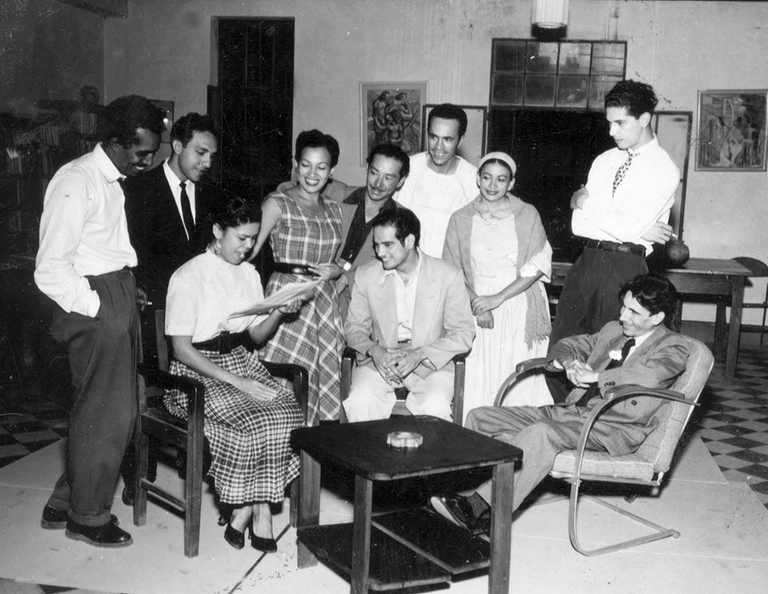 Family photo. Group "Máscaras"
Humberto Orsini was a universal man, as many say (without understanding what they say), a citizen of the world. And that is why he was able to understand, know and transmit his experiences so much while working as a correspondent in Germany and the Soviet Union from 1969 to 1975. Period in which he deepened knowledge of universal theater and European culture, directly linked to the most important theater creation centers in the world.
But this anxiety to know began much earlier, when he decided to leave aside a promising office job to go to tour the theatrical world. A trip in 1958, where he met the most important creators of the time and came into contact with the new aesthetic trends. From this trip was a convincing sign of his organizational capacity and his abnegation for order and rigorous research: an agenda where he describes each step of his journey, each meeting, each conversation with artists and theater directors, his appreciation of each play seen, as well as the route, expenses and all the imaginable details. He kept hat methodical style until his last days (This agenda is worth becoming a book of mass dissemination).
From that trip he returned to revolutionize the theater in Venezuela, with all the new proposals and approaches, with the creation of the theater group that divided in two the theatrical history of this country, the group "Máscaras" (Masks) with César Rengifo and another avant-garde creators (among them also, who became my mom, the actress Malú del Carmen) and later with the work that marked a milestone in the theater of our country "The Other Story of Hamlet", a multimedia show based on Shakespeare's play, which proposed new ways to the national theater.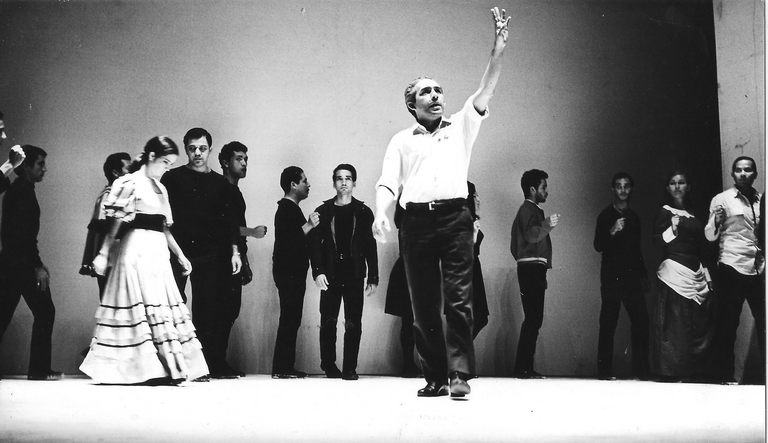 Family photo published in many sites. Humberto during a rehearsal of "The other story of Hamlet"
For that "small task" was that he left a promising career in the oil field, as "young manager with potential" of the Creole Petroleum Corporation. Work that took him to the capital, to Caracas, and to which he could access after "becoming a man" attending a grocery store, as his godfather, who was responsible for educating him, thought that was the best way to prepare him for life, and since he was 7 years old he was in charge of managing the business completely, including the purchase and sale of all merchandise, dispatching and managing the finances of the small store.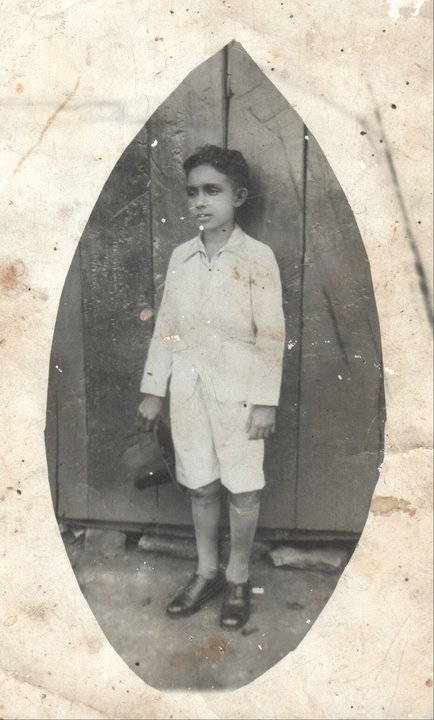 Family photo. Humberto at age 6
It was in that environment, in Ciudad Bolivar, where he studied until the fourth class of primary school, where he took the opportunity to make his debut as an actor, playing the role of a drunk, who sang and played the cuatro. But it was there where, years later, he also wrote his first play "El Conde Luna" inspired by the films and plays they saw in the bullring of the town, where he had his first contacts with dramatic art.
Part of a family of 11 brothers, Humberto was born on May 4, 1926 in the town of Santa Cruz de Orinoco, in a house called "El Volcán".
Traits
The altruism. Is that selfishness was a word alien to his whole life, as the best example of it, is that he was the most persevering diffuser of the work of Cesar Rengifo, to contribute to taking him to the place that this playwright and Venezuelan plastic artist has nowadays.

Humanism. His ethical and aesthetic foundations, as well as its political and philosophical vision was guided by the purest feelings towards the human being, as part of a social environment, the man as part of the collective and the human being as the center of all vision and as motor of history.

Dedication. But in this case the dedication did not imply neglecting other matters. His dedication was the way to give himself to the things he believed in and loved. That is why his role in each of the fronts that he carried out left a deep mark, because everything was done with the utmost determination, professionalism, passion and remained firm throughout his life in everything he undertook.
It seems that I got more excited than I should by talking about professional aspects and that more personal aspects left out, topics of which a son should have written, but no.
In times when theater teachers (arts in general) considered education as a rigid process, demanding, mistreatment and punishment, he began to approach and learn part and par (he always considered that the one that learned more during his classes was himself) and that it was about becoming an encouragement for the student, a support, a friend. That was part of his humanistic principles that he applied everywhere. Telling how he was at work is telling how he was at home. A friend, a counselor. His main fun, after arriving home in an intense day of work, was to sit down for a drink or a glass of wine, accompanied by some "cheeses" and start talking about deep topics with one, about history, art, politics, philosophy, music, literature, etc.
For some reasons, all her offspring have ended up in the arts.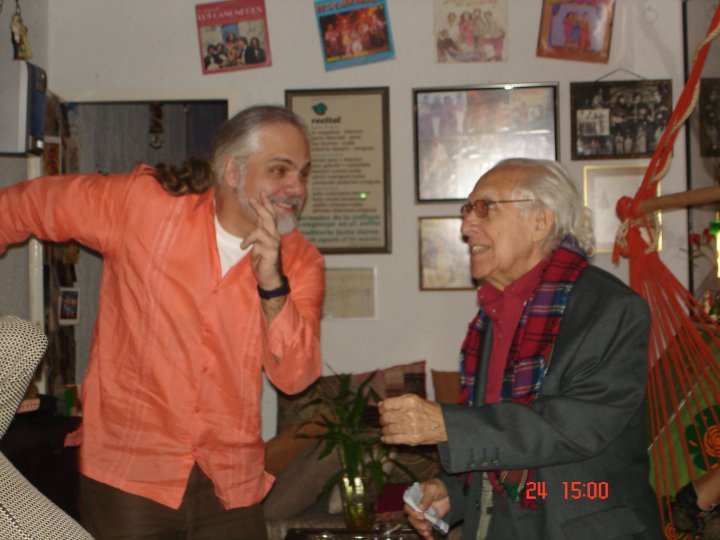 Family photo published in many sites and social networks. That's me dancing ska with my father
Despite the time that all the projects he had in development occupied him, he always found the time to take the whole family to eat at a restaurant, go to the beach, the cable car, a play, the circus. Always had time to go our activities, those of the children and the grandchildren. He always found a way to meet, visit and care for all his sisters. And he was always aware of the situation of each one of us and the needs that we could have to try to find a solution or offer his support.
My sister Hely and me called him Pipa, the reverse of "Papi" (Daddy). But then her grandchildren started call him this way too, and then the friends of them, and many of the family, and finally he became Señor Pipa (Mr. Pipa).
Pipa, my father, Humberto Orsini, was always the same, everywhere the same, with full confidence and self-confidence, synonymous with joy and dance at all times, friend, supportive.
Today, the 26th, is 6 months of his departure, but we're close to May 4, which was the day his eyes saw the light and that is the day to celebrate and remember, because my father, Humberto Orsini, was a man of light, of life and can only be remembered in that way: beautiful, alive and positive.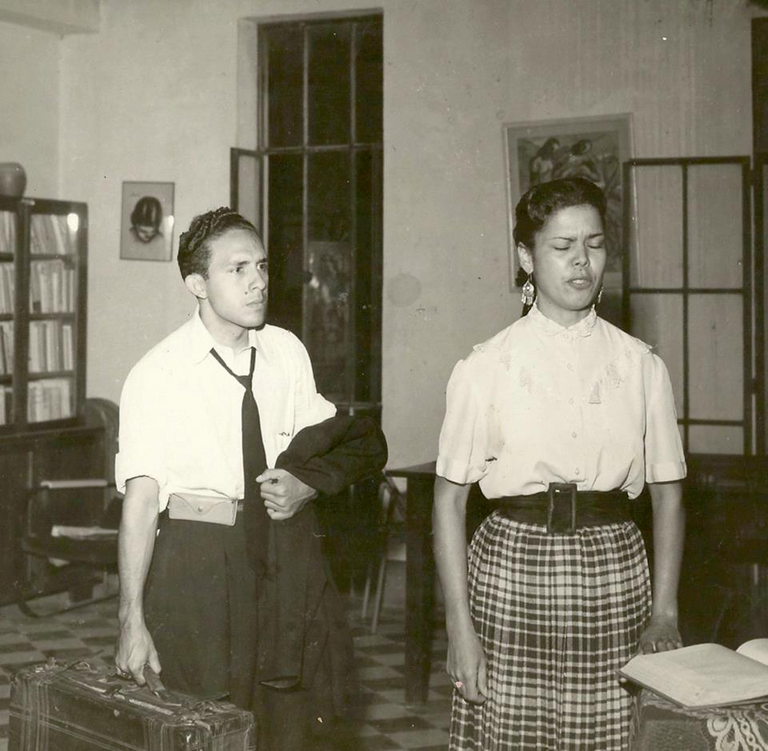 Family photo. My father and my mother in a play in the 50s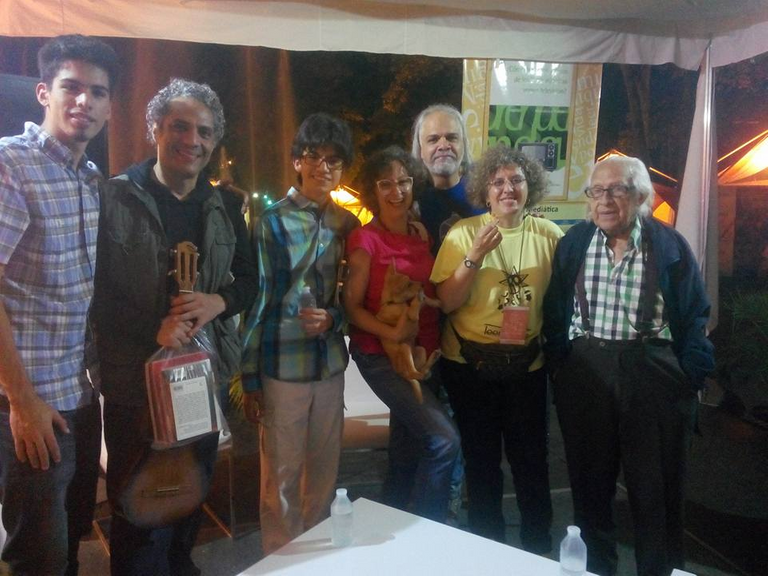 Family photo. A few days before the blow, he was giving a speech with my children about César Rengifo in the Book Fair Caracas 2015.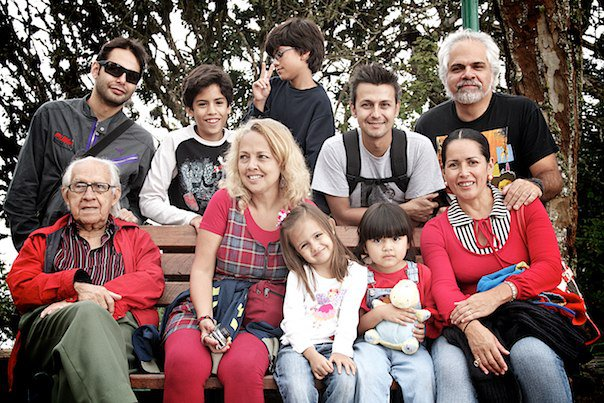 Family photo. A typical family walk organized by him.
Epilogue Post Data 1
The day after I published this article, I was called to receive the "Order of Culture", which would be delivered to my father post-mortem, at the inauguration of the International Theater Festival Caracas (FITCAR 2018), since the festival is dedicated to him . I had the immense honor of receiving that recognition.
Epilogue Post Data 2
The same day that I received the decoration my mother, actress Malú del Carmen, fell ill and on April 30 at 7:30 in the morning, she went following the steps of her husband for more than 60 years.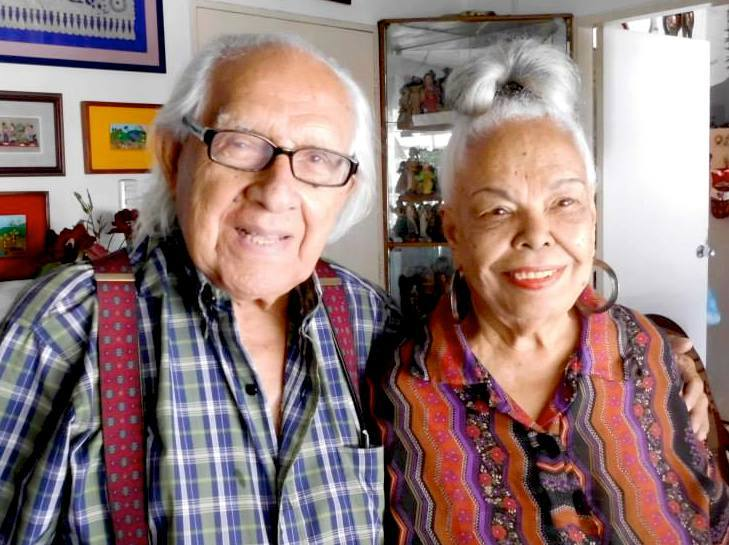 Family photo published in many sites and Social networks
---

Follow - Upvote - Resteem
---
Post más reciente / Most recent post
---
* Si este artículo tiene más de 6 días, puedes ir al más reciente y votar por él!
* If this post is older than 6 days, you may go to the most recent and upvote it!