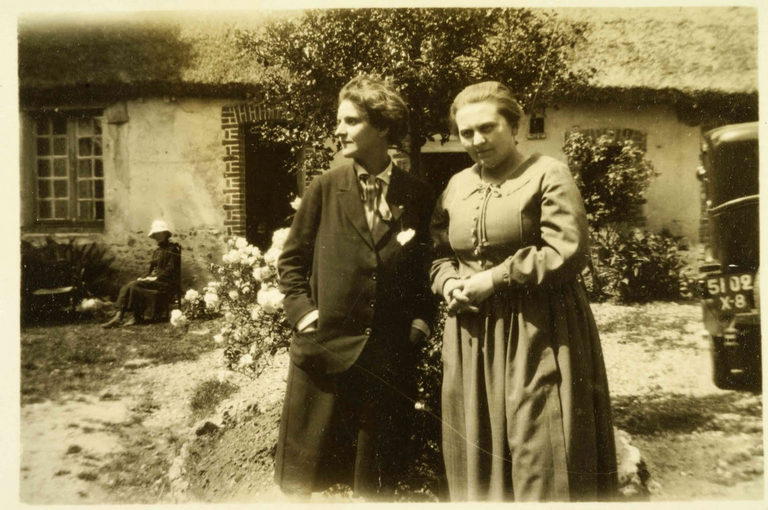 Sylvia Beach and Adrienne Monnier
If you're like me, Paris being your dream city and literature being your first and foremost past time, you're probably familiar with the Paris bookstore Shakespeare and Company, famously located at 37 rue de la Bûcherie mere steps away from the Seine and Notre Dame. The store is already a cultural landmark in recent history, a highly recommended destination for American tourists, the home of prestigious literary events, and the birthplace of The Paris Literary Prize and avant-guard journals like Merlin (credited with discovering Samuel Beckett) and The Paris Magazine (often called "the Poor Man's Paris Review). But what of its creation, and the life it led that gave it the reputation it has today?
Shakespeare and Company, 1919-1941 - Sylvia Beach Era
Sylvia Beach, born in Baltimore in 1887, became a leading expatriate figure and a well-respected member of Paris's Left Bank bohemia, where she lived for most of her life. Having gotten a taste for Paris after living there briefly as a child, she returned as an adult to study contemporary French literature and never left. Her early studies led her to discover an article about La Maison des Amis des Livres ("The House of Friends of Books"), a lending library and bookshop owned by one Adrienne Monnier. Paris-born Monnier was among the first women to own her own bookstore as the primary bookseller, and heavily inspired Beach to do the same, offering advice and often working with Beach to produce translations, or to coordinate the events for which Shakespeare and Company would later become so famous.
Monnier initially recognized the need for bookshops during the war, (World War I), as most previous booksellers had been drafted. Beach, under her encouragement, opened Shakespeare and Company in 1919, later moving it to a location directly down the street from La Maison des Amis des Livres. There were not, as one would expect, rivals in this situation, as Monnier catered to the French-speaking market and Beach to the vast Aglo-French market of expatriates like herself dwelling in the Left Bank. Monnier and Beach later became lovers and lived together for 36 years until Monnier's suicide, most likely due to her development of Ménière's disease which provoked upsetting delusions among other things. Together, they provided the literary community with progress, inspiration, and a cultural hospitality that advanced literature in the 20s like no other.
Monnier, with the moral and literary support of Beach, prepared translations for Le Navire d'Argent ("The Silver Ship"), her literary French-language review that included the first French translation of T.S. Eliot's "The Love Song of Alfred J. Prufrock", the first introduction of Hemingway to French language audiences, and an early draft of James Joyce's Finnegans Wake. Though the publication was not successful monetarily and discontinued due to Monnier's lack of funds, it heavily influenced the merging of French and American 1920's era literature.
Perhaps her most notable contribution aside from the actual opening of the store was Beach's willingness to publish James Joyce's Ulysses in full, something no one else was willing to do at that time. In fact, an American journal had previously published excerpts from the novel and gotten heavily fined for their trouble, leading publication of the work to become even more taboo by this time. Beach published Ulysses under the store's name, and later, Joyce would leave her bankrupt by abandoning her to sign with another publisher. Beach also encouraged the publication of and sold copies of Hemingway's first book, Three Stories and Ten Poems.
Between Joyce's abandonment and the arrival of the Great Depression, Shakespeare and Company fell on financial hardship during the 1930s. During this time, French author André Gide organized a group of writers known as "The Friends of Shakespeare", collectively paying a 200 euros member's fee to attend readings that eventually became highly renowned and drew much attention to the shop. Participants included rare readers such as T.S. Eliot, and even Hemingway broke his rule against reading aloud in public to read at the store with poet Stephen Spender.
Aside from its acclaimed events, writers and artists of the Lost Generation, such as Ernest Hemingway and F. Scott Fitzgerald, as well as Ezra Pound, Gertrude Stein, George Antheil, Djuna Barnes, Mina Loy, and Man Ray, among others, were generally present in and around the shop. Shakespeare and Company sold and lent controversial publications such as D. H. Lawrence's Lady Chatterley's Lover, which was banned in Britain and the United States at the time. James Joyce often referred to the store as "Stratford-on-Odéon", and used it for a time as his personal office.
The original Shakespeare and Company was closed in 1941, as the story goes, because Sylvia Beach refused to sell her last copy of Finnegans Wake to a German officer. The officer said that he would return in the afternoon to confiscate the store's contents, and Beach immediately hid the entirety of the shop in the vacant apartment upstairs, thus protecting it from confiscation and/or possible destruction. This would gain her a six-month stint at an internment camp in Vittel, and the original Shakespeare and Company would never re-open, despite Hemingway's symbolic "liberation" of the store in 1942.
Beach continued to live with Monnier until Monnier's death, and then engaged in a relationship with Camilla Steinbrugge, and subsequently wrote her own autobiography and story of the famous shop titled, simply, Shakespeare and Company. She remained in Paris until her death in 1962, and though she lived modestly until her death, she was recognized for her efforts towards the pursuit of modern literature and her publication of Ulysses.
Shakespeare and Company, 1951-present, George Witman era
The story doesn't end here, as you might imagine by the fact that Shakespeare and Company is still standing. In 1951, American ex-serviceman George Witman opened a bookstore on Paris's Left Bank, at 37 rue de la Bûcherie, called Le Mistral. Beach announced at a dinner party with Witman and James Joyce that she was passing the name to Witman for his bookstore, and in 1964, after Beach's death and on the 400th anniversary of William Shakespeare's birth, the store was renamed Shakespeare and Company.
The second Shakespeare and Company was as much a bohemian utopia (called "a socialist utopia masquerading as a bookstore" by Witman) as the first. The shop had beds tucked between shelves of books for the guests dubbed "Tumbleweeds" to sleep for free in exchange for helping around the bookstore. Frequent visitors, and occasionally tenants, included many members of the Beat Generation, including Allen Ginsberg, Gregory Corso, and William S. Burroughs - who purportedly researched much of Naked Lunch in the medical section of the lending library. Other notable frequent visitors included James Baldwin, Anaïs Nin, Julio Cortázar, Richard Wright, Lawrence Durrell, Max Ernest, Bertolt Brecht, William Saroyan, Terry Southern, and editors of The Paris Review, such as George Plimpton, Peter Matthiessen, and Robert Silvers.
As previously mentioned, many avant-guard literary journals had their beginnings here, including Witman's own The Paris Magazine, featuring writers such as Lawrence Ferlinghetti, Jean-Paul Sartre, Marguerite Duras, Pablo Neruda, and Jean Fanchette's Two Cities, sponsored by Anaïs Nin and Lawrence Durrell, which published the likes of Ted Hughes and Octavio Paz. George Whitman was ultimately awarded the Officier de l'Ordre des Arts et des Lettres in 2006, one of France's highest cultural honors, and passed away in 2011 at the ripe age of 98 in his apartment above the bookstore.
Witman's only child, named Sylvia Beach Witman after original owner Sylvia Beach, currently runs the store with her partner David Delannet. She is the founder of new traditions such as FestivalandCo, a literary festival held biennially, with participants including Paul Auster, Siri Hustvedt, Jeanette Winterson, Jung Chang, and Marjane Satrapi. In 2010, the bookstore launched "The Paris Literary Prize" for unpublished novellas, with 10,000 euros being the top prize. In 2015, the shop opened a primarily vegetarian cafe in the space next-door: something Witman had been attempting to do since he opening the shop in 1951. Regular activities continue much as they did during the Beach and Witman eras, featuring writers such as Dave Eggers, A. M. Homes, Jonathan Safran Foer, and Naomi Klein.
In Conclusion
From the Lost Generation, to the Beat Generation, to the pinnacles of current literature, Shakespeare and Company's legacy has contributed to some of the most pivotal moments in recent literary history. Born of the minds and joined efforts of two incredible queer women, this bookstore has continued its legacy of defying cultural norms and standards to progress towards the future to this day. I can only hope to someday visit the hallowed walls of the bookstore myself, to walk amongst the history of great writers and defiant individuals alike.
For more information
https://shakespeareandcompany.com/
https://www.theguardian.com/books/gallery/2016/oct/14/shakespeare-and-company-paris-in-pictures
Shakespeare and Company by Sylvia Beach: https://www.amazon.com/Shakespeare-Company-Sylvia-Beach/dp/0803260970
Shakespeare and Company, Paris: A History of the Rag & Bone Shop of the Heart compiled and published by Shakespeare and Company in 2016: https://www.amazon.com/Shakespeare-Company-Paris-History-Heart/dp/B01EL38QUW
---
-----
If you like the content I produce, consider checking out my website or supporting me on Ko-Fi. Thanks for reading!