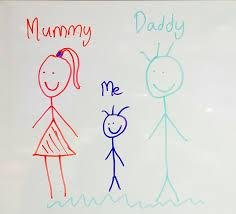 ---
There are so many thoughts about what it means to be an only child. I felt it was time to share some only child information, so here it is.
Maybe one of the reasons I was attracted to the crypto world was the fact that there is a little bit of salty in most people I meet. I first heard about Steemit through a friend who listened to the Anarchist groups on YouTube. Anarchapulco is an ingenious idea after all. People getting arrested, killed, and standing up for some sort of freedom. Now that is interesting. To me, an only child is about freedom.
From an only child perspective, I'm not gonna lie it has been great. Since my family background was slightly unstable due to having young parents, I thank the heavens for not having the responsibility of having to care for siblings. I have seen enough of that in my lifetime. The oldest getting "stuck" educating, feeding, and/or basically taking over for the parents as they wander off to live their own life.
As an only child and maybe just as an independent individual who was born under a strong sign, grew up in a wealthy city, and had enough middle-class family to make it – always felt anything is possible. No matter the obstacle or circumstance there was always a feeling that it can be done. Maybe it was just a natural inclination or internal disposition, but whatever I put my mind to happened. We can call that manifestation, intention, or just a positive attitude. Today, we hear about this often.
---
Only child syndrome as many say meant I got to be selfish if I wanted to be, hard headed, focused, imaginary, spoiled. These are "issues" I feel we should all aspire to have, I mean really, if we are not selfish at times we can burnout, if we are not hard headed sometimes we are being a pushover, focused on goals is how we stay on our path, imagination is what makes things happen (we all need a bit of that), spoiled … well, don't we all need that nice night out or stay at home reading our favorite book?
If you ask me why I'm writing about being an only child? The answer would be I had nothing to write about so picked a random topic from Google. Another thought was, maybe this would be some sort of therapy, not that I really need it. As you can see, most only children feel we are quite sane when most feel we are cray. Only children shrug and just know most people have no idea what they are talking about. Goes with the territory so to speak.
---
Admittedly, my mother was pregnant with my brother, but she lost him late term and this experience devastated our family. I still think of him moving inside my mother and holding him, waiting in great anticipation for his birth. When my mother came home from the hospital without her belly or my brother, the emptiness was awful. As years passed the realization that it was not meant to be was something I could handle in my brain but not so much my heart. Time heals they say, this has not.
When I found out I had half-siblings from my father's previous marriage that was an eye opener. Even when I met them and saw my face in theirs, I knew there was something missing. Of course, the typical only child syndrome kicked in and competitive nature of wanting to be number one and no one Could replace my baby brother. Hey, no one is perfect!
Fast forward many years later and my half siblings either ended up in jail or dead. Leaving me as being the "recognized" child of the family. I would say how sad I am about this, after all being an only child does have lonely spells. BUT if I were to be honest I would give my big smile and feel the inner winnings of only child glory. We just can't help it, and I can say I have honestly tried. At this point in my life I am beyond trying and accepting me for who I am. (It gets like that after a certain age). We just can't please everyone.
---
There are moments where I think of my brother and wish he was here with me. I see families having holiday meals and sharing secrets. Not every family or sibling gets along, I just know we would have been inseparable. Maybe if I ever get a chance to spend time with him (above), I will say how much I missed him in this life, but I think he already knows. To me, I was never an only child and a girl who missed her brother from the moment he left this world. I lived my life on most occasions, very much like a twin, missing half of my(self) from the age of six years old. But let us not end this on a sad note.
As a person who strives to make the best of things, so many lovely people have entered my life and I have been Blessed. Very blessed. The crypto world is just another example of how communities have brought amazing people into my life. Even though people cannot replace my baby bro, and the emptiness continues I appreciate the good. Always.
If you are willing to share your sibling stories, I'd love to hear them. Only Child Syndrome is for real y'all, sometimes I care and sometimes I do not. Today I do so spill, if you have a similar story share!
Much love,